Are you ready to indulge in a dessert that is pure creamy, silky goodness? Look no further than Chocolate Pudding Parfaits topped with Oreo Cookies!
This recipe is made by layering chocolate pudding with homemade whipped cream and crushed Oreo cookies.
And the best part? It's incredibly easy to make, so you don't have to be a pastry chef to enjoy this heavenly dessert at home.
Make sure you check out all the other no bake desserts that are just as easy and delicious!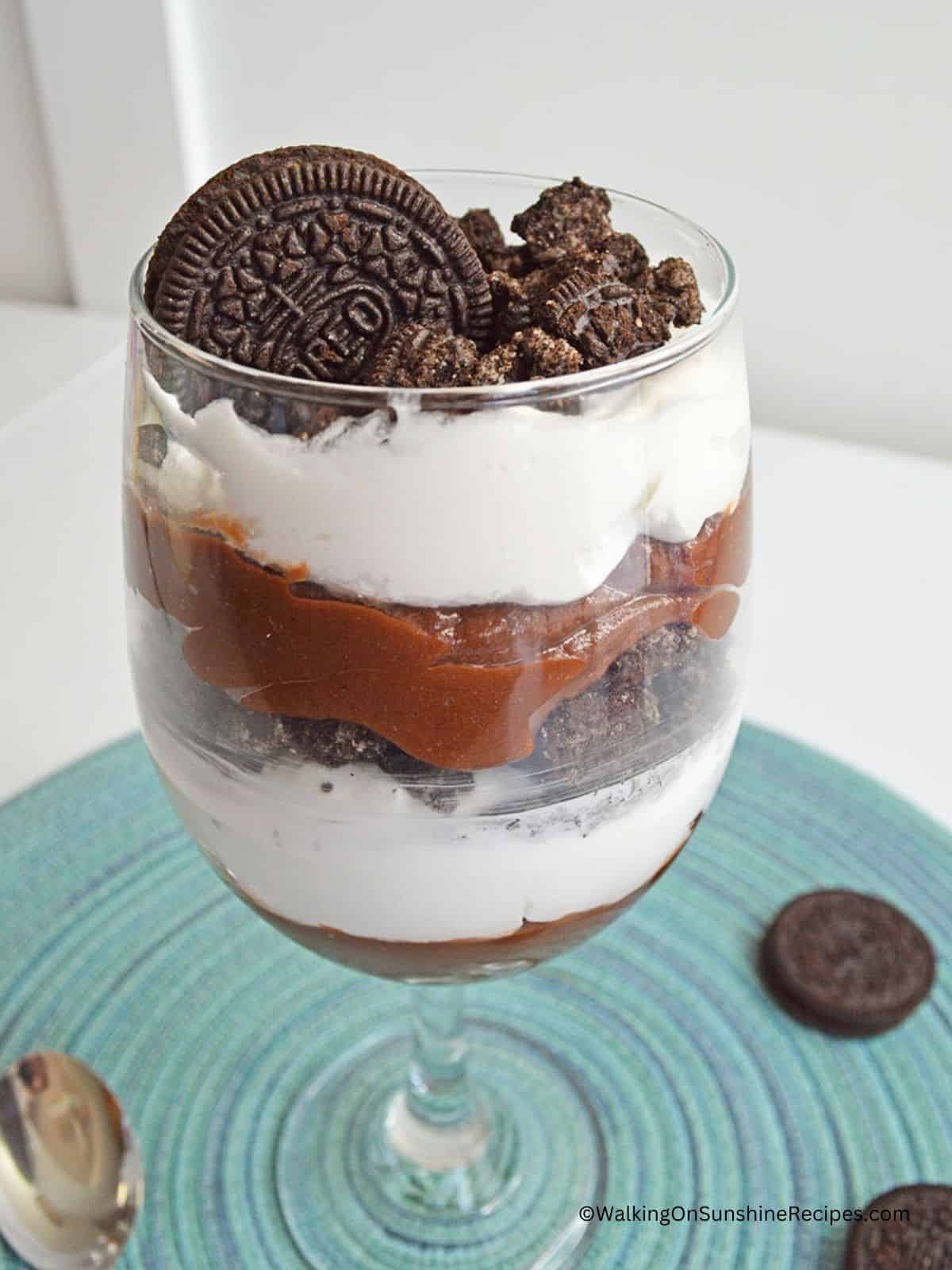 One of my favorite desserts is chocolate pudding. When my children were younger, I used to make chocolate pudding quite often as a snack.
This recipe for chocolate pudding parfaits is easy to make because it starts out with a box of instant pudding mix. I know your family will enjoy this recipe. Actually, it's delicious enough to serve to company when you're entertaining. 
Looking for more Oreo Recipes and Easy Desserts? Try my 3 Ingredient Oreo Cookie Truffles, Oreo Pudding Dessert, and my Oreo Cheesecake Pudding.
Table of Contents
👩‍🍳Recipe Notes
This recipe calls for crushed Oreo cookies. There are a few ways you can do that. The easiest way to crush cookies is to use a food processor.
However, if you don't have one, here's a few easy tips for crushing cookies into crumbs for any recipe:
Place half the amount of cookies in a plastic storage bag.
Remove the air from the bag and make sure it's completely closed. You don't want the crumbs to escape and make a huge mess!
Place the bag on a flat surface and using a rolling pin begin to flatten the bag to create a single layer of cookies.
Next, gently "roll" over the bag until the cookies are crushed to the size you need for the recipe.
If you don't have a rolling pin, you can always use a meat cleaver. I've even used the back of a stainless steel measuring cup.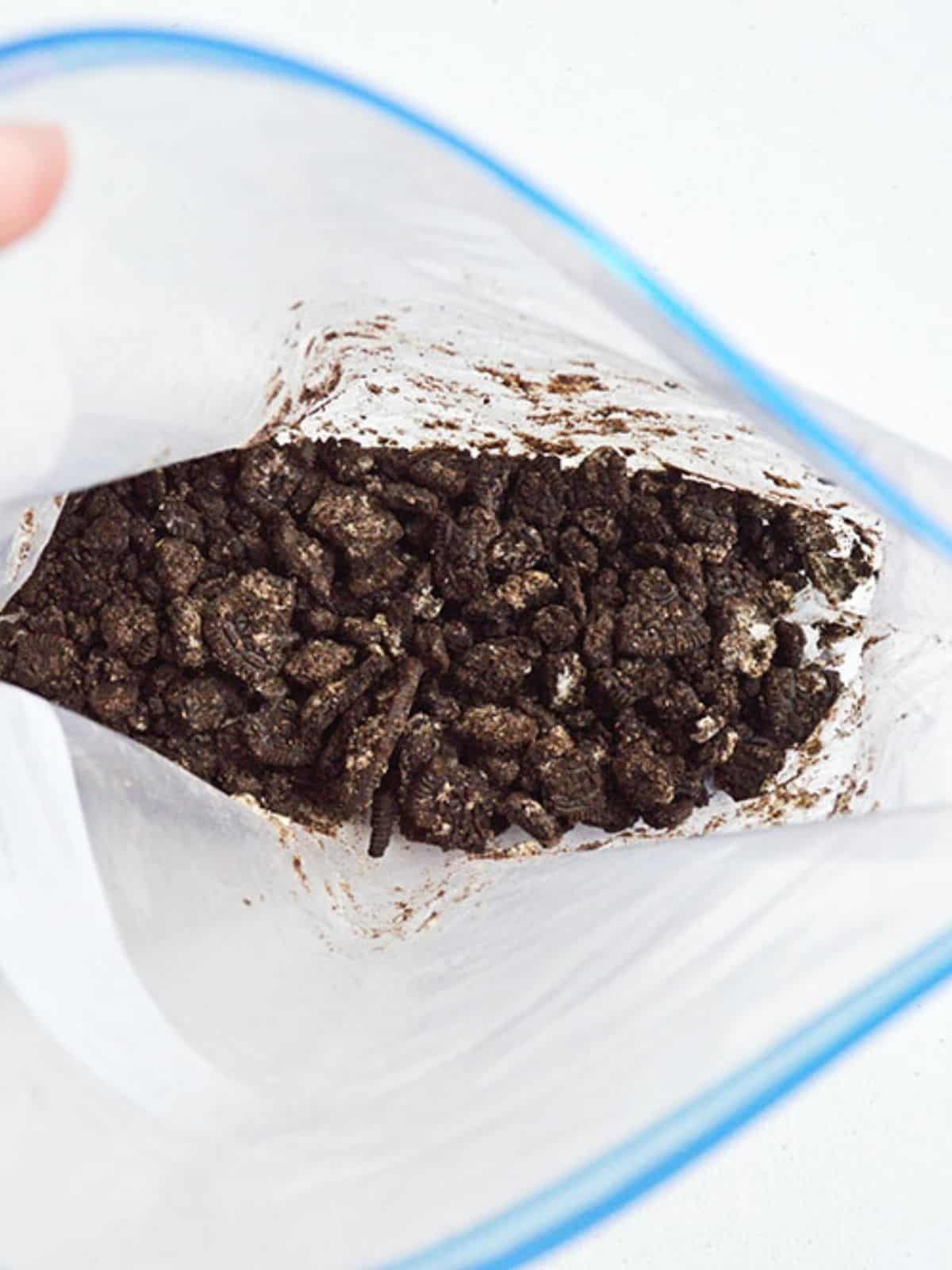 🛒Helpful Kitchen Tools
This post contains affiliate links. That means that if you make a purchase after clicking on a link I may earn a small commission at no extra cost to you. For more information, click here.
More Information
More Information
More Information
More Information
📋Ingredients
This is an overview of the ingredients and instructions. Be sure to see the recipe card below for exact quantities, detailed instructions and special notes.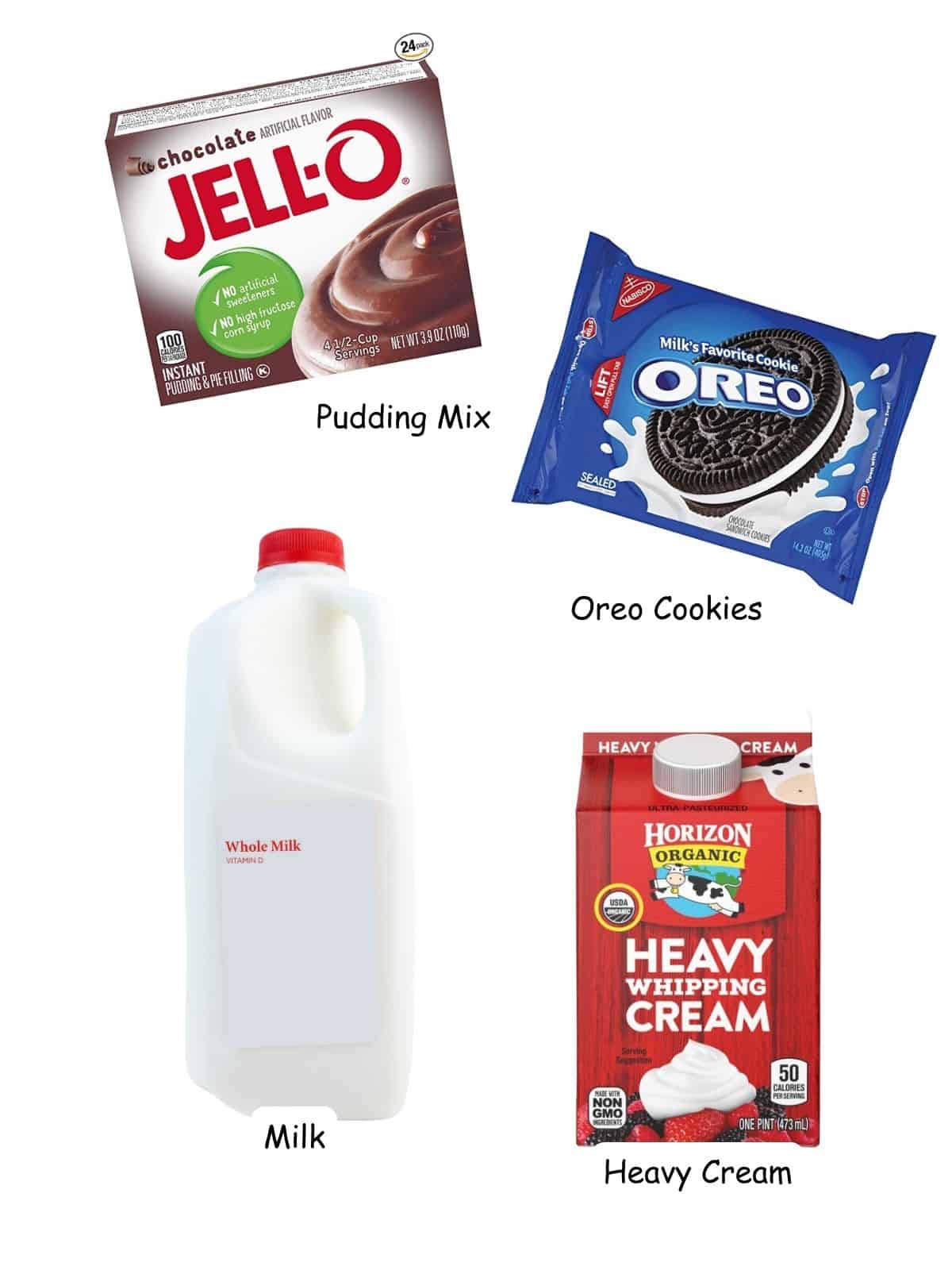 💡 Substitutions and Variations
Swap out the chocolate pudding for vanilla or even cheesecake flavored pudding mix.
Use a different flavored cookie or even graham crackers!
Step-by-Step Instructions
Step 1: Whisk together the pudding mix and milk in a large bowl. 
Step 2: Then in another bowl, using an electric mixer, beat the heavy cream until it forms soft peaks. 
Step 3: Next, crush the Oreo cookies into crumbs following the tips listed above.
Step 4: Add the heavy cream to a bowl and using a hand mixer, mix until whipped cream forms, this may take several minutes.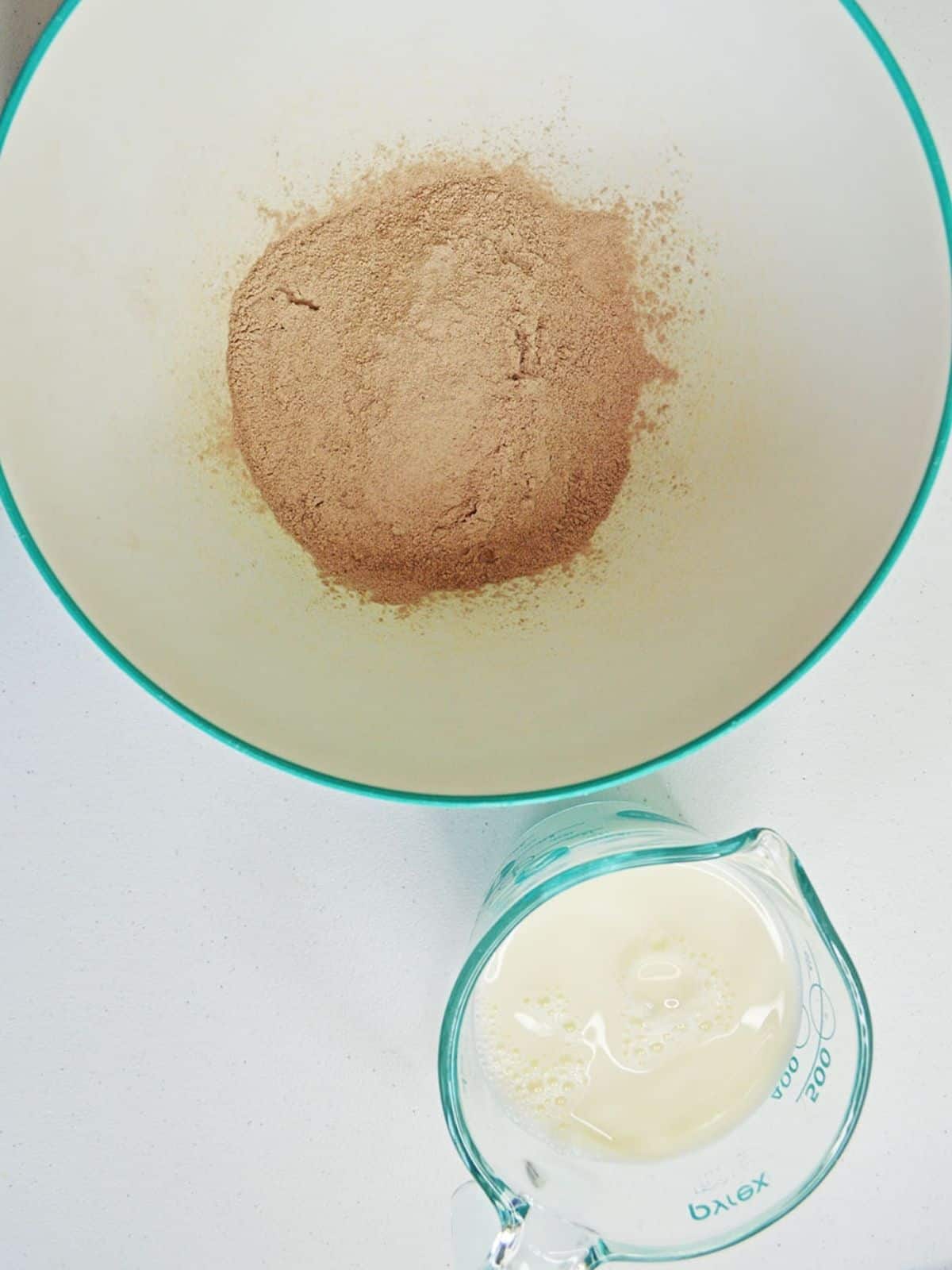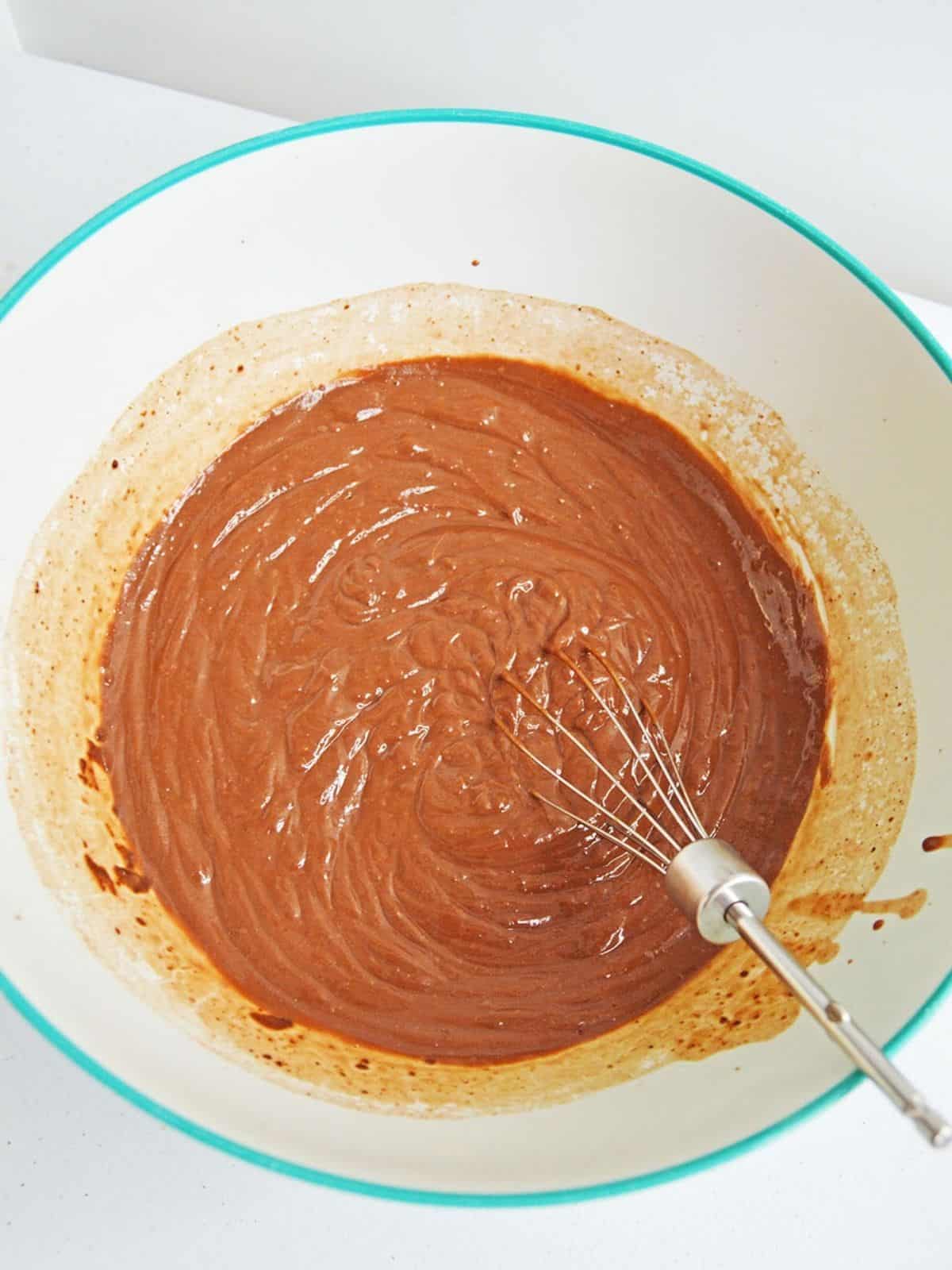 📌Quick Tip: You don't have to add any sugar to the whipped cream. There's enough sweetness in the pudding mix. However, if you wanted to, you could whip the cream with 2 tablespoons of granulated or powdered sugar for extra sweetness.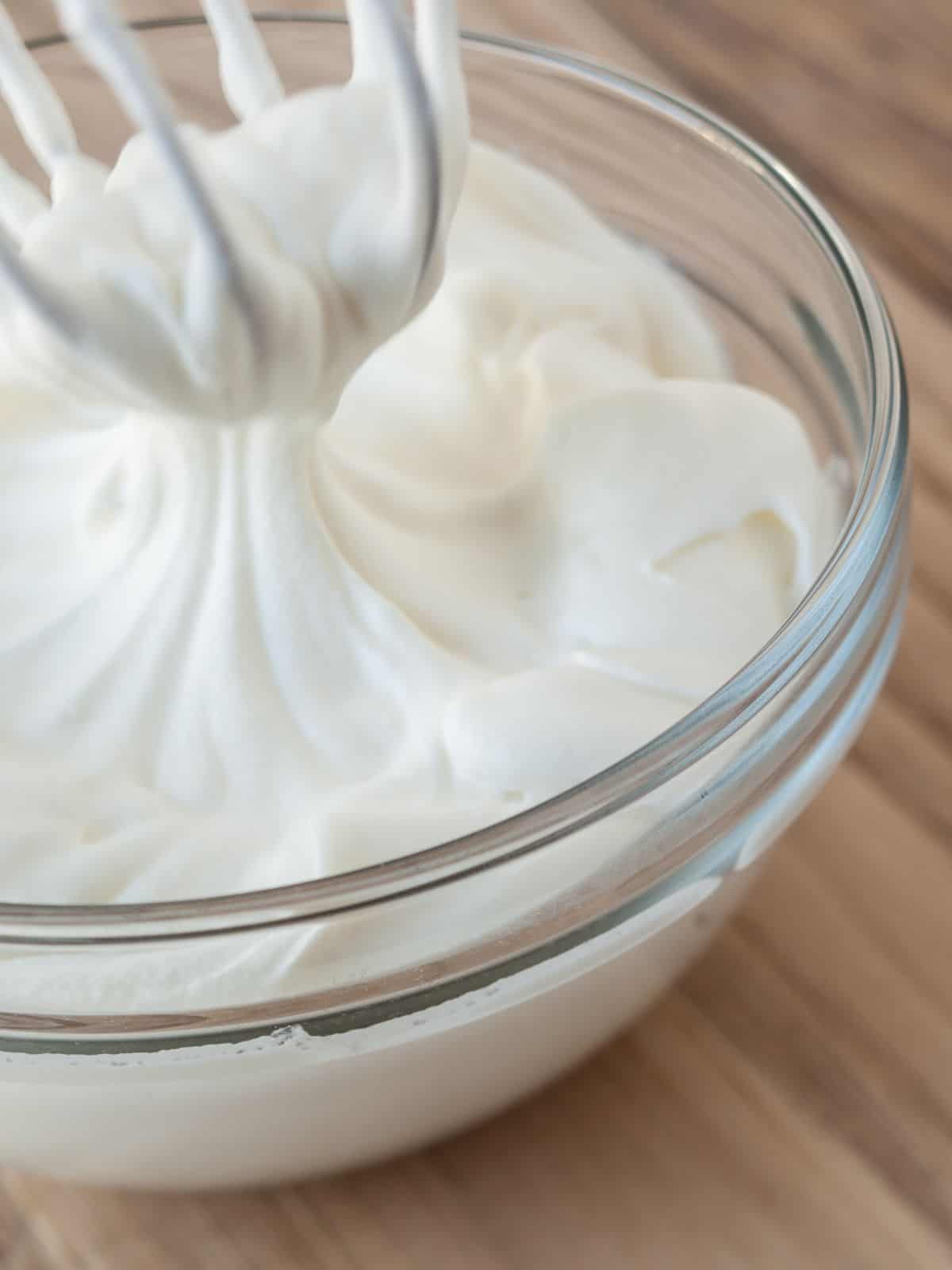 How to Layer the Pudding Dessert
Start by adding a layer of the pudding to the bottom of the glass.
Then add a little whipped cream followed by cookie crumbs.
Repeat until the glass is full!
Refrigerate at least 30 minutes before serving.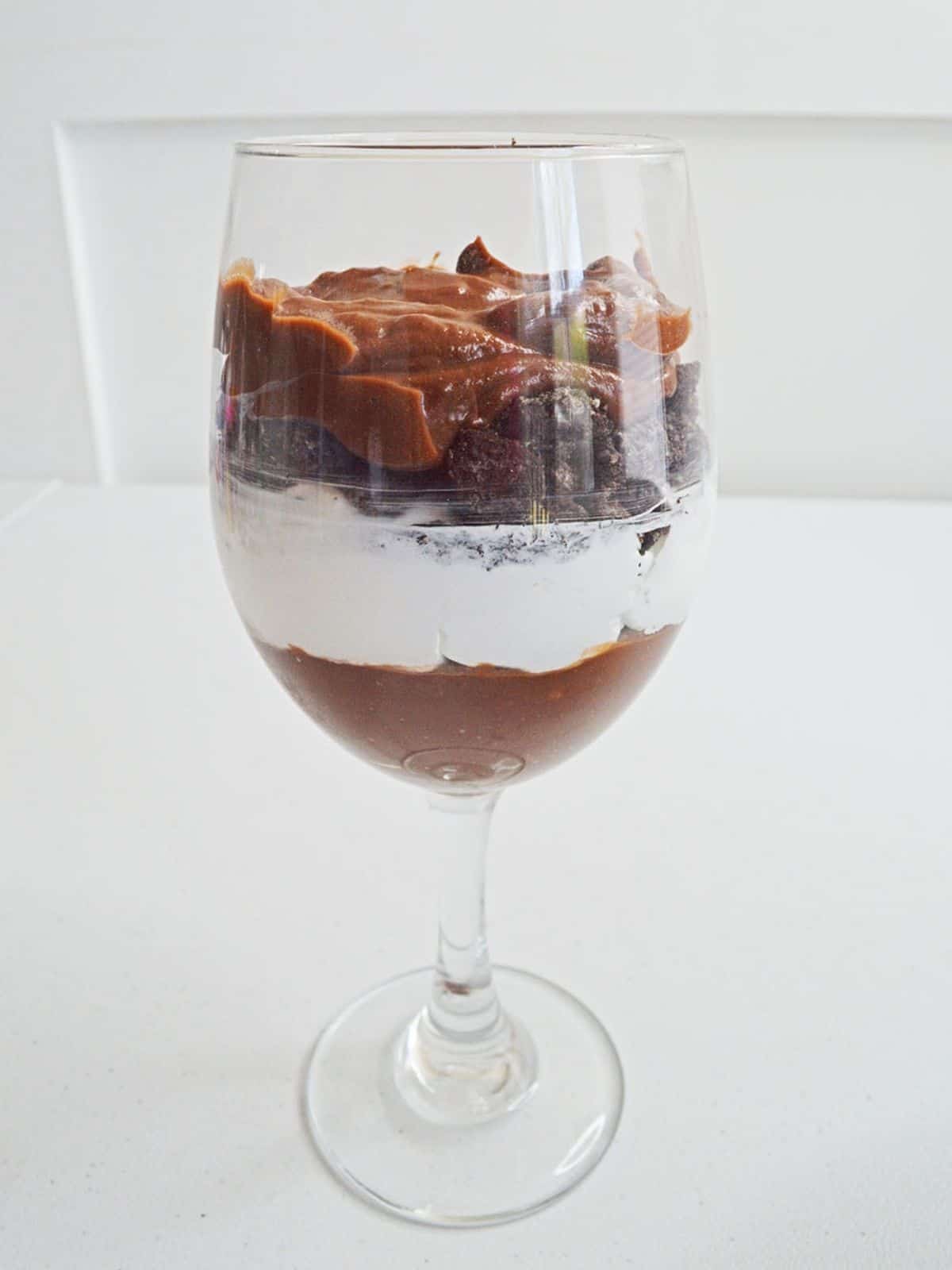 ⭐Before You Begin! If you make this recipe, please leave a review and star rating. This helps my business thrive and continue providing FREE recipes.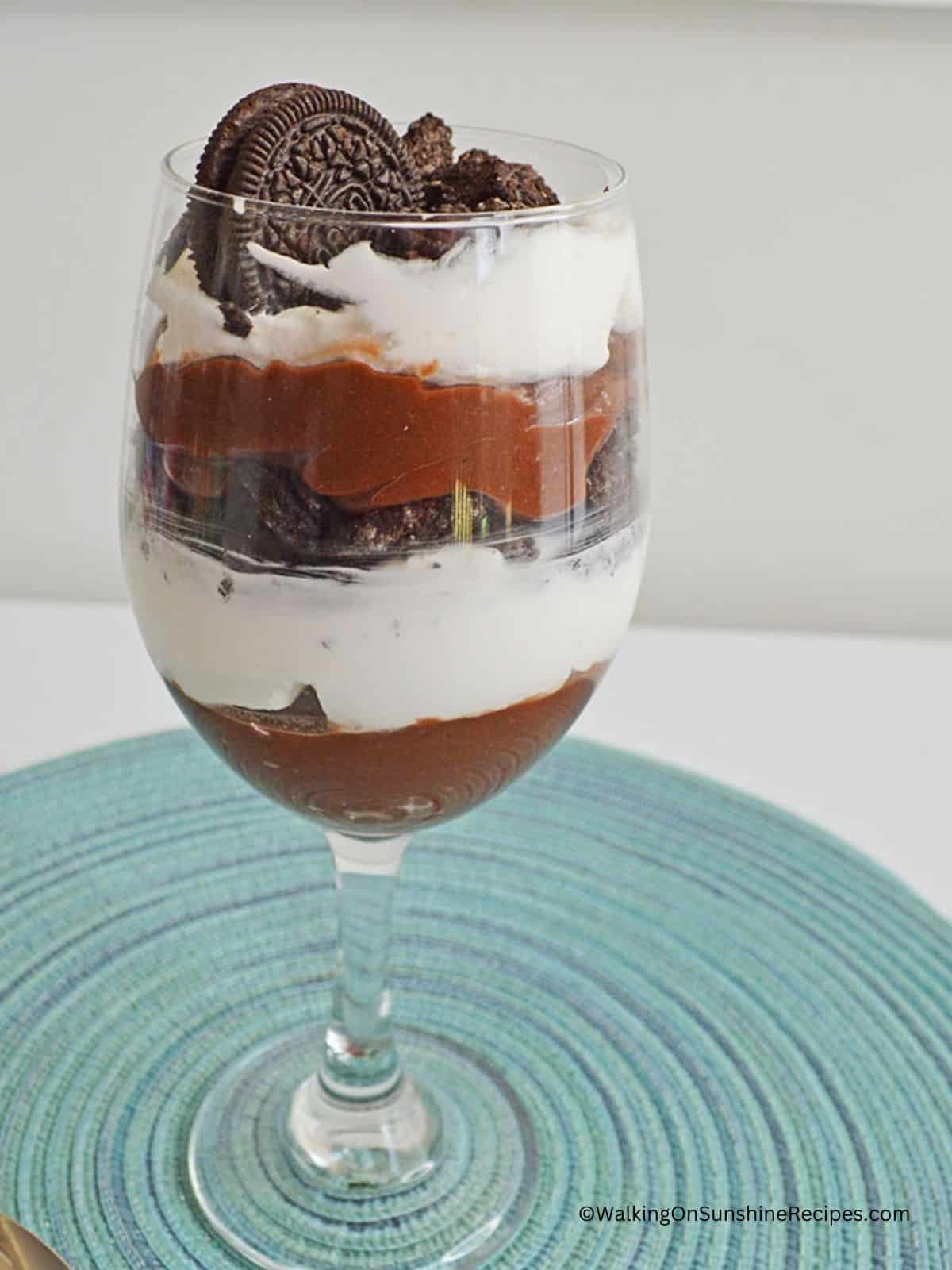 ➡️Top Recipe Tip
Remember to reserve a few of the Oreo cookie crumbss to sprinkle on top of the pudding parfait.
Keep a few of the cookies whole as well to place on top of the parfait.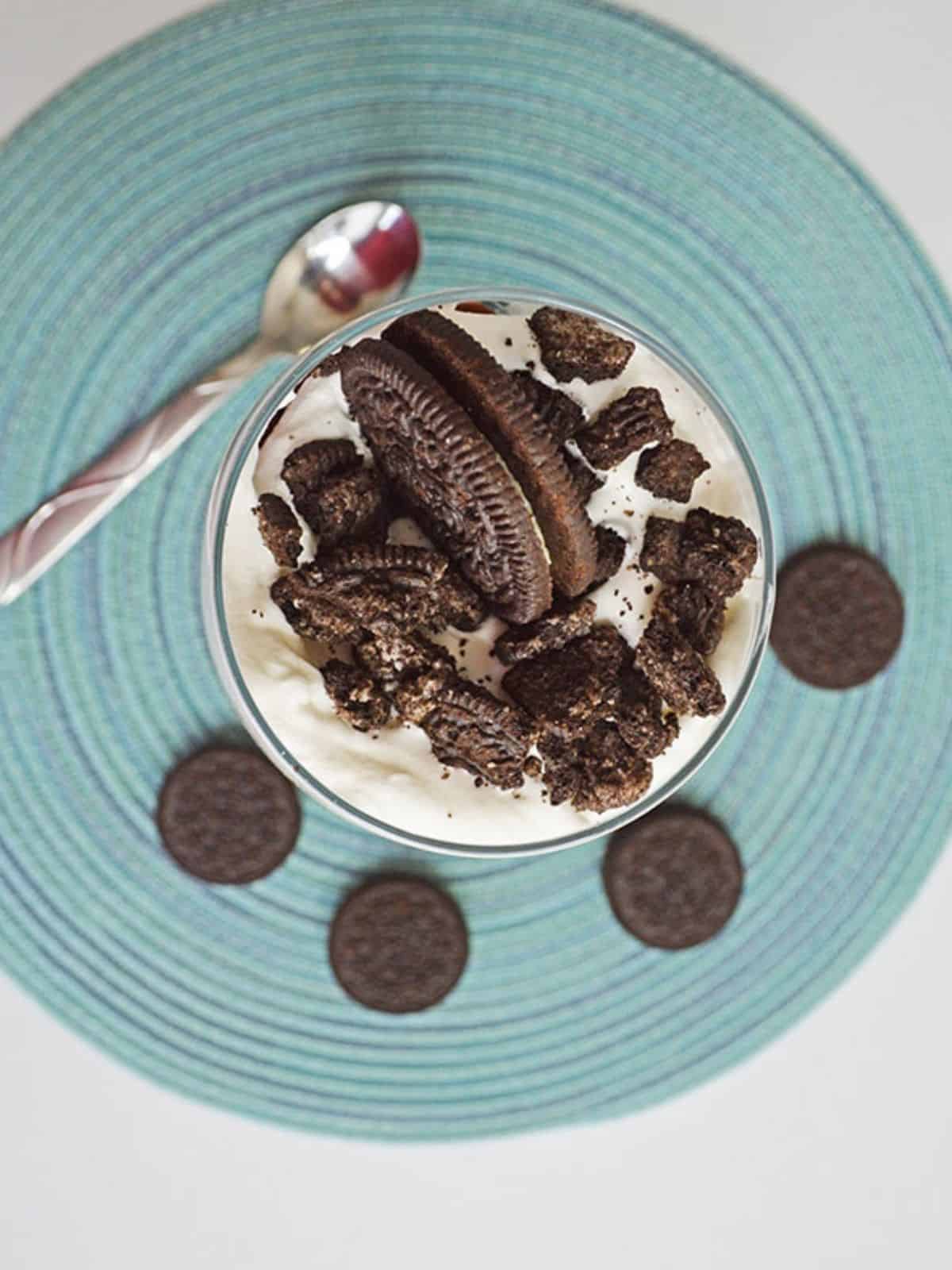 🥣Serving Tips
It's always best to serve any type of parfait in clear glass serving bowls.
You want to be able to see the different layers of pudding, whipped cream and of course the delicious Oreo cookie crumbs.
Any glass bowl will work for this recipe. Just make sure it's tall enough so you can get a few different layers added to the glass.
Mason jars work really great for desserts like this too as with my recipe for Easy No Bake Mason Jar Pudding Desserts.
Lastly, if you don't have individual glasses or mason jars for this recipe, a clear glass bowl works great too. You'll need to layer everything inside the clear glass bowl and then serve it into individual plates or bowls when the dessert is ready.
🍶Storage Tips
If you have any leftovers, the best way to store them is by covering with plastic wrap or an airtight lid and placing it in the refrigerator.
For a short-term storage option, you can leave the parfait in the refrigerator for 1-2 days.
Just make sure that it's covered tightly to prevent any air or moisture from getting in, which can cause the whipped cream to deflate and the pudding to become runny.
💡Recipe FAQ
Simply click the plus sign to read more about the questions you see below. If YOU have a question regarding this recipe, please let me know in the comment section.
What's the difference between a trifle and a parfait?
A trifle is typically made with layers of sponge cake or ladyfingers, soaked in sherry or another sweet liqueur, and then layered with custard, berries or fruit, and whipped cream. The layers are usually repeated multiple times to create a visually stunning dessert that's perfect for sharing. Trifles can be served in a large glass dish or in individual servings.
A parfait, on the other hand, usually consists of layered ingredients like fruit, yogurt, granola, nuts, and whipped cream, all served in a tall glass. Parfaits do not typically contain cake or any kind of alcohol, and they are often served as a breakfast or healthy snack option.
How to jazz up instant pudding?
Try stirring in a spoonful of peanut butter, a drizzle of caramel sauce, or a dash of cinnamon to give your pudding a unique twist. Or you could add crushed cookie crumbs to the pudding!
🌟Try these recipes next...
Refrigerator Cinnamon Rolls eBookClick HERE for More Information
📇Recipe Card
Yield: 8 servings
Chocolate Pudding Parfaits with Oreo Cookies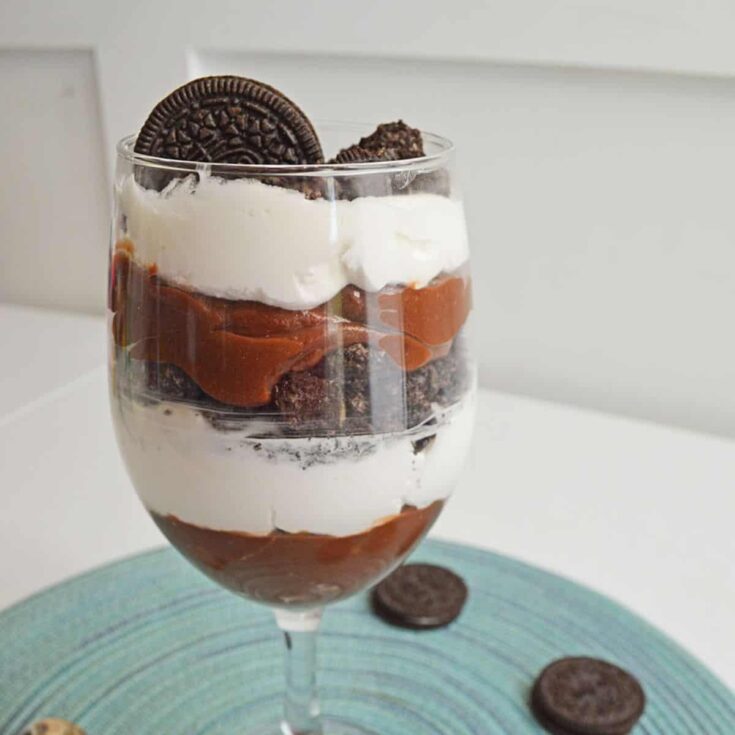 Take something easy as no-bake pudding and turn it into an over the top chocolate pudding parfait topped with crushed Oreo cookies!
Total Time
1 hour
15 minutes
Ingredients
1 box chocolate instant pudding mix - 5.9 ounce size
3 cups milk
1 quart heavy cream
1 package Oreo cookies crushed
Instructions
In a large bowl, whisk chocolate pudding and milk for about 2 minutes, set aside.
In another bowl, mix your heavy cream with a hand mixer until whipped cream forms, this may take several minutes.
Layer your parfait glasses with a layer of chocolate pudding, followed by whipped cream, then crushed Oreos.
Repeat pudding, whipped cream, and finish with crushed Oreos.
Chill in the refrigerator for about an hour, then serve.
Notes
Don't crush all the Oreo cookies. Save a few to add to the pudding cups so everyone knows the cookie crumbs are actually delicious Oreo cookies!
Recommended Products
As an Amazon Associate and member of other affiliate programs, I earn from qualifying purchases.
Nutrition Information:
Yield:
8
Serving Size:
1
Amount Per Serving:
Calories:

483
Total Fat:

46g
Saturated Fat:

29g
Trans Fat:

1g
Unsaturated Fat:

14g
Cholesterol:

143mg
Sodium:

137mg
Carbohydrates:

13g
Fiber:

0g
Sugar:

5g
Protein:

7g
The nutrition information is calculated automatically. I cannot guarantee its accuracy. If this data is important to you, please verify with your trusted nutrition calculator.
This recipe has been updated since it first appeared in 2019 with new photos, information and a new printable recipe card that includes nutritional information. I hope you enjoy the updates as much as I enjoyed working on them!