These 22 easy cinnamon rolls are the perfect sweet treat to enjoy when you're craving fresh cinnamon rolls but don't have the time to make them from scratch. Who wouldn't love a delicious, gooey, cinnamon roll warm from the oven?
Here are a few Best Cinnamon Roll Recipes that are not only easy, but the perfect way to start your day!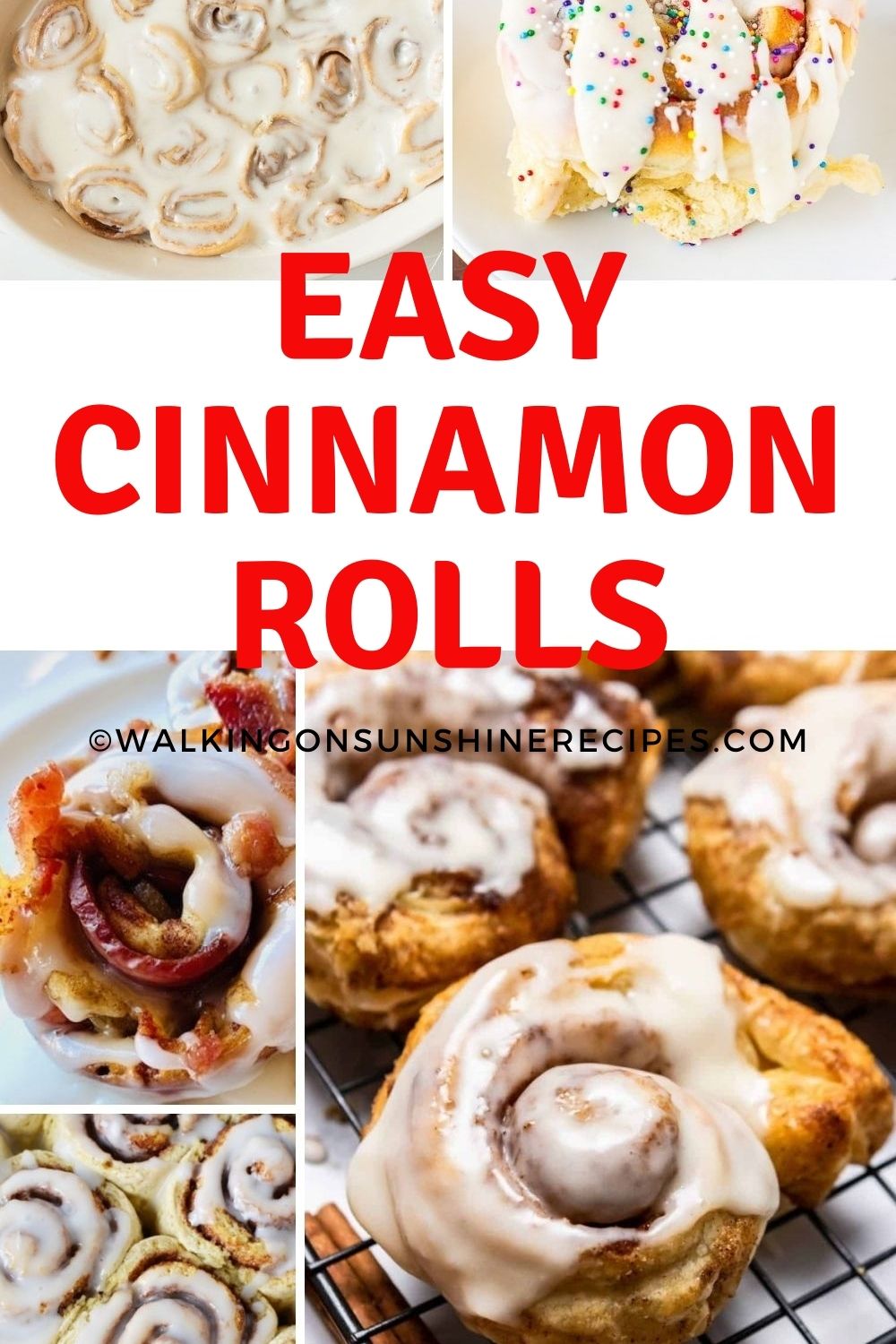 Cinnamon rolls are a delicious way to start your day. But sometimes making them from scratch can be pretty time consuming. Luckily, there are tons of great recipes that turn the complicated task of making cinnamon rolls into a quick and easy breakfast.
Semi Homemade Cinnamon Rolls
A few of these recipes take only 15 minutes to put together. A few recipes use dough you can purchase from the grocery store or even a pizzeria!
Needless to say most of these recipes being shared today are semi-homemade breakfast rolls. But that's okay...because semi-homemade is still delicious and they're ready fast!
Recipes that feature all the flavors of cinnamon rolls without the work are another great option. You could make my Cinnamon Roll Breakfast Casserole recipe in the crock pot. Add the cinnamon rolls first to the slow cooker, followed by the rest of the ingredients and cook on low for two hours.
Cinnamon Roll Breakfast Ideas
When hosting a holiday celebration, I love to prepare any cinnamon roll breakfast ideas to serve along with the savory food. Everyone loves a little something sweet with their cup of coffee.
How to Cut Cinnamon Rolls
I have tried a few different ways to slice the cinnamon rolls I make for my family and I think I finally found my favorite way.
Yes, some people say to use floss. I tried it and it was just a mess. Maybe I wasn't doing something right, but I couldn't get it to cut in a clean line.
While a serrated knife works really good, it still manages to "smash" the rolls. The last recipe I created, Mini Pecan Cinnamon Rolls, I pulled out my electric knife. It worked perfectly!
Helpful Kitchen Tools
Affiliate Disclosure: This post may contain affiliate links. As an Amazon Associate I earn from qualifying purchases. For more information, click here.
Stainless Steel Rolling PinMore Information
Wood French Rolling PinMore Information
3-Cup Stainless Steel Rotary HandMore Information
The Pioneer Woman 10-Piece NestingMore Information
2 Pack Powder Sugar ShakerMore Information
Pillsbury Cinnamon Rolls Recipes
Refrigerated crescent rolls are another great way to cut down on the cooking time when making cinnamon rolls like I do with my French Toast Cinnamon Rolls.
Homemade Cinnamon Rolls using Biscuits; that's right biscuits. Two cans of refrigerator biscuits turned into cinnamon rolls. Delicious!
How easy would it be to make Pillsbury Cinnamon Rolls in your air fryer? They'd come out delicious and fast!
⭐Before You Begin! If you make this recipe, please leave a review and star rating. This helps my business thrive and continue providing FREE recipes.
Easy Cinnamon Rolls for Breakfast
More Information
More Information
More Information
More Information
More Information