There's no need to turn on your oven for this collection of Easy Easter Desserts No Bake recipes.
Included in this collection of Easter Desserts are pies, cookies, puddings, cheesecakes, and trifles. These simple desserts usually require a few key ingredients that you probably already have on hand.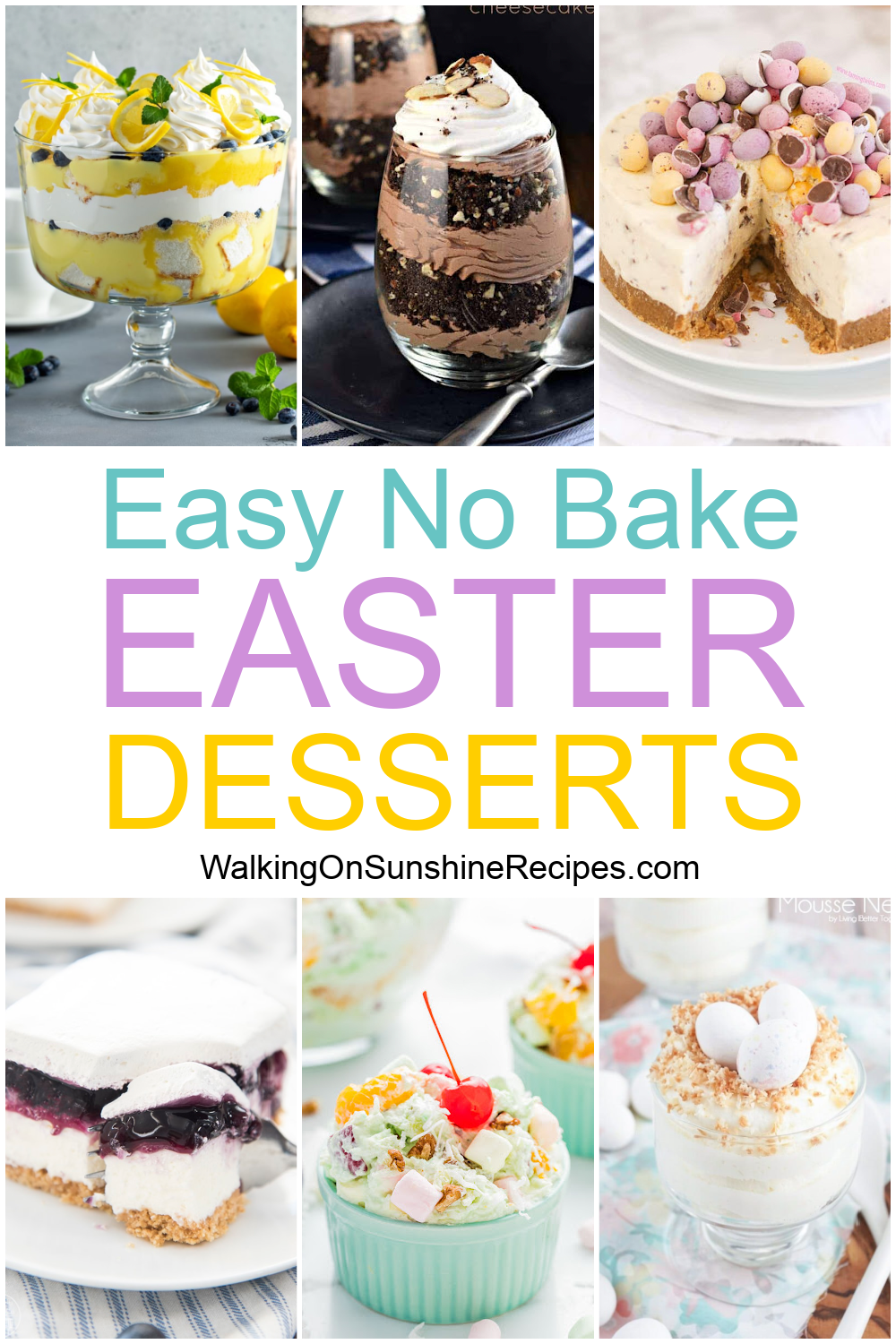 No-bake desserts are perfect for any occasion, whether you're looking for an easy holiday recipe like Chocolate Pudding Peeps Recipe or my Berry Trifle; these are both quick and simple recipes that help you enjoy dessert without breaking a sweat!
These easy desserts featured below, all require not using an oven. Which is perfect if your oven is taking up all your space for the main event and side dishes or you're simply not in the mood to bake!
Some of these Easy Easter Desserts No Bake can be prepared quickly and eaten right away, while others require chilling time and must be prepared ahead of your Easter celebration.
Table of Contents
No Bake Cheesecake
One of the most popular no bake desserts is cheesecake. It's especially popular for Easter for our family. Traditional cheesecake recipes require baking time and a water bath. However, no bake recipes are far simpler. For food safety reasons, the recipes do not include egg yolks, yet the richness is preserved.
If you're looking for no bake cheesecake that would be great for your Easter celebration, check out my Cheesecake pudding recipes available here on the blog.
Helpful Kitchen Tools
This post contains affiliate links. That means that if you make a purchase after clicking on a link I may earn a small commission at no extra cost to you. For more information, click here.
More Information
More Information
More Information
More Information
What is a No Bake Dessert?
A no bake dessert is a recipe that you can easily put together without the need to turn on the oven and bake. Usually these treats rely on ingredients you have in your pantry and are ready pretty fast.
Storage Tips
Store any leftover desserts in the refrigerator just to be safe. Especially if you're serving a pudding recipe or a cheesecake base recipe. They should last about 5 days.
However, most pies can be stored at room temperature for a day or two. No bake cookies will keep in an airtight container or plastic bag for a week at room temperature. Any longer than that you should refrigerate.
FAQs
What does no bake mean?
A no bake dessert is simply a recipe that doesn't require baking. The recipe is usually easy to make.
⭐Before You Begin! If you make this recipe, please leave a review and star rating. This helps my business thrive and continue providing FREE recipes.
Easy Easter Desserts No Bake