Delicious and so easy homemade applesauce made in the crock pot.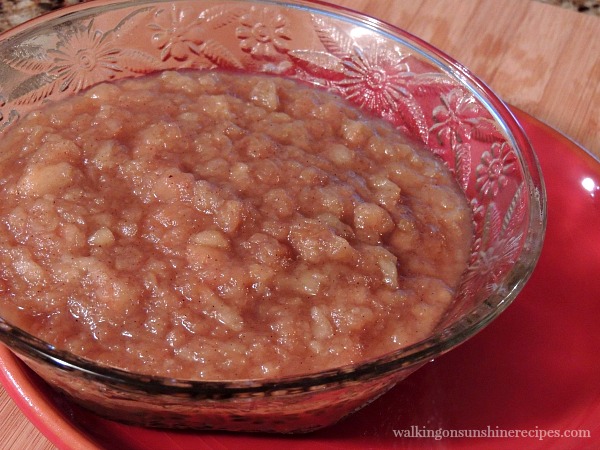 When my children were babies I made homemade applesauce for them all the time. Then life got busy and I started purchasing it and haven't made any homemade applesauce for years until this week.
My husband and I stopped by a farm over the weekend and purchased some delicious apples and I decided to make applesauce again; only this time I used my crock pot!
You can make the applesauce on the stove top, but I find it easier to use the crock pot. You don't have to worry about the apples over cooking. You really can put everything in the crock pot and walk away for a few hours while the apples cook down.
If you don't like it chunky, you can use your blender to puree the apples after they have cooked. Or you can use a potato masher and mash the apples while they're still in the crock pot. But I left ours chunky..they seem more homemade that way.
Whichever way you decide to make the applesauce you'll love how your house will smell while the apples cook. Amazing. I love the smell of apples and cinnamon!
Homemade Applesauce
Apples ready to be peeled. I used Cortland apples but you can use your favorite. You can also check out this post I did on
The Best Apples for Baking and Eating
to determine which apples you want to use for this applesauce recipe.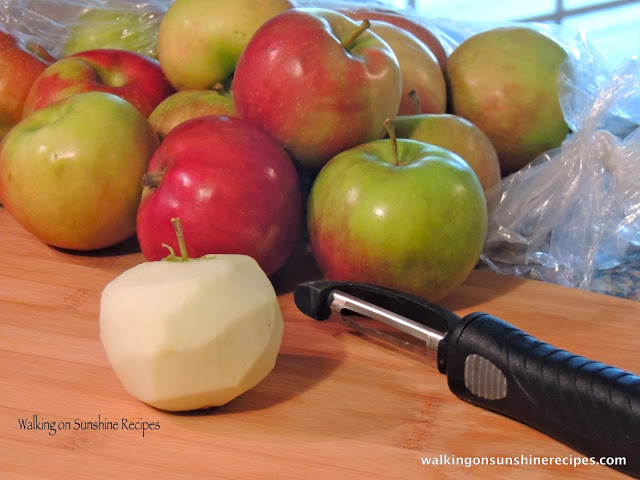 The apples are ready to be cooked down.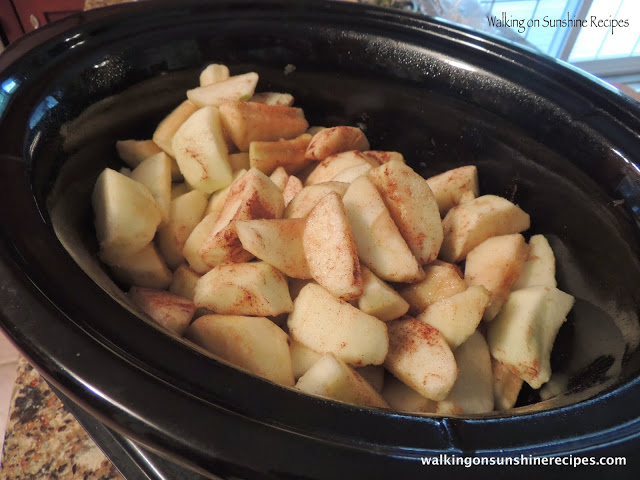 Your house will smell wonderful as the apples are cooking all day in the crock pot. I have made this recipe with Splenda brown sugar and it works just as well.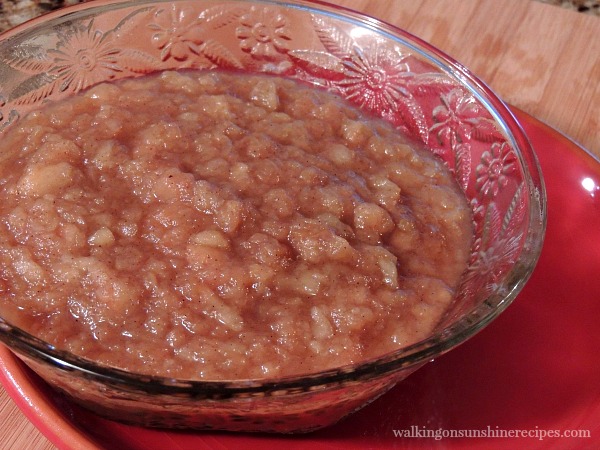 Author: Lois @Walking on SunshinePrint Recipe
Homemade Applesauce
Delicious and so easy homemade applesauce made in the crock pot.
INGREDIENTS:
12 to 15 Apples; I used Cortland
2 teaspoons lemon juice
1/4 cup brown sugar
1 TBS. cinnamon
1/4 cup water
INSTRUCTIONS:
Peel, core and chop the apples.
Peel, core and chop the apples.
Add the water, lemon juice, brown sugar and cinnamon.
Cook on low 4 to 6 hours, stirring occasionally until the apples turn to applesauce.
Use a blender to get the applesauce smooth or if you enjoy a chunky applesauce, leave sauce as is.
.recipe-inner{text-align:left;max-width:620px;border:6px double #009BFF;padding:20px;background:#f2f2f2;margin: 40px auto;font-family:Lato, sans-serif;}#recipe .recipe-name{font-size: 21px;}#recipe .info{font-size:13px;text-transform:capitalize;border-bottom:2px solid #000;padding-bottom:7px;margin-bottom:20px}.info:after{content:";display:table;clear:both}#recipe .info span:first-child{margin-right:30px}#printbutton{border:0;margin:0;color:#fff;float:right;background:#555; padding:5px;border-radius:3px;cursor:pointer}#recipe .time{text-transform:uppercase;font-size:12px;text-align:center;background:#fff;padding:15px 0;margin-bottom:20px}#recipe .time span:not(:last-child){margin-right:12px}#recipe .time span:not(:last-child):after{content:";display:inline-block;height:10px;width:1px;background:#000;vertical-align:middle;margin-left:12px}#recipe .summary{line-height:1.7;font-style:italic}.ingredients{line-height:1.7}.ingredients h3,.instructions h3{font-size:20px !important;margin-bottom:0;color:#000}.ingredients ul{margin:0!important;margin-top:5px !important;}.instructions li{margin-bottom:15px !important;line-height:1.6;text-align:left;}.ingredients li{text-align:left}#recipe .instructions{margin-top: 30px;}#recipe .instructions ol{padding-left:39px;margin:0!important;margin-top:6px !important;}.posturl{border-top:1px solid #ccc;padding-top:10px;}.ing-section{padding-left:20px;margin: 10px 0;}.ing-section > span{font-weight:700}.recipe-credit{display:none;font-size:13px;border-top: 1px solid #ccc;padding:10px;text-align:center;background:#ffffff;margin:-20px;margin-top:15px;}.recipe-credit a{color:blue;text-decoration:none;}.copyright-statement{ font-size: 13px;font-style:italic;border-top: 1px solid #ccc;margin-top:15px;padding-top:15px;line-height:1.6;}#recipe .image{text-align:center;margin-bottom:25px}#recipe .image img{max-width:100%}#recipe .recipe-name{line-height:1.6;text-transform:uppercase;margin-top:0;letter-spacing:1px;text-align:center;margin-bottom:20px}#recipe .time{border-top:1px dashed #000;border-bottom:1px dashed #000;border-right:0;border-left:0}#recipe .summary{margin-bottom:30px}#recipe .summary:after{content:";display:block;width:50px;height:2px;background:#000;margin:auto;margin-top:10px}#recipe .instructions{margin-top:30px}#recipe .instructions ol{padding-left:39px;margin-top:6px}function printDiv(a){var b=document.getElementById(a);newWin=window.open(",'printwin');var c=newWin.document.createElement('style');c.innerHTML='html{font-family:sans-serif}img{display:none;}#printbutton,.recipe-credit{visibility:hidden;display:none;}.info{text-align:center;text-transform:capitalize}.recipe-name{text-align:center}.info span{margin-right:20px}.time{text-align:center;padding:10px;border-top:1px dashed #000;border-bottom:1px dashed #000;}.time span{margin-right:20px}.adunit,.adunitlabel,.adunitwrapper{display:none!important}';newWin.document.getElementsByTagName('head')[0].appendChild(c);newWin.document.getElementsByTagName('body')[0].innerHTML = b.innerHTML;newWin.print();}