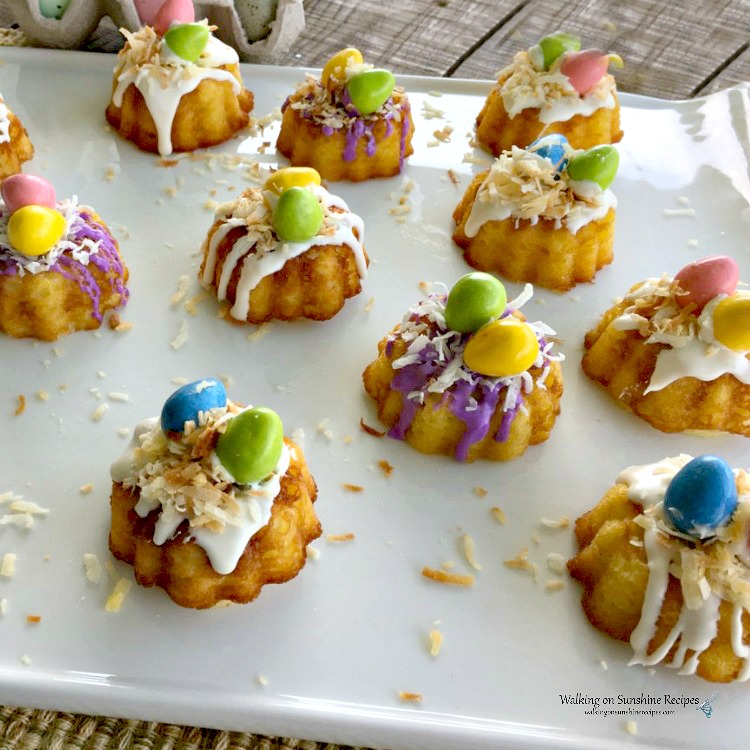 This recipe has been updated since it first appeared in 2017 with new photos and a new printable recipe card that includes nutritional information. I hope you enjoy the updates as much as I enjoyed working on them!
Easter Mini Bundt Cakes from a cake mix are a fun way to celebrate Spring. Delicious vanilla cakes topped with colorful icing, toasted coconut and candy pieces are perfect for Easter, Mother's Day or as a sweet treat for your family this weekend.
It doesn't get any easier than this recipe…well I suppose you could have a guest bring dessert, but it's always nice to bake something. These mini bundt cakes use a cake mix and can be made for any occasion. However, I think they're perfect for Easter.
Mini Bundt Cake Decorating Ideas
There are so many ways you can decorate these adorable mini cakes. I decided to use Easter Milk Chocolate Eggs to top the mini bundt cakes.
However, you could use other types of traditional chocolate candy pieces, or even Colorful Easter Sprinkles would look great on top of the cakes.
Jelly Beans would work too.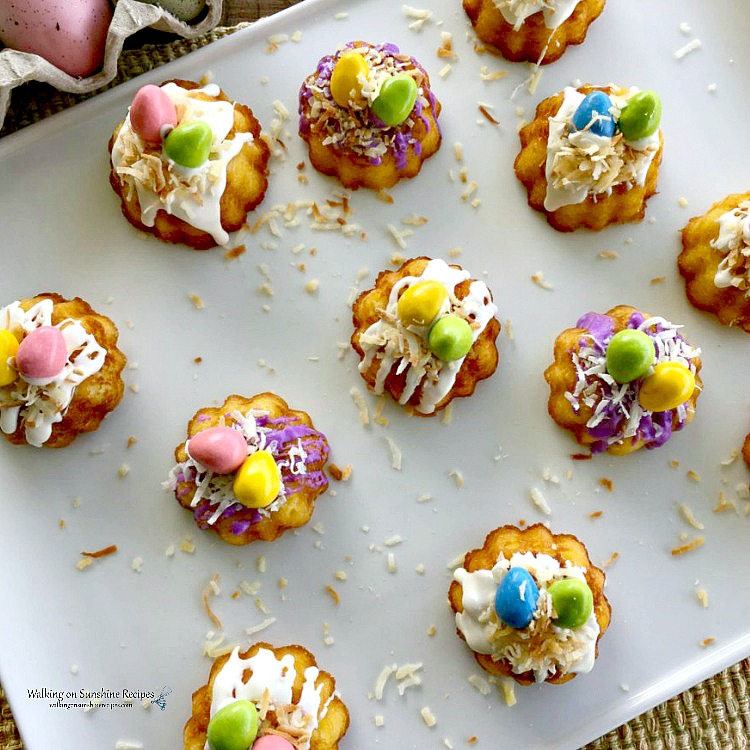 How Many Mini Bundt Cakes does a Cake Mix Make?
This is the mini bundt pan that I used for this recipe. I've used it a few times and it's proven to work really well. It washes well in the dishwasher as long as you first rinse it with warm water.
Using a bundt pan like this with a cake mix should give you 24 cakes.
I like to use cooking spray with flour when I bake with a fancy pan. It really helps with not having the baked good stick to the pan.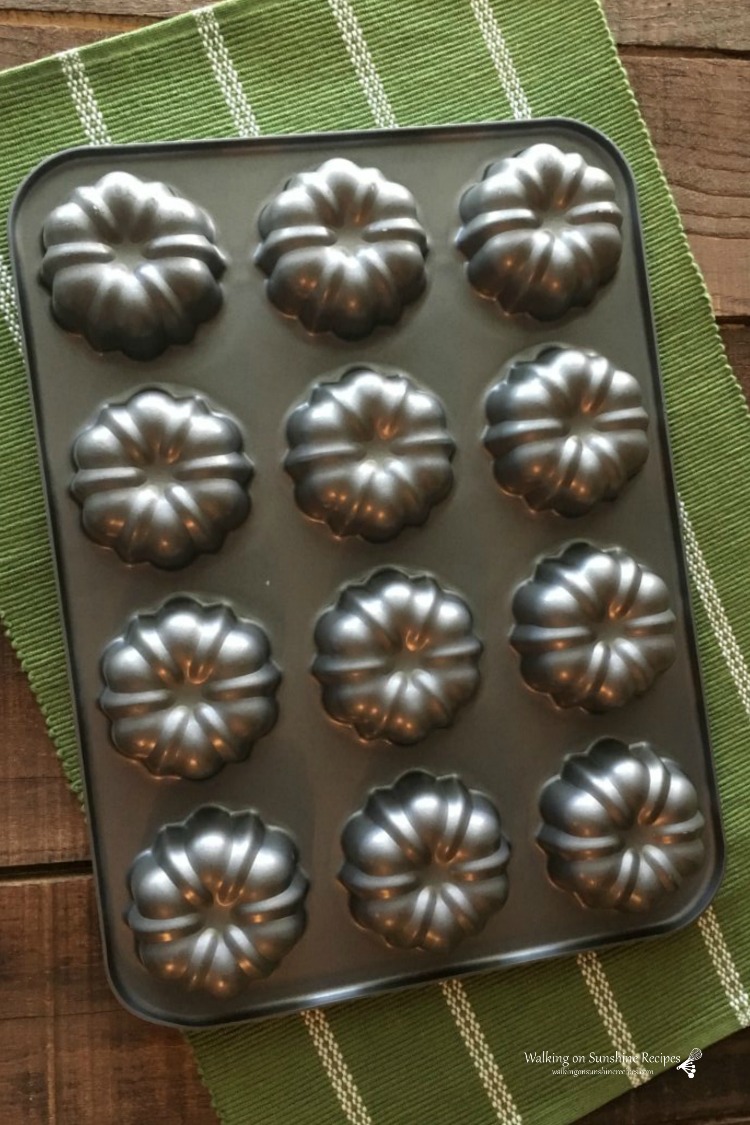 Ingredients
Vanilla Cake Mix – 15.25 ounce size
1 or 2 containers of icing – 16 ounce size. I used two containers because I liked the contrast of different colors. You can use just one container. I chose a cream cheese flavor and a vibrant purple icing to decorate the cakes.
Mini chocolate candy eggs or colorful sprinkles to decorate. You'll need about 48 chocolate eggs.
Shredded coconut – I chose to toast the coconut, but, again, that's up to you.
Prepare the batter according to the directions on the back of the box. Next, using a cookie scoop, fill the wells of the pan that have been sprayed with either non-stick cooking spray or cooking spray with flour.
Bake the Easter mini bundt cakes in a preheated 350 degree oven for 10 -15 minutes. You need to check them frequently to make sure they don't over-bake. My mini cakes were done in 10 minutes.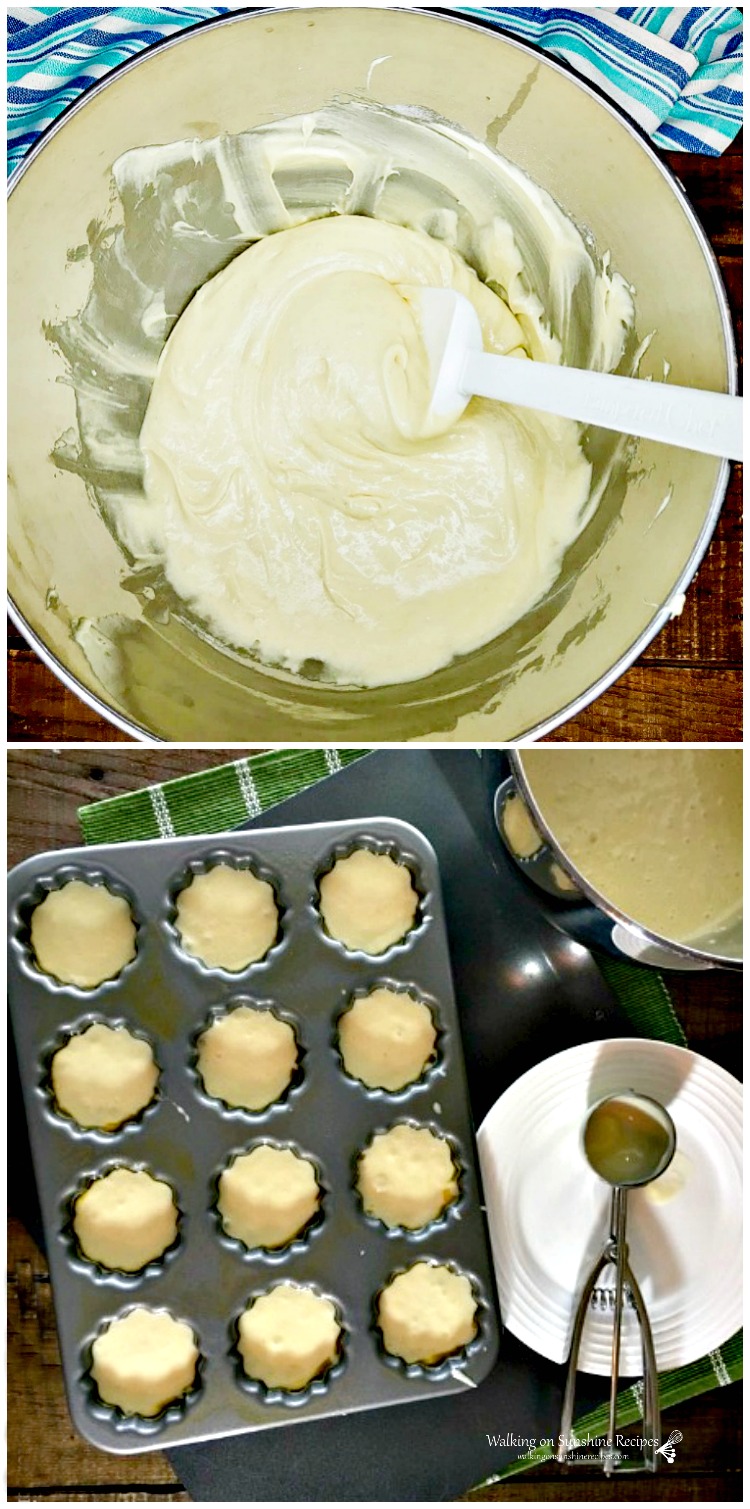 Easy Trick to Getting the Perfect Cake
Now, here's the trick to getting these mini bundt cakes to lay flat. Take a serrated knife and trim the bubble part off of the cake. Consider that your "treat" as you decorate the cakes!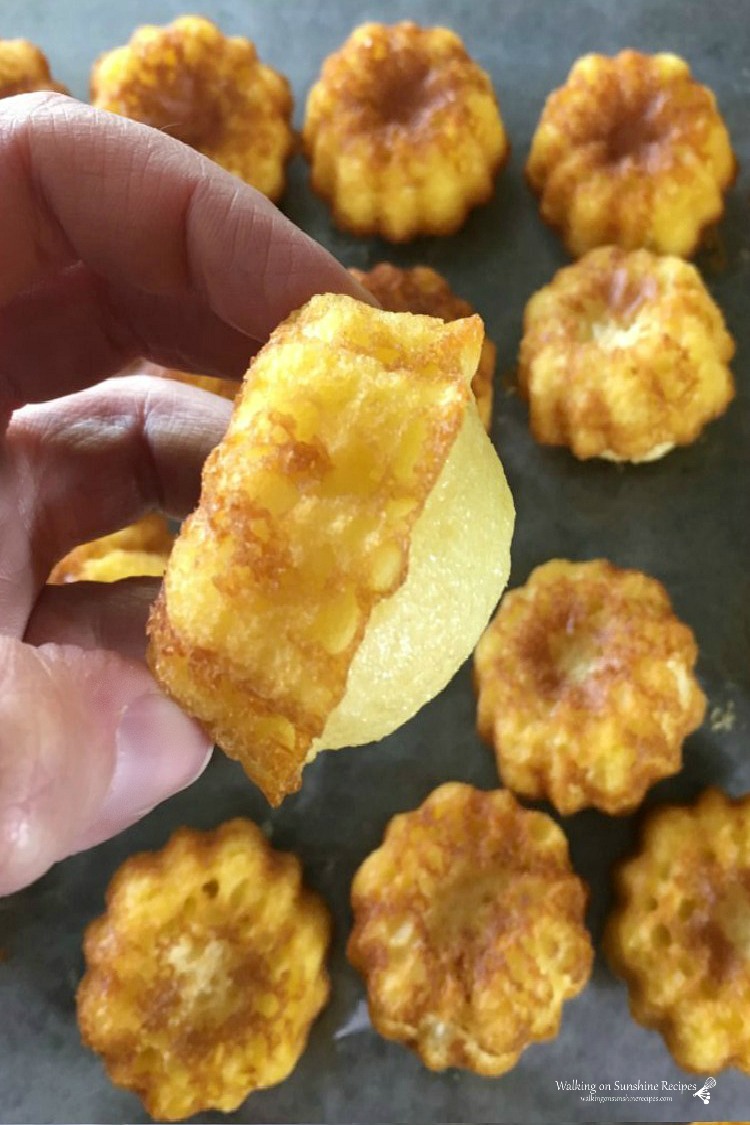 Easy Tip for Frosting Mini Bundt Cakes
An easy tip for using store-bought icing, is to warm the icing up in the microwave for 10 to 15 seconds. However, be careful! If you keep the icing in the microwave for too long, you'll have a liquid mess on your hands.
You could use a spoon to drizzle the icing on, but I love using my chocolate drizzler tool.
Once the icing is on top of the cakes, then sprinkle the toasted coconut followed by the chocolate candy eggs.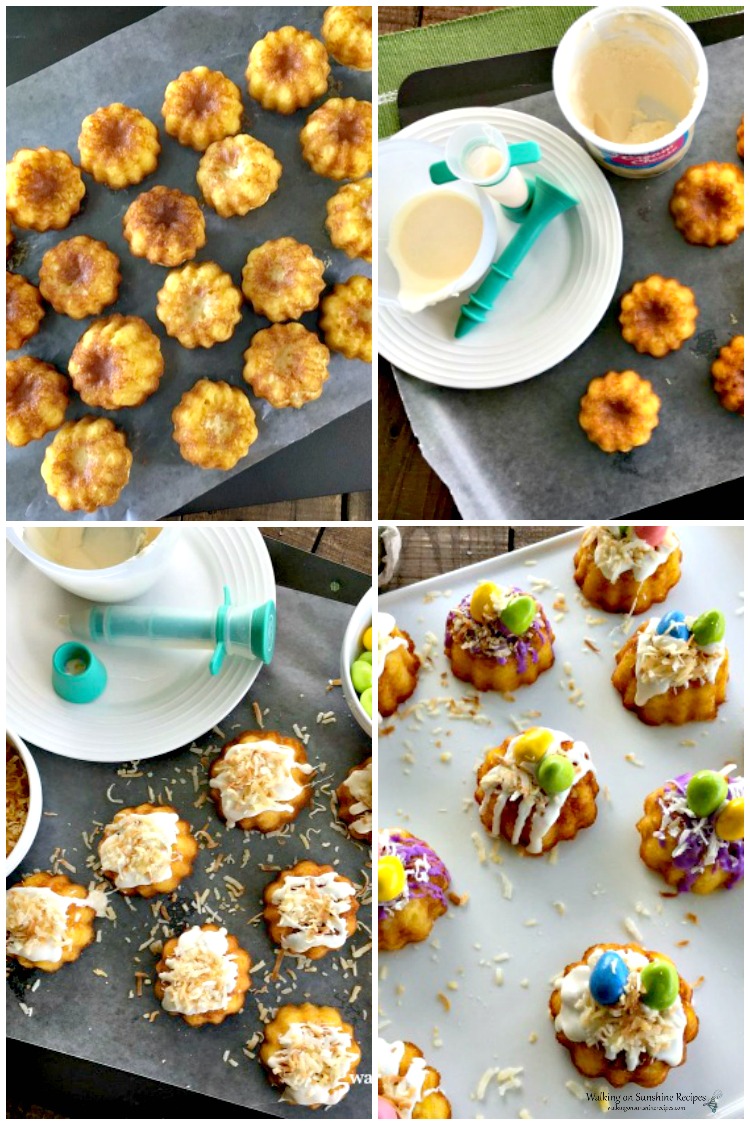 They're so cute, right? You can see in this photo how I used the two different colors of icing.
If you find that the chocolate candy eggs aren't sticking, you can add a little of the icing to the bottom of a candy egg and then gently hold it in place on top of the mini bundt cake.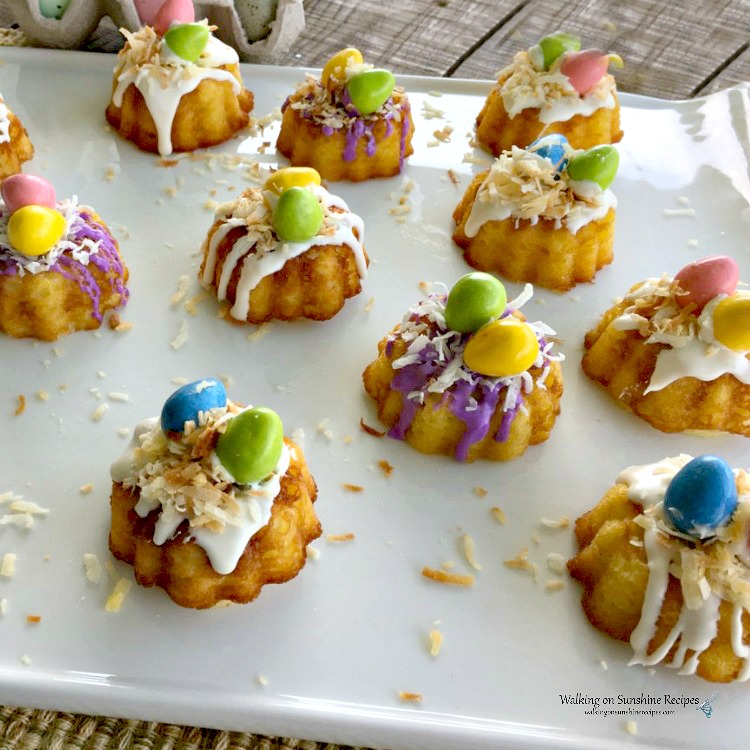 Looking for More Delicious Easter Recipes?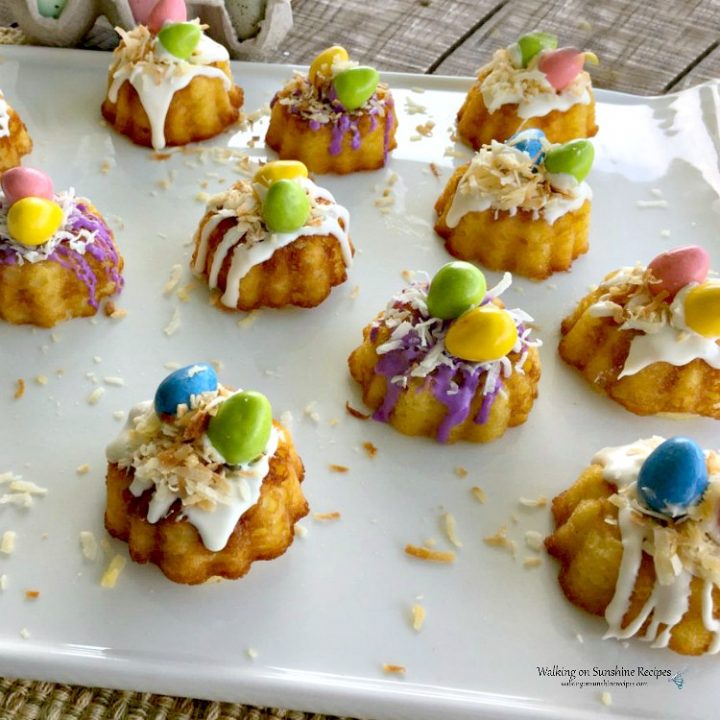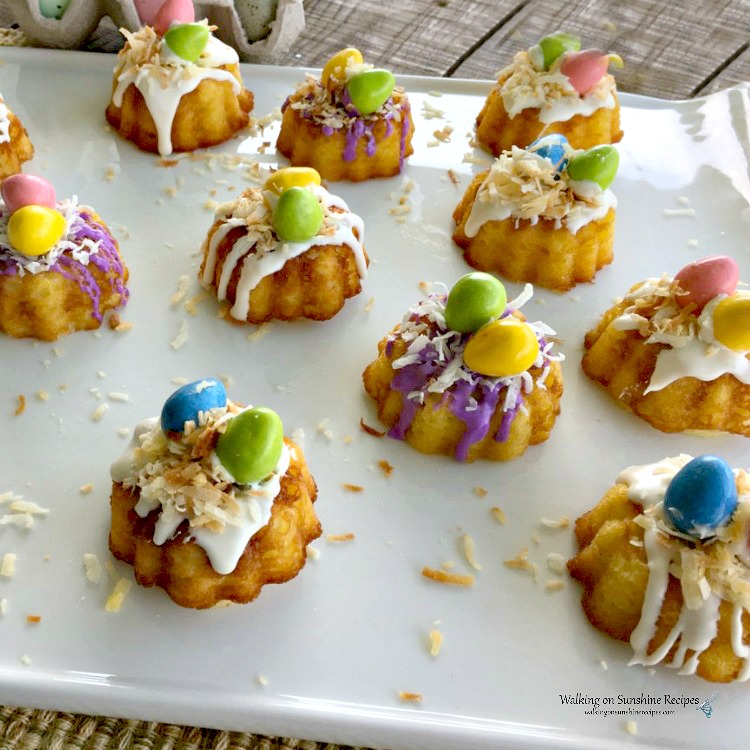 Easter Mini Bundt Cakes from a Cake Mix
Yield:
24 mini bundt cakes
Ingredients
1 box vanilla cake mix - 15.25 ounce
Cream Cheese Icing -1 16 ounce size container
48 Mini chocolate candy eggs
1/2 cup Shredded coconut
Instructions
How to Decorate the Mini Bundt Cakes:
Prepare the cake mix according to the directions on the back of the box.
Divide the batter evenly and pour into the mini bundt pan that has been sprayed with non-stick cooking spray.
Bake in a preheated 350 degree oven for about 15 minutes. Checking frequently to make sure you don't overcook the cakes! My mini cakes were done in 10 minutes.
Let the cakes cool for about 5 minutes or so before removing from the pan. Place on a cooling rack to cool completely before decorating.
How to Decorate the Mini Bundt Cakes:
Place half the cream cheese icing in a microwavable safe bowl and heat for 10 seconds. You do not want the icing to be too melted, so be careful not to over-melt.
Drizzle the icing over the mini bundt cakes.
Add the coconut to the top of the mini bundt cakes right away.
Add the mini chocolate eggs to the top of the cakes. You may need to dip the bottom of the eggs in the icing to act as a glue so they stay on top and don't fall off.

Notes
You will not use all the icing.
I chose to toast the coconut for my mini bundt cakes.
Recommended Products
As an Amazon Associate and member of other affiliate programs, I earn from qualifying purchases.
Nutrition Information:
Yield:

24
Serving Size:

1
Amount Per Serving:
Calories:

232
Total Fat:

9g
Saturated Fat:

4g
Trans Fat:

0g
Unsaturated Fat:

3g
Cholesterol:

11mg
Sodium:

186mg
Carbohydrates:

37g
Fiber:

1g
Sugar:

28g
Protein:

2g
The nutrition information is calculated automatically. I cannot guarantee its accuracy. If this data is important to you, please verify with your trusted nutrition calculator.