Mini Bundt Cakes from a cake mix are a fun way to celebrate Spring!  Delicious vanilla cakes topped with colorful icing, toasted coconut and candy pieces are perfect for Easter, Mother's Day or as a sweet treat for your family this weekend. 

Today I'm sharing with an easy and fun recipe for Easter Mini Bundt Cakes from a cake mix. Are you ready for Easter?  Do you have your menu planned?  More importantly, what are you planning for dessert?
It doesn't get any easier than this recipe…well I suppose you could have a guest bring dessert, but it's always nice to bake something.  These mini bundt cakes can be made for any occasion. They're not just for Easter!
I decided to use mini peanut butter chocolate eggs to top the mini bundt cakes but you could use other types of candy or even sprinkles would be fun too.  I'm going to make this recipe again on Sunday to celebrate my mother's birthday.  I'll use fun sprinkles to top the mini cakes instead of the chocolate eggs.
Easy Recipe for Mini Bundt Cakes!
Use a
cookie scoop
to help get the cake batter into the pan without making a huge mess.
I baked my mini cakes for 10 minutes.  You need to check them after 8 minutes or so of baking.  I like to set a timer because life happens sometimes, right?  You can see my hubby helped himself to a few before I was able to decorate them.
Easy Trick to Getting the Perfect Mini Bundt Cake
Now, here's the trick to getting these mini bundt cakes to lay flat.  Take a serrated knife and trim the bubble part of the cake.  Consider that your "treat" as you decorate the cakes!
How to Decorate the Easter Mini Bundt Cakes
I used store-purchased cream cheese frosting too!  Another easy trick is to warm the icing up in the microwave for 10 to 15 seconds…be careful not to overdo it!  You'll have a liquid mess on your hands if you do.  You could use a spoon to drizzle the icing on, but I love using my Drizzler Tool.
I chose to toast the coconut, but you really don't need to.
They came out great.  I made a few with purple icing too.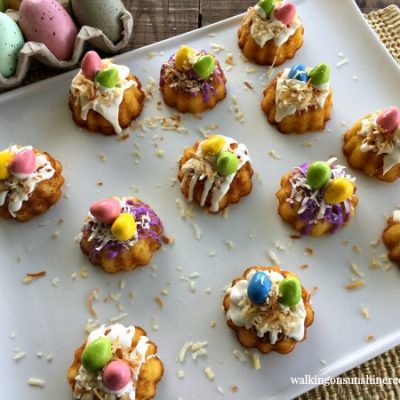 Mini Bundt Cakes
Mini bundt cakes can be used for any occasion or holiday. I used chocolate mini eggs to decorate them for Easter and colorful sprinkles for a birthday celebration.
Ingredients
1

box vanilla cake mix - 15.25 ounce

1 - 2

containers of icing - 16 ounce size each. I chose cream cheese icing and a vibrant purple icing to decorate.

Mini chocolate candy eggs or sprinkles to decorate

Shredded coconut
Instructions
Prepare the cake mix according to the directions on the back of the box.

Divide the batter evenly and pour into the mini bundt pan that has been sprayed with non-stick cooking spray.

Bake in a preheated 350 degree oven for about 15 minutes. Checking frequently to make sure you don't overcook the cakes! My mini cakes were done in 10 minutes.

Let the cakes cool for about 5 minutes or so before removing from the pan. Place on a cooling rack to cool completely before decorating.

Place half the cream cheese icing in a microwavable safe bowl and heat for 10 seconds. You do not want the icing to be too melted, so be careful not to over-melt.

Drizzle the icing over the mini bundt cakes.

Add the coconut to the top of the mini bundt cakes right away.

Add the mini chocolate eggs to the top of the cakes. You may need to dip the bottom of the eggs in the icing to act as a glue so they stay on top and don't fall off.
Recipe Notes
You will not use all the icing.
I chose to toast the coconut for my mini bundt cakes.

This post contains affiliate links. Your cost is the same, but I earn a commission when you shop through them.  For more information, click 
here
.
More Information
More Information
More Information
More Information
More Information
More Information
More Information