Chocolate Covered Peanut Butter Eggs are the perfect treat to make for your family this Easter! Seriously, is there anything better than peanut butter covered in chocolate?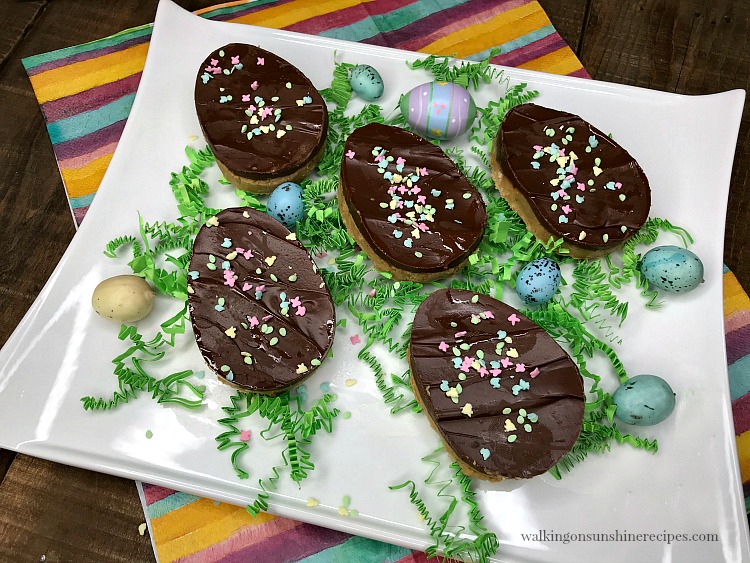 Chocolate Covered Peanut Butter Eggs
For as long as I can remember both my husband and my son have loved Reese's Peanut Butter Cups. I think they both might have a slight addiction. But who can really blame them. There really is something amazing about combining chocolate with peanut butter.
This recipe for Chocolate Covered Peanut Butter Eggs is the same that I posted a few years ago for Homemade Peanut Butter Bars. Only this time I made them thinner by using a bigger bar pan and then used an cookie cutter to get the egg shape. Oh and my hubby helped make these too!
We had a huge storm here in our corner of the world a few days ago. A huge storm. I mean a really huge storm. It was almost like we had a blizzard and a hurricane on the same day. People in our area are still without power and we're expecting another huge storm in a few hours.
So I thought I better get this recipe posted tonight just in case we lose power tomorrow. These Chocolate Covered Peanut Butter Eggs are really best eaten chilled or even frozen. At least that's how my guys enjoy them.
How to make Chocolate Covered Peanut Butter Eggs
Here are the ingredients for the first layer. Yes, there are two layers for this recipe and also two steps. You'll make the first layer and then chill it for about an hour before covering it with the top chocolate and peanut butter layer. Yes, this recipe calls for peanut butter twice!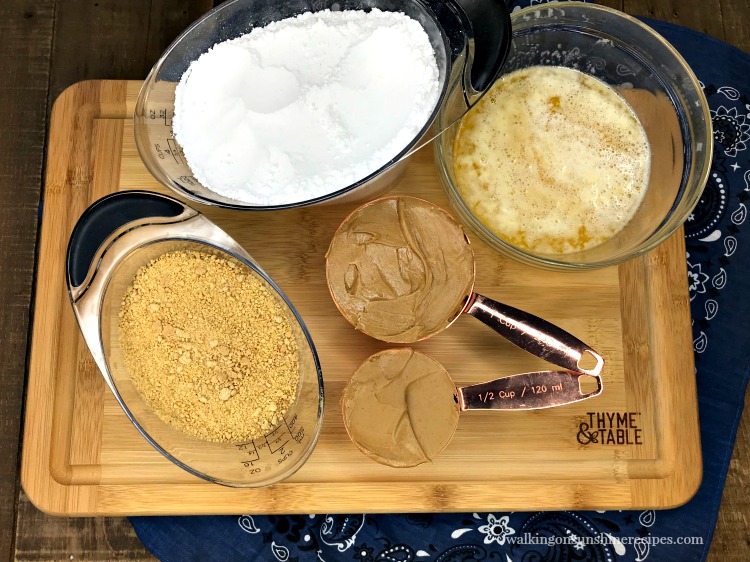 Combine the ingredients for the first layer together in a mixing bowl.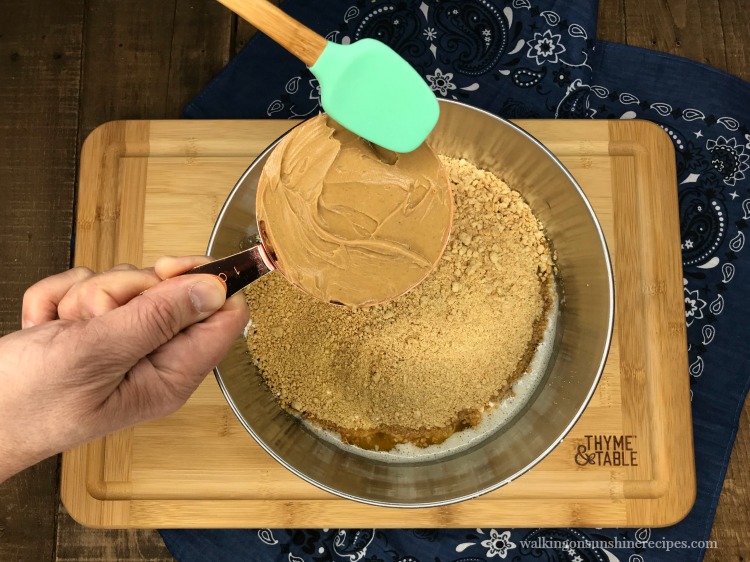 Press the ingredients together into the bottom of an 14X10 size pan. Then place the tray in the refrigerator for at least 30 minutes to an hour. You want this bottom layer completely chilled before adding the next layer.
You can use a 9X13 sized pan as well…which is what the original recipe calls for. But for this recipe I wanted a thinner layer to use to cut the shapes out. I used parchment paper in the bottom of the bar pan as well to make it easier to get the peanut butter layer out after it has chilled.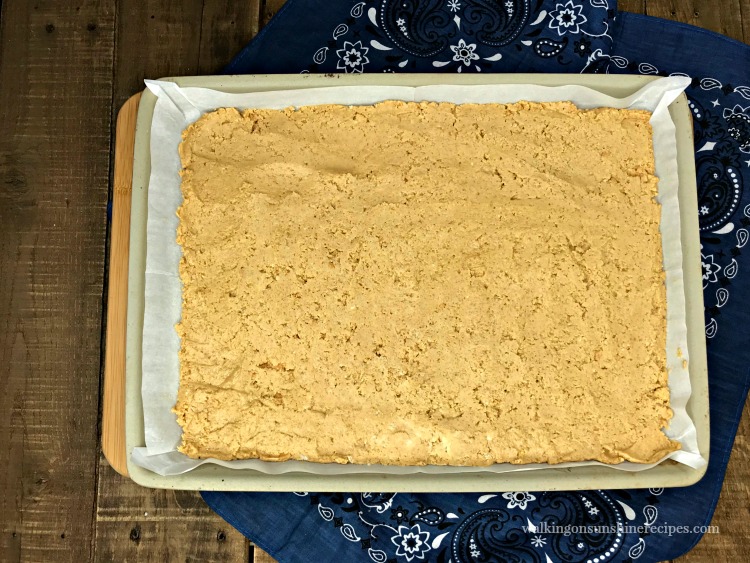 How to make the Chocolate Peanut Butter Layer
Now, let's get the top layer ready. Combine the peanut butter and the chocolate chips together in a microwave-safe bowl. Microwave in one minute intervals until everything is melted.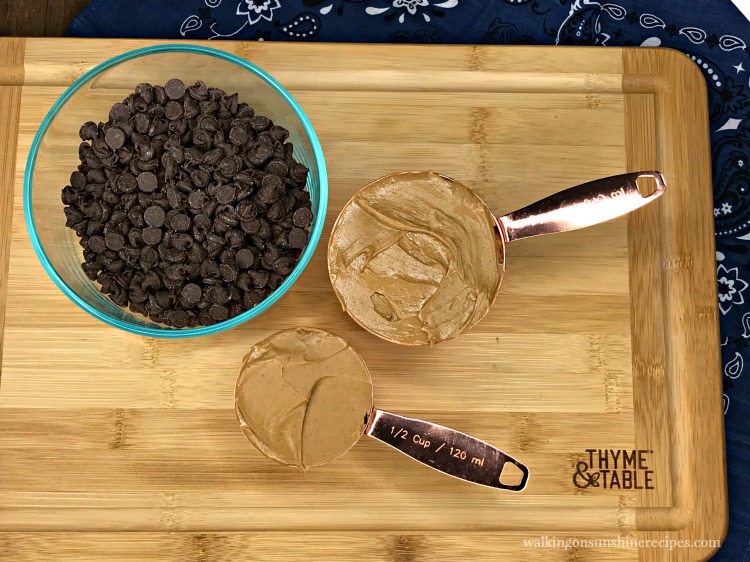 Spread the melted chocolate and peanut butter mixture on top of the first layer. Then place the tray back in the refrigerator for another 30 minutes or longer until both layers are completely chilled.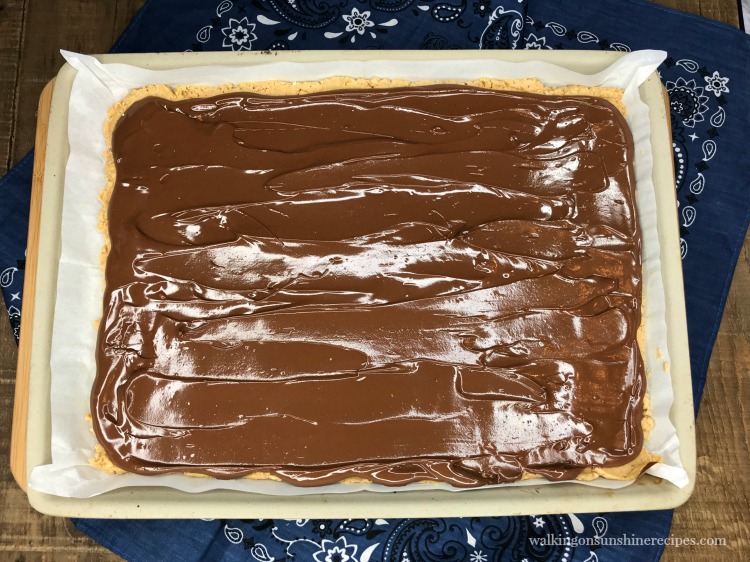 Gently lift the edges of the parchment paper up from the bar pan and place on top of a cutting board.
Now, ignore that corner that's missing. I needed to taste test the recipe! Place your cookie cutter on top of the peanut butter layers and start cutting out the shapes.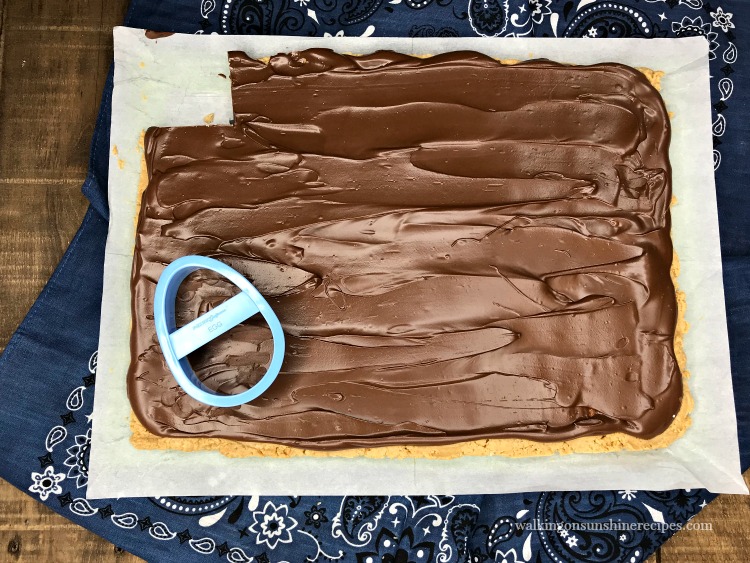 Place the Chocolate Covered Peanut Butter Eggs on a platter.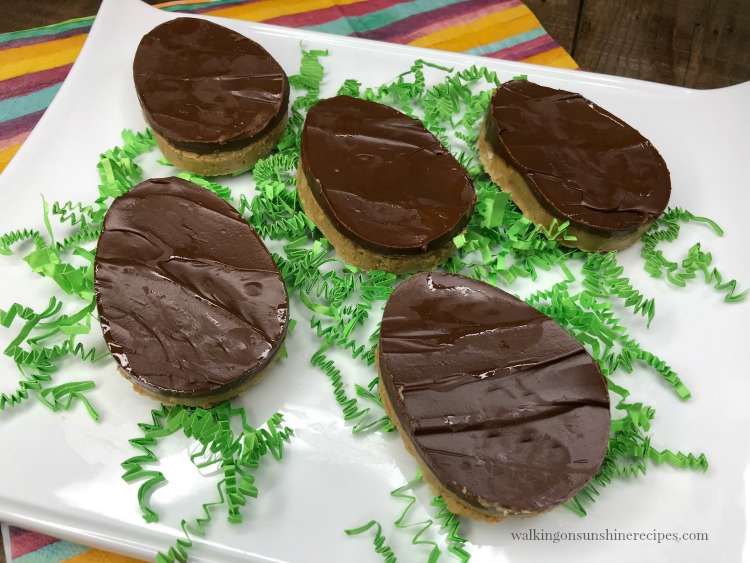 Decorate them if you'd like, but they're good just as they are. Look how delicious!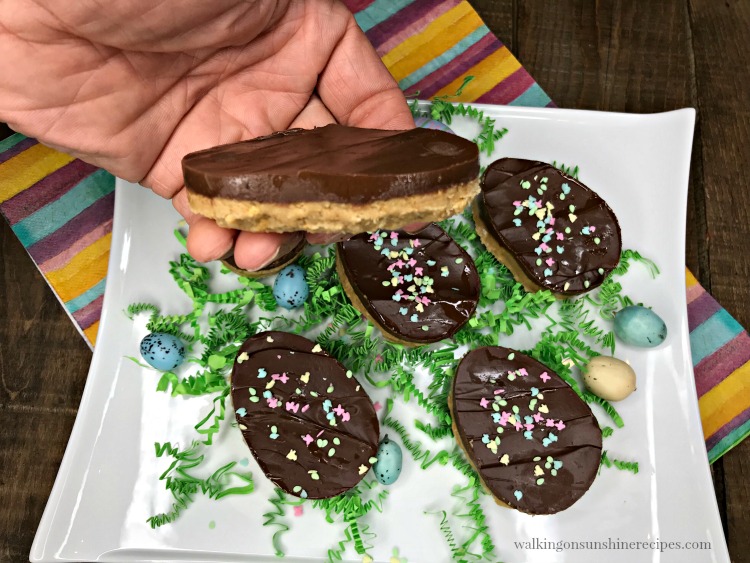 These are perfect for Easter!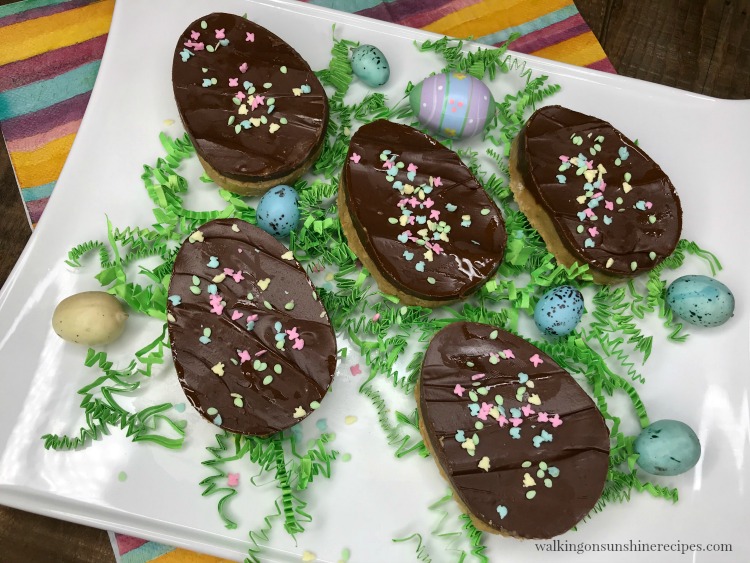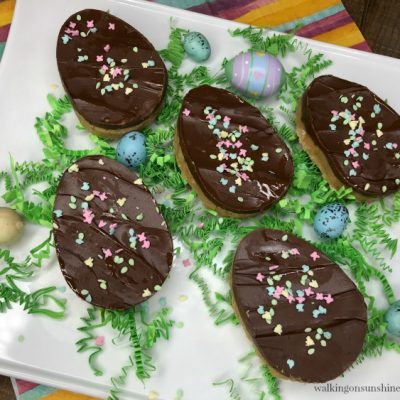 Chocolate Peanut Butter Eggs
An easy and delicious no bake recipe for homemade peanut butter eggs that taste just like the peanut butter cups you buy in the store. You can slice them into squares or use a cookie cutter for fun shapes!
Keyword:
Peanut butter, chocolate
Ingredients
For the Peanut Butter Layer
1

cup

butter melted

3 3/4

cups

powdered sugar

1 1/2

cup

creamy peanut butter

1 1/2

cup

graham cracker crumbs
For the Topping
1

package milk chocolate chips

1 1/2

cup

creamy peanut butter
Instructions
In a large bowl, mix together the ingredients for the peanut butter layer.

Press into a 13X9 inch baking pan.

Chill for one hour.

Place chocolate chips and peanut butter into a microwave-safe bowl.

Microwave for one minute. Stir until melted and smooth. Repeat if necessary until all the chocolate chips are melted.

Pour over the peanut butter layer. Chill for two hours or until firm.

Slice and enjoy!
Recipe Notes
Cook Time refers to chilling time. 

This post contains affiliate links. Your cost is the same, but I earn a commission when you shop through them. For more information, click here.
More Information
More Information
More Information
More Information
More Information
More Information
More Information
More Information
More Information