If you're looking for delicious to celebrate the start of the Fall holiday, I'm sure you'll find something in this collection of Pumpkin Dessert Recipes today! 
Included in this collection of easy dessert recipes are pumpkin cakes, pies, muffins, cookies and even my favorite pumpkin crumb donuts.
Check out all the other easy pumpkin dessert ideas for even more delicious recipes.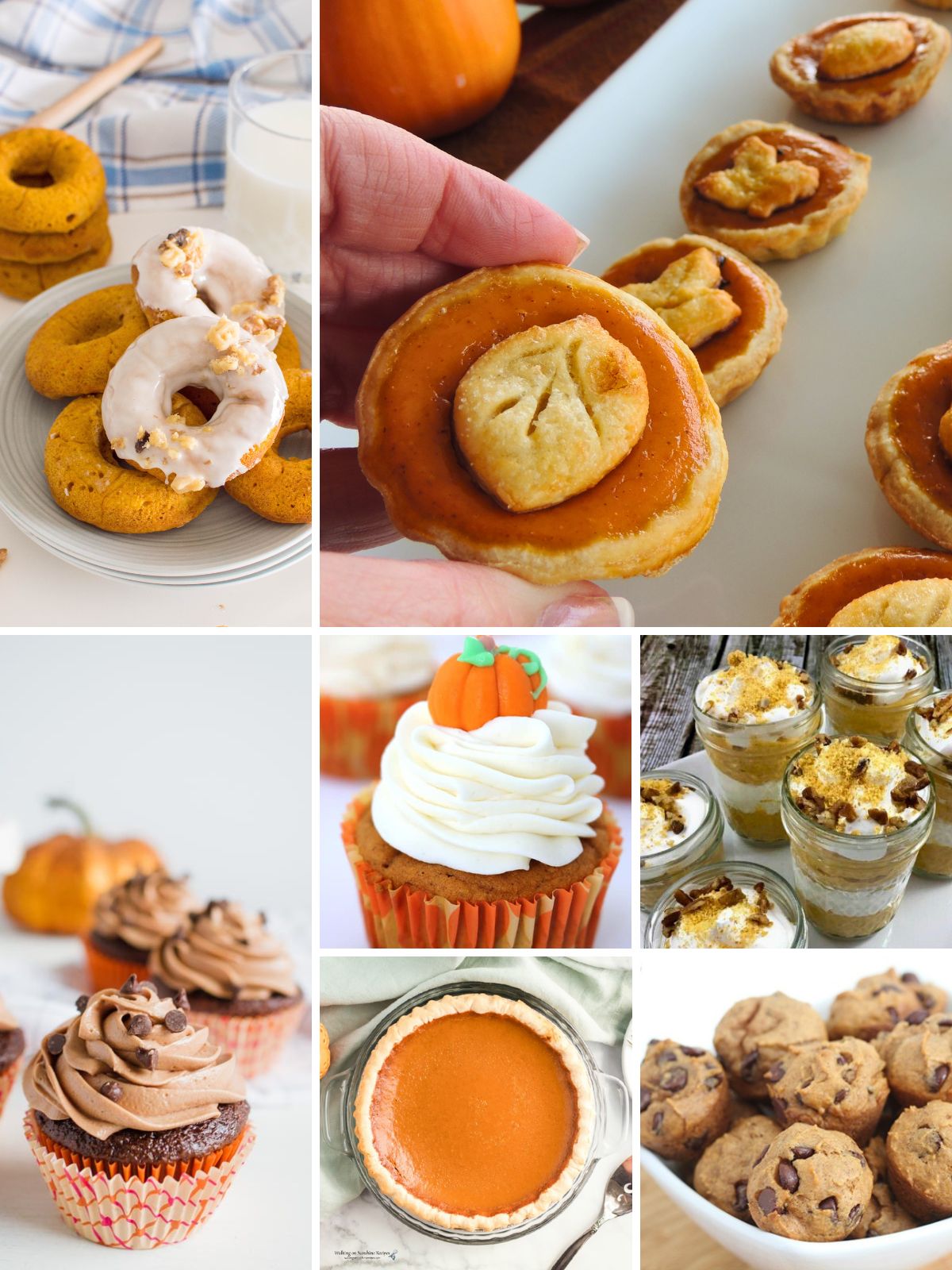 Fall is in the air, and that means it's time to indulge in the warm and cozy flavors of pumpkin. From decadent pies to irresistible cookies and and a few cupcake recipes, this collection promises to indulge your seasonal cravings.
Make sure you check out my favorite 2 Ingredient Pumpkin Bread. It's an easy recipe that comes together fast!
Looking for more Easy Desserts for Fall? Try my Cake Mix Pumpkin Chocolate Chip Cookies, Pumpkin Apple Dump Cake or my  Mini Pumpkin Bundt Cakes.
Table of Contents
Fresh Pumpkin Dessert Recipes
But first, let's talk about the type of pumpkin you should be looking for when shopping in the grocery store to make these delicious fresh pumpkin dessert recipes.
There is a huge difference that can eventually affect the flavor of the recipe. So pay attention to the recipe and don't substitute canned pumpkin puree for pumpkin pie mix. 
What is the Difference Between Canned Pumpkin and Pie Filling?
This post contains affiliate links. Your cost is the same, but I earn a commission when you shop through them. For more information, click here.
Before we start baking, let's talk about something important. I've received a few emails over the past few months regarding pumpkin puree and pumpkin pie filling. Most of the pumpkin recipes you see on this site call for Pumpkin Puree. So what is the difference between the two?
Pumpkin puree is just as the can says, it's cooked, pureed pumpkin. Nothing has been added to it. On the other hand pumpkin pie filling is flavored with spices such as cinnamon, clove, allspice and ginger.
There's also sugar added to pumpkin pie mix. It's an easy way to make pumpkin recipes with all the spices and sugar added.
More Information
More Information
Can you Freeze Pumpkin Pie Mix?
The pumpkin pie mix filling can be frozen for up to three months in an airtight container or properly wrapped. When ready to use, it can be thawed and mixed before making the pie.
Freezing pumpkin pie mix can be a convenient option if you want to prepare ahead of time or have leftovers to save to use for another recipe later.
🛒Helpful Kitchen Tools
Bakeware SetMore Information
Pyrex Basics 3 Quart GlassMore Information
Insulated Expandable Double Casserole CarrierMore Information
Cook with Color 8 PieceMore Information
Pastel Polka Dot Picnic/Dinner Plate,More Information
💡Recipe FAQ
Simply click the plus sign to read more about the questions you see below. If YOU have a question regarding this recipe, please let me know in the comment section.
Can you freeze fresh pumpkin?
Yes, you can freeze raw or cooked pumpkin in either freezer safe bags or containers for up to three months.

Can you freeze canned pumpkin?
Leftover canned pumpkin only lasts for about a week when stored in the refrigerator. You can easily place the leftover canned pumpkin in ice cube trays and then pop out the cubes once frozen to store in freezer safe bags.

In the past, I have measured out 1 cup scoops of canned pumpkin and placed in freezer bags. That way I have pre-measured pumpkin ready to go for recipes.

How do you defrost frozen pumpkin?
Allow pumpkin to thaw in the refrigerator overnight. When the pumpkin is defrosted it might be a little watery. Stir the pumpkin puree to incorporate the water and it should be fine to use in recipes.

Thanksgiving Planner with Recipes and Printables to help you have a GREAT celebration!Click HERE for More Information
📇Featured Recipe Collection
⭐Before You Begin! If you make any of these recipes, please leave a review and star rating. This helps my business thrive and continue providing FREE recipes.
Amazing Pumpkin Dessert Recipes
Included in this delicious roundup today are pumpkin cakes, pies, muffins, cookies and even donuts. Yes, I'm including donuts as part of our pumpkin dessert recipes because these donuts featured are as sweet as a dessert!