You won't believe how delicious this 2 Ingredient Pumpkin Bread recipe is until you try it. Really, it's that good! Let me show the world's easiest recipe for pumpkin bread that only uses two ingredients.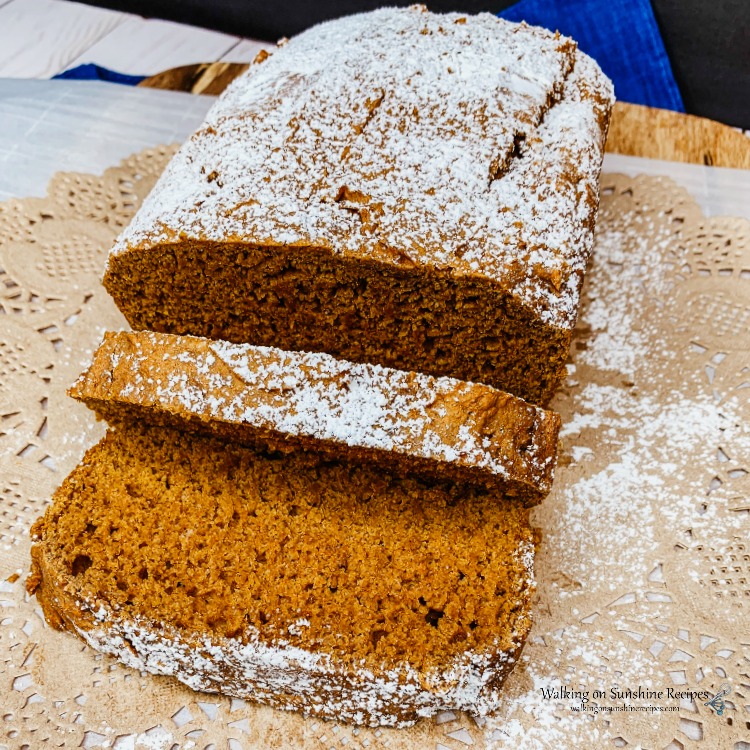 Not only does this recipe have only 2 ingredients, there's no eggs, milk or butter! The recipe comes together fast too. It's ready to be placed in the oven in 5 minutes. Hey, my oven doesn't even preheat that fast!
2 Ingredient Pumpkin Bread
You know it's Fall when the smell of pumpkin begins filling the house! Either by way of baking or by way of a candle…well at least in our house. I love the smell of pumpkin and cinnamon. This recipe is very similar to my recipe for Pumpkin Spice Donuts.
Both recipes start out with a spice cake mix and a can of pure pumpkin making them incredibly easy. I often wonder why we only enjoy pumpkin recipes during the Fall? Maybe that's why we love these flavors so much is because we only enjoy them for a few weeks every year?
This post contains affiliate links. Your cost is the same, but I earn a commission when you shop through them. For more information, click here.
Pumpkin Bread Ingredients
Make sure you print out the recipe below and save it for later!
1 box Spice Cake Mix
2 cups canned pumpkin; not pumpkin pie filling
As you can see from this photo below, I only had a large can of pure pumpkin in my pantry, which is way too much pumpkin for this one recipe. But not to worry! I plan on making Pumpkin Pancakes with the leftover this weekend.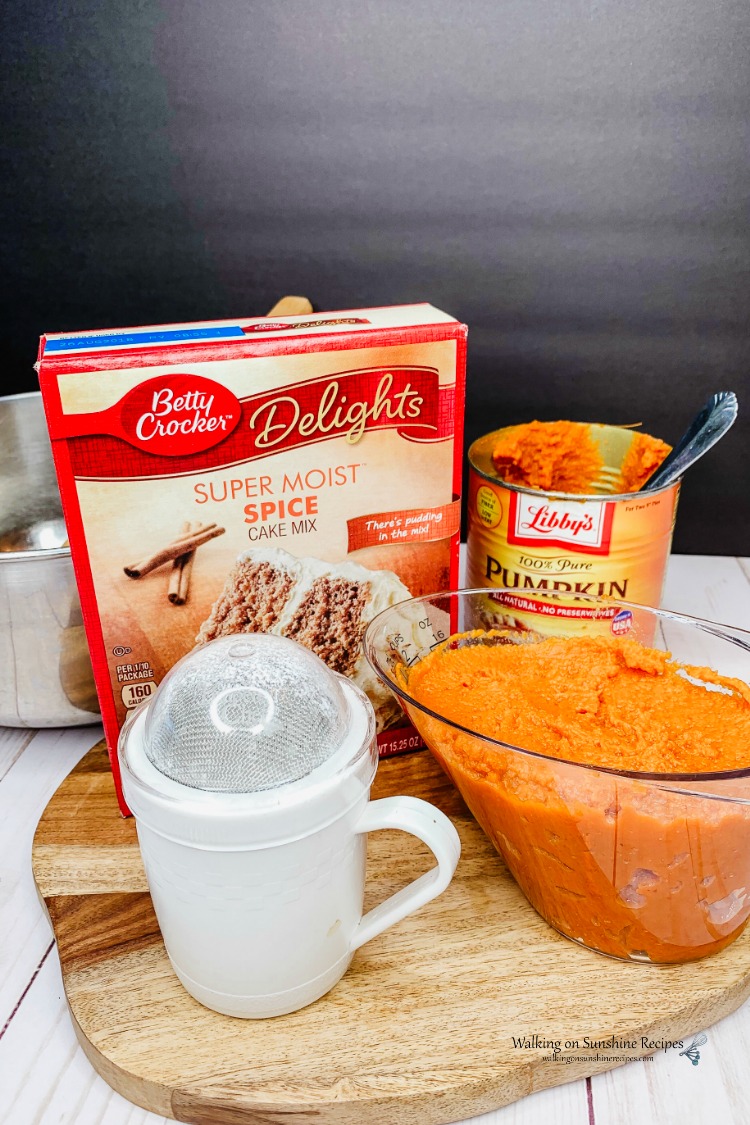 How to Make 2 Ingredient Pumpkin Bread
To begin with, this recipe comes together FAST. Not only is it fast, but you don't even need to use a stand mixer. That's right, just put the ingredients in a large bowl and grab a wooden spoon to combine everything.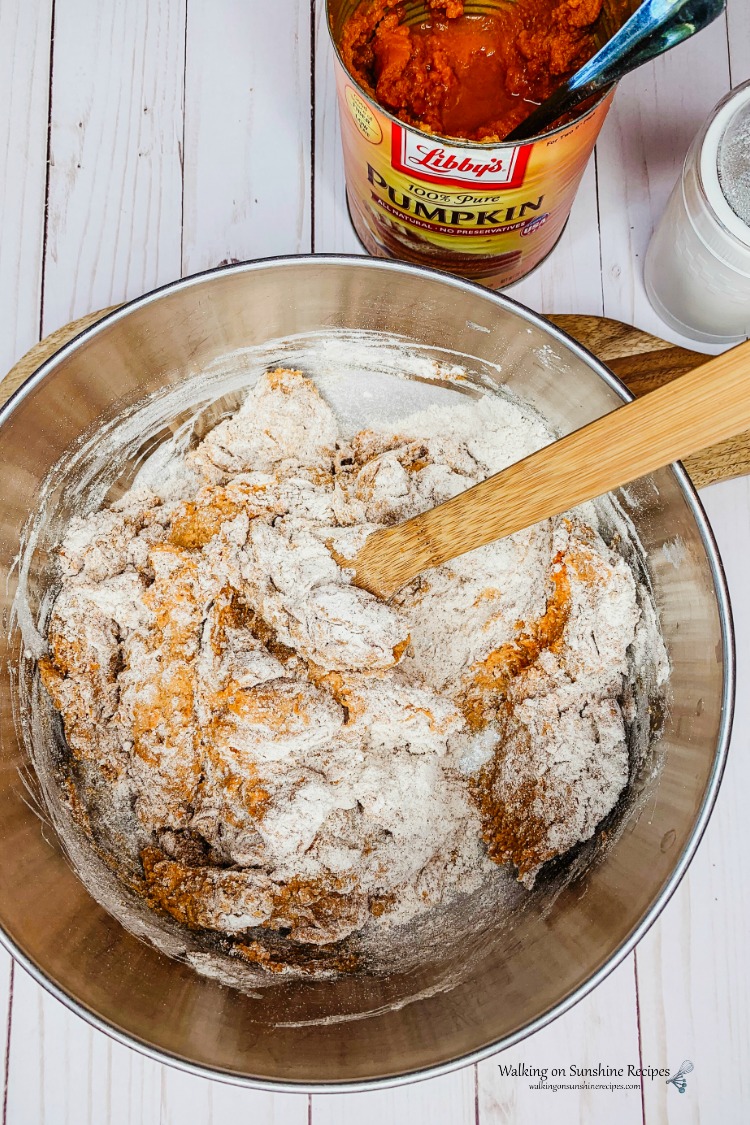 At first I thought I was going to have grab my hand-held mixer but within just a few minutes of stirring, the batter came together perfectly.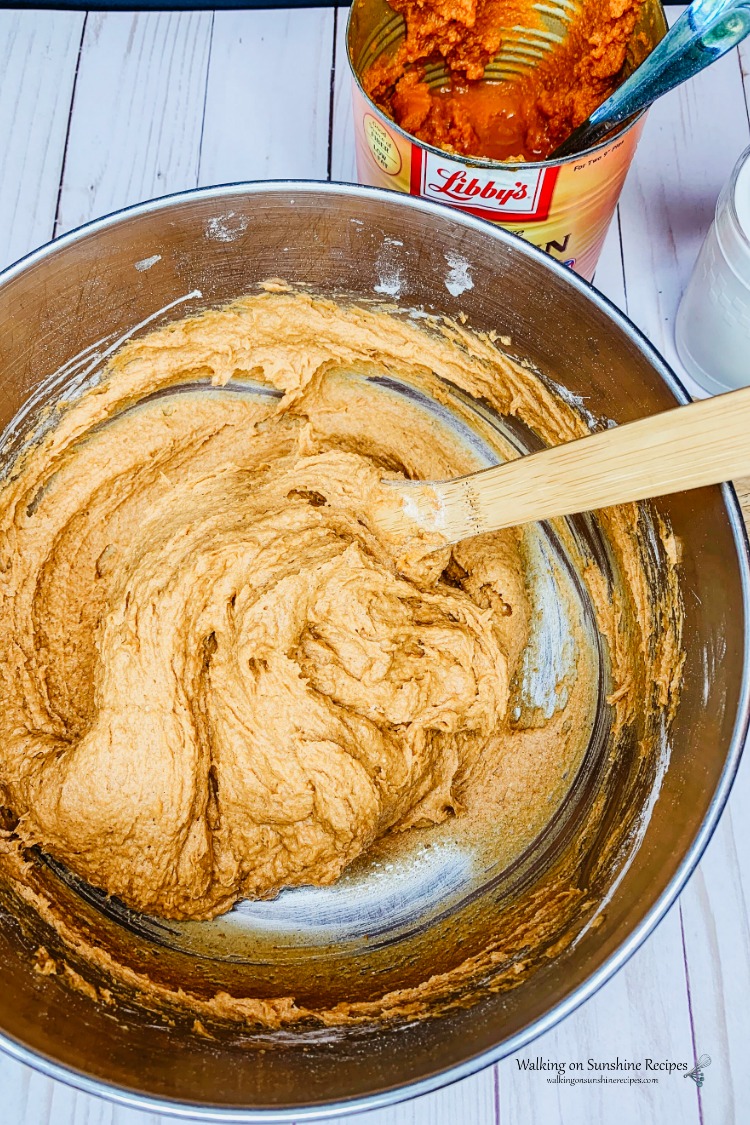 How to Prepare a Loaf Pan for Baking
If you've been a reader of this site for awhile, you know how much I love using parchment paper. In particular, I love these Parchment Baking Cookie Sheets. For awhile now I've been using them to line baking trays when I bake bar cookies, brownies or even loaf pans!
They make it extremely easy to remove the baked goods from the baking dish without sticking. I find that using clips or even old clothespins helps to keep the parchment paper in place while you're filling the loaf pan with the batter.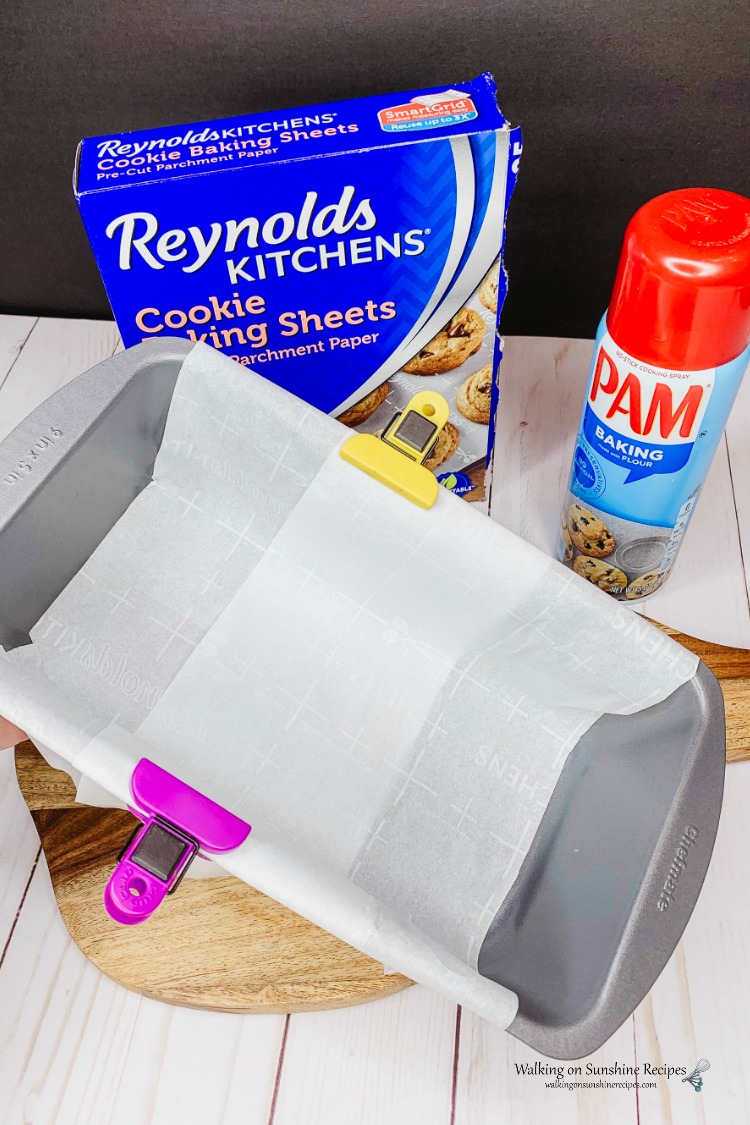 Make sure you remove the clips before adding the loaf pan in the oven!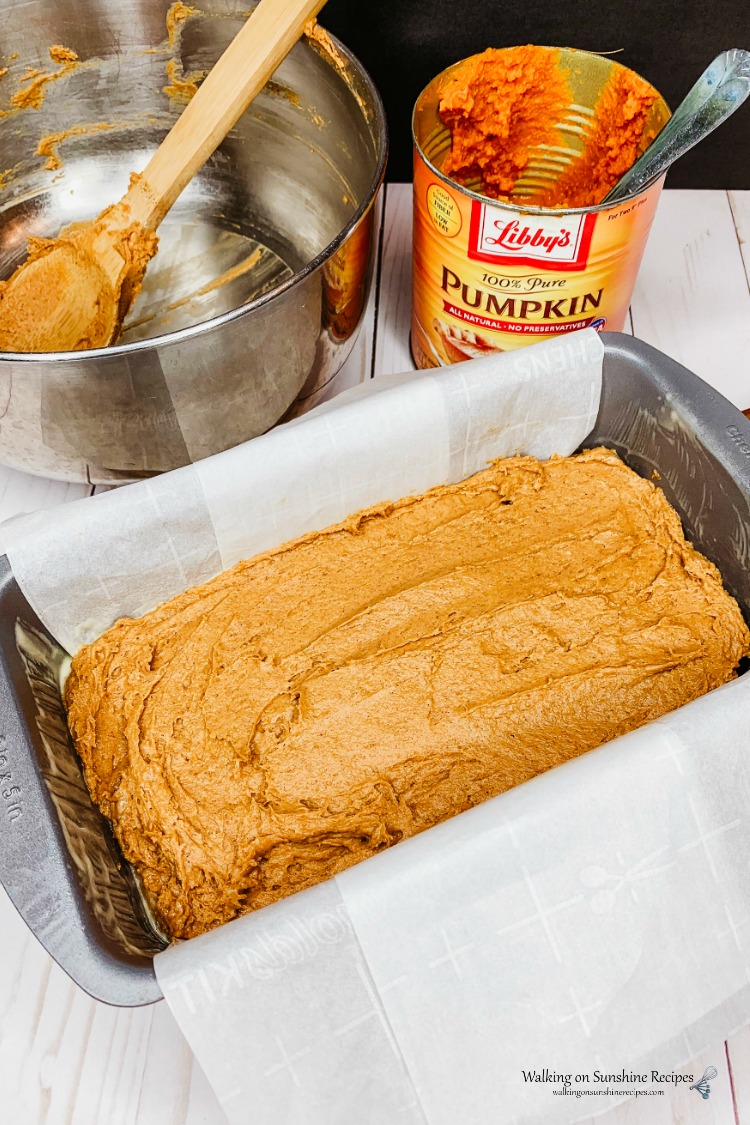 Bake in a preheated 350 degree oven for 35 to 40 minutes.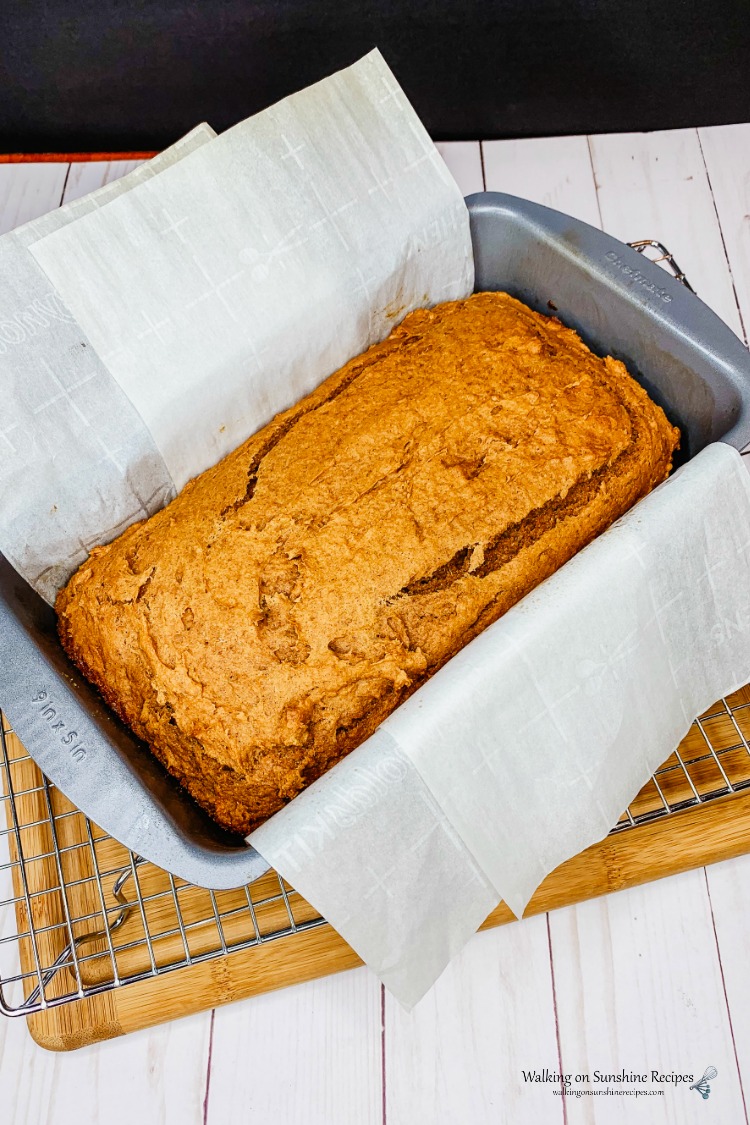 How do you know when Pumpkin Bread is Done?
I always set a timer when I'm baking anything. However, I always set my timer for 3 to 5 minutes under the recommended baking time. Why? Because all ovens are different. That being said, follow these simple tips for helping you know when this recipe for pumpkin bread is done:
Insert a toothpick into the center of the bread. If the toothpick comes out clean or with only a few crumbs clinging to it, it's safe to remove the bread from the oven to a cooling rack.
Another way that I like to use is to lightly touch the center of the bread. If the bread feels springy, it's done. If you notice that your finger made an indentation in the center of the bread that is remaining, let the bread bake for a few more minutes.
The final way is by looking at the edges of the loaf pan. If you notice the edges are pulling away from the sides of the pan, the bread is done. You can actually see the sides pulling away from the pan in the photo above. That told me the bread was baked perfectly!
Look how EASY the pumpkin bread lifts out of the loaf pan with the use of the parchment paper!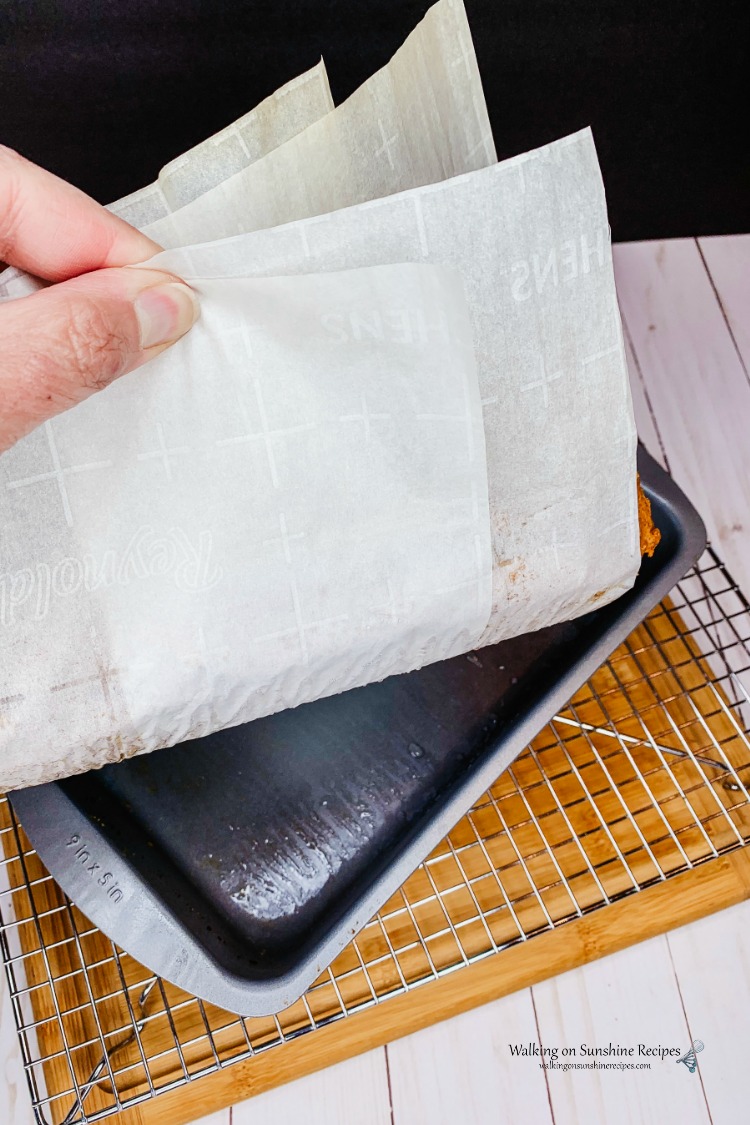 Allow the bread to cool on a baking rack for a few minutes before slicing and enjoying. Sprinkle with powdered sugar right before serving!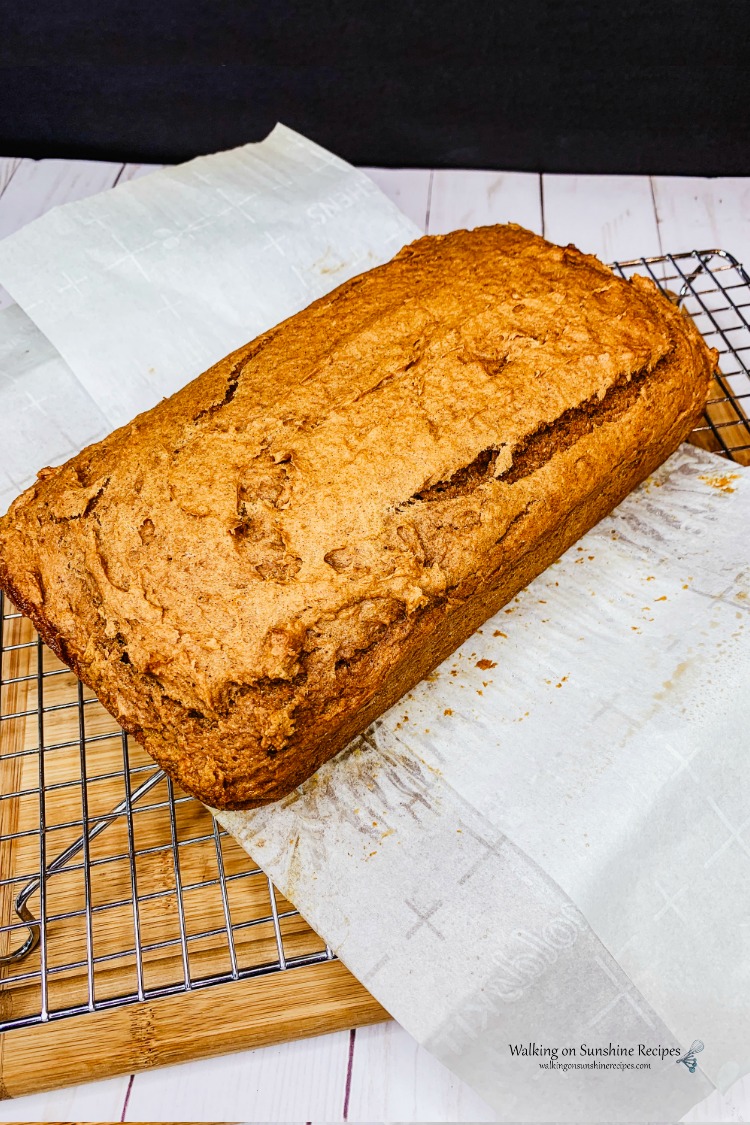 How to Store Pumpkin Bread
If you have leftovers and that's a big IF, you can store the bread in an airtight container.
You can leave it at room temperature for a few days but I like to store all baked goods in the refrigerator.
You can freeze the bread as well. Wrap it tightly first in plastic wrap and then in aluminum foil. It will last up to 3 months in the freezer.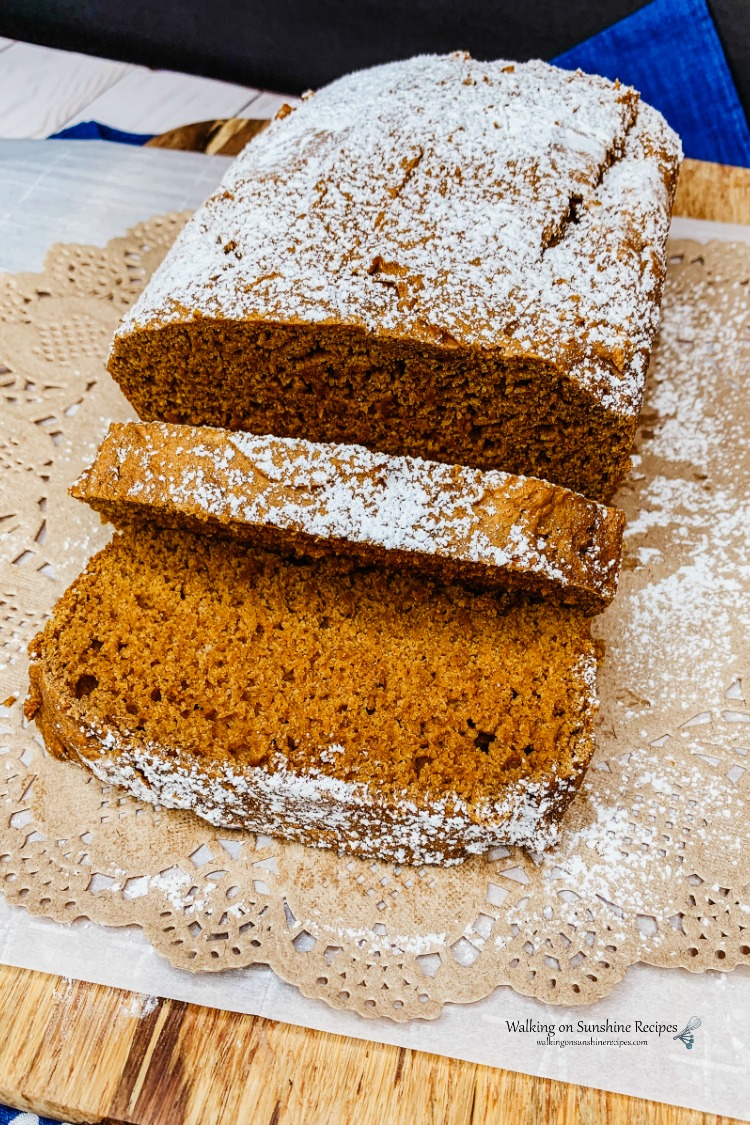 More Delicious Fall Inspired Recipes: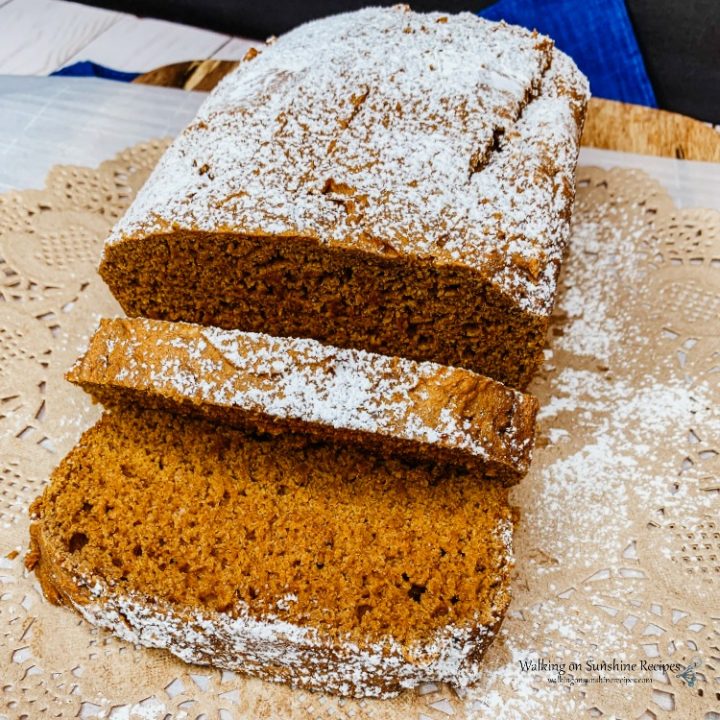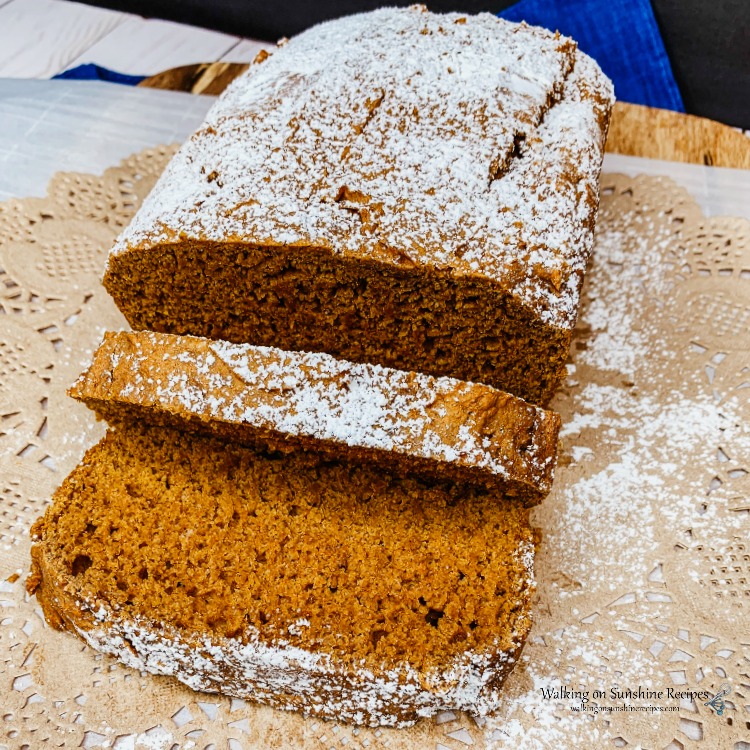 2 Ingredient Pumpkin Bread
Yield: 8 to 12 servings

Prep Time: 5 minutes

Cook Time: 35 minutes

Total Time: 40 minutes

You won't believe how delicious this 2 Ingredient Pumpkin Bread recipe is until you try it. Really, it's that good! Let me show the world's easiest recipe for pumpkin bread that only uses two ingredients. 
Ingredients
1 box Spice Cake Mix
2 cups pure canned pumpkin
Instructions
Preheat oven to 350 degrees.
Prepare a 9 1/4 X 5 1/4 loaf pan with parchment paper. Set aside.
In a medium sized mixing bowl add the Spice Cake Mix and the 2 cups of canned pumpkin.
Using a wooden spoon, stir until well blended.
The batter will be very thick.
Add the bread batter to the prepared loaf pan.
Bake in a preheated 350 degree oven for 35 minutes or until a toothpick inserted in the middle of the bread comes out clean.
Allow to cool on a baking rack for 10 minutes before sprinkling with powdered sugar.
Notes
You can stir in mini chocolate chips into the batter or chopped pecans!
Recommended Products
As an Amazon Associate and member of other affiliate programs, I earn from qualifying purchases.
Nutrition Information:
Yield: 8 Serving Size: 1
Amount Per Serving: Calories: 266Total Fat: 2gSaturated Fat: 1gTrans Fat: 0gUnsaturated Fat: 1gCholesterol: 0mgSodium: 480mgCarbohydrates: 59gFiber: 3gSugar: 30gProtein: 3g

The nutrition information is calculated automatically. I cannot guarantee its accuracy. If this data is important to you, please verify with your trusted nutrition calculator.