You're going to love the burst of flavor with these Ranch Flavored Carrots!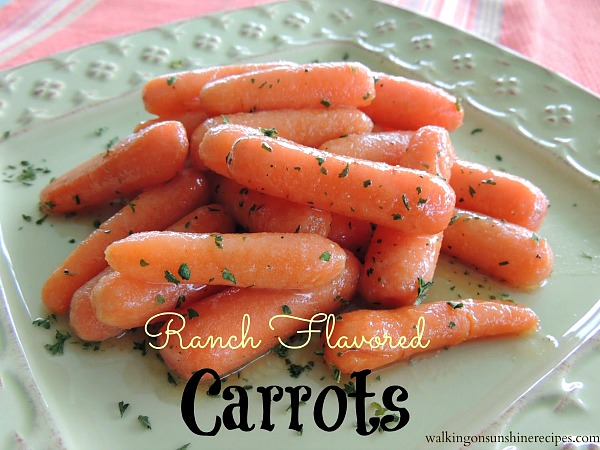 I hope everyone had a nice weekend! The weather here in PA was absolutely beautiful. It's been nice to finally enjoy some nice weather after such a horrible and LONG winter. We were able to get most of our vegetable garden planted. I'm waiting on two new window boxes I ordered from Amazon to finish up some planting for our back porch.
I came across this recipe awhile ago and finally made it over the weekend. These Ranch Flavored Carrots are amazing. They're great as a side dish to chicken or steak and would be perfect on the table for Thanksgiving.
Ranch Flavored Carrots
prep time: 5 MINScook time: 15 MINStotal time: 20 mins
Your family is going to love this recipe for Ranch Flavored Carrots for special occasions and holidays.
INGREDIENTS:
1 package of baby carrots
5 Tbsp. butter; melted
3 Tbsp. brown sugar; see note below.
1 package dry ranch dip mix; I used a store brand and it worked great.
INSTRUCTIONS:
Steam the carrots until soft and tender.
In a bowl, combine the melted butter, brown sugar and ranch dip mix.
Pour over the carrots and keep warm until ready to serve.
Note:
You can adjust the amount of sugar used.