Tips and Ideas on Thanksgiving Table Decor and my Thanksgiving table from last year's celebration.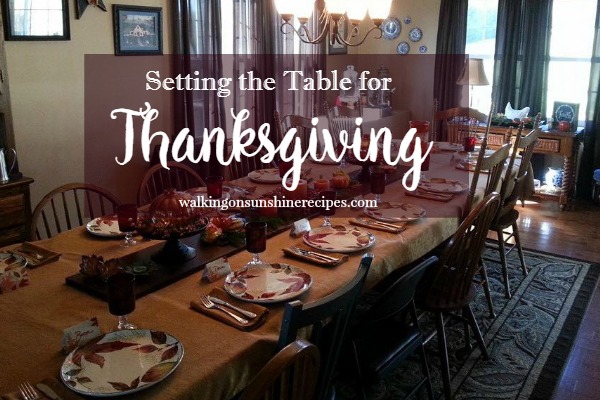 Thanksgiving Table Decor
We are hosting Thanksgiving this year and I couldn't be more happier. I do love Thanksgiving and love everything that goes with the preparation. Yes, even all the cooking the day before!The most fun thing that I love to do is to setting the table for Thanksgiving. I usually try to get the table set a few days before Thanksgiving and am going to share with you today what our table decor looked like last year.

This post contains affiliate links. Your cost is the same, but I earn a commission when you shop through them. Your purchase helps support this site and the fun things I share. For more information, click here.

Easy Ideas for Setting the Table for Thanksgiving
Last year my hubby did such a great job setting up the camera and taking photos before everyone arrived and then I promptly uploaded them to my computer and saved them on thumb drives…NOT. I have no clue where all the photos are that he took. But I'm thankful my sister arrived at the house early and snapped a few. I grabbed this one off of her Facebook page.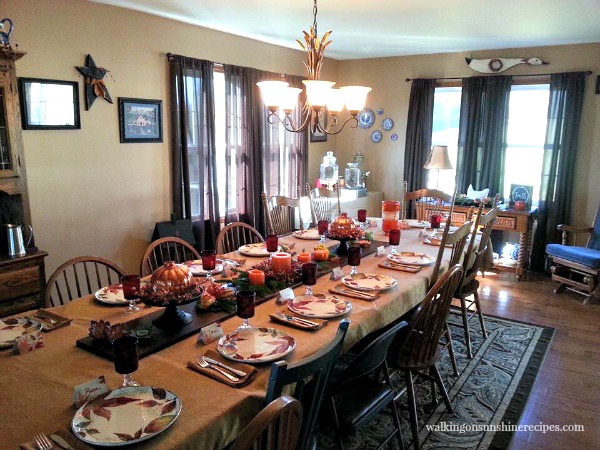 I think I love my centerpiece the most. I've been using these spare bookshelves from our bookcases for a few years now and I love how they define the center of the table. I use them as my table runner.

When we have guests over for informal gatherings I like to take everything off the bookshelves and place the food right down the middle of the table for everyone to help themselves and eat family style. For Thanksgiving, my hubby went and cut down fresh pine for me to use.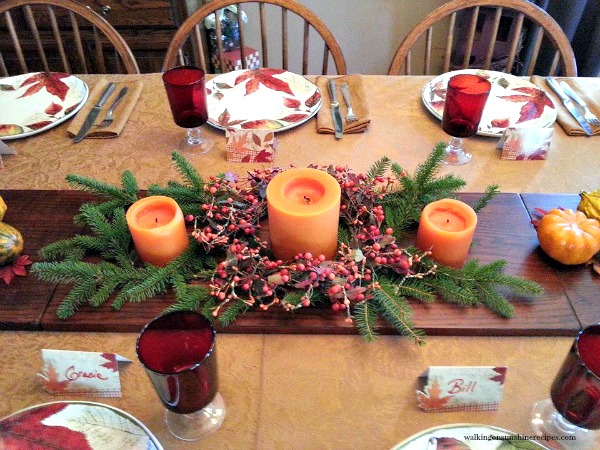 Thanksgiving Table Decor Ideas
A few years ago, I decided to use a payment from a blogging job and purchase Fall plates. These plates are very similar to the ones I have. And I know that's a huge investment for some people, but you'd be surprised to see how inexpensive some plates are these days!
I was going to get plates that had a more Thanksgiving theme, but decided on getting plates that I could use for a few more occasions than just Thanksgiving. Johnson Brothers Thanksgiving Dishes was a set of plates I was seriously considering purchasing.
I love these Christmas themed plates as well that I included.
More Information
More Information
More Information
More Information
More Information
Drinking Glasses
The red glasses are from my mother and quite old. They look beautiful next to the plates.

More Information
More Information

Place Cards
Yes, I do place cards. These are Scripture Place Cards that we each take a turn reading before we pray for our meal.

More Information
More Information
More Information
More Information
Here's a closeup of the table a few days before Thanksgiving taken with my phone. I always keep the glasses turned upside down until an hour or so before our guests arrive.

Mercury Glass Pumpkins
This Mercury Glass Pumpkin is very similar to the pumpkins I have on our table. I place them on a black candle stand and they look so pretty…especially when we sit down for dessert later in the day and I light all the candles.
More Information
More Information
More Information
More Information


Here's a look at the table from end. We had 17 people at our table last year. I like to set up a beverage table in the corner of our dining room to keep the kitchen less crowded. And I set up the appetizer table in front of the doors leading out to our porch. This worked perfectly last year.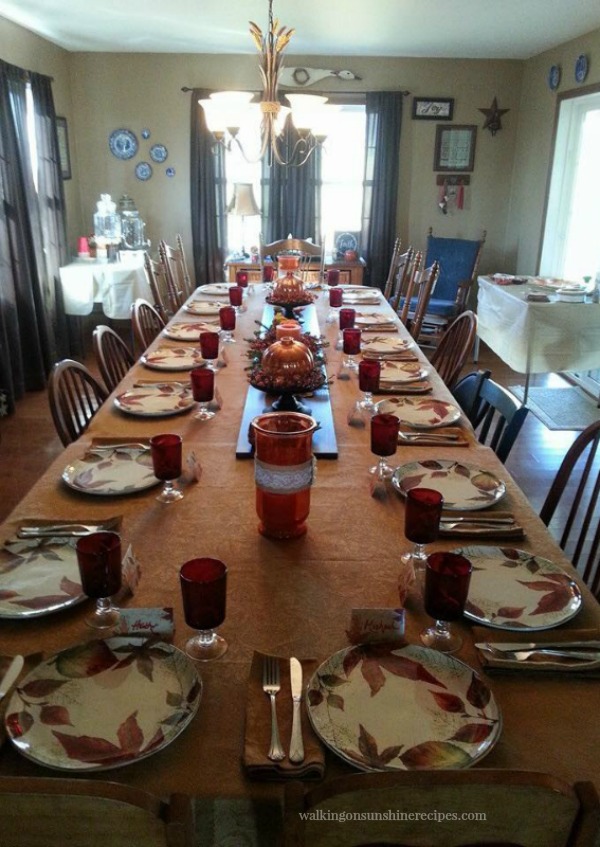 And please remember to take a photo of yourself in front of the table. You worked hard for this table, take a photo to remember it for years to come! You may recognize this photo as my profile photo from my Walking on Sunshine Facebook Page. Come join me over there!