These classic Traditional Easter Desserts are just as delicious as they were when you were a child. Included in this list are everyone's favorite pies, cakes, cheesecake and cupcakes that are all perfect for the season.
No holiday celebration is complete without something sweet! Take a look at this collection of Easter desserts that will be a delicious ending to your holiday celebration.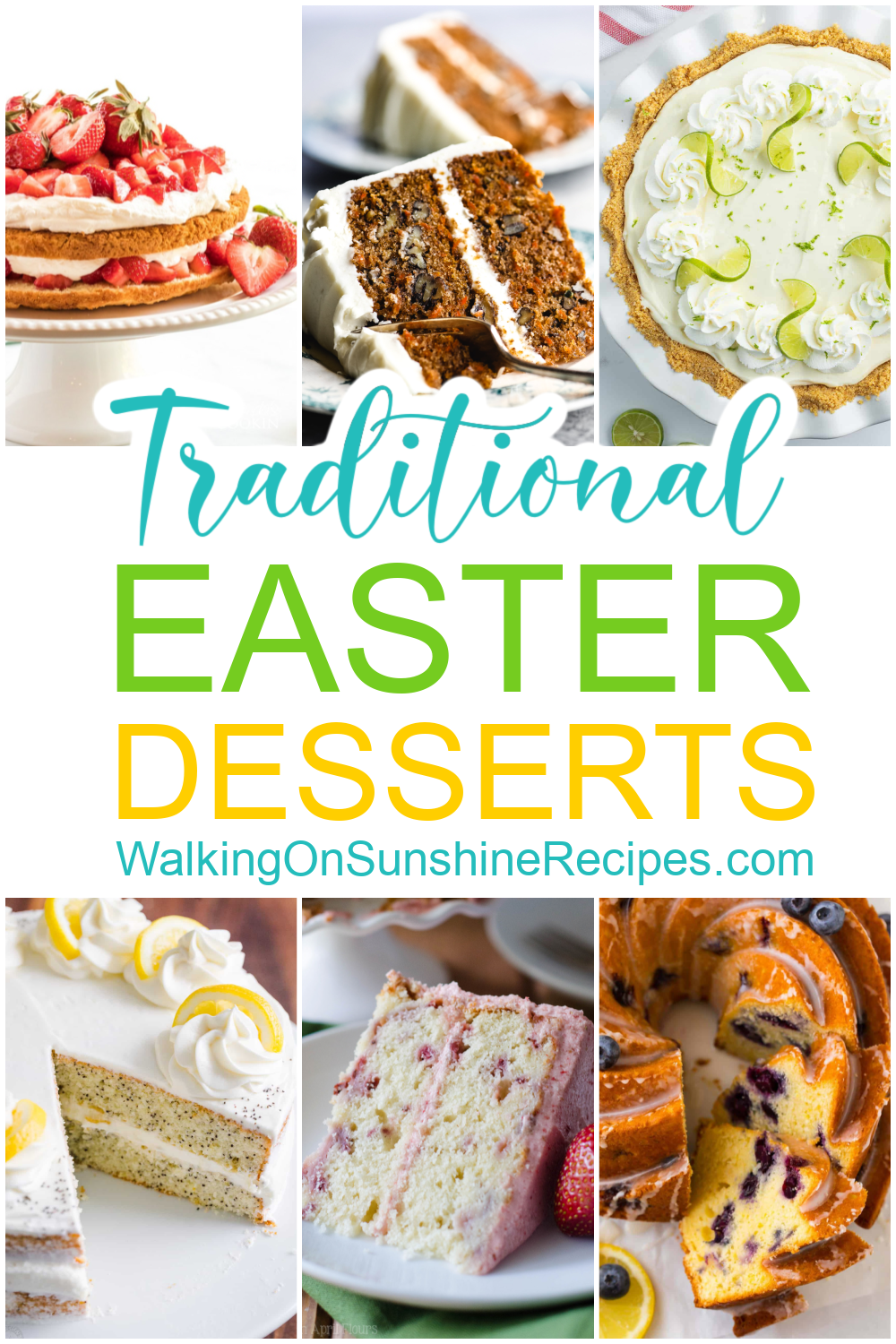 Our favorite part about Easter is being able to spend time with family and celebrate the resurrection of Christ. We also enjoy the candy along with the egg hunt in the backyard at some point during the day.
As wonderful as it is to gather around the table for a lovely meal, Easter wouldn't be complete without dessert.
Table of Contents
Favorite Easter Desserts
In our family, we always have Italian Rice Pie for Easter. Cheesecake is another family tradition and favorite dessert that makes an appearance for a few different celebrations.
Why do we color eggs on Easter?
Coloring eggs on Easter has been a part of celebrations for centuries. It actually started as drawing designs in wax on the eggs.
The practice of decorating eggs with color goes back at least 2,500 years. Although colored eggs didn't become treats for children until the late 1800s due to the Victorians.
The practice of coloring eggs, egg hunts and other traditions followed soon after here in America when the White House began hosting the annual Easter Egg Roll.
What is traditional food for Easter?
Your sure to find a variety of food served for the Easter holiday. Sweet breads and pastries, meat and side dishes, and plenty of cakes and cookies are among the cuisines that differ by religion, country and location. Here are a few:
Ham, lamb, different types of seafood, even turkey make their appearance for Easter.
For Italian households, we love lasagna or stuffed shells. Some families will serve the pasta as a first course followed by a second course of ham or turkey...with all the side dishes!
Soup is popular in most cultures as well. In Greece, they may serve their version of chicken soup called, avgolemono, which is an orzo and lemon-egg mixture that's perfect for the beginning of their meal.
Every culture seems to love the tradition of serving homemade sweet bread. Quite a few recipes use eggs to adorn the loaves as my family does with our Italian Easter Bread recipe.
Helpful Kitchen Tools
This post contains affiliate links. That means that if you make a purchase after clicking on a link I may earn a small commission at no extra cost to you. For more information, click here.
More Information
More Information
More Information
More Information
Tried any of my recipes? Let me know in the comments!
Traditional Easter Desserts