This meal is FABULOUS!
I really wish I could make it tonight but I don't have anymore Ritz Crackers in the house.
Why are they so addicting?
Stuffed Chicken Roll Ups…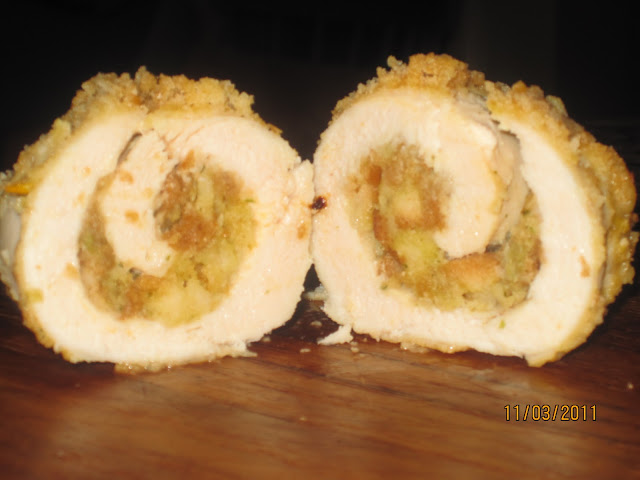 Ingredients:
Chicken Cutlets pounded thin
Stuffing Mix (I used Stove Top)
1 egg beaten
Ritz Crackers crushed (I used 1/2 a sleeve)
2 TBS. melted butter
Pounding chicken cutlets thin is NOT hard at all!
I like to first slice the cutlet in half and then place between
wax paper and pound away.
Now, don't pound too hard! You will destroy your chicken cutlet.
I know this from experience.
And you don't need any special equipment.
I've used my rolling pin or the back of my metal measuring cup.
I finally broke down and purchased a maillot for all of $5.00…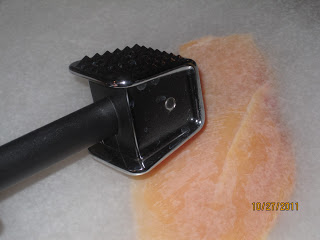 Prepare your stuffing mix according to the package directions.
I used the microwave.
(I did not use all the stuffing mix. I had extra after stuffing the cutlets.)
Place a thin layer on top of your flattened chicken cutlet…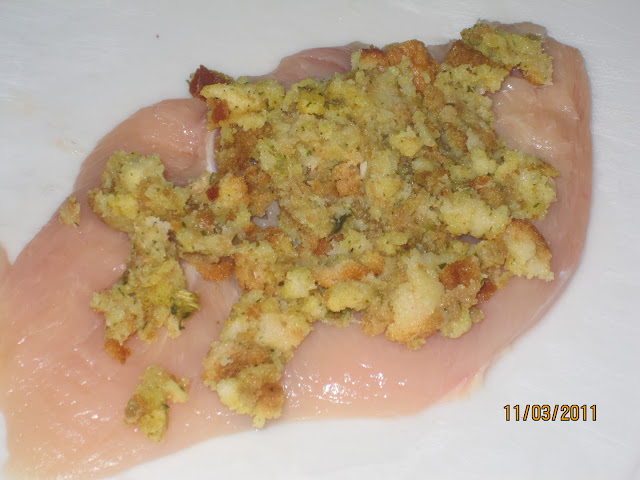 Roll up your chicken cutlet and secure with a toothpick…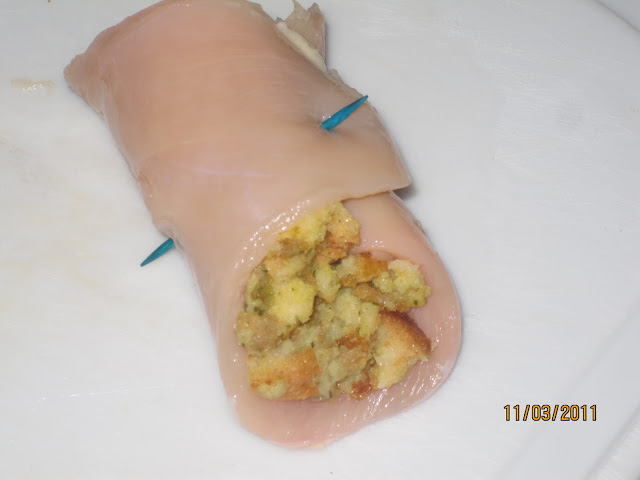 Dip the chicken cutlet in your beaten egg and then in the crushed Ritz Crackers…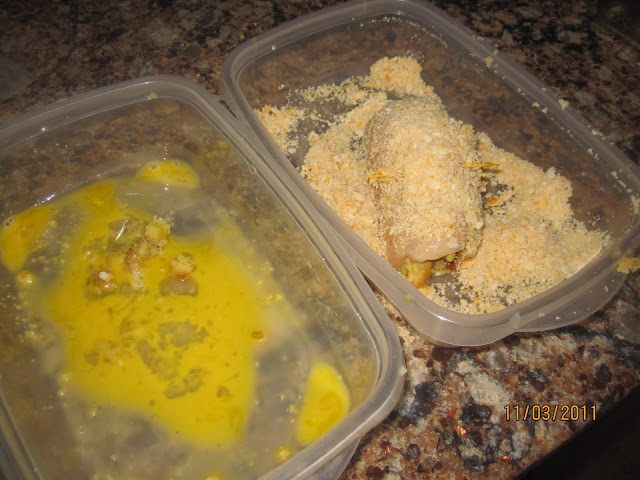 Place in a baking dish that's been sprayed with cooking spray…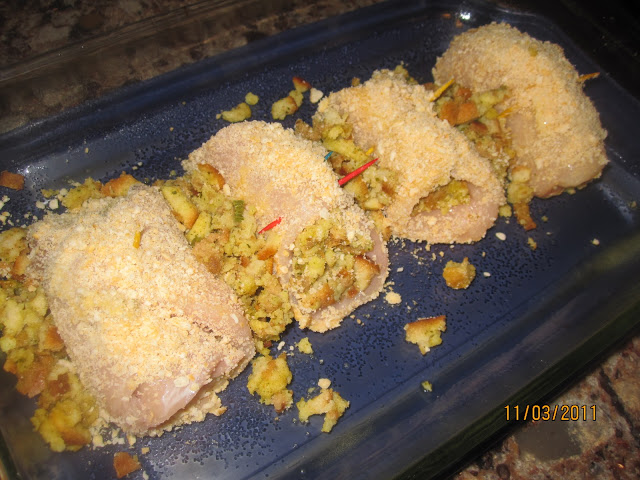 I then placed the EXTRA stuffing in between each cutlet.
You could prepare the chicken earlier in the day, cover and place
in the refrigerator until later.
Preheat your oven to 365 degrees.
Drizzle the melted butter over each cutlet and
add 1/2 cup of water AND a packet of one of these into the baking dish…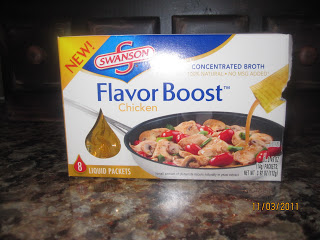 Or you could just add 1/2 cup of chicken broth…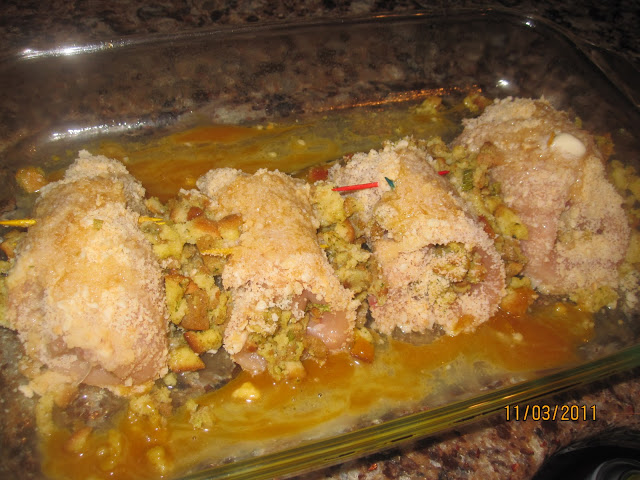 Bake for 30 minutes or until the chicken is cooked through.
You may need to add more broth or water (if you used a packet)
while the chicken is cooking.
See that beautiful "gravy?"
It's not a thick gravy, but a delicious sauce…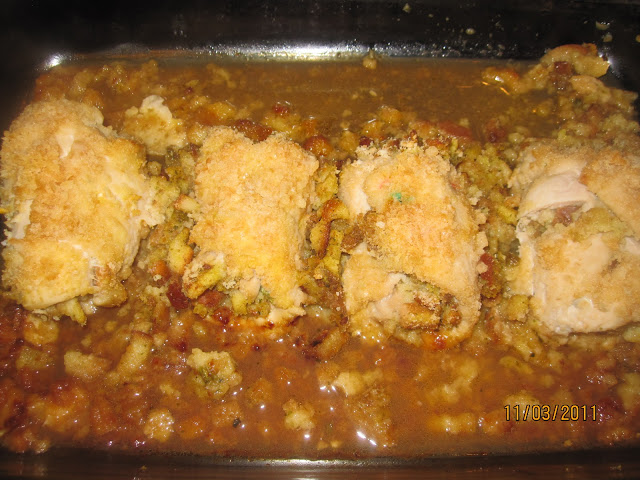 Remove the toothpicks and serve…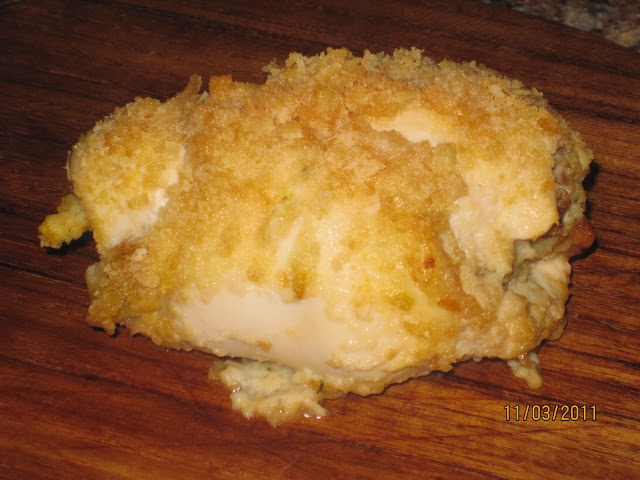 Look how BEAUTIFUL…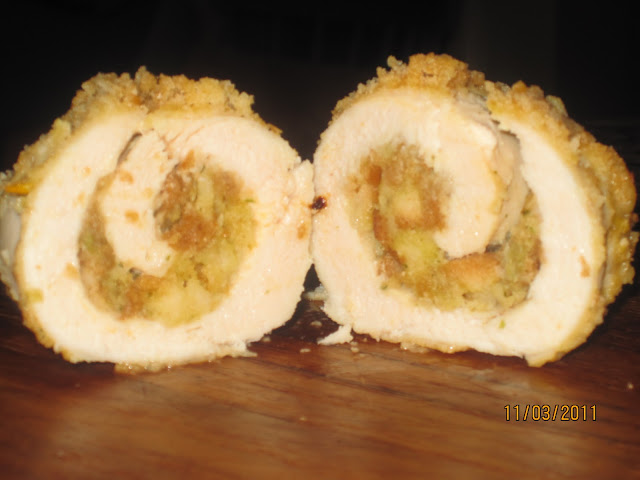 DELICIOUS!

I served this chicken with roasted carrots.
Nothing else, because I try to watch how many carbs I eat
BUT…I think mashed potatoes would make this meal perfect.
Enjoy Your Day!