Ready in under 30 minutes, these Air Fryer Chicken Drumsticks are crispy on the outside and juicy on the inside. Perfect for a quick easy meal or an afterschool snack.
The circulating air from the air fryer creates a crispy skin while keeping the chicken tender and juicy at the same time. Don't forget the sprinkle of lemon pepper seasoning right before they're done cooking!
This is the newest addition to my collection of Air Fryer Recipes available here for you.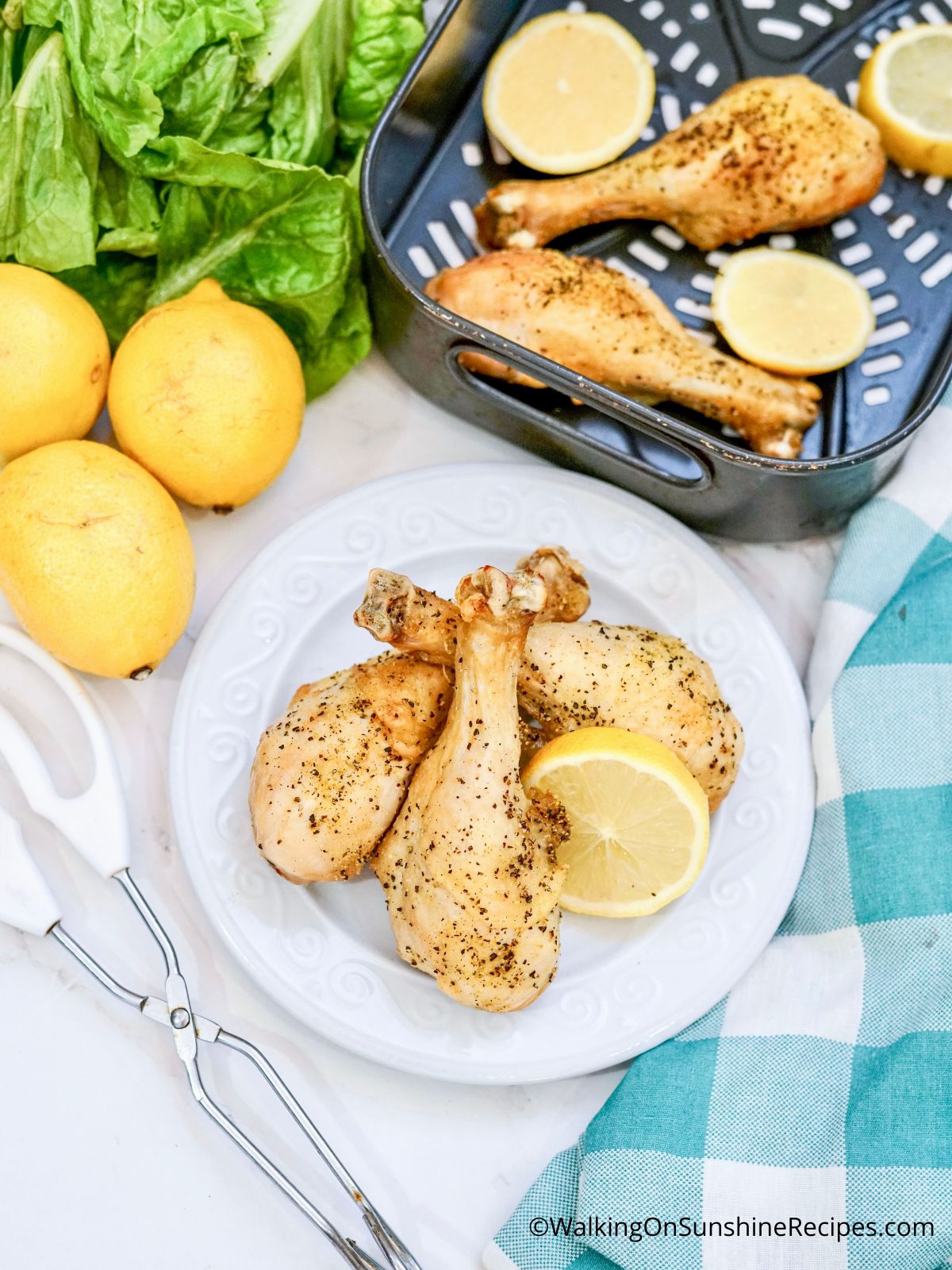 Chicken is a staple in many diets, and for good reason - it's delicious, packed with protein, and relatively inexpensive. And while there are countless ways to prepare chicken, one of the easiest is to air fry it.
Air fryers work by circulating hot air around food, resulting in crispy, evenly cooked dishes with minimal effort. Plus, air frying requires less oil than traditional methods like deep frying, making it a healthier option as well.
They're the perfect addition to any weekly meal plan when served with a side dish of everyone's favorite side salad and Homemade Italian Salad Dressing.
This recipe was inspired by Air Fryer BBQ Chicken wrapped in Bacon. I love how fast both recipes are to prepare, but mostly how delicious they are.
Table of Contents
Looking for more Air Fryer Recipes? Try my Air Fryer Appetizers or Air Fryer Desserts...yum!
Can I wrap chicken in foil in the Air Fryer?
Yes, you can certainly wrap chicken in foil when cooking it in an air fryer. In fact, foil can help to create a crispy skin on air fryer chicken drumsticks. Here are a few tips to follow:
Place the chicken drumsticks on a piece of foil and season them with salt, pepper, and any other desired spices.
Then, fold the foil over the chicken so that it is completely covered.
Place the foil-wrapped chicken in the air fryer and cook for the recommended amount of time.
Once the chicken is cooked through, open up the foil and allow the skin to crisp up for a few minutes. Enjoy!
Bacon Wrapped Chicken Drumsticks Air Fryer
Looking for an easy, delicious way to cook chicken drumsticks? Try wrapping them in bacon and cooking in the air fryer:
Wrap a slice of bacon around each chicken drumstick.
Place them in a preheated 390°F air fryer and cook for about 20 minutes.
The exact cook time will depend on the size of your chicken drumsticks, so be sure to check them periodically to ensure they're cooked through.
Once they're ready, enjoy your delicious bacon-wrapped chicken drumsticks hot out of the air fryer!
Helpful Kitchen Tools
This post contains affiliate links. That means that if you make a purchase after clicking on a link I may earn a small commission at no extra cost to you. For more information, click here.
More Information
More Information
More Information
More Information
Main Ingredients Needed
Exact measurements are listed below in the recipe card. Make sure you scroll down to print and save the recipe for later!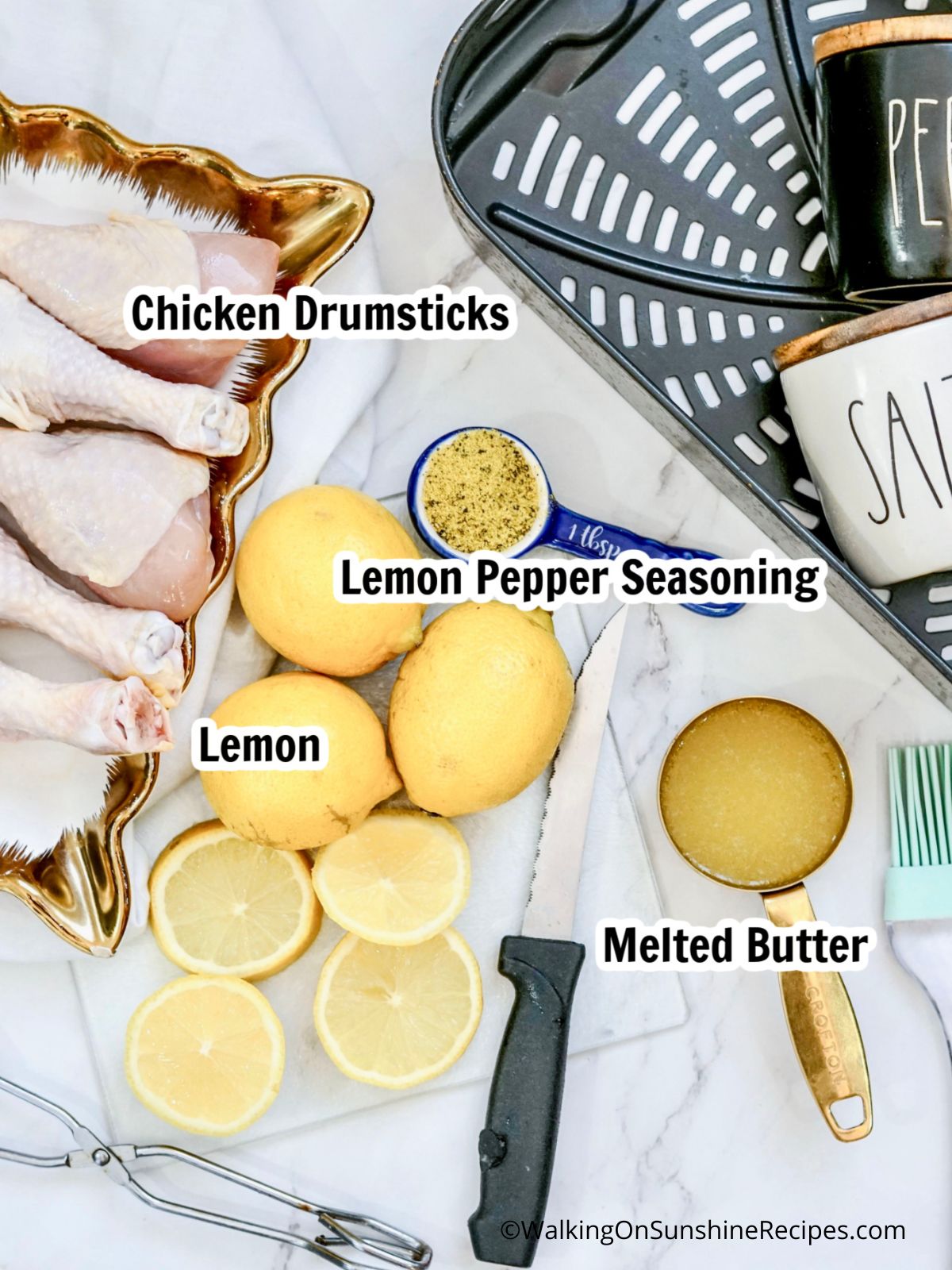 Quick Tip: Make sure you lightly spray the basket with non-stick cooking spray to prevent the drumsticks from sticking. You can also brush the basket with a little vegetable oil.
Step-by-Step Instructions
Step 1 | Combine the Ingredients
Coat the chicken drumsticks with the melted butter.
Squeeze the lemon juice on the drumsticks and sprinkle with salt and pepper.
Step 2 | Baking Instructions
Place in a preheated 39°F air fryer and bake for 20 minutes.
Remove from the air fryer and sprinkle with lemon pepper seasoning.
Place back into the air fryer for another 3 to 5 minutes depending on how crispy you like them.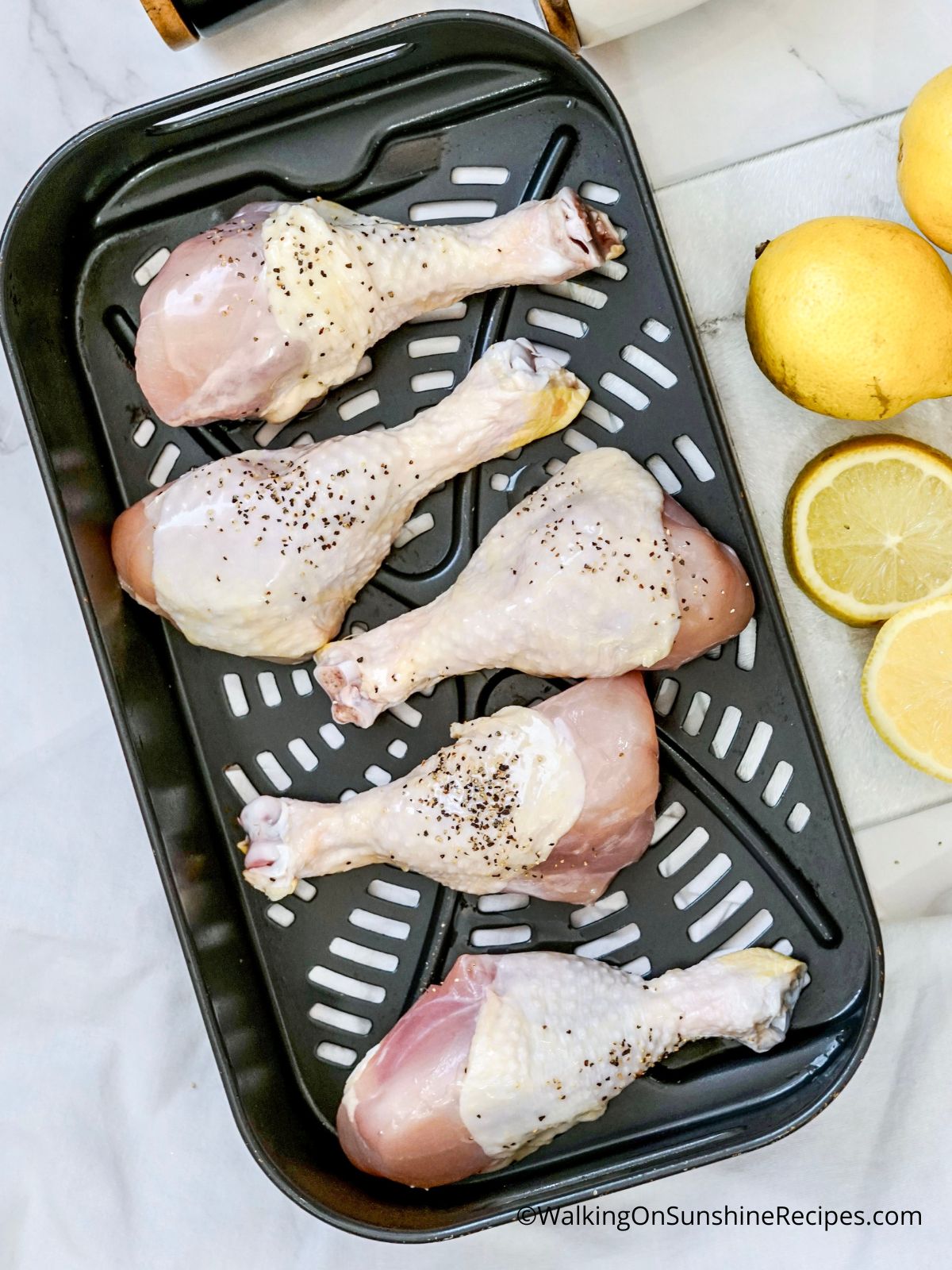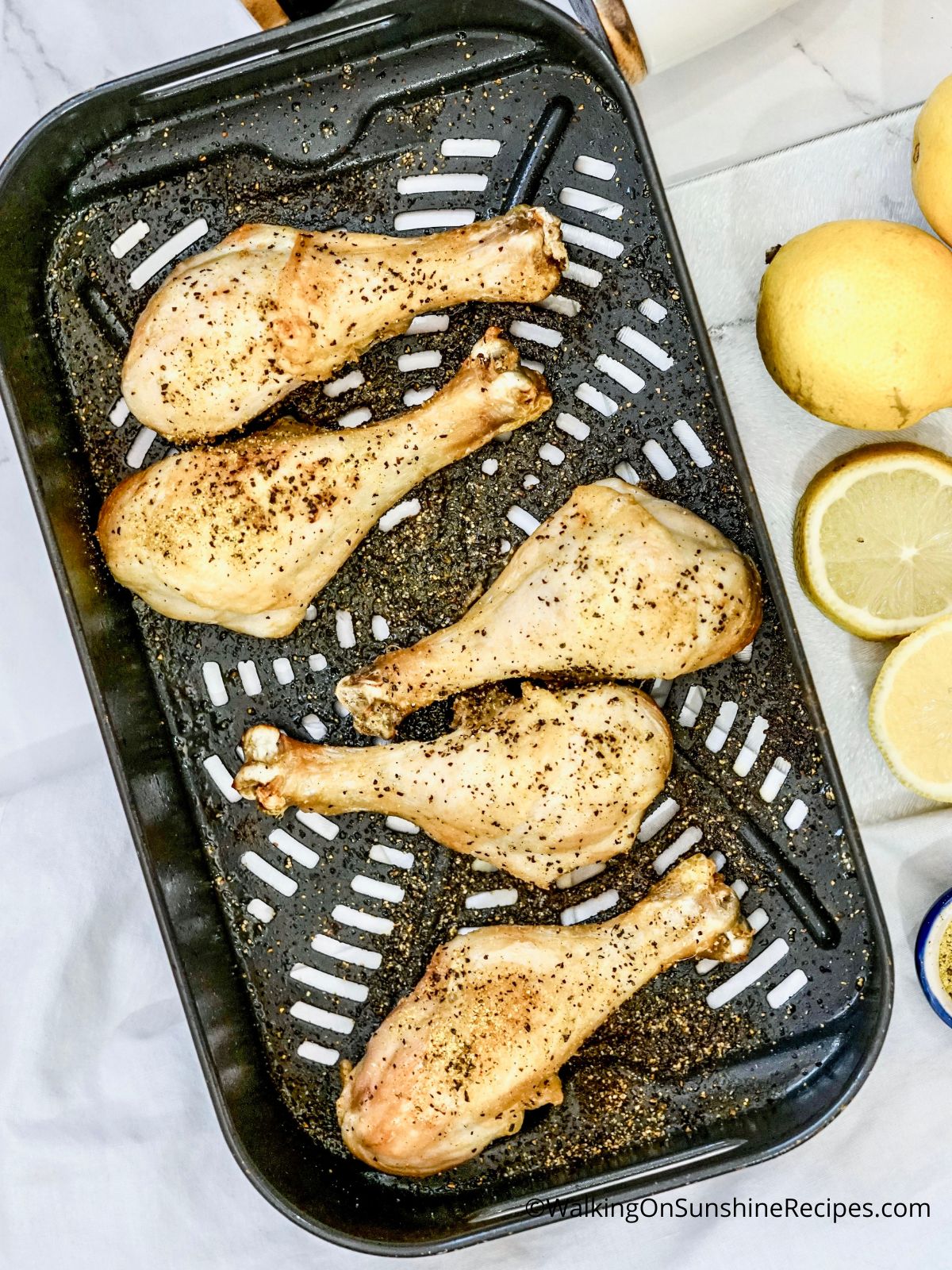 Make it a Meal
A few side dishes that would make these air fryer chicken drumsticks a complete meal would be Air Fryer Garlic Bread made with my Homemade Garlic Butter. My family loves this Easy Mac and Cheese Recipe with any type of chicken!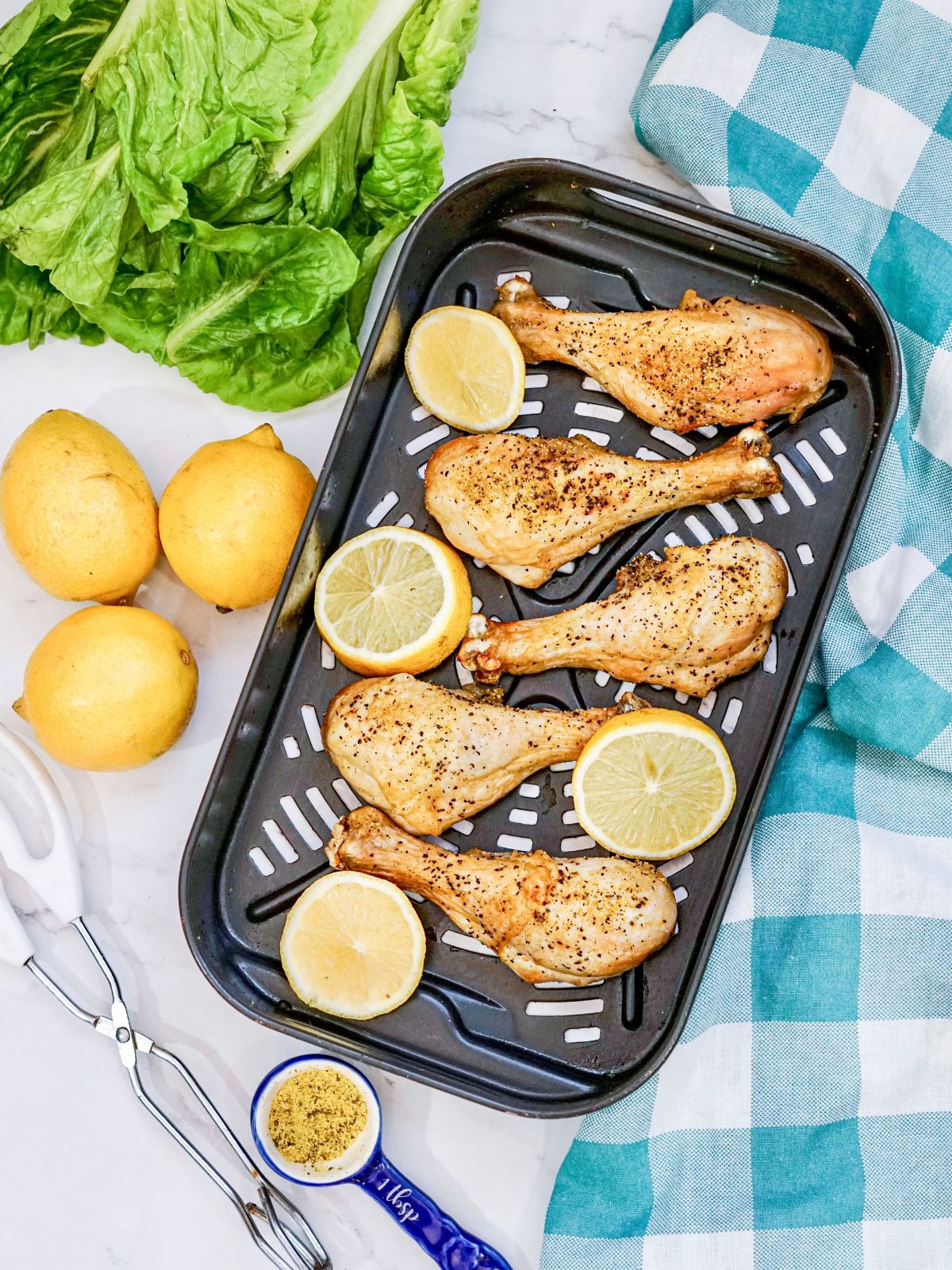 Tried any of my recipes? Let me know in the comments!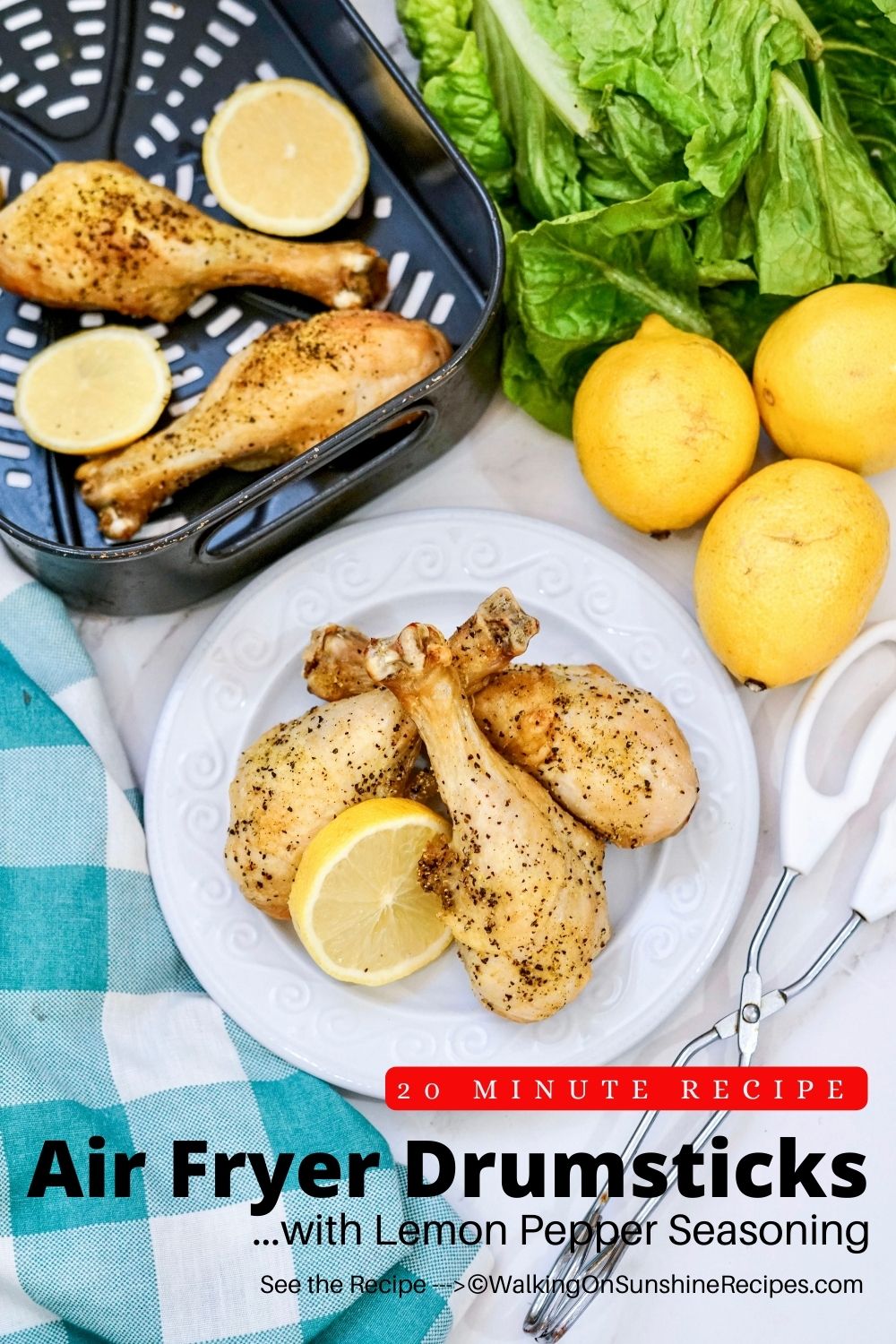 Storage Tips
Air fryer chicken drumsticks can last in the fridge for up to four days or in the freezer for up to four months.
When storing in the fridge, make sure to place them in an airtight container or zip-top bag.
If you plan on freezing your air fryer chicken drumsticks, make sure to wrap them tightly in aluminum foil or plastic wrap. This will help to prevent freezer burn.
When you're ready to enjoy your air fryer chicken drumsticks, simply reheat them in the air fryer or oven until they're warm throughout. Enjoy!
Recipe FAQ's
What temp to cook chicken in air fryer?
The recommended temperature too cook chicken in the air fryer is 400°F. This will ensure that the chicken skin is crispy and the meat is cooked through. For extra crispy skin, you can cook the chicken at 425°F for a few minutes longer. Just be sure to keep an eye on them so they don't overcook!
How long to cook chicken in air fryer?
Cook times will vary depending on the size and thickness of the chicken. For example, air fryer chicken drumsticks will take about 15 minutes to cook through, while breasts or thighs may take closer to 20 minutes.

Finally, it's always a good idea to check the internal temperature of the chicken before serving, to ensure that it has reached a safe minimum temperature of 165 degrees Fahrenheit. By following these guidelines, you can enjoy perfectly cooked air fryer chicken every time.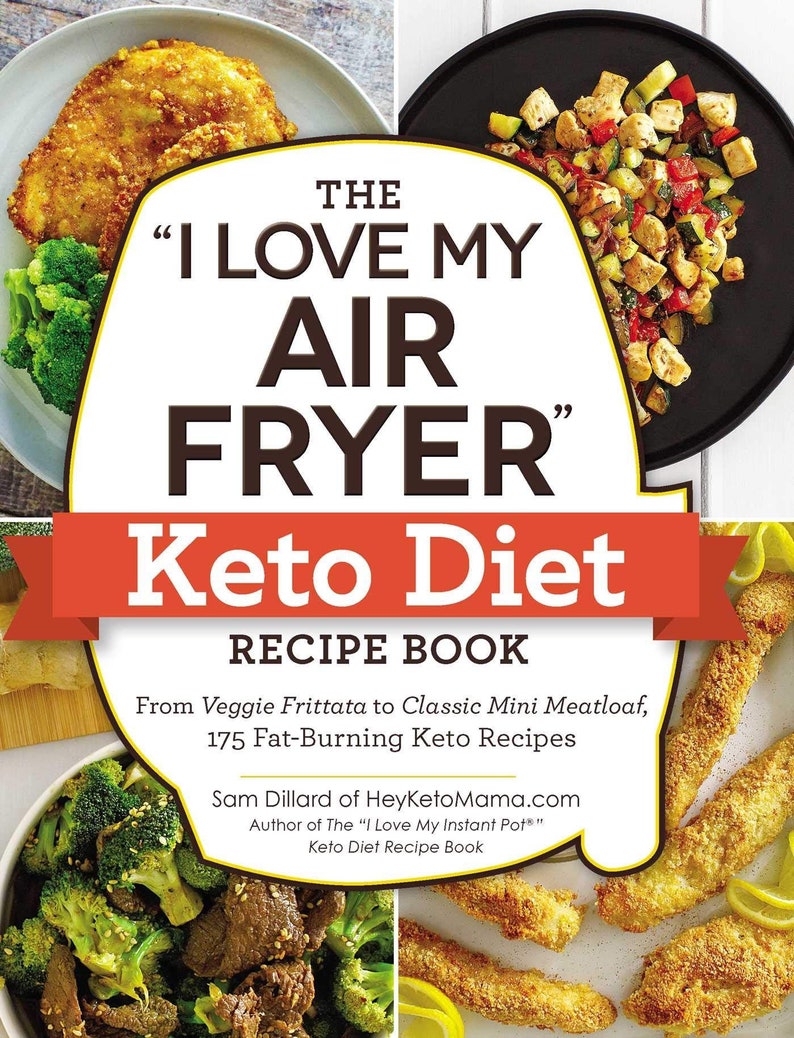 Air Fryer CookbookMore Information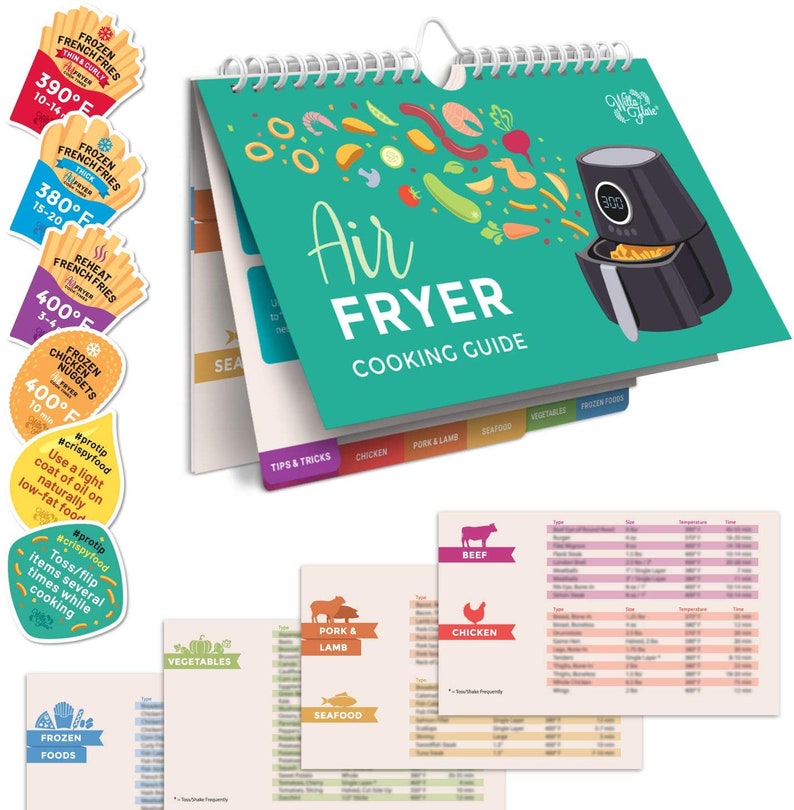 Air Fryer Cheat SheetMore Information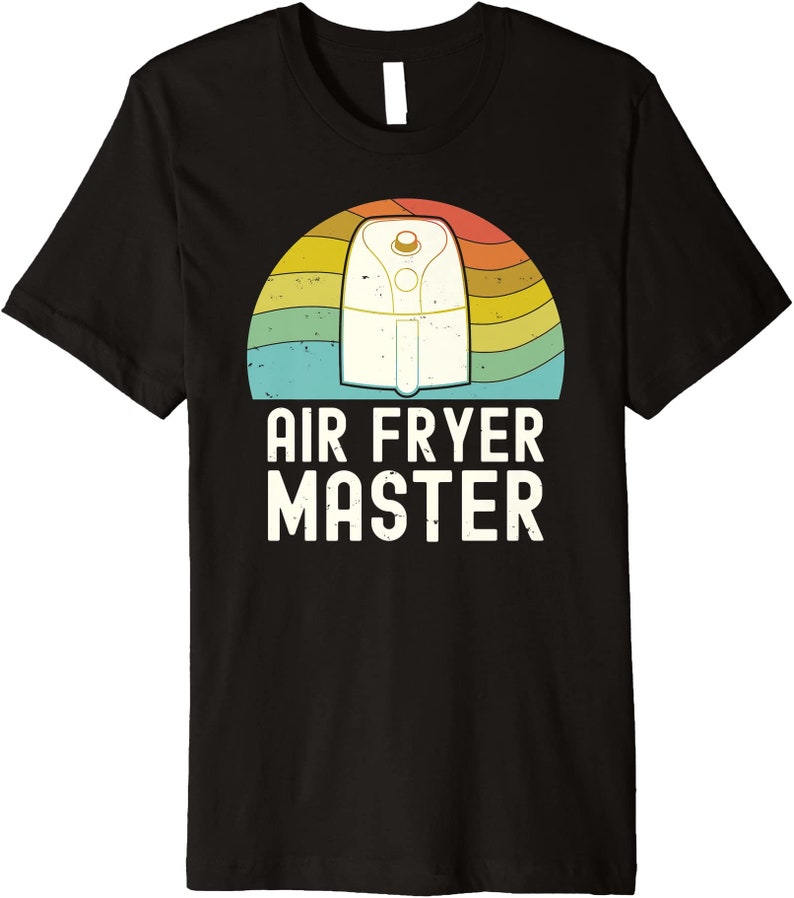 Air Fryer T-ShirtMore Information
📖 Recipe Card
Yield: 5 servings
Air Fryer Chicken Drumsticks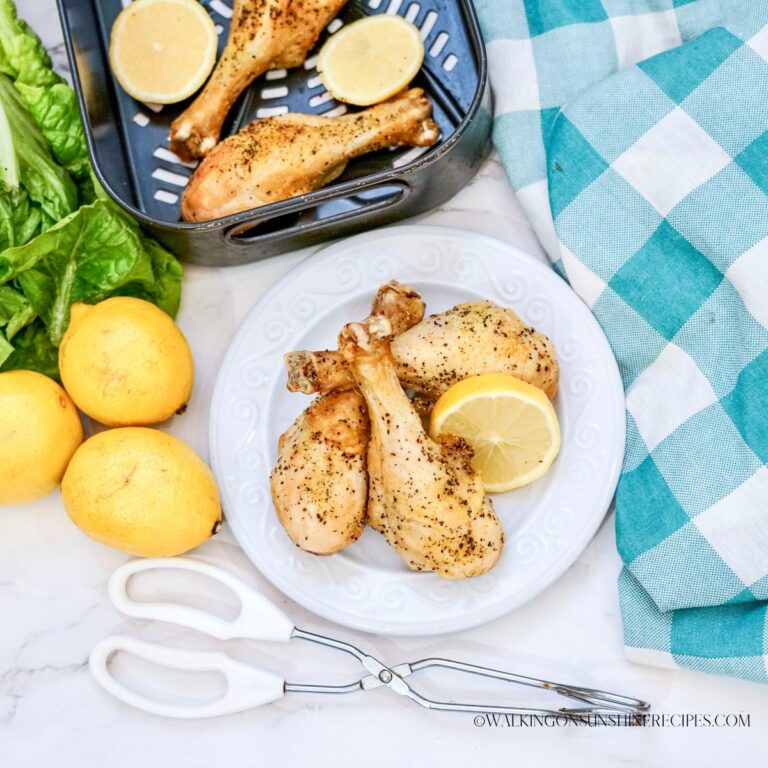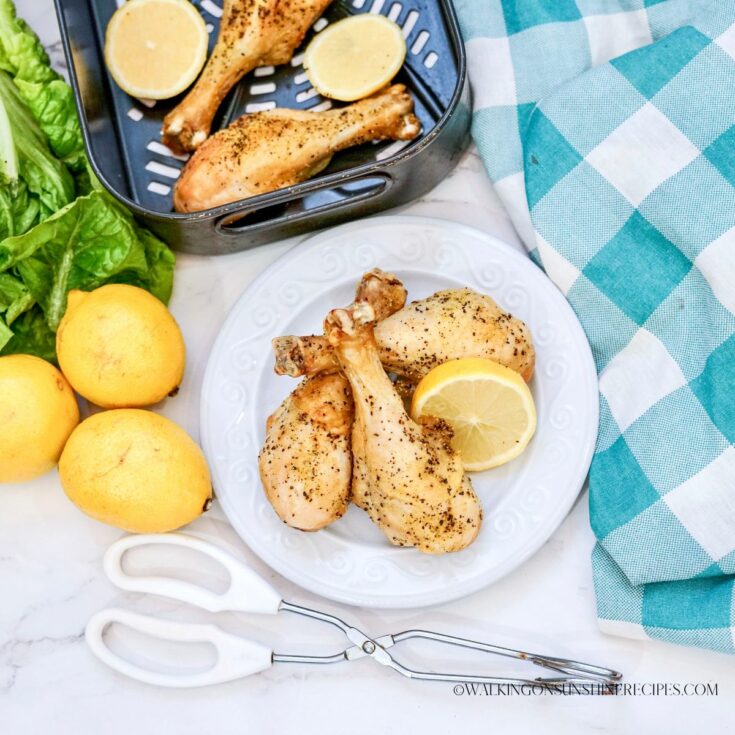 These Crispy Air Fryer Chicken Drumsticks are so easy to make and are seasoned with a delicious lemon pepper flavor. They'll be ready in under 30 minutes - perfect for a quick and easy weeknight dinner!
Ingredients
5 drumsticks
¼ cup melted butter
1 tablespoon Lemon Pepper Seasoning
1 teaspoon salt
1 teaspoon pepper
½ lemon
Instructions
Preheat air fryer to 390°F
Coat the drumsticks with melted butter.
Squeeze the lemon juice onto the drumsticks.
Sprinkle with salt and pepper.
Place in the air fryer basket and cook for 20 minutes.
Remove from air fryer.
Sprinkle with lemon pepper seasoning and place back into the air fryer for another 3 - 5 minutes depending on how crispy you like them.
Nutrition Information:
Yield:
5
Serving Size:
1
Amount Per Serving:
Calories:

255
Total Fat:

17g
Saturated Fat:

8g
Trans Fat:

0g
Unsaturated Fat:

8g
Cholesterol:

140mg
Sodium:

1124mg
Carbohydrates:

2g
Fiber:

1g
Sugar:

0g
Protein:

22g
The nutrition information is calculated automatically. I cannot guarantee its accuracy. If this data is important to you, please verify with your trusted nutrition calculator.