Thanksgiving is a time for family, friends, and of course, food! If you're looking for some delicious and easy-to-make Air Fryer Thanksgiving Appetizers to serve, why not try making them in the air fryer?
And since the air fryer cooks food quickly and evenly, you can be sure that your appetizers will be hot and fresh when your guests are ringing the doorbell!
So before you start cooking your Thanksgiving feast, be sure to check out this collection of air fryer appetizer recipes.
Check out all the other Air Fryer Appetizers for even more delicious recipes.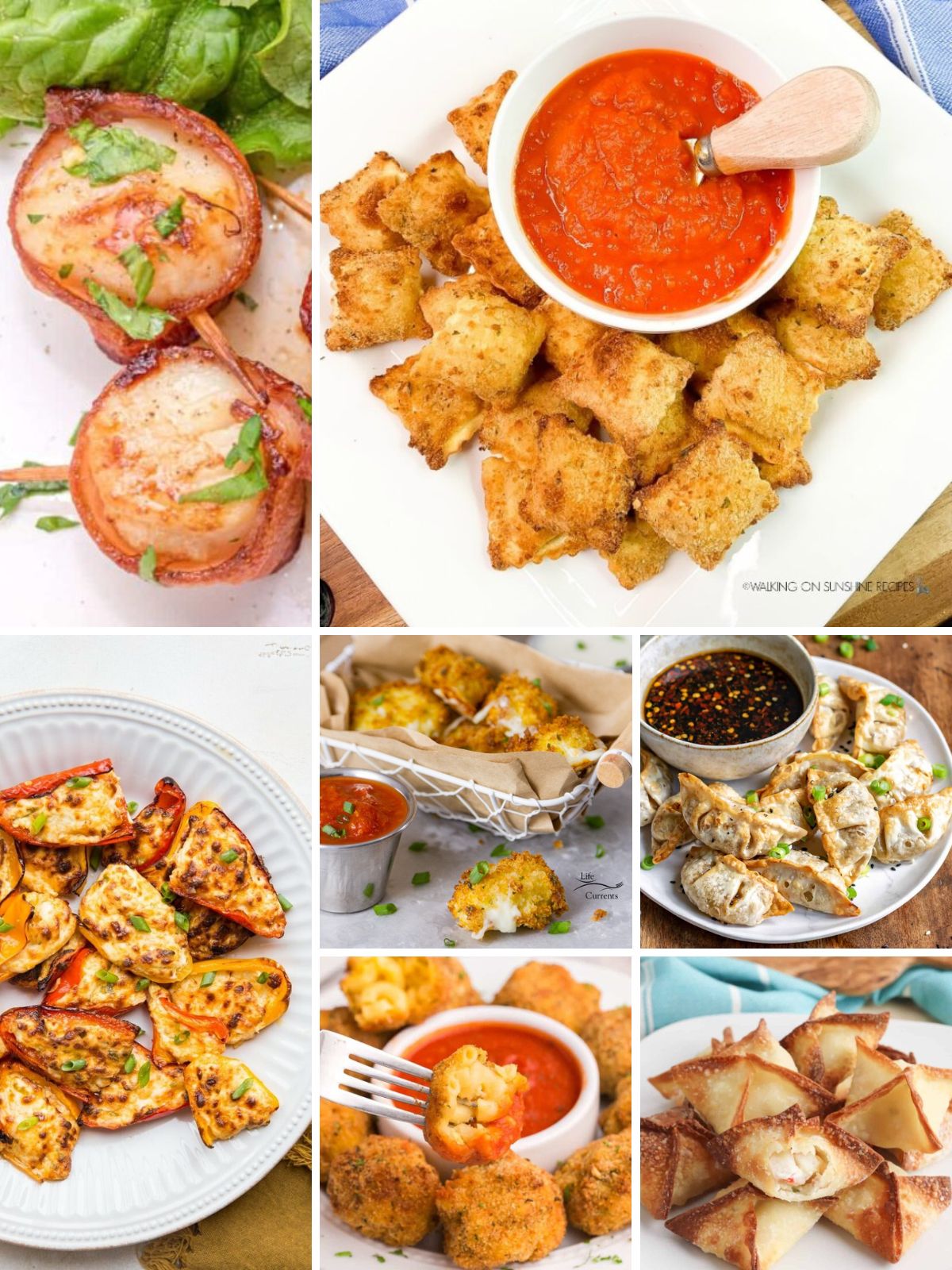 While the turkey may be the star of the show on Thanksgiving, let's not forget about the delicious appetizers that come beforehand!
And if you're thinking, "how am I going to bake appetizers while the turkey is in the oven?" Don't worry! These appetizers are all made using an air fryer.
There's also a few tips included for using the air fryer to help you put together a few quick and easy last-minute recipes that will help keep the stress off of you and still impress your family!
Table of Contents
Appetizers for Thanksgiving
Not only do appetizers give your guests something to munch on while they wait for the turkey to come out of the oven, but they can also set the tone for the meal.
Whether you're looking for something elegantly simple or boldly flavorful, there are plenty of Thanksgiving appetizer options...all made in the air fryer.
With these delicious appetizers for Thanksgiving, your guests will be more than ready for the main event!
Looking for more Easy Recipes for Thanksgiving? Try my Thanksgiving Instant Pot Side Dishes or my Make Ahead Thanksgiving Recipes collection.
Air Fryer Appetizers
There are plenty of delicious appetizers that can be made in the air fryer. From traditional favorites like stuffed cheesy peppers, breaded mini ravioli to more creative dishes like bacon wrapped scallops, there's something for everyone to enjoy.
And since the air fryer cooks food quickly and evenly, you can be sure that your appetizers will come out perfectly crispy every time. So go ahead and give thanks for your air fryer this holiday season!
📌Make sure you grab the FREE Thanksgiving Checklist to help keep you organized while you plan out your full menu.
Prep Ahead Tips for Appetizers
When it comes to Thanksgiving appetizers, it's always good to have a few easy-to-make, prep ahead options up your sleeve. That way, when your guests start arriving, you can relax and enjoy the party instead of being stuck in the kitchen.
Try to choose recipes that can be prepped ahead of time and left in the refrigerator the night before and cooked right before guests arrive.
If you're doing a veggie tray and dip, you can prep all of this the day before as well. Cut up the veggies and store them in plastic bags with paper towels to remove excess moisture.
Dips can also be prepared ahead of time.
Make a few recipes that can also be frozen and then reheated. Try my mini quiche recipe. You can make these ahead of time and freeze them, then thaw and reheat on Thanksgiving Day. Use premade pie crusts to save even more time.
Air Fryer Fips for Beginners
Air fryers are filled with hot air which makes them small powerful ovens.
They use air to heat and cook food. There's no oil used like deep fryers which makes cooking in an air fryer healthy.
It's okay to open the air fryer while cooking to check on your food.
Always preheat your air fryer while prepping the food. Just as you would a traditional oven.
Don't overcrowd the basket or tray.
Shake the basket half-way through cooking to make sure nothing is sticking. This is especially true when you're cooking French fries, chicken nuggets, etc.
Most of the recipes on this site are cooked using a basket style Hamilton Beach Air Fryer.
🛒Helpful Kitchen Tools
This post contains affiliate links. As an Amazon Associate, I earn from qualifying purchases. For more information, click here.
5.8-QT 8-in-1 Digital Air FryerMore Information
NEW! Reusable Air Fryer LinersMore Information
Air Fryer Accessories SetMore Information
Air Fryer Magnetic Cheat SheetMore Information
Olive Oil Sprayer for CookingMore Information
📋Featured Recipe Collection
⭐Before You Begin! If you make this recipe, please leave a review and star rating. This helps my business thrive and continue providing FREE recipes.
Air Fryer Thanksgiving Appetizers
21 Air Fryer Thanksgiving Appetizers are stuffed cheesy peppers, breaded mini ravioli to bacon wrapped scallops, something for everyone.
More Information
More Information
More Information
More Information
More Information
More Information