Looking for a delicious side dish for dinner or a festive holiday meal? Try this easy dish for Asparagus Wrapped in Bacon. It's perfect for any celebration, and is sure to please everyone at the table.
You can prepare this recipe in the oven or use an air fryer if you need to save oven space for the turkey or ham. Plus, it's really simple to prepare, so you'll have more time to enjoy your guests.
Check out all the other Vegetable Side Dishes for even more delicious ideas!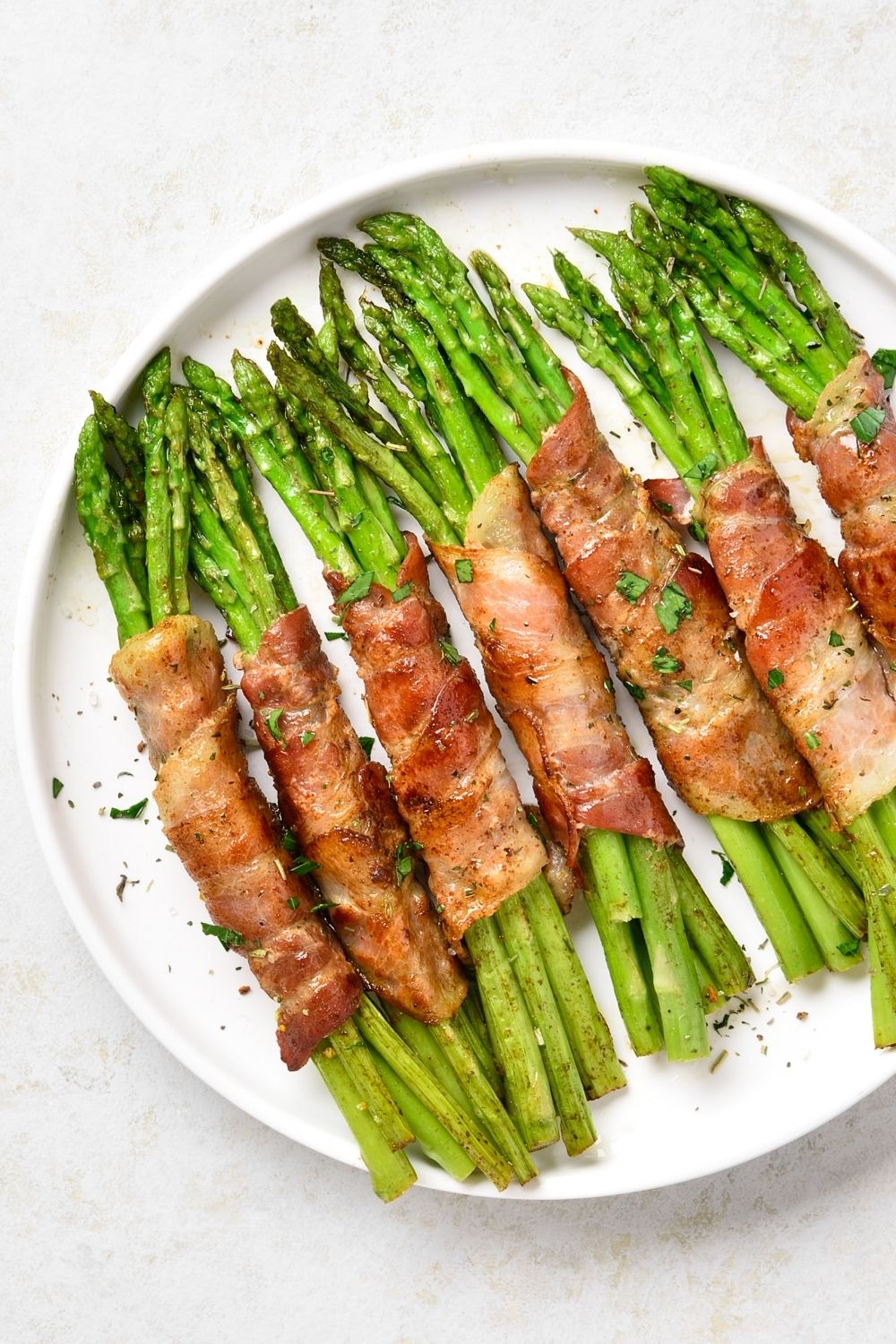 What could be more festive than serving up asparagus wrapped in bacon for as part of our easy Thanksgiving recipes or holiday celebration meal? This dish is easy to prepare and looks beautiful on the table.
Roasting any vegetable brings out a completely different flavor than simply steaming. And then adding bacon...well, need I say anymore?
The high heat of the oven concentrates the sugars in the vegetables, creating a deep, caramelized flavor. When they're finished, the vegetables should be tender and lightly browned and delicious!
If you're looking for another vegetable that's delicious roasted, try my Roasted Brussels Sprouts.
Looking for more Side Dishes for the holidays? Try my Classic Thanksgiving Stuffing Recipe, Company Mashed Potatoes or any one of these side dishes from my collection of Thanksgiving Make Ahead Side Dishes.
Table of Contents
👩‍🍳How to Trim Asparagus
Asparagus is a delicious, versatile vegetable that can be used in a variety of dishes. In order to enjoy its full flavor, however, it is important to properly trim asparagus spears before cooking.
First, the woody root ends of asparagus need to be snapped off before cooking. Simply take the end of one stalk of the asparagus between your thumb and forefinger and bend until it breaks.
Then use that one stalk as a guide to cut the others to the same length.
Some people like to peel away any tough or stringy outer layer from the spear. You can do this with a vegetable peeler.
Once this is done, your asparagus is ready to be cooked and enjoyed. With just a few simple steps, you can transform this humble vegetable into a delicious and healthy part of your meal.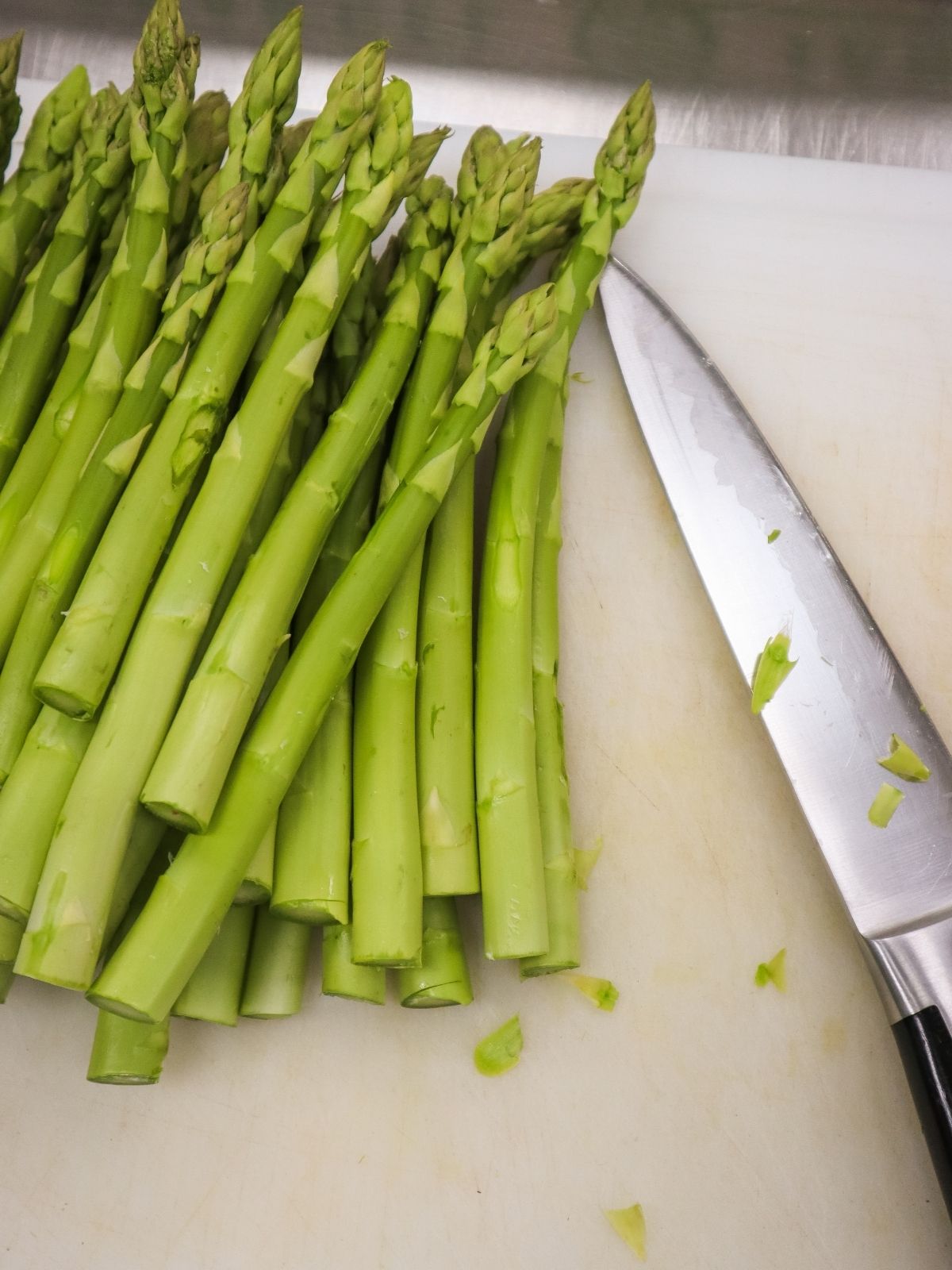 Asparagus Wrapped in Bacon in Air Fryer
Bacon wrapped asparagus baked in an air fryer is a delicious and easy-to-make appetizer or side dish that combines the savory taste of bacon with the fresh and crunchy flavor of asparagus.
Check out my easy recipe for asparagus wrapped in bacon in the air fryer for the easy instructions!
Asparagus Wrapped in Bacon and Puff Pastry
Another fancy way to serve asparagus is to add puff pastry. It's a delightful appetizer or side dish that combines the tender and earthy flavors of asparagus with the buttery, flaky goodness of puff pastry.
🛒Helpful Kitchen Tools
This post contains affiliate links. That means that if you make a purchase after clicking on a link I may earn a small commission at no extra cost to you. For more information, click here.
Reynolds Kitchens Cookie Baking Sheets, Pre-Cut Parchment Paper, 22 SheetsMore Information
Nutrichef w/Heat Red Silicone Handles, Oven Safe, 3 Piece SetMore Information
Cutting Boards for Kitchen Chopping Board with HandleMore Information
Acacia Wood Cutting BoardMore Information
Main Ingredients Needed
This is an overview of the ingredients and instructions. Be sure to see the recipe card below for exact quantities, detailed instructions and special notes.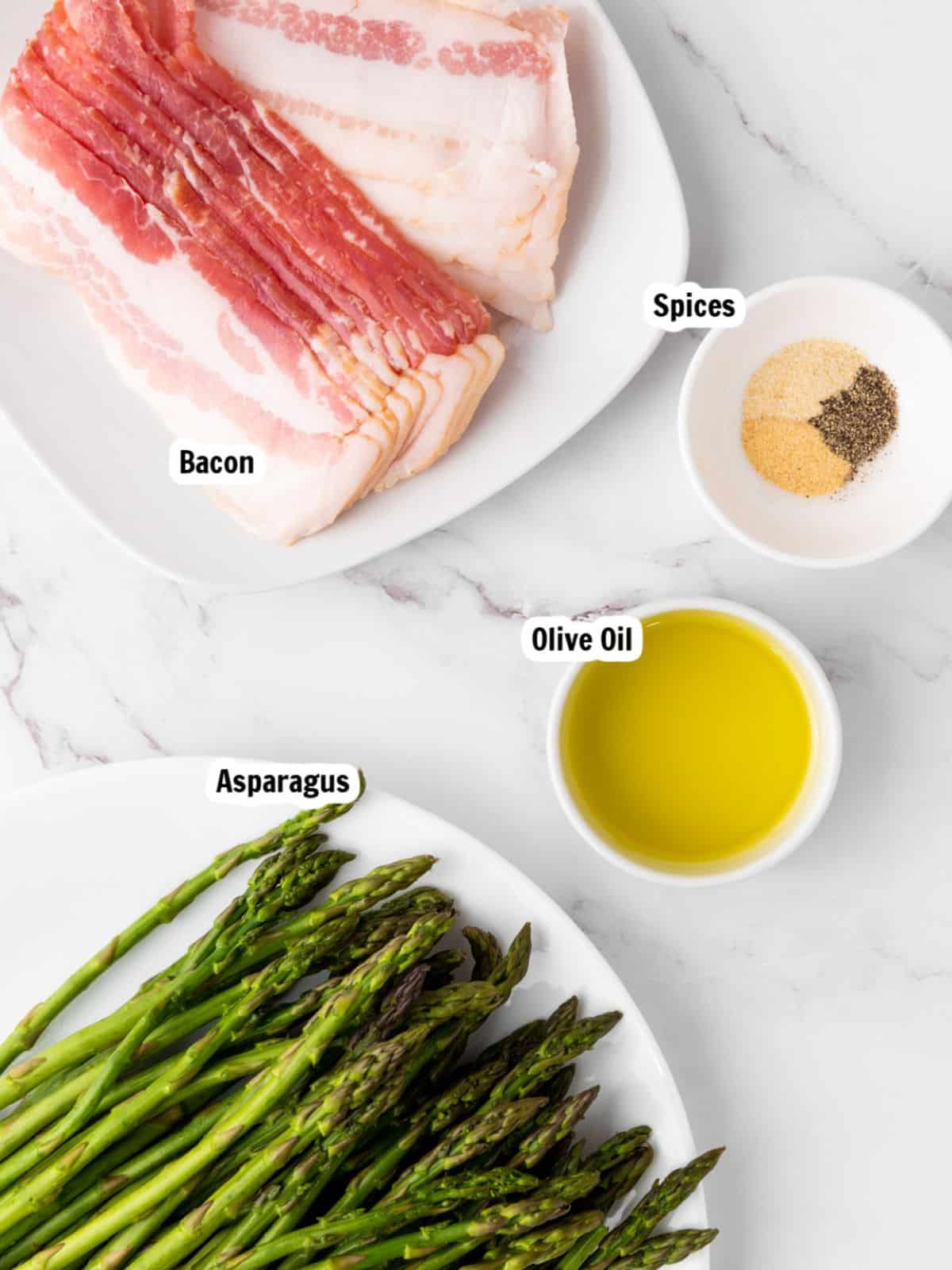 Step-by-Step Directions
Step 1: Trim the asparagus according to the tips above. Combine the spices with the olive oil.
Step 2: Bundle the asparagus together in groups of 3 or 5.
Step 3: Beginning at the bottom, wrap the bacon around the asparagus until you reach the top.
Step 4: Place the asparagus on a baking tray lined with parchment paper.
Step 5: Brush each asparagus with the Italian salad dressing.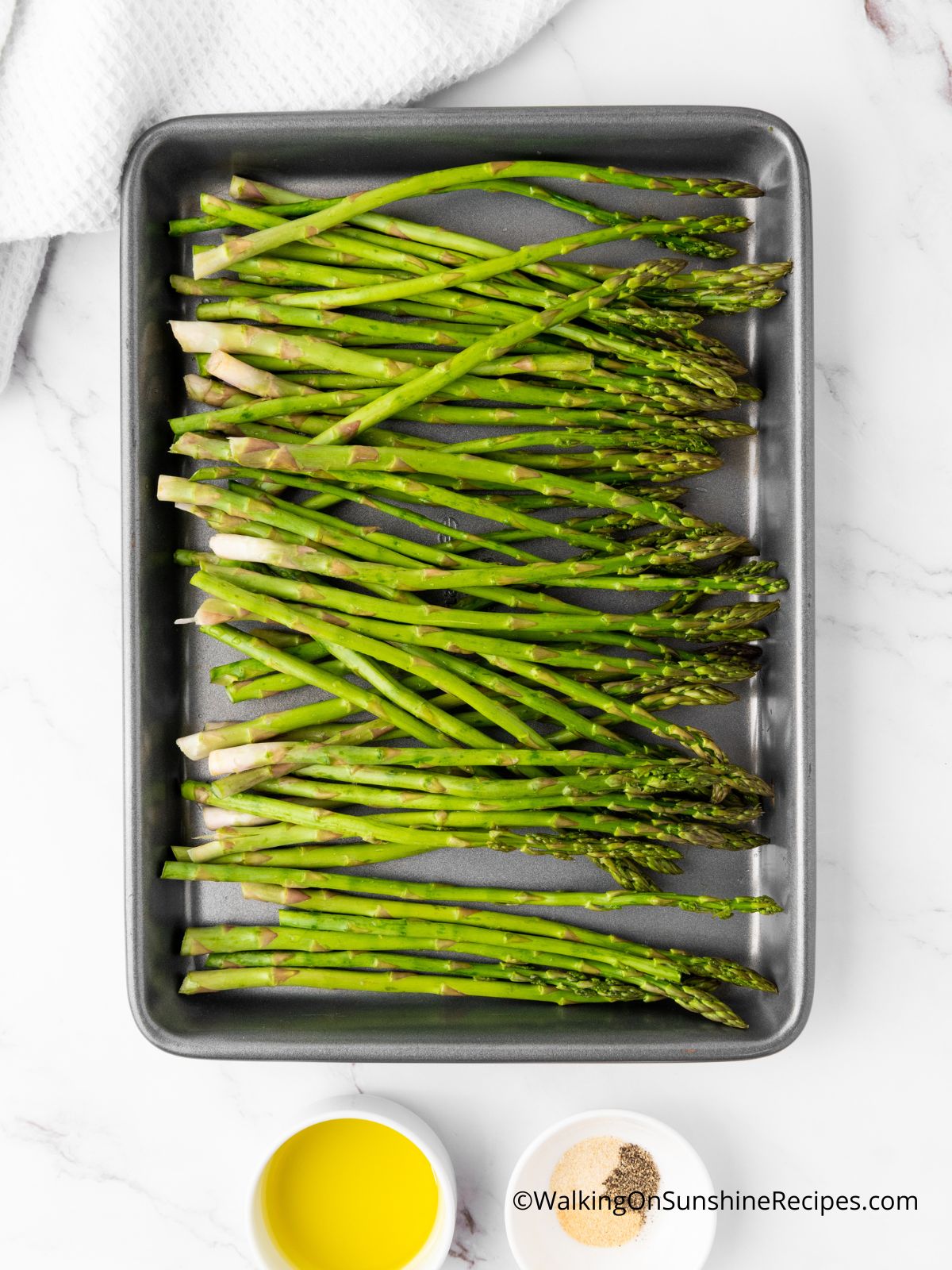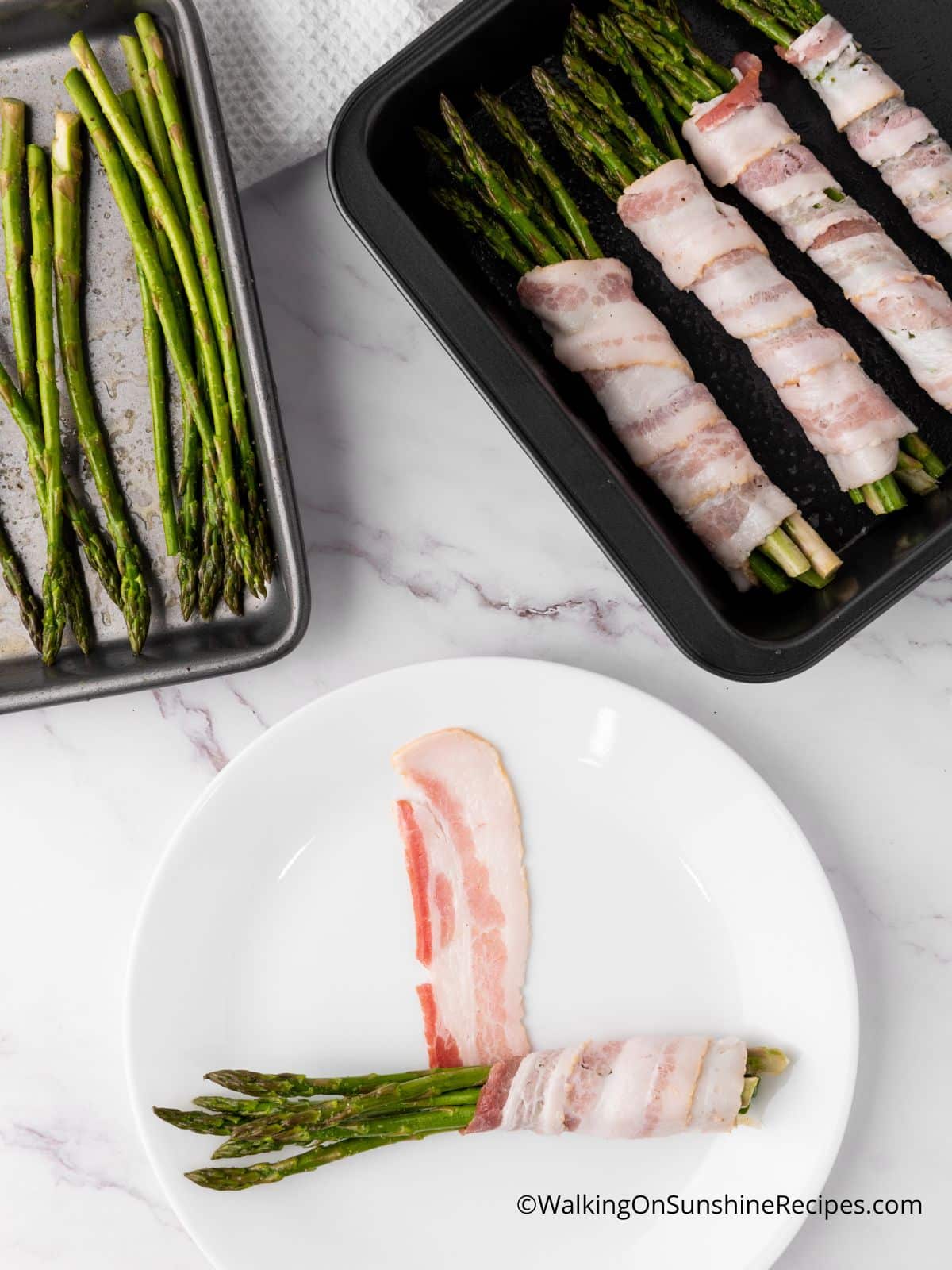 Baking Instructions
Bake in a preheated 425°F oven for about 20 minutes.
You'll know the asparagus is done when you can stick a knife through the bottom end easily and the bacon is crispy.
⭐Before You Begin! If you make this recipe, please leave a review and star rating. This helps my business thrive and continue providing FREE recipes.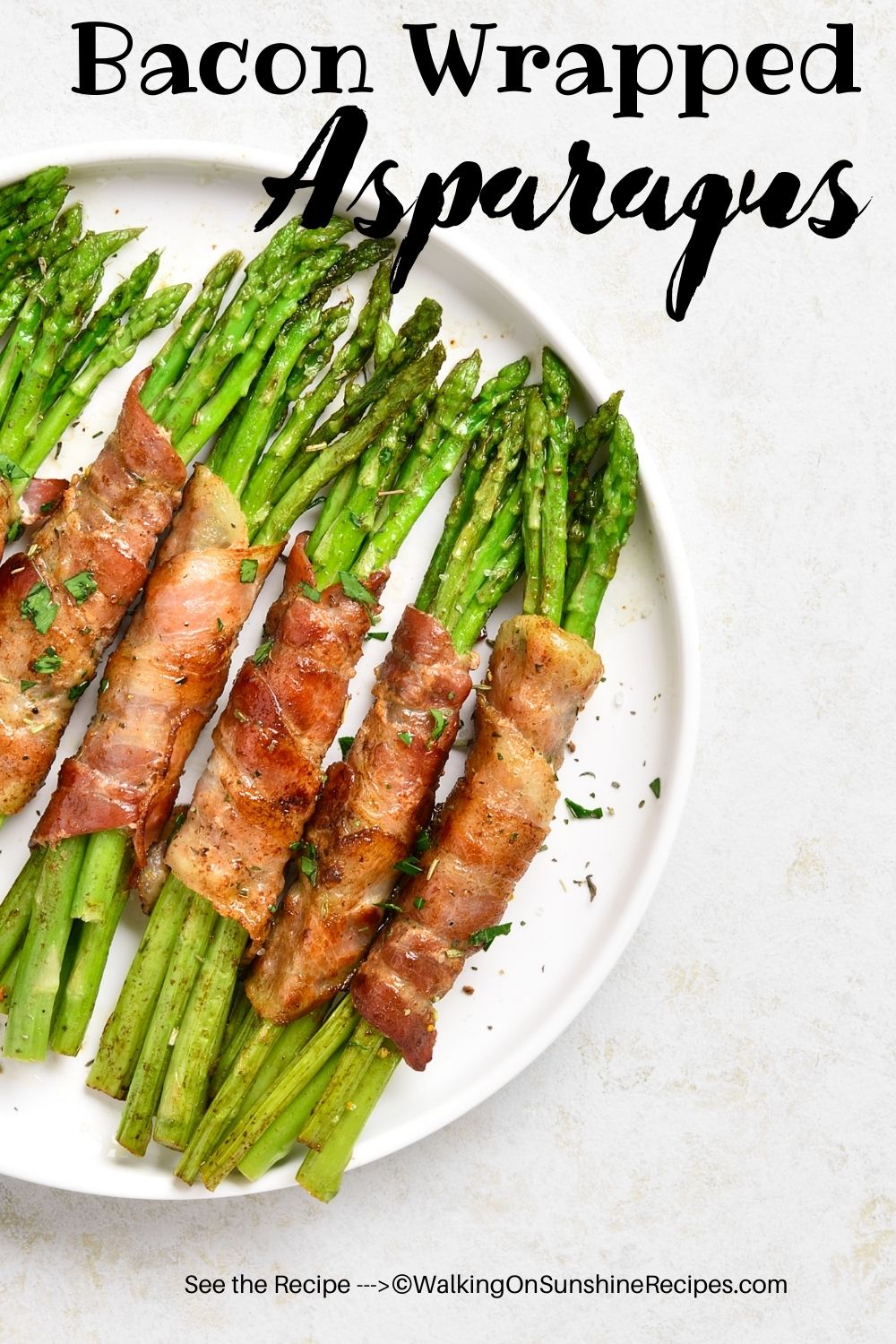 Prep Ahead Tips
You can prep asparagus and bacon the day before you need to serve it by wrapping the bacon around the asparagus bundles, and then placing them in an airtight container.
They can also be placed on a baking tray and tightly wrapped with plastic wrap.
I would not prepare this recipe more than a day ahead of time. You risk drying out the bacon.
What to serve with bacon wrapped asparagus?
Another side dish that goes great with Bacon Wrapped Asparagus is Candied Sweet Potatoes...especially when you're serving roast turkey or turkey breast.
This recipe is also great with my 30 Minute Caprese Chicken  or any other chicken cutlet recipe.
Recipe FAQ's
What does asparagus pair well with?
You can make asparagus a meal by pairing it with any grilled chicken or steak recipe. It also pairs nicely with fish. We love to serve it with fettucine Alfredo.
How do you know when asparagus is done in the oven?
Asparagus is done in the oven when the stems become soft and the tips are browned. You should be able to pierce a knife easily through the stem.
Recipe Card
Yield: 6 servings
Asparagus Wrapped in Bacon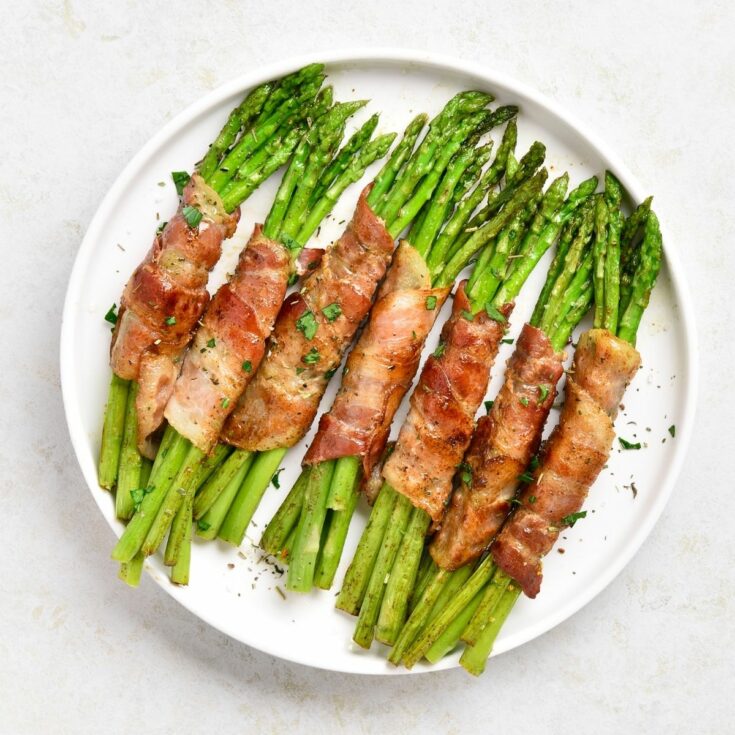 This recipe for asparagus wrapped in bacon can be prepared using the oven or air fryer. It's the perfect side dish for chicken cutlets or grilled meat.
Ingredients
24 stalks of asparagus
24 pieces of bacon
2 tablespoons olive oil
⅛ teaspoon black crushed pepper
⅛ teaspoon garlic powder
⅛ teaspoon onion powder
Instructions
Trim the asparagus by holding one of them in your hand and where it easily bends, snap off the end. Then use that piece as a guide to trim the other 23 stalks.
Bundle the asparagus together in groups of 3 or 5.
Beginning at the bottom, wrap the bacon around the asparagus until you reach the top.
Place the asparagus on a baking tray lined with parchment paper.
Combine the olive oil and spices together.
Brush each asparagus with the olive oil mixture.
Bake in a preheated 425°F for 20 minutes or until the asparagus is fork tender and the bacon is crispy.
Nutrition Information:
Yield:
8
Serving Size:
1
Amount Per Serving:
Calories:

202
Total Fat:

16g
Saturated Fat:

5g
Trans Fat:

0g
Unsaturated Fat:

10g
Cholesterol:

34mg
Sodium:

587mg
Carbohydrates:

3g
Fiber:

1g
Sugar:

1g
Protein:

13g
The nutrition information is calculated automatically. I cannot guarantee its accuracy. If this data is important to you, please verify with your trusted nutrition calculator.
This recipe has been updated since it first appeared in 2015 with new photos, information and a new printable recipe card that includes nutritional information. I hope you enjoy the updates as much as I enjoyed working on them!