Christmas morning brunch is a time for celebration with your family. Let's put together the perfect Brunch Punch Non Alcoholic Recipe to go along with all the yummy breakfast ideas you're preparing.
This non alcoholic punch combines cranberry juice, ginger ale, orange sherbet and fruit, this is a festive way for the whole family to celebrate!
Check out all the other Christmas Breakfast Recipes for even more delicious ideas for a holiday celebration.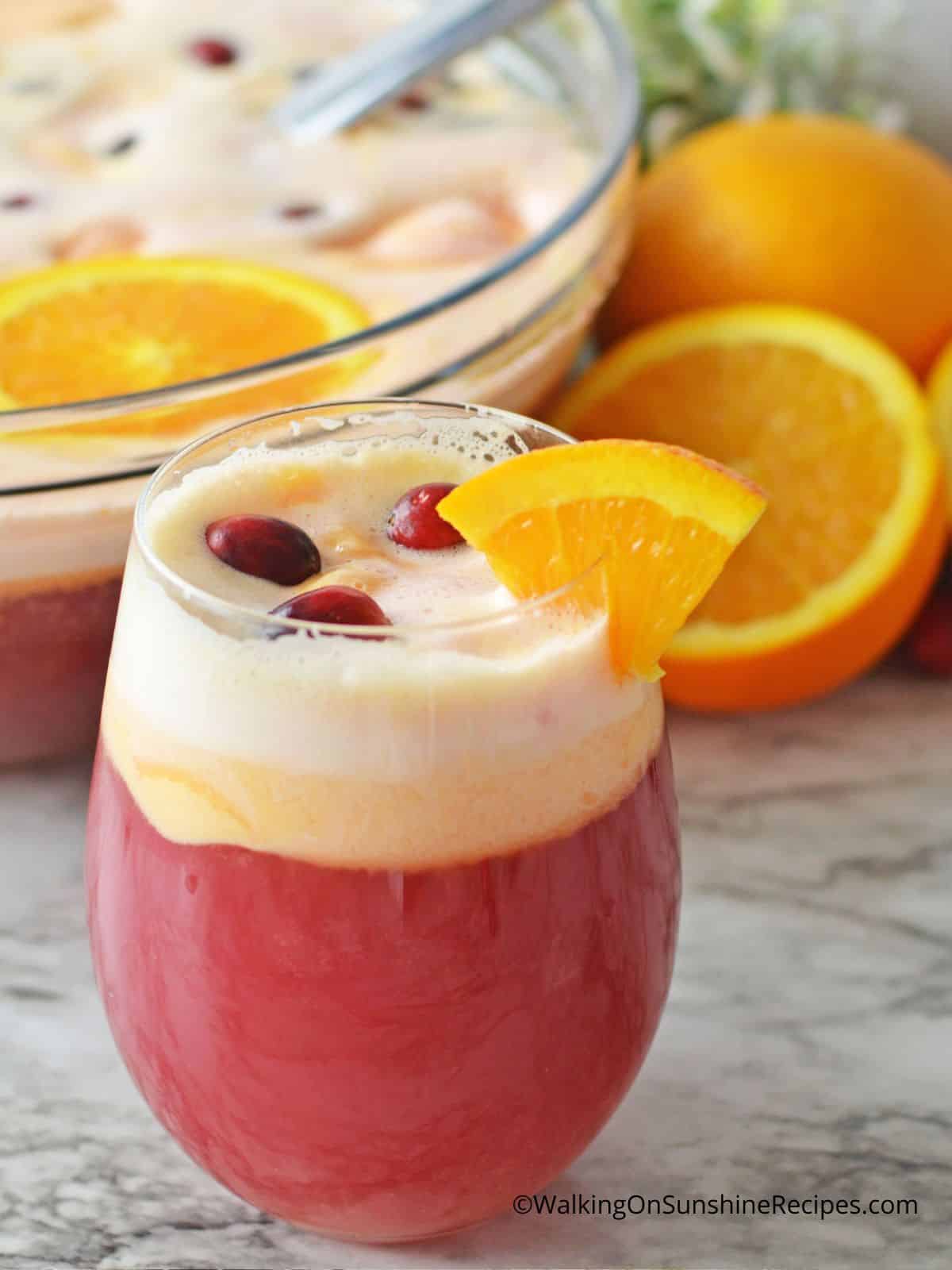 Christmas morning brunch is the perfect time to serve a non alcoholic drink the whole family can enjoy! This recipe is easy to make and even easier to modify the ingredients to exactly what your family likes.
This recipe also adds orange sherbet, which to some people may seem a little strange. However, adding sherbet to a beverage adds a fruity flavor that is not too sweet.
Sherbet even helps retain some of the carbonation in the beverage, which prevents it from going flat when served at parties. Since we're celebrating a holiday, why not pull out grandma's punch bowl to serve this sparkling drink in?
Top off your Christmas punch with a garnish of fresh orange slices and a few extra cranberries. This beverage will be sure to make your holiday season one to remember!
This recipe was inspired by very popular Easter Brunch Punch and my Non-Alcoholic Christmas Drink recipe.
Table of Contents
Looking for more breakfast ideas to serve for the holidays? Try my French Toast Cinnamon Rolls, Easy Cinnamon Roll Breakfast Casserole or my Cinnamon Roll Casserole without Eggs...yum!
What type of fruit juices should be used to make the punch non-alcoholic and flavorful?
To make your punch non-alcoholic and flavorful, try using cranberry juice, apple cider, or pineapple juice. Cranberry juice has a tart flavor that will wake up your taste buds at the start.
Apple cider on the other hand is sweet and warm, usually enhanced with spices such as cinnamon or clove. Last but not least, adding pineapple juice brings in tropical summer vibes with its sweet yet tart combination. The punch will be an instant success for Christmas morning brunch!
What type of container should be used to store the punch in the fridge?
To ensure your Christmas punch stays as fresh and bubbly as the morning you made it, make sure to store it in an airtight container. Mason jars with tight lids are a great option, as they'll create a seal that locks out oxygen while keeping your punch nice and cold.
Or if you want to keep things festive, try looking for Christmas-themed containers at thrift stores or Christmas markets. Whichever type of container you choose, being sure that it seals off your Christmas punch tight will guarantee that your Christmas morning brunch will always have a delicious retort for any toast or holiday cheers.
How long will the punch keep in the fridge after it is made?
Punch can typically last several days when refrigerated but it should still be consumed within two to three days. Although punch becomes less flavorful over time, most of the ingredients used to make it, such as citrus juices and club soda, have preservatives that allow them to stay fresh for a few days.
If possible for your Christmas morning brunch, consider preparing your punch just before serving so you can enjoy this holiday tradition at its best!
🛒Helpful Kitchen Tools
This post contains affiliate links. That means that if you make a purchase after clicking on a link I may earn a small commission at no extra cost to you. For more information, click here.
Heavyweight Clear Plastic 2 Gallon Punch Bowl with Plastic Serving Ladle
Rose Gold Plastic Cups
Christmas Napkins
📋Main Ingredients Needed
This is an overview of the ingredients and instructions. Be sure to see the recipe card below for exact quantities, detailed instructions and special notes.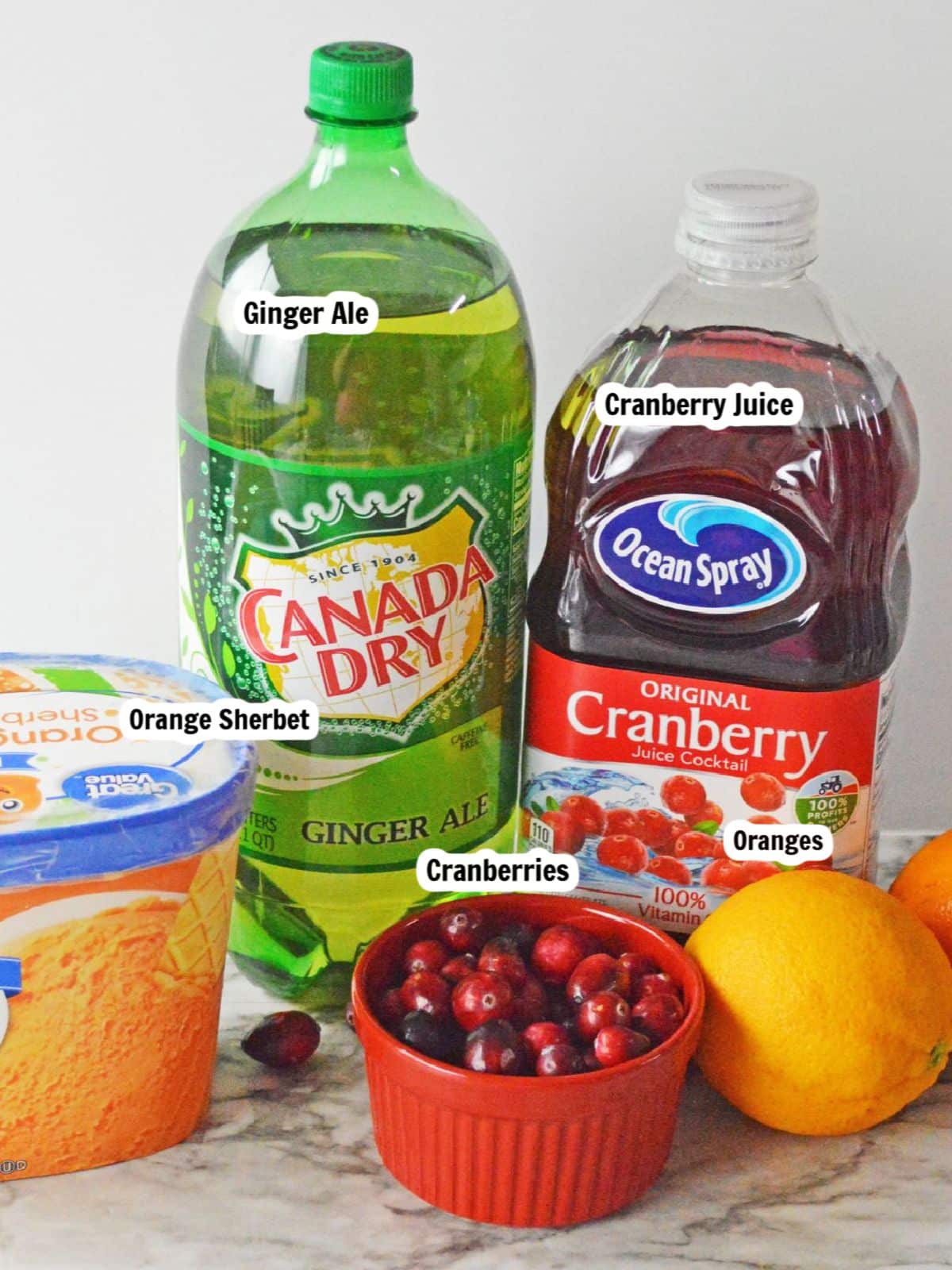 Step-by-Step Instructions
Step 1: Add the orange sherbet to your punch bowl.
Step 2: Then pour the cranberry juice followed by the ginger ale on top.
Step 3: Add fresh orange slices and cranberries.
Step 4: Stir to combine.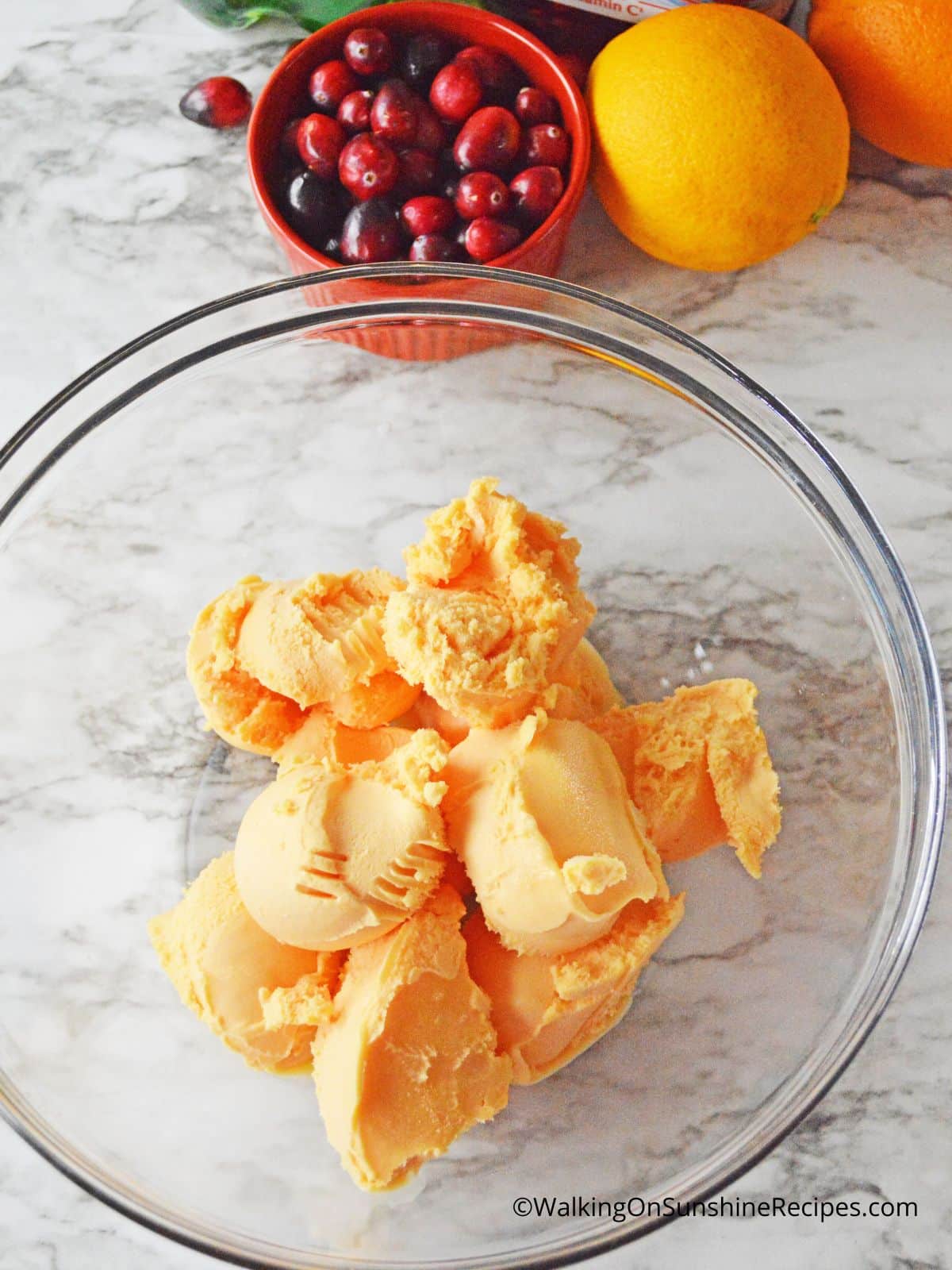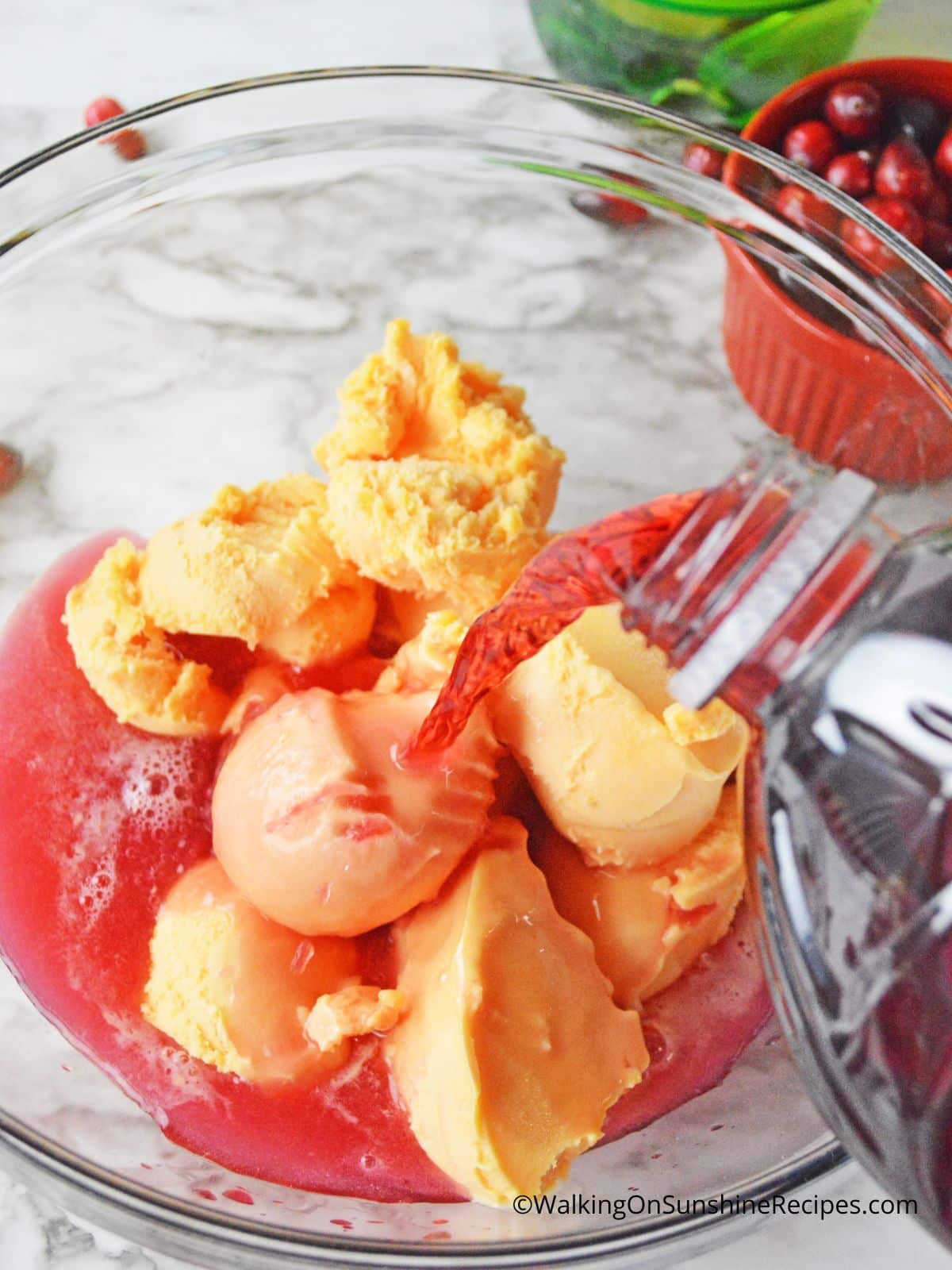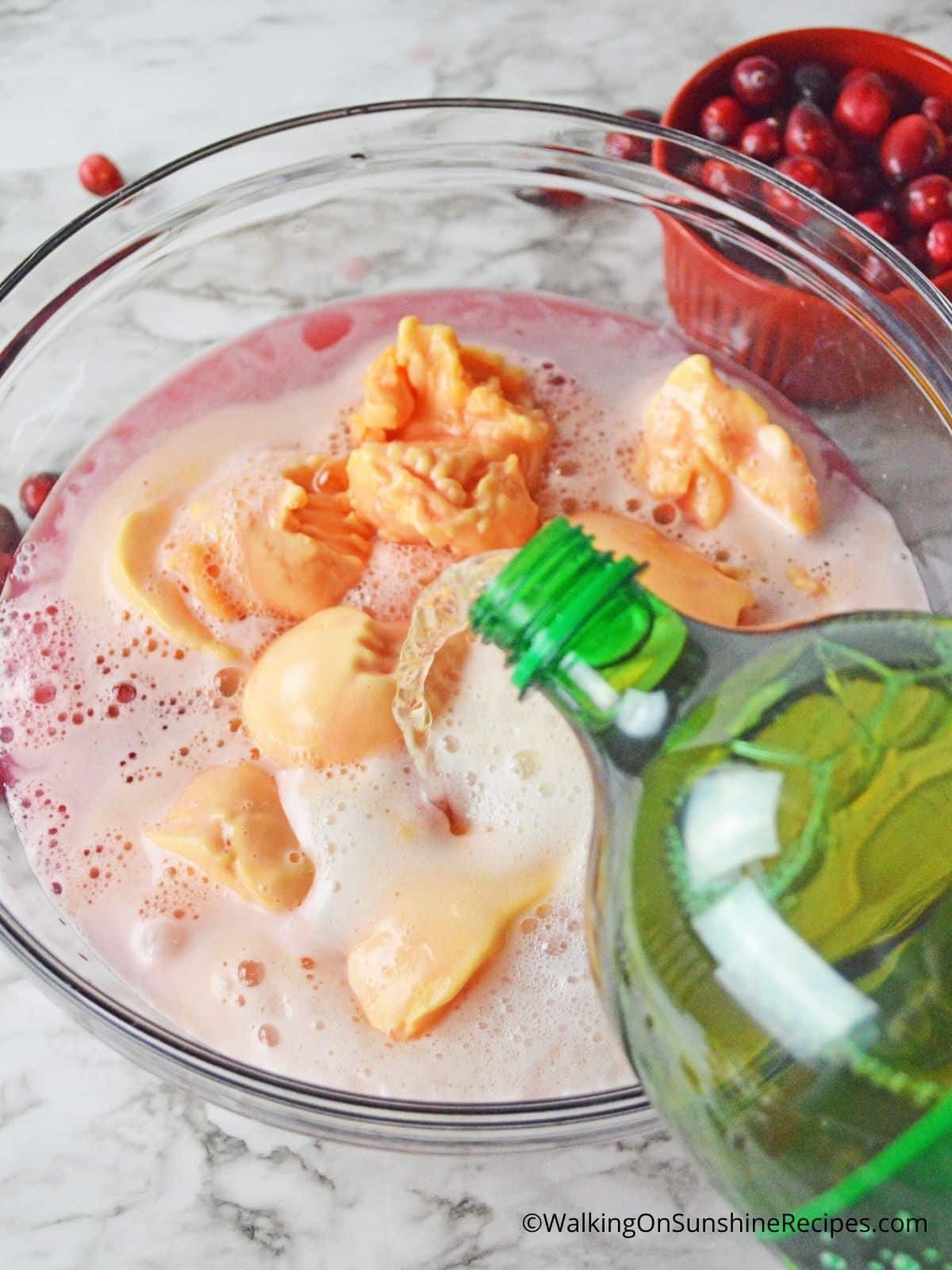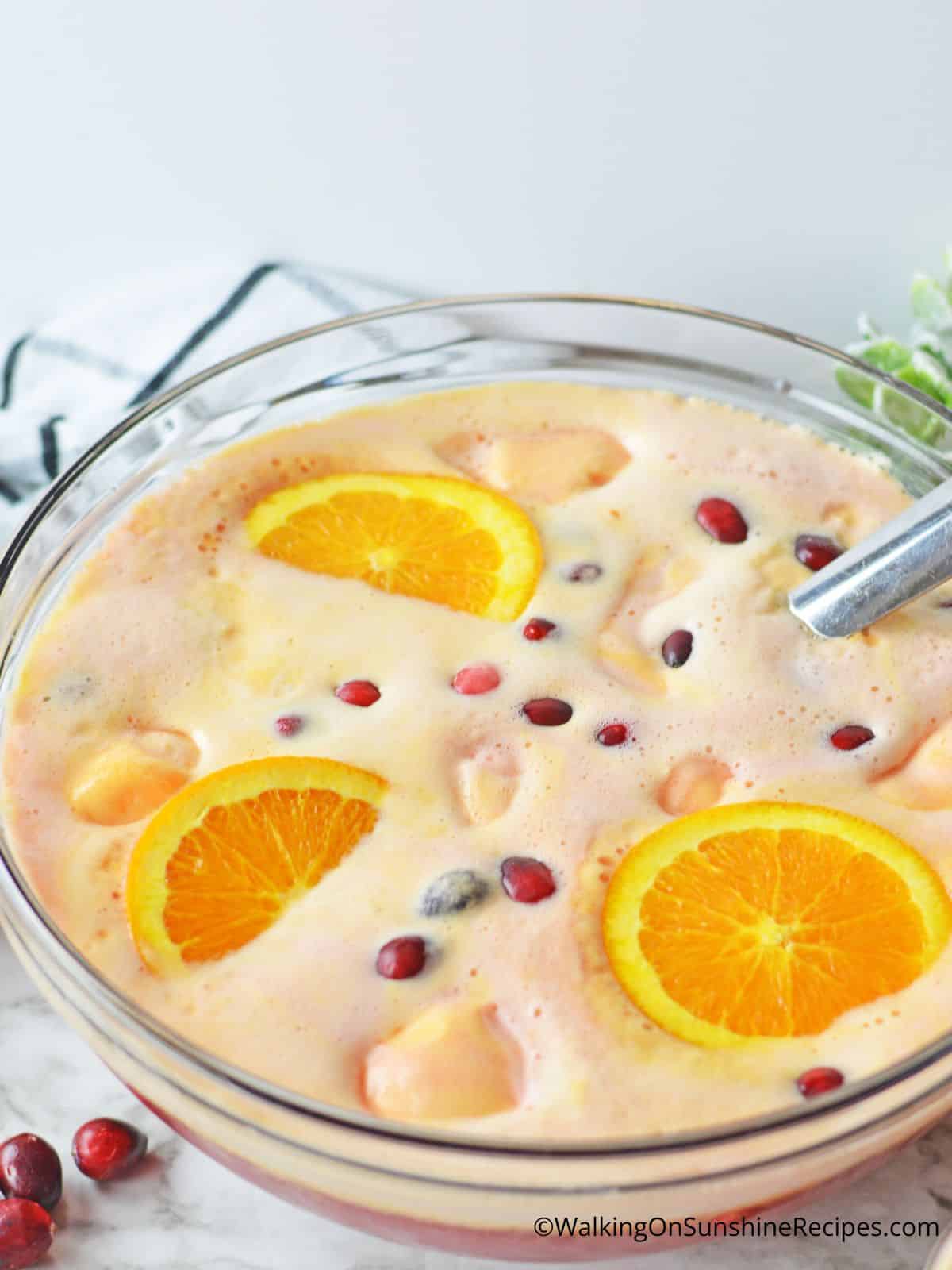 🥣Serving Tips
Right before serving have extra orange slices available for your family to garnish their glasses.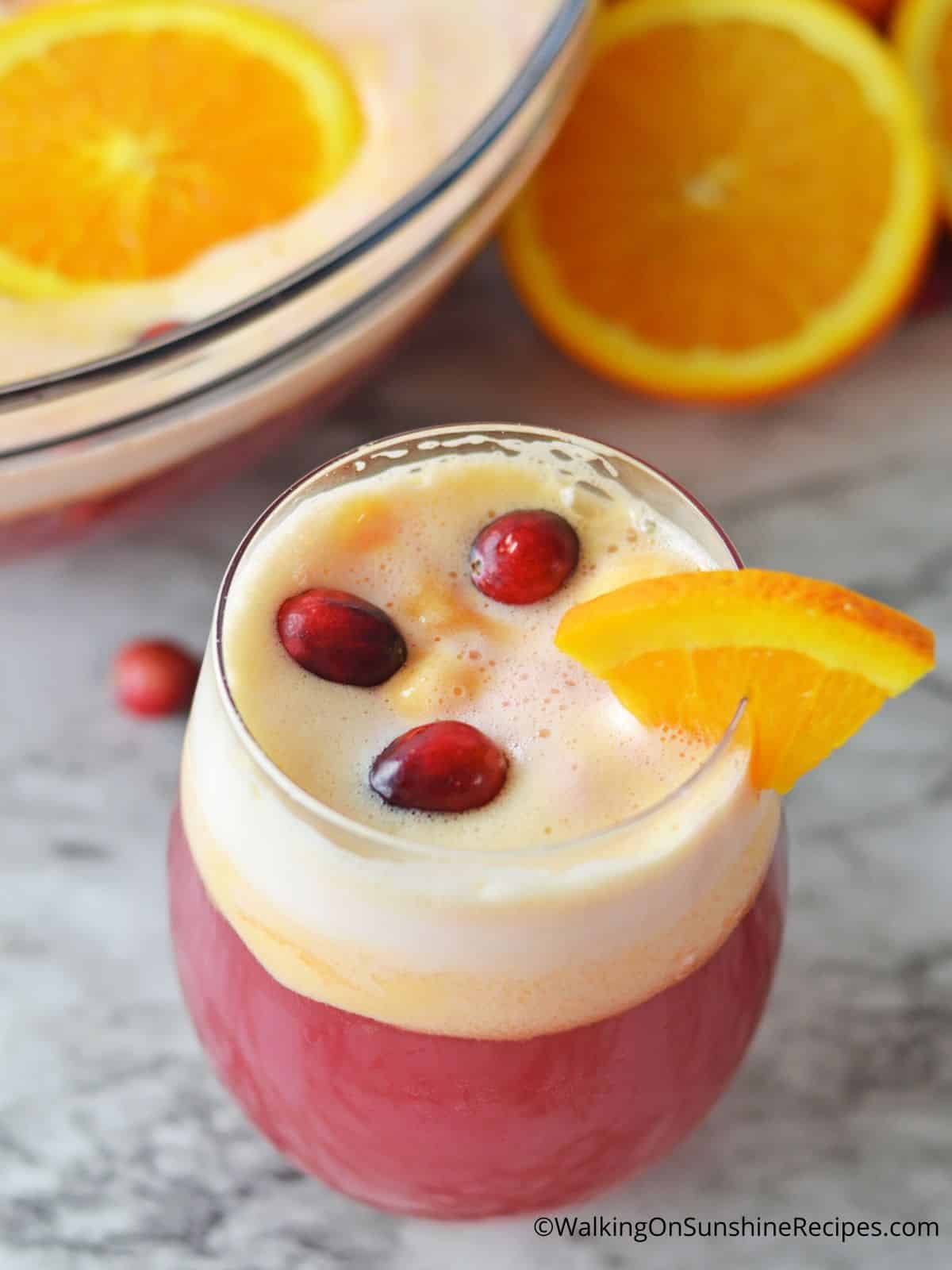 ⭐Before You Begin! If you make this recipe, please leave a review and star rating. This helps my business thrive and continue providing FREE recipes.
🍽Make it a Meal
To compliment the sweetness of this beverage, provide easy-to-make breakfast recipes that have a good source of protein, like eggs and bacon.
Breakfast Casserole with Eggs and Sausage is always a great addition to any holiday celebration.
For added color and texture, options such as sliced fruit would work perfectly too.
If you're looking for something a little heartier, consider buttermilk pancakes or waffles; top it off with some maple syrup or honey to take your Christmas breakfast to the next level.
💡 Substitutions and Variations
Make ice cubes filled with sliced oranges and cranberries to serve alongside the punch.
Fill an ice cube tray with water and add the sliced oranges and cranberries.
Freeze the ice cube tray overnight. The next day, simply remove the frozen cubes from the tray and use them to add brightly colored decoration and sweet fruity taste to your Christmas morning beverage recipe.
Try using a combination of cut fruits like strawberry, pineapple, blueberries, raspberries, oranges, or other combinations for even more decadent drinks!
💡Recipe FAQ
Is sherbet healthier than ice cream?
Sherbet contains less fat than most ice creams. Sherbet often uses fruit juice, fat-free milk and sugar as primary ingredients. This lack of fat means that a half-cup serving of sherbet will have fewer calories than its half-cup counterpart of standard ice cream.
🌟Try these recipes next...
Mason Jar Gifts for the HolidaysClick HERE for More Information
📇Recipe Card
Yield: 20 servings
Brunch Punch Non Alcoholic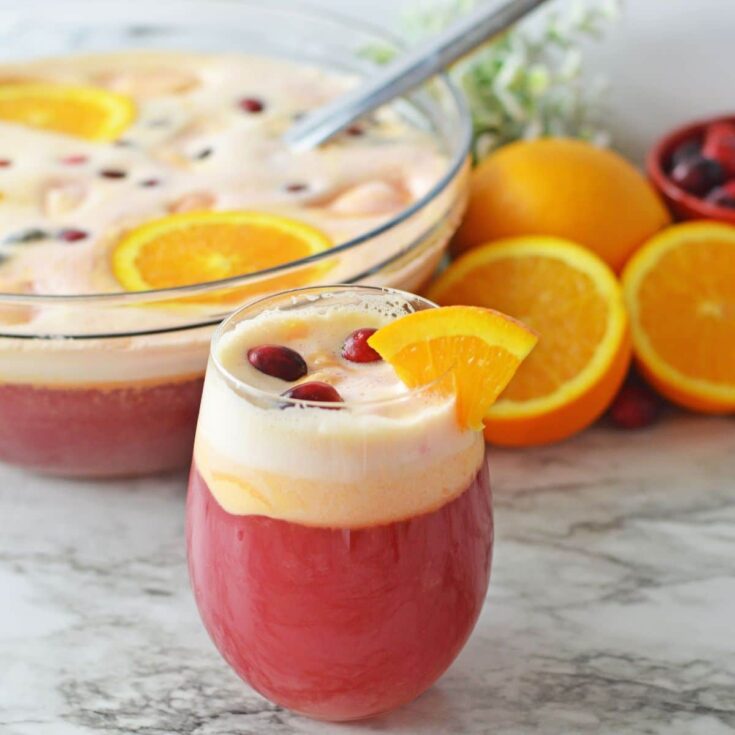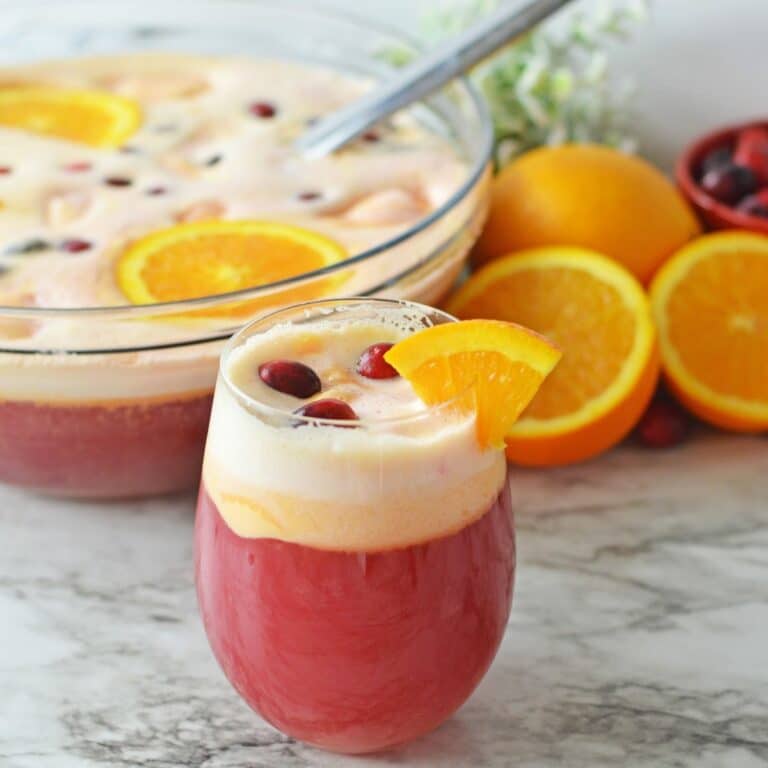 Christmas morning brunch is a time for celebration with your family. Let's put together the perfect Brunch Punch Non Alcoholic Recipe to go along with all the yummy breakfast ideas you're preparing.
Ingredients
64 ounces cranberry juice, chilled
2 liters ginger ale soda, chilled
3-4 cups orange sherbet
2 fresh oranges, sliced
1 cup fresh cranberries, plus extra for serving
Instructions
To your punch bowl, add orange sherbet.
Pour over cranberry juice and ginger ale.
Add fresh orange slices and cranberries.
Notes
Right before serving, garnish with fresh orange slices and a few fresh cranberries.
Nutrition Information:
Yield:
20
Serving Size:
1
Amount Per Serving:
Calories:

291
Total Fat:

3g
Saturated Fat:

2g
Trans Fat:

0g
Unsaturated Fat:

1g
Cholesterol:

1mg
Sodium:

76mg
Carbohydrates:

65g
Fiber:

2g
Sugar:

55g
Protein:

2g
The nutrition information is calculated automatically. I cannot guarantee its accuracy. If this data is important to you, please verify with your trusted nutrition calculator.