These Cinnamon Rolls from Crescent Rolls are absolutely irresistible - the ultimate breakfast idea and treat to satisfy all your cravings!
Made with a tube of crescent rolls, cinnamon, sugar and a homemade cream cheese frosting, you can surprise your family with the enticing aroma of freshly-baked cinnamon rolls.
Check out all the other best cinnamon roll recipes available for even more delicious ideas!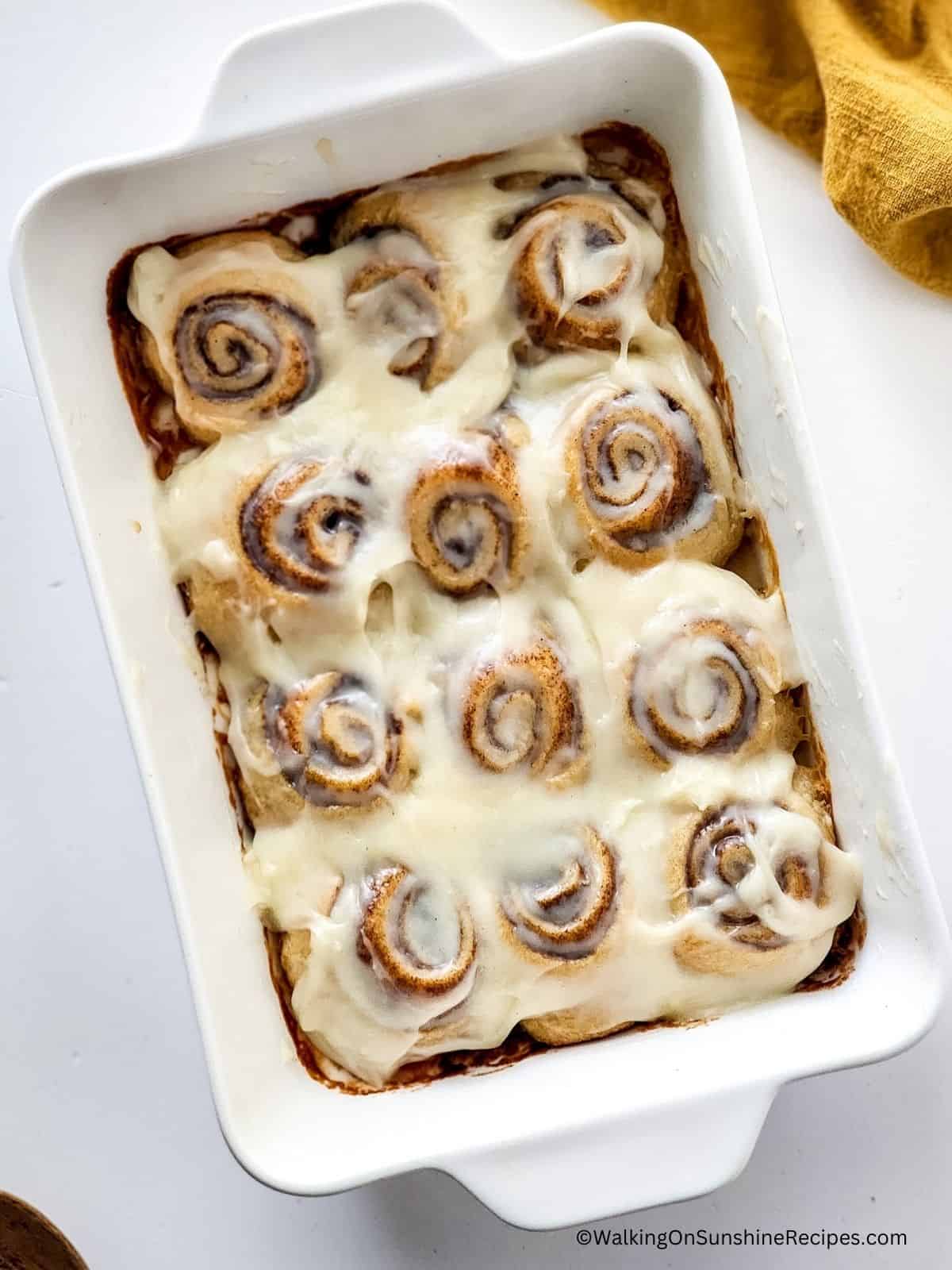 Your family will wonder where you found the time to bake one of our refrigerated biscuit dough recipes! Don't worry, it will be our little secret that you used a tube of crescent roll dough!
Using crescent rolls to create cinnamon rolls is a genius shortcut that saves time without compromising on flavor. The flaky, buttery layers of the crescent rolls perfectly complement the warm cinnamon and sugar filling, resulting in a heavenly treat that is quick and easy to make.
Looking for more Breakfast Ideas? Try my Blueberry Crescent Rolls, Cinnamon Roll Crescents or my French Toast Cinnamon Rolls.
Table of Contents
👩‍🍳What to do with Crescent Rolls?
Did you know that crescent rolls are not only great as a side dish for dinner but can also serve multiple purposes? These flaky delights can elevate your culinary game to new heights!
Experiment with shapes! Instead of the traditional crescent shape, try rolling the dough into squares, rectangles, or twists.
Try filling the rolls with various ingredients. Try my Nutella Crescent Rolls, Strawberry Danish or even my Breakfast Crescent Rolls.
You can even use it in place of traditional pie crust! Simply press the dough into a pie dish, fill it with your favorite pie filling, and bake according to the recipe instructions.
I used crescent rolls as the base for my Zucchini Pie and my Fruit Tart Recipe.
Refrigerator Cinnamon Rolls eBookClick HERE for More Information
🛒Helpful Kitchen Tools
Creative Co-Op Stoneware Batter Bowl, Set of 4 Sizes, Multicolor Measuring Cups, Multi
Nesting Measuring Cups | Set of 3 Stackable Ceramic Cups
Stainless Steel Rolling Pin Dough Roller 17" x 2" with 4 Removable Adjustable Thickness Ring and Non-Slip Silicone Pastry Mat
Mixing Bowls, Ceramic Mixing Bowls
📋Ingredients
This is an overview of the ingredients and instructions. Be sure to see the recipe card below for exact quantities, detailed instructions and special notes.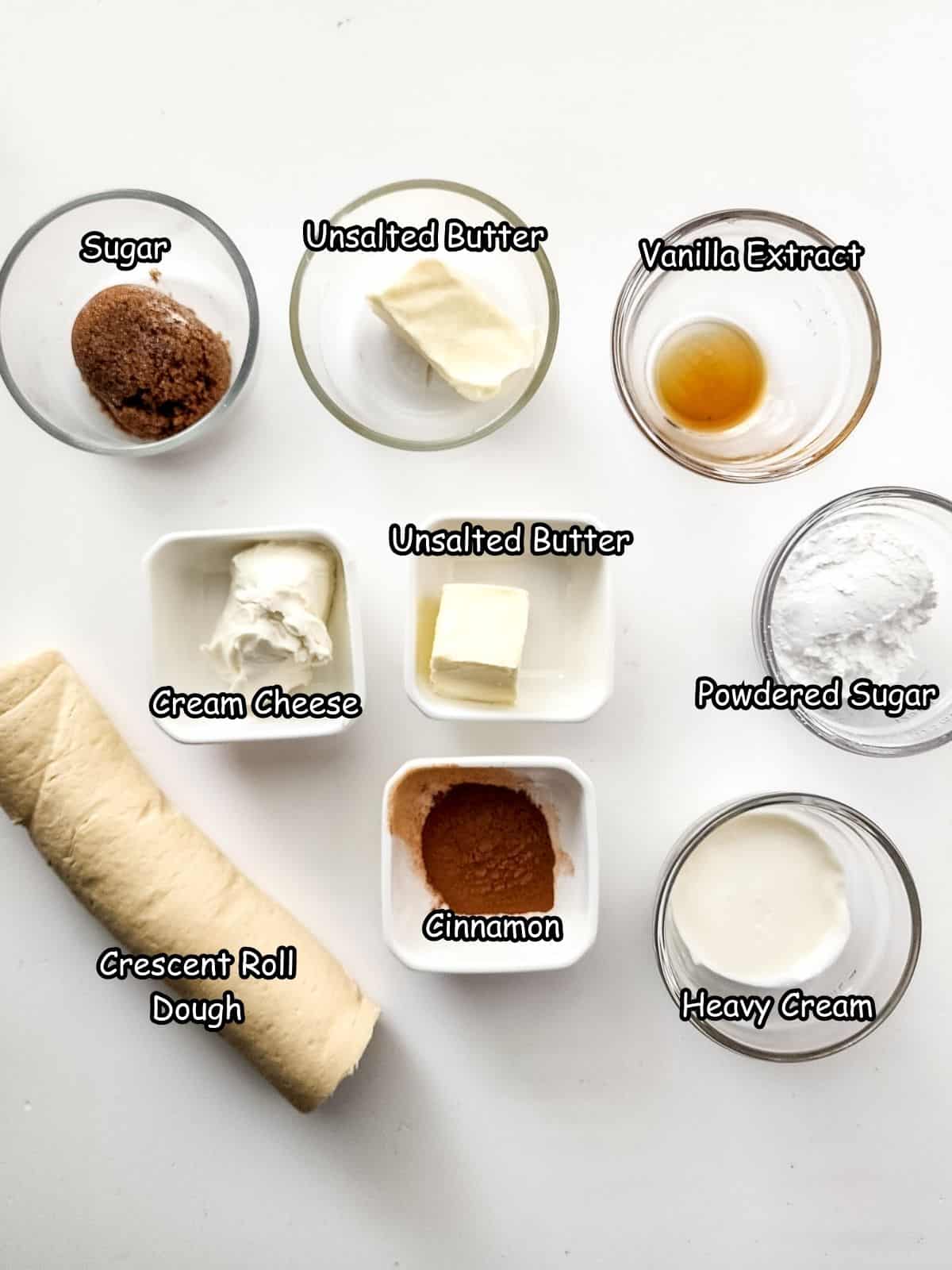 💡 Substitutions and Variations
If you're unable to find crescent dough sheets, use crescent rolls and pinch the seams together. Try using a pastry roller to help get the seams together.
Don't feel like making the homemade cream cheese frosting? Try a canned version like I do with my Cinnamon Roll Crescents recipe.
Step-by-Step Instructions
Step 1: Cream the butter, brown sugar, and cinnamon together until it forms a thick paste.
Step 2: Roll the crescent dough out and spread the cinnamon mixture evenly over the dough.
Step 3: Roll the dough up lengthwise into a log. Cut the log into rolls evenly.
Step 4: Place the rolls into a baking dish about an inch apart. Pour heavy cream over each roll.
📌Quick Tip: Roll the dough out on a piece of parchment paper, cutting board, or lightly floured surface to keep the dough from sticking.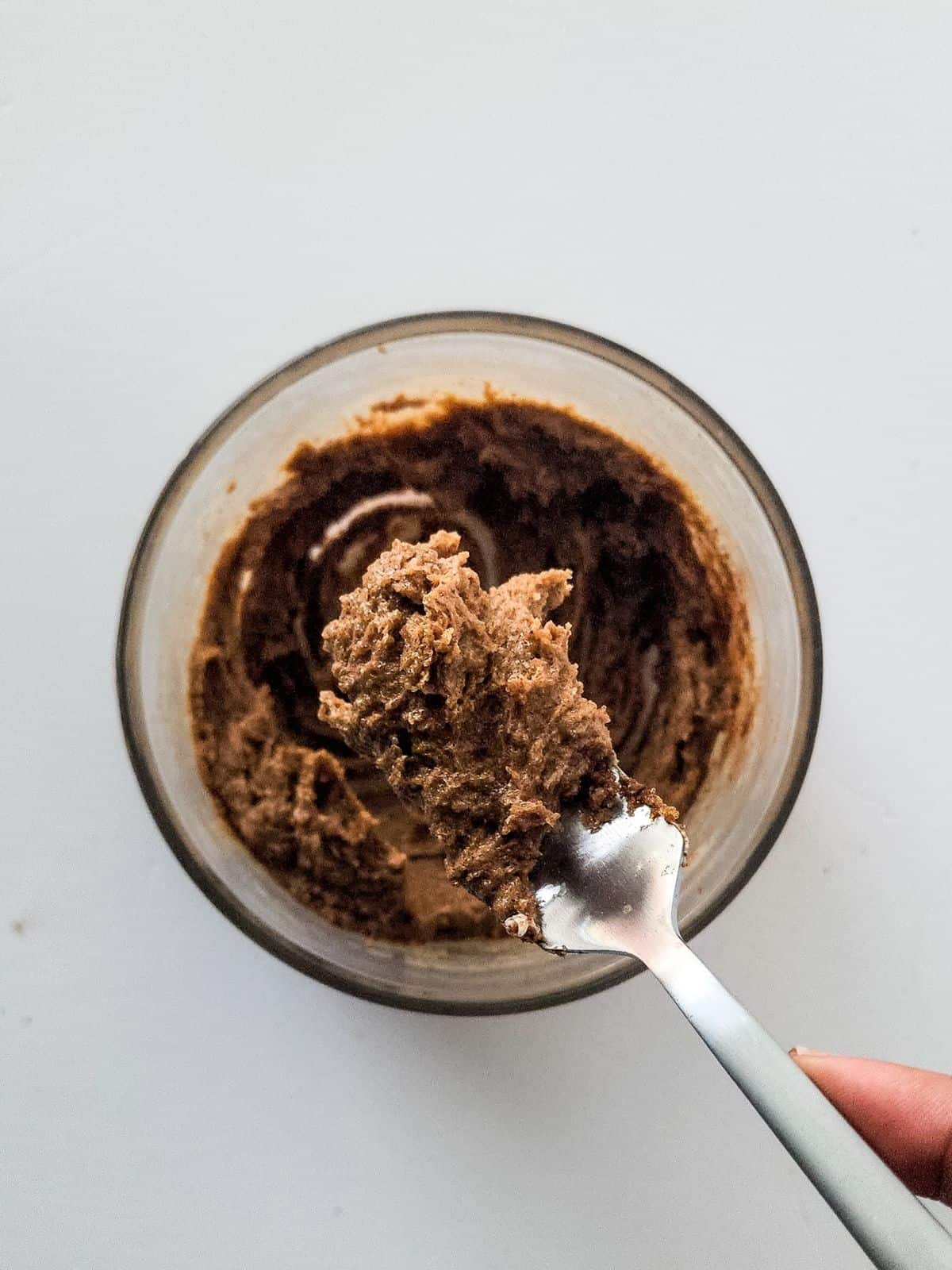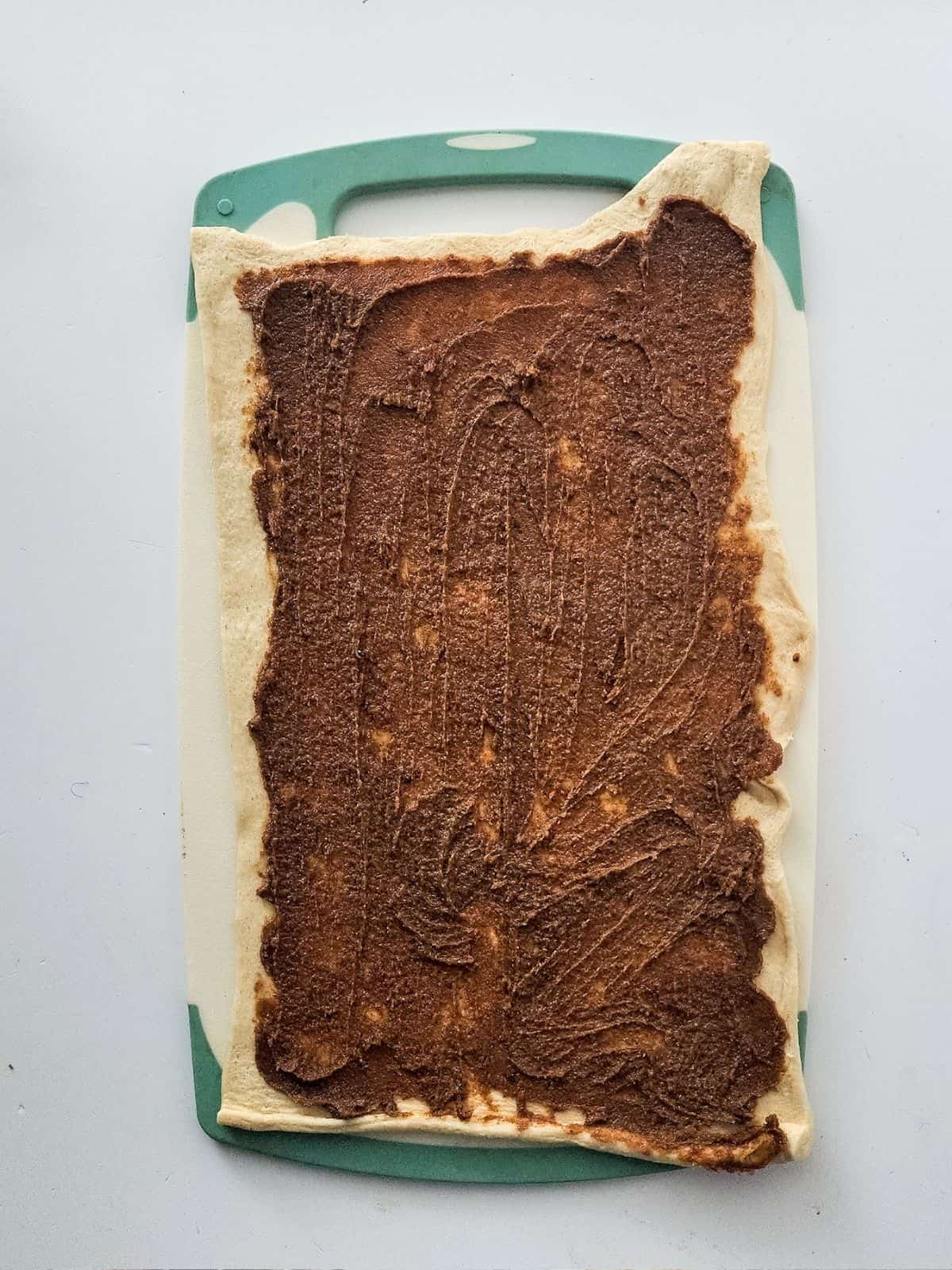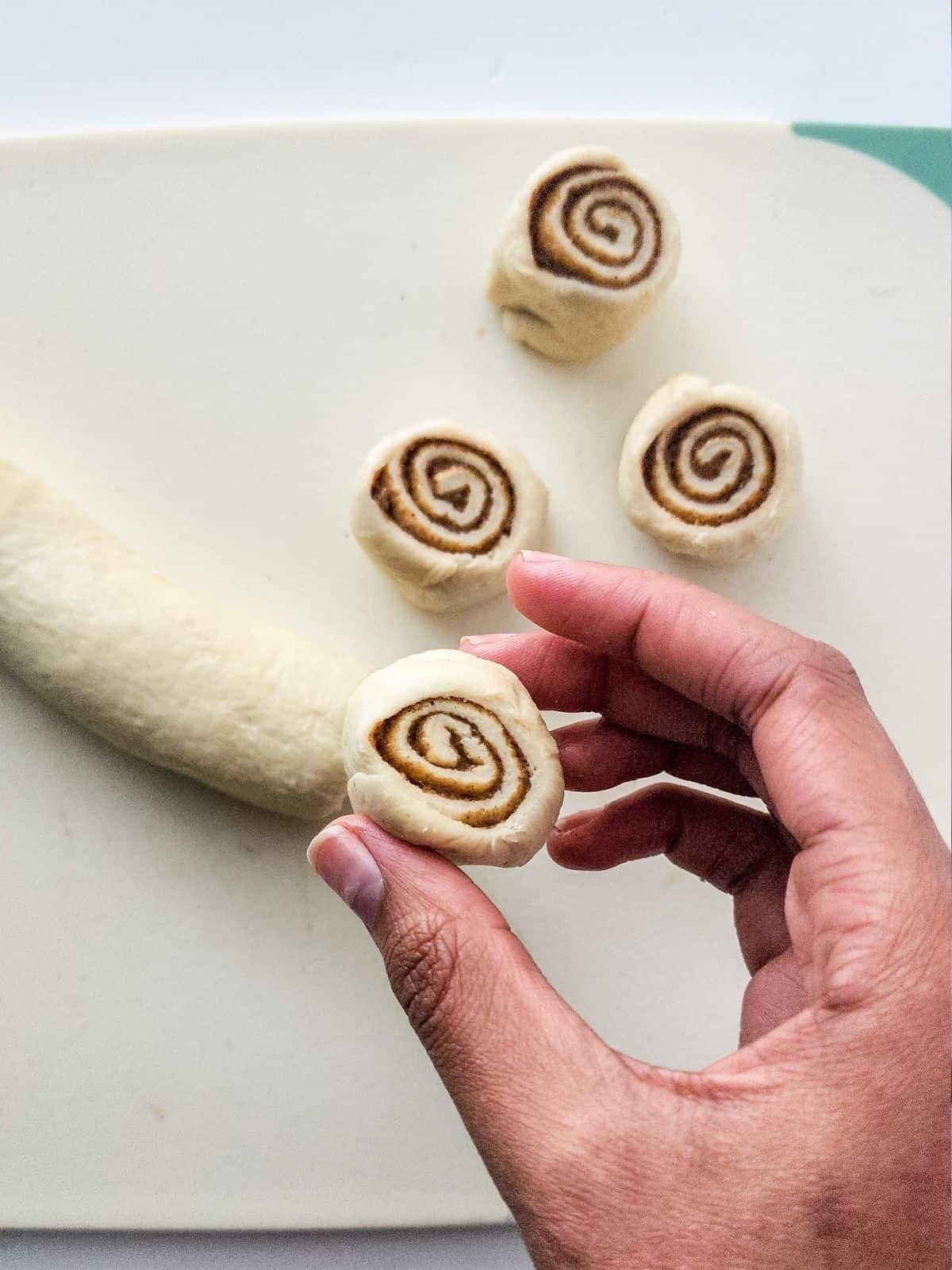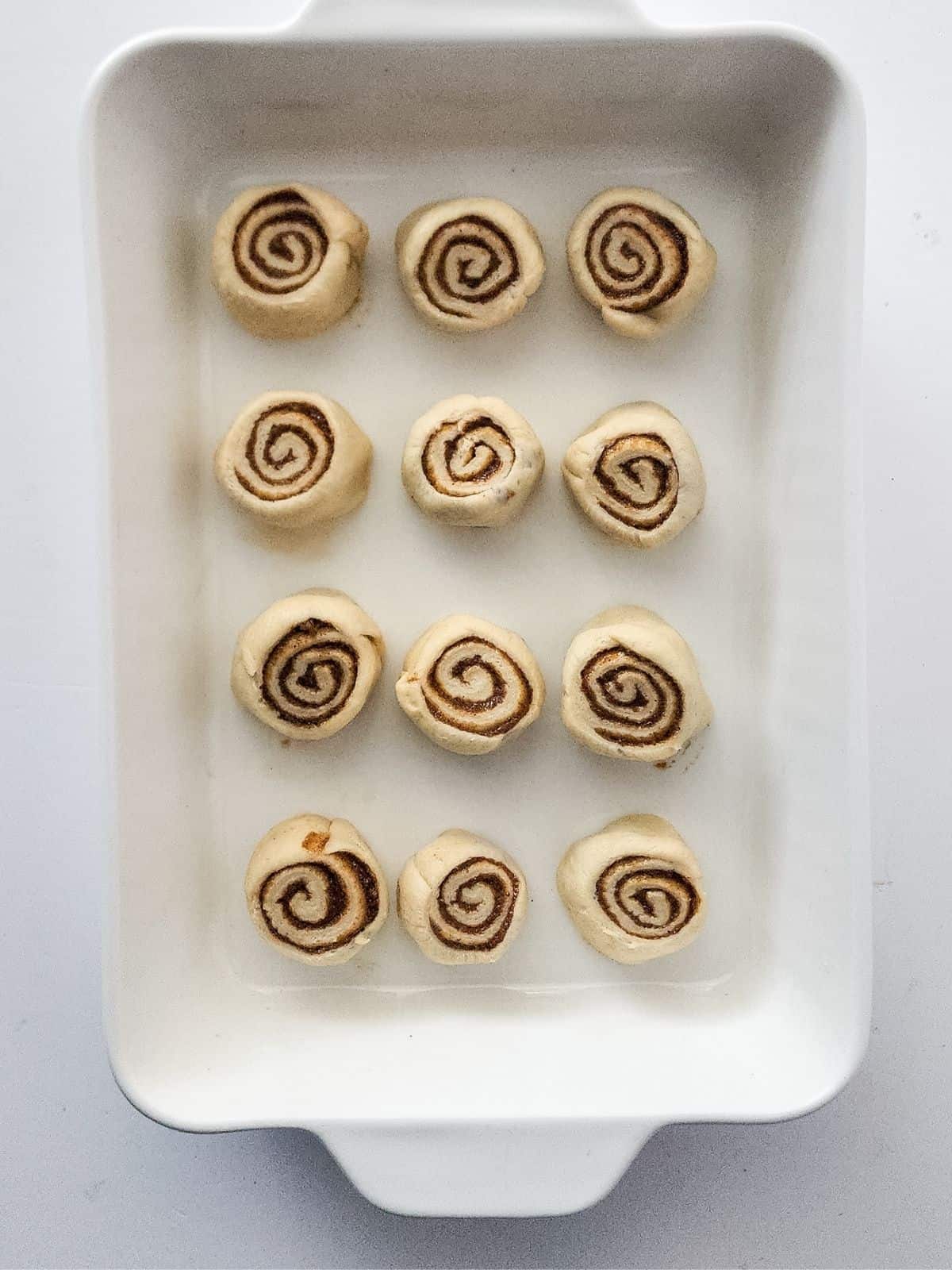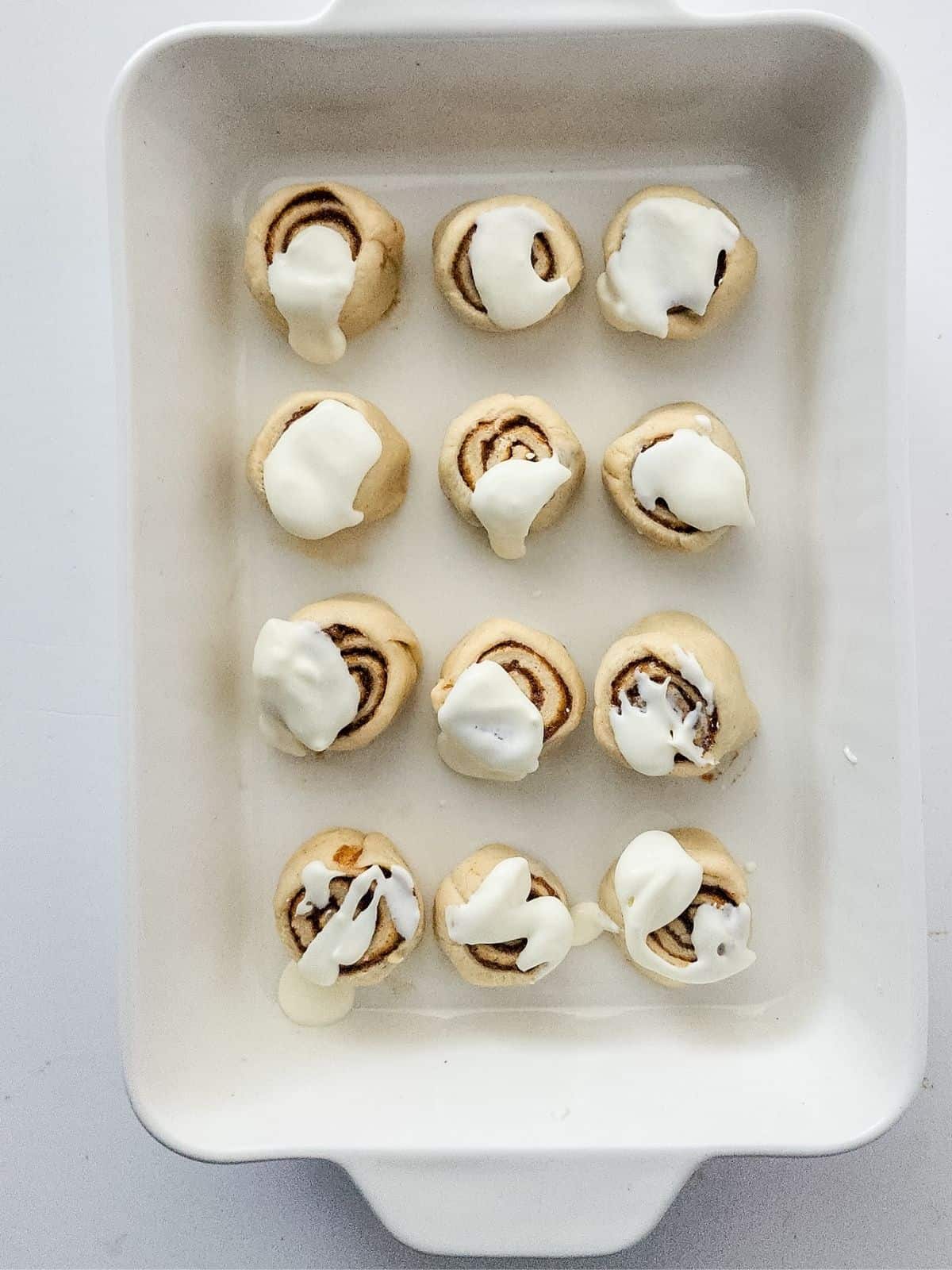 How to Bake Cinnamon Rolls
Bake at 350°F for 20 minutes. The rolls will be puffy and golden brown.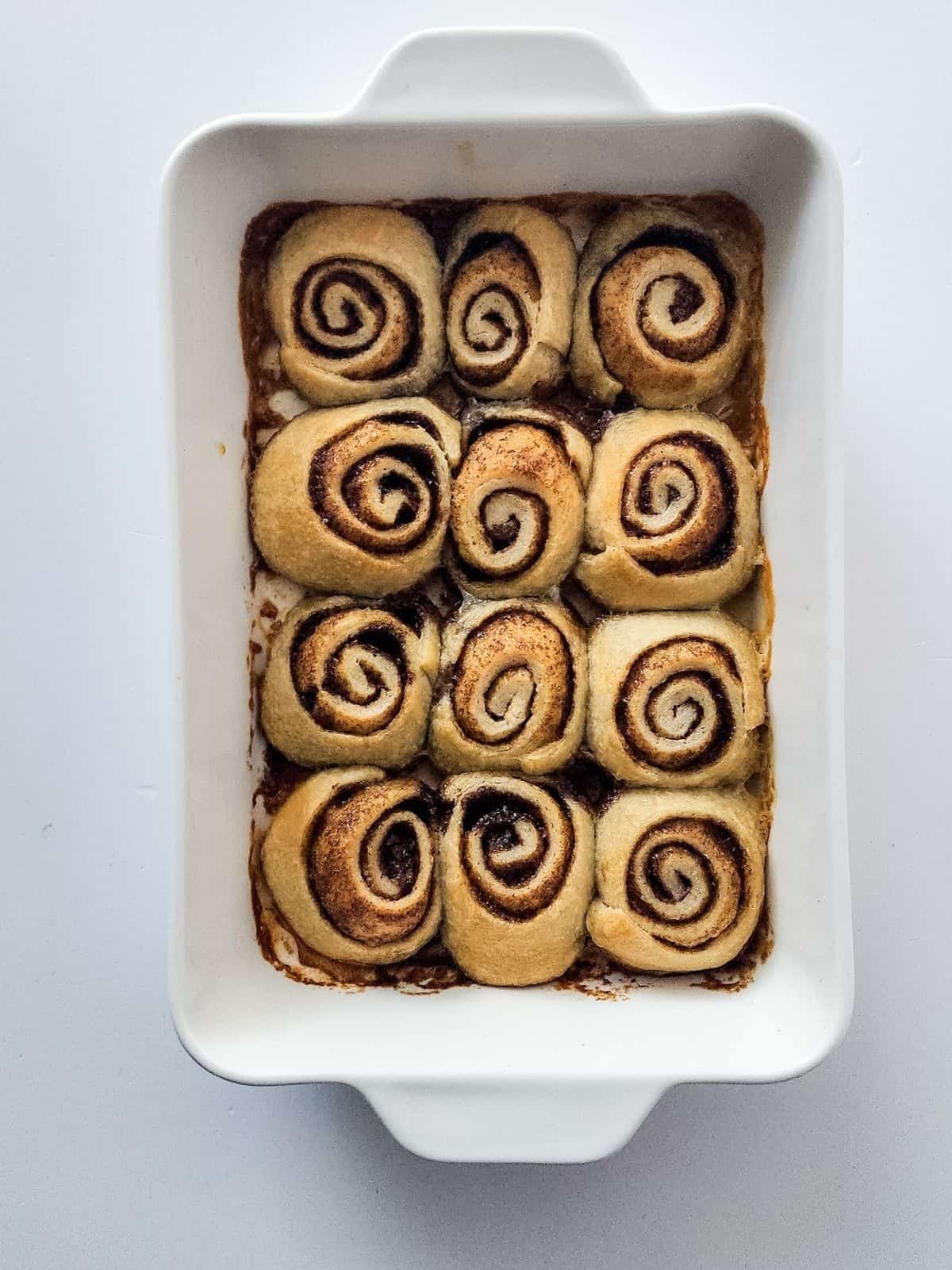 Easy Cream Cheese Frosting
Prepare the cream cheese frosting. In a mixing bowl, beat the cream cheese and butter.
Add the the vanilla extract and powdered sugar and mix until smooth.
Spread frosting over the top of the slightly cooled cinnamon rolls. Serve and enjoy while they rolls are still warm.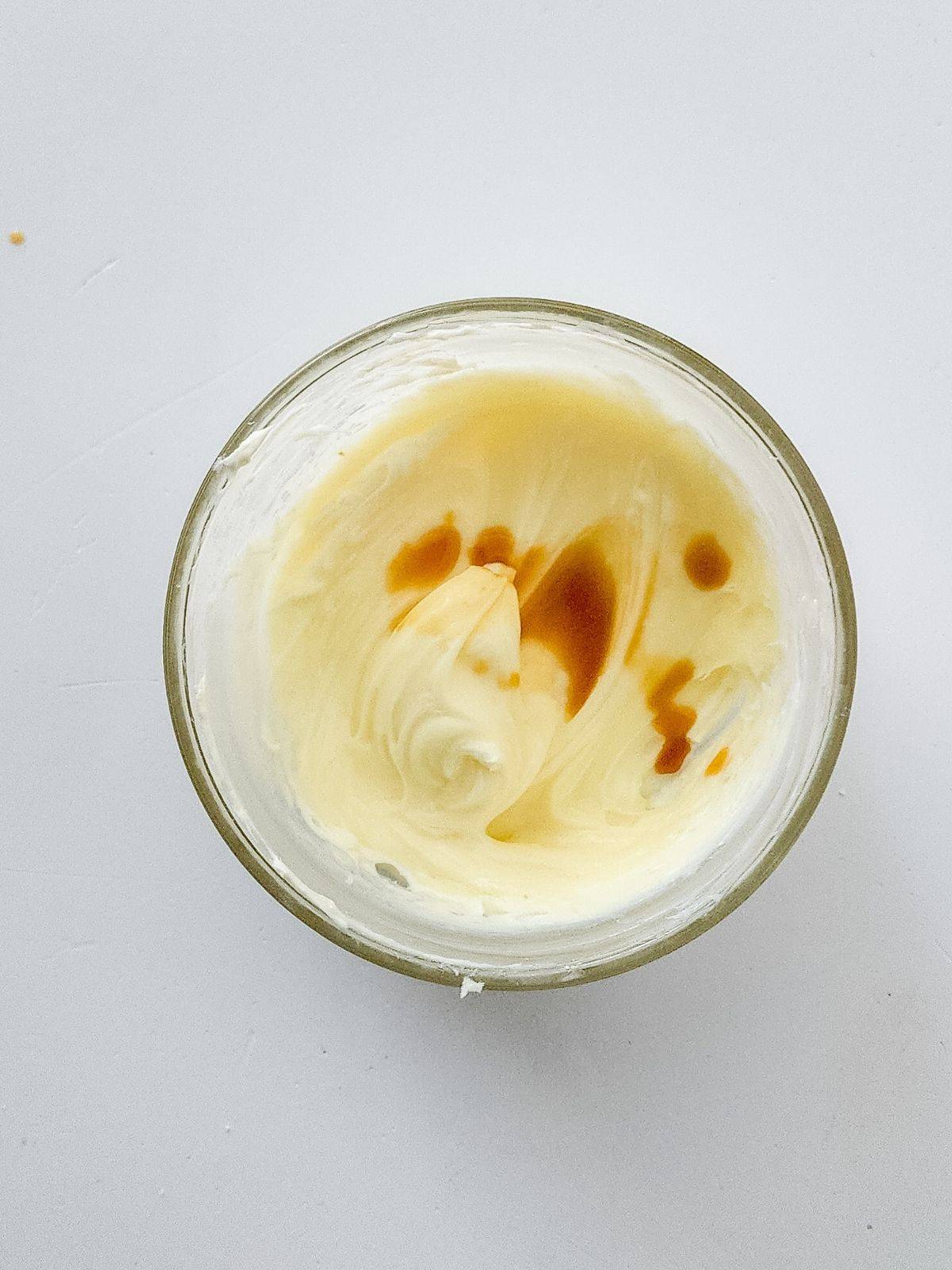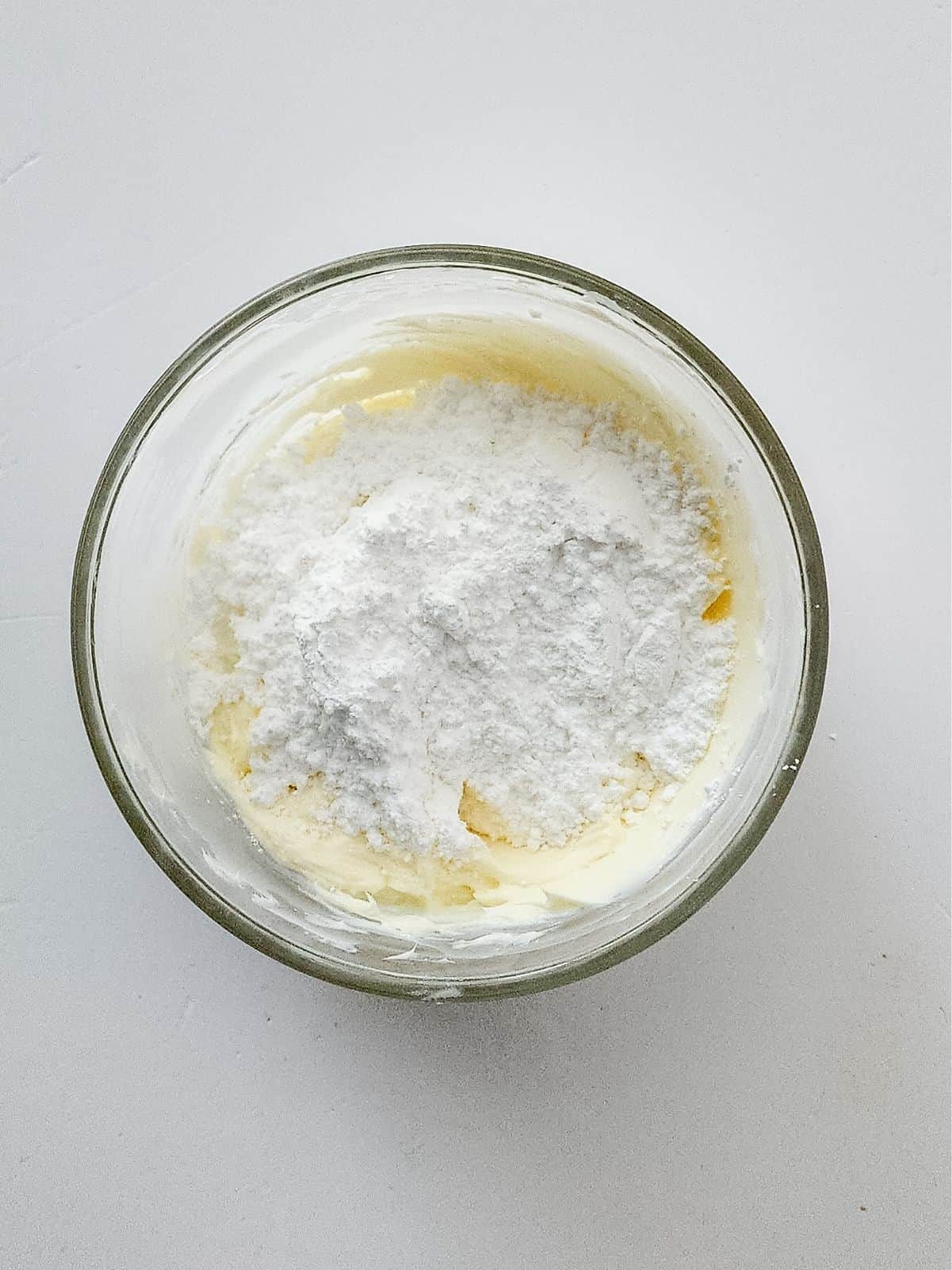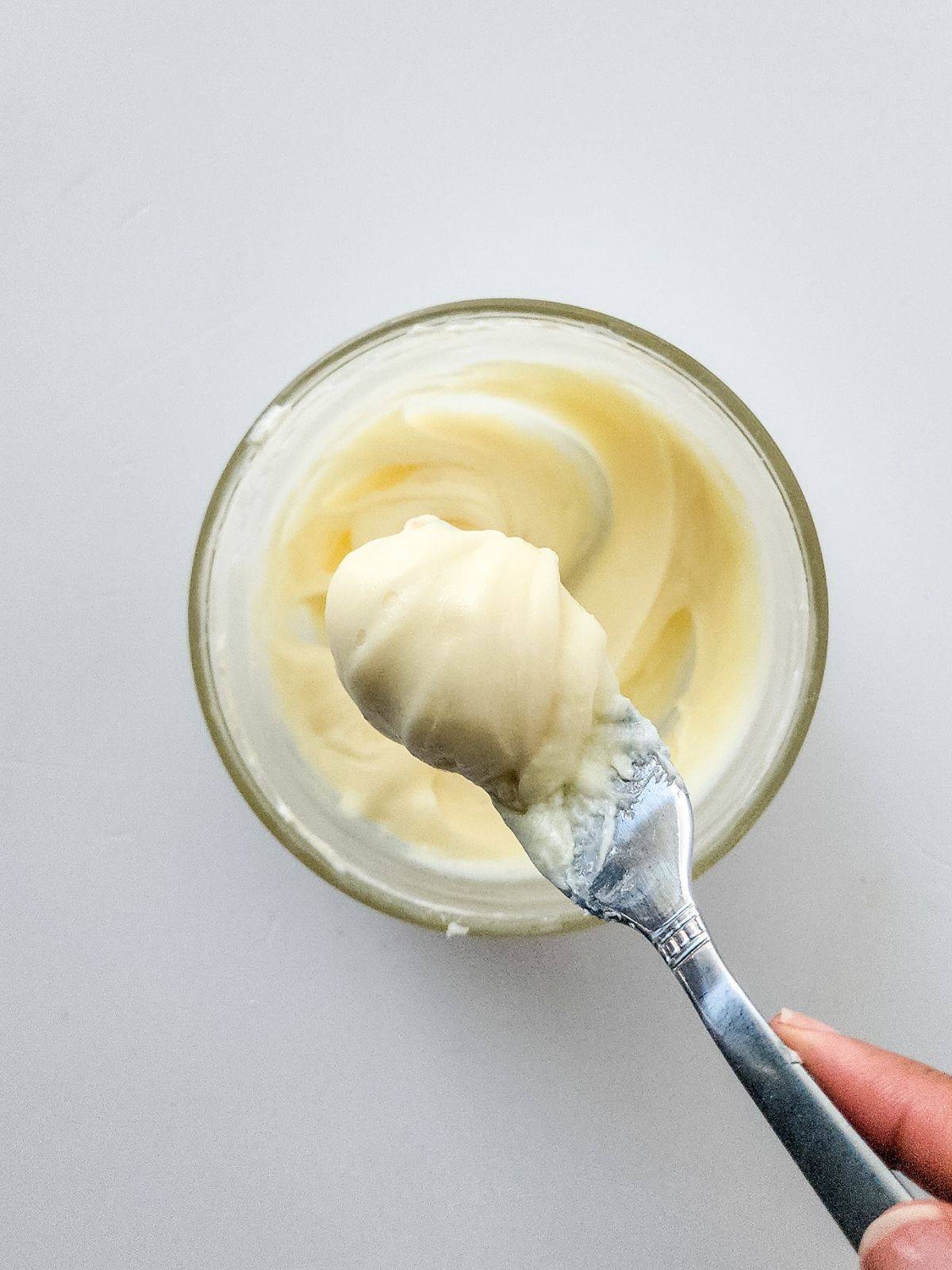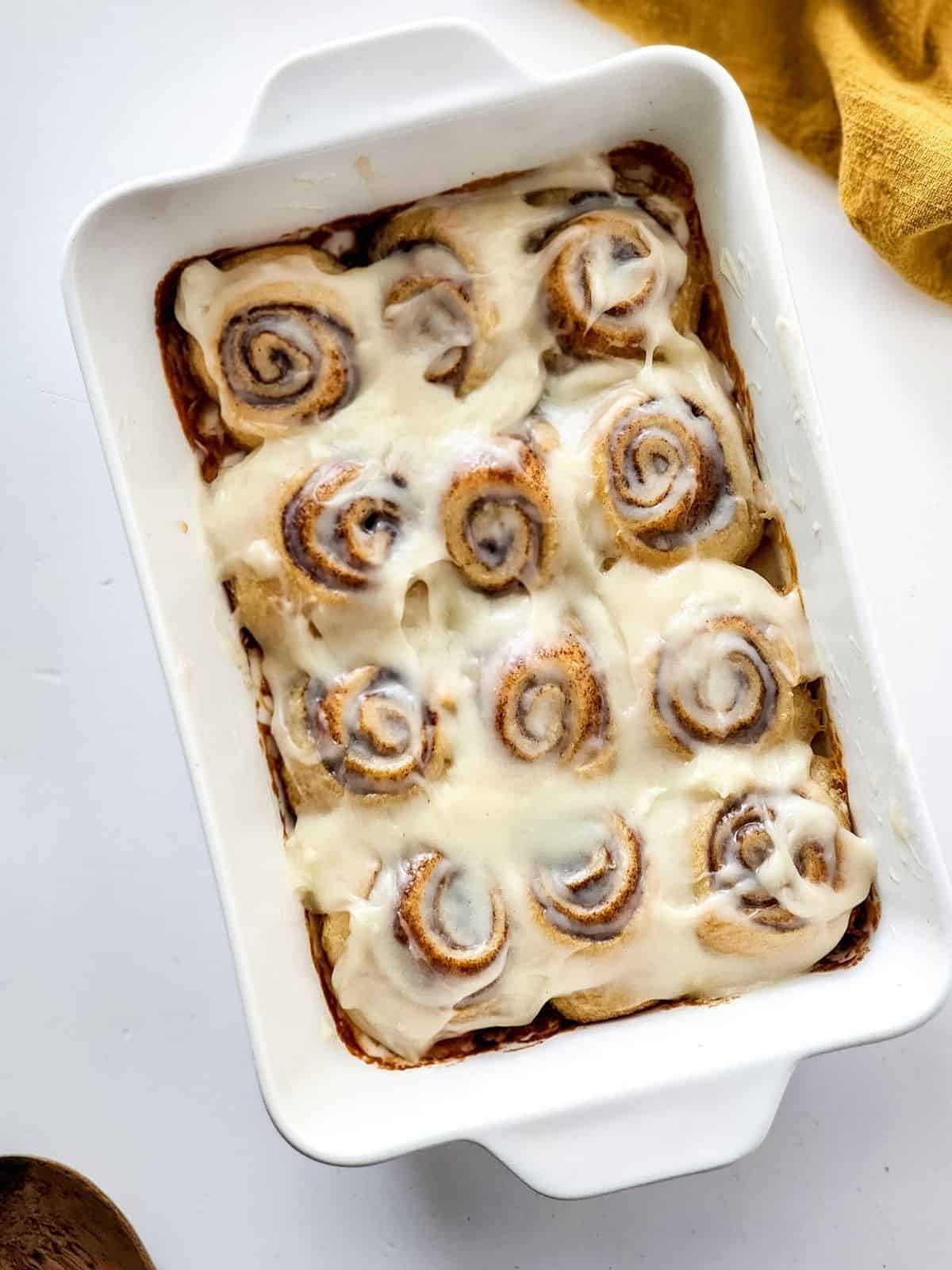 ⭐Before You Begin! If you make this recipe, please leave a review and star rating. This helps my business thrive and continue providing FREE recipes.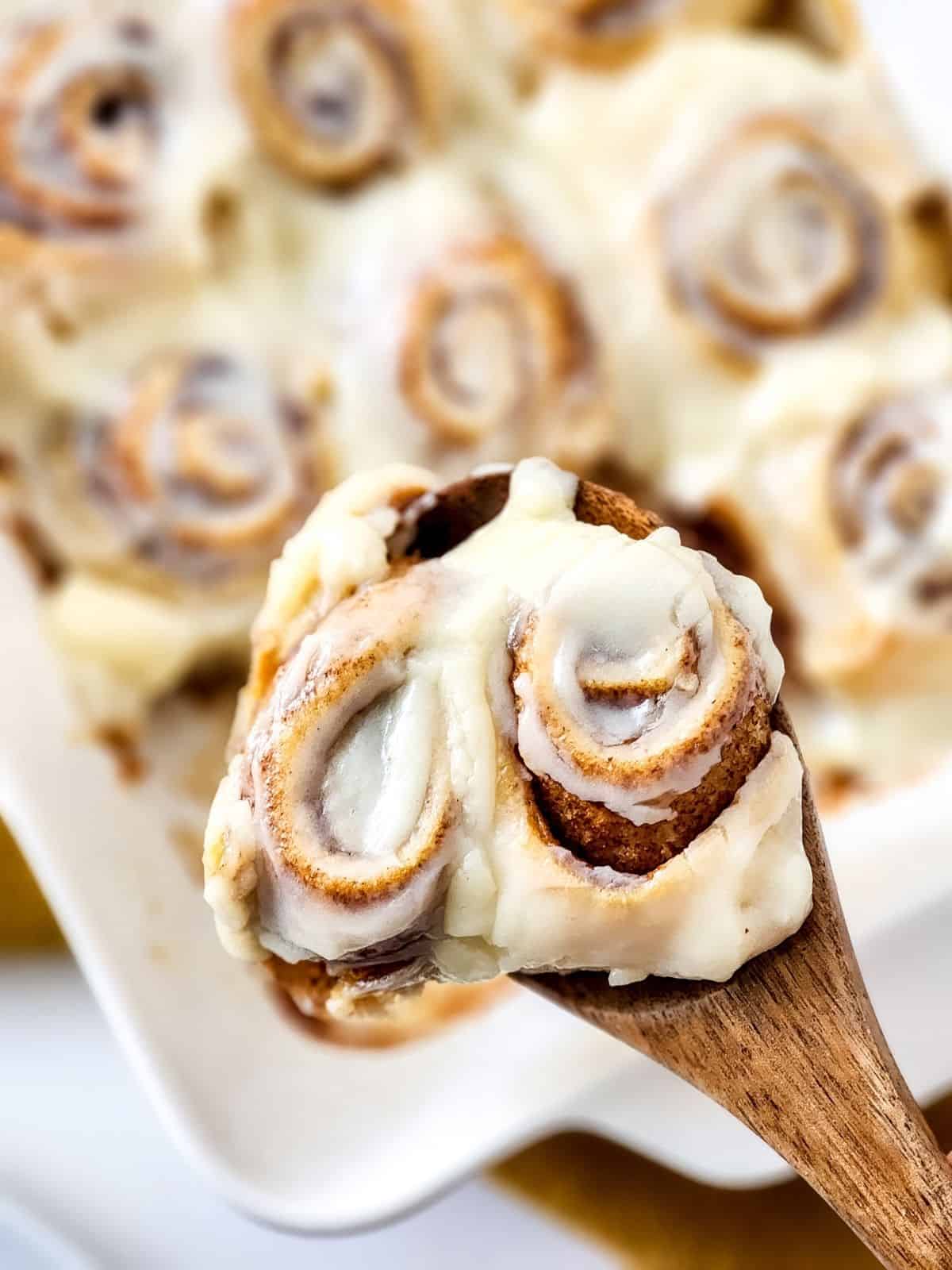 🍽 Make it a Meal
🍶Storage Tips
Add cooled cinnamon rolls to an airtight container and refrigerate for up to 4 days since they have cream cheese frosting.
If you'd like to enjoy them warm, microwave for 10-15 seconds until warmed through.
❄️Freezing Tips
Once the cinnamon rolls have completely cooled, add to a freezer zip top bag or an airtight container to freeze for up to 3 months.
Thaw overnight in the refrigerator. Add the rolls to a baking dish and cover with aluminum foil. Reheat at 350°F oven for 10-15 minutes.
Or you can pop in the microwave for 10-15 second intervals until warmed through.
➡️Top Recipe Tip
Use a very sharp knife or string (like unflavored dental floss) to cut the cinnamon rolls.
💡Recipe FAQ
Simply click the plus sign to read more about the questions you see below. If YOU have a question regarding this recipe, please let me know in the comment section.
Why are my cinnamon rolls doughy in the middle?
This may have occurred if they have not baked all the way through. Bake according to the instructions, and be sure to not over crowd the pan.
🌟Try these recipes next...
📇Recipe Card
Yield: 12 rolls
Cinnamon Rolls from Crescent Rolls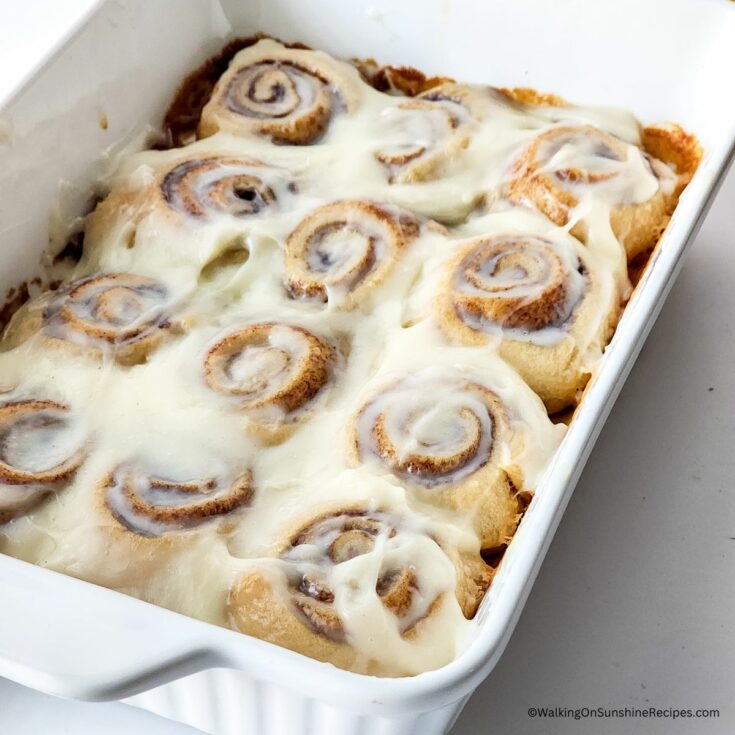 Made with a tube of crescent rolls, cinnamon, sugar and cream cheese frosting, these Cinnamon Rolls from Crescent Rolls are irresistible!
Ingredients
For the Cinnamon Rolls:
1 (8 ounce) tube crescent dough sheet
¼ cup unsalted butter
¼ cup brown sugar
½ tablespoon cinnamon
¼ cup heavy cream
For the Cream Cheese Frosting:
2 ounces cream cheese, softened
2 tablespoons unsalted butter
½ teaspoon vanilla extract
¼ cup powdered sugar
Instructions
Preheat oven to 350°F.
In a bowl add the butter, brown sugar, and cinnamon. Mix together until combined into a thick paste.
Roll out the crescent roll dough on a clean surface. Spread the brown sugar and cinnamon mixture all over the crescent roll dough, coating evenly.
Lengthwise, roll the dough tightly into a log. Use a very sharp knife or a piece of string to cut even 1 ½ inch cinnamon rolls.
After cutting them all out, place the rolls into a baking dish about an inch or so apart from each other.
Pour the heavy cream over the rolls. Place the baking dish in the oven for 20 minutes or until puffy and slightly golden.
While those are baking, make the cream cheese frosting. Add the cream cheese and butter to a mixing bowl and blend together with a fork or whisk.
Add the powdered sugar and vanilla extract. Mix again until smooth.
Once the cinnamon rolls are out of the oven, coat with the cream cheese frosting while still warm. This will allow the frosting to melt over the rolls.
Serve and enjoy the mini cinnamon rolls while still warm!
Notes
Roll the dough out on a piece of parchment paper, cutting board, or lightly floured surface to keep the dough from sticking.
Nutrition Information:
Yield:
12
Serving Size:
1
Amount Per Serving:
Calories:

202
Total Fat:

14g
Saturated Fat:

8g
Trans Fat:

0g
Unsaturated Fat:

6g
Cholesterol:

27mg
Sodium:

106mg
Carbohydrates:

17g
Fiber:

1g
Sugar:

7g
Protein:

1g
The nutrition information is calculated automatically. I cannot guarantee its accuracy. If this data is important to you, please verify with your trusted nutrition calculator.