What better way to show your family that you love them this Valentine's Day than with a heart shaped pizza. This is an easy recipe to create that I'm sure your family is going to love and remember. It might even be the perfect start to a new tradition to continue every year.
This is one of my savory Valentine's Day Recipes that makes the perfect first course before dessert on a special night that celebrates love!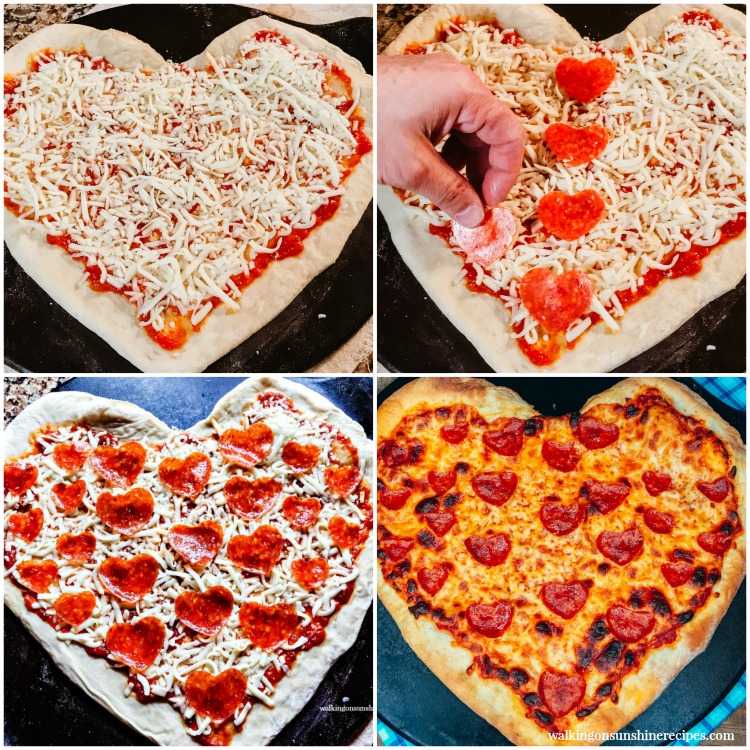 There's an old saying that the way to someone's heart is through their stomach! This recipe for heart shaped pizza screams, "I love you!" Plus it's really cute too!
And if you need desserts, check out my Heart Shaped Chocolate Covered Strawberries. They go perfect with this or even my Heart Shaped Oreo Truffles.
Table of Contents
How to make Heart Shaped Pizza
Making a homemade pizza in the shape of a heart is not that difficult to do. You can use my recipe for homemade pizza dough or use a loaf of frozen pizza dough. Walmart sells a brand that's a little over $1.00. I purchase it often when I don't have time to make homemade dough.
Did you know you can even go into your favorite pizzeria and purchase a loaf of their homemade pizza dough?
Why not make Heart Shaped Chocolate Chip Cookie Bars for dessert? They're just as cute as this pizza recipe.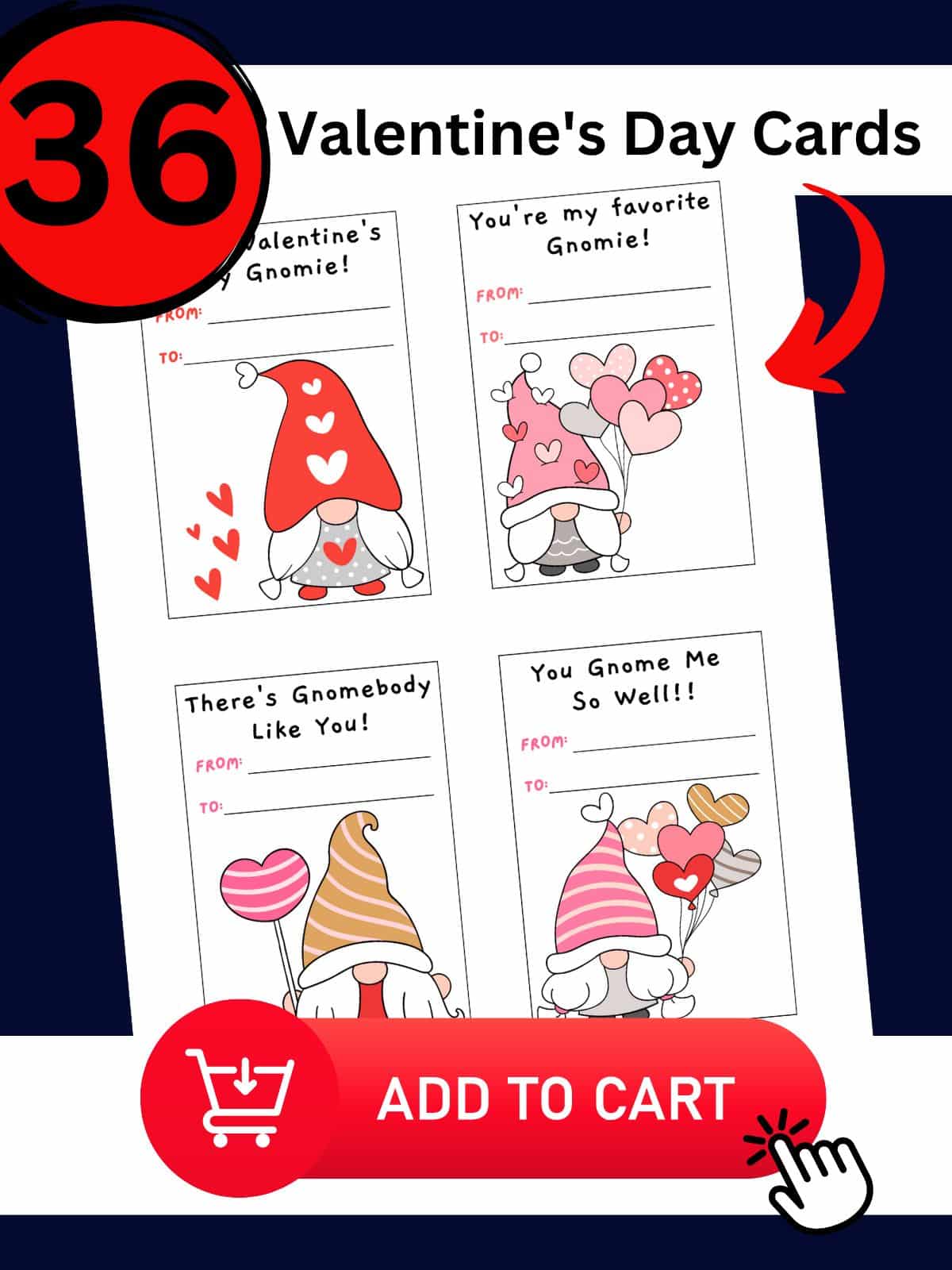 🛒Helpful Kitchen Tools: 
Pizza Stone, Heavy Duty PizzaMore Information
4-Inch Super heavyMore Information
Heart Cookie Cutter Set -More Information
Reynolds Kitchens Cookie Baking Sheets,More Information
📋Ingredients: 
Make sure you print out the recipe below and save it for later!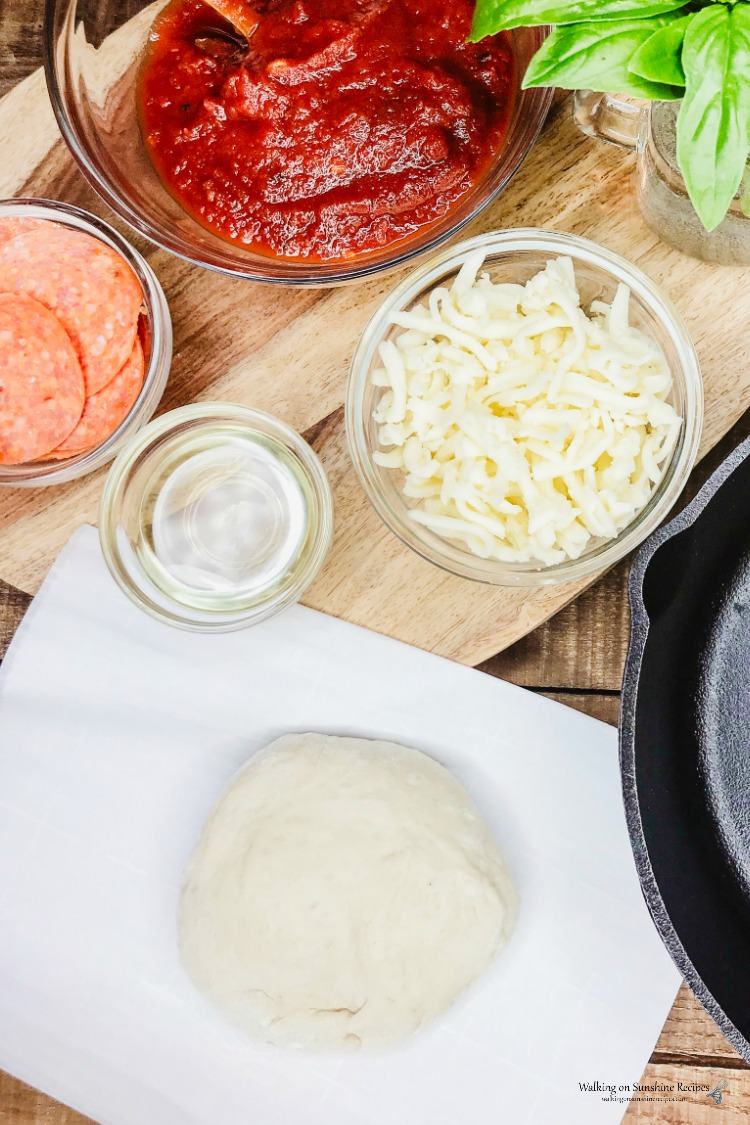 🥣Instructions 
Be sure to see the recipe card for exact quantities, detailed instructions and special notes.
Step 1: Shape the Dough
Roll out the pizza dough into a large 12 inch circle and then form the dough into the shape of a heart.
Don't be afraid to "play" with the dough while it's flat on the parchment paper.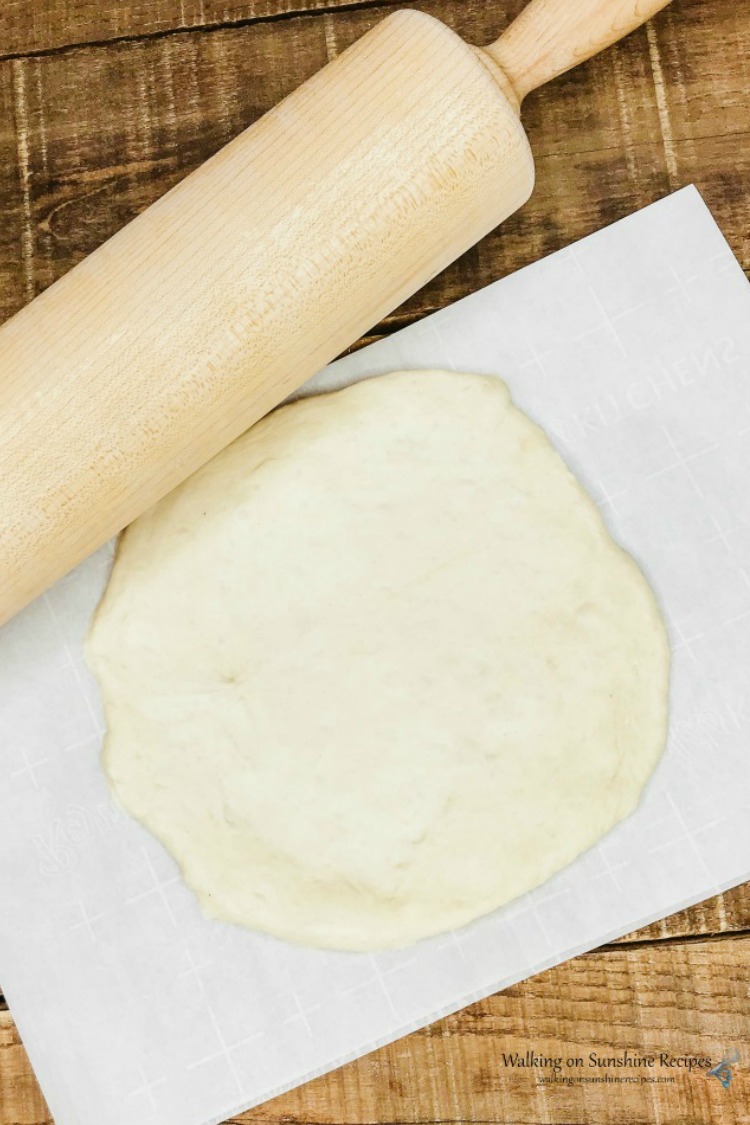 Step 2: Add Marinara Sauce and Toppings
Gently place the dough on top of a preheated Pizza Stone. You can use a traditional stone or even a stainless steel pizza stone. Make sure the stone is very hot when you place the dough on top of it.
Quickly prepare the pizza with the marinara sauce and then add the 2 cups of mozzarella cheese.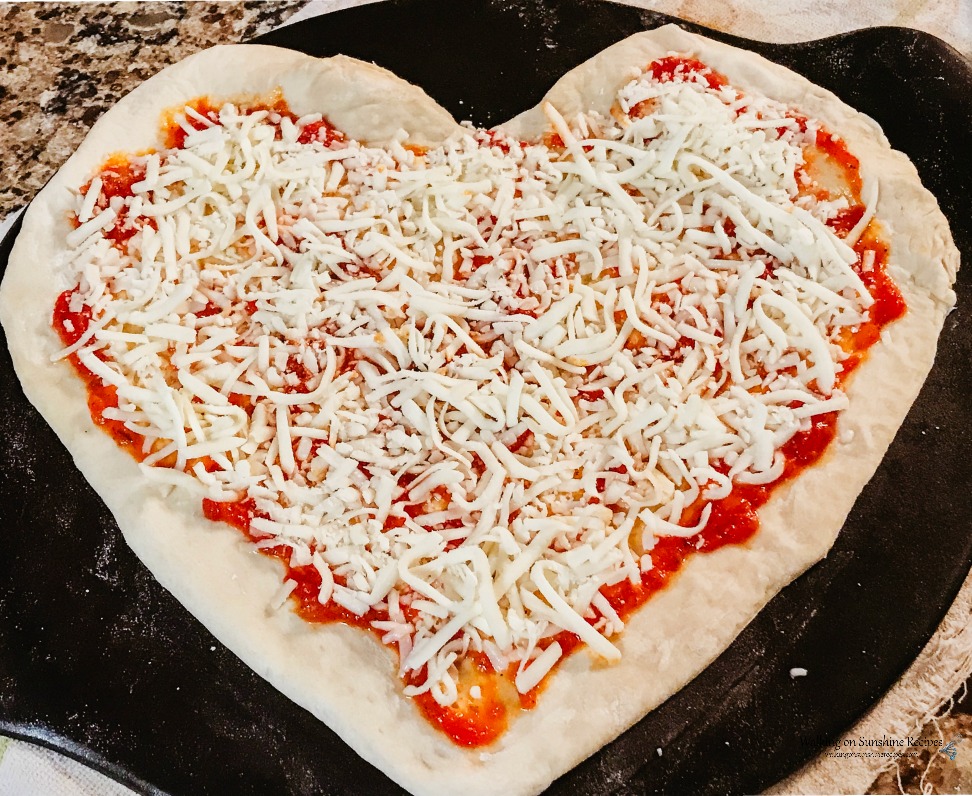 Step 3: How to Make Heart Shaped Pepperoni Slices
This is really easy to do, even if it is a bit time-consuming. I used a mini heart-shaped cookie cutter to get the cute shape.
I found on Amazon, this adorable set of Stainless Steel Cookie Cutters that would work great to get the perfect heart shape. Arrange the heart shaped pepperoni on top.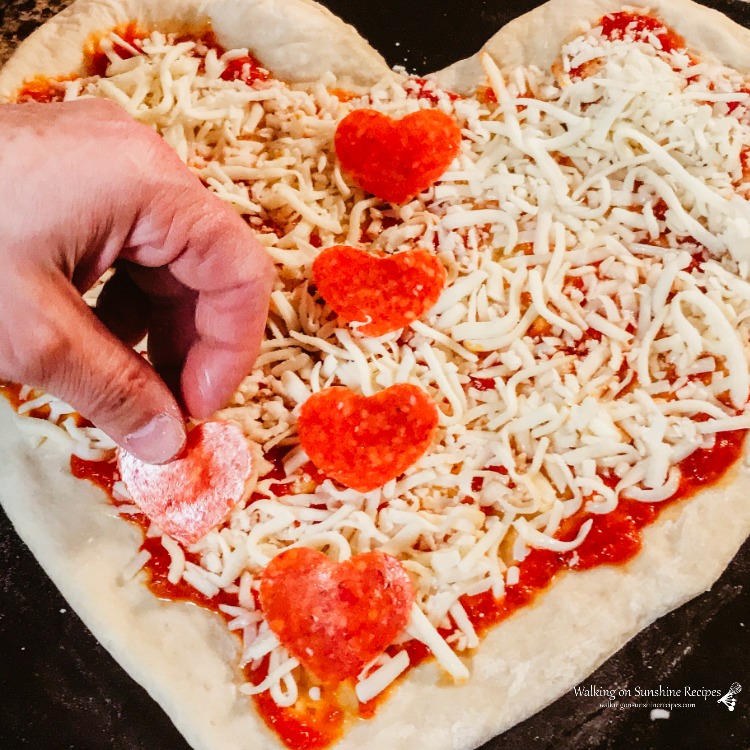 Step 4: How to Bake Pizza
Bake in a preheated 435 degree oven.
It should take about for about 15 minutes or until the crust is brown and the cheese is bubbly.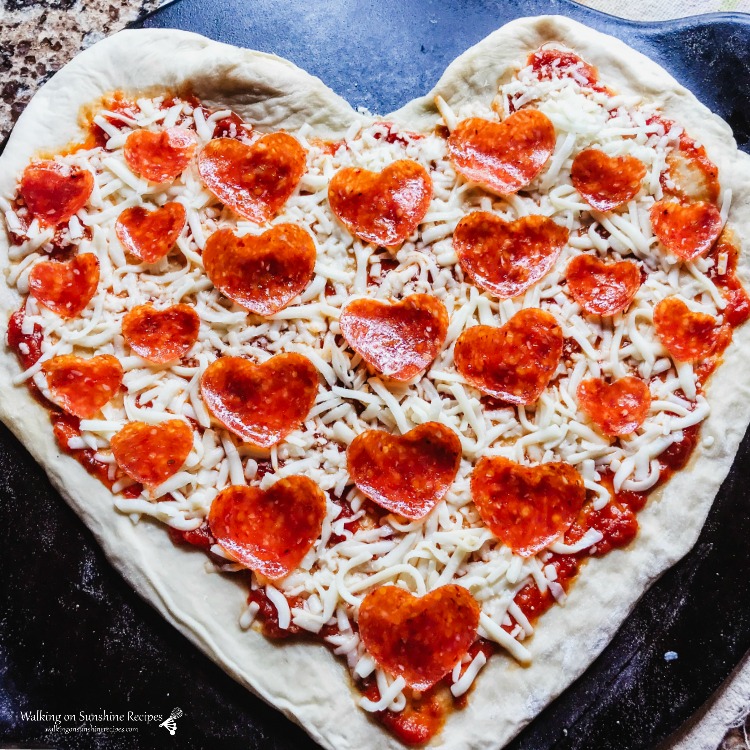 Serving Tips
Look how delicious this pizza is! And how crispy the crust is. That's because I use beer in the dough and I bake the pizza on a stone. Use a Pizza Wheel Cutter to slice the pizza and serve while it's still hot. Although I do enjoy a cold slice of leftover pizza too!
If you like dipping sauces, try these very popular Pizza Dipping Sauces recipe that go great with homemade pizza. My husband loves the ranch dipping sauce.
This really is a cute way to show your family you love them on Valentine's Day. I think Heart Shaped Chocolate Covered Strawberries would be the perfect dessert for this meal!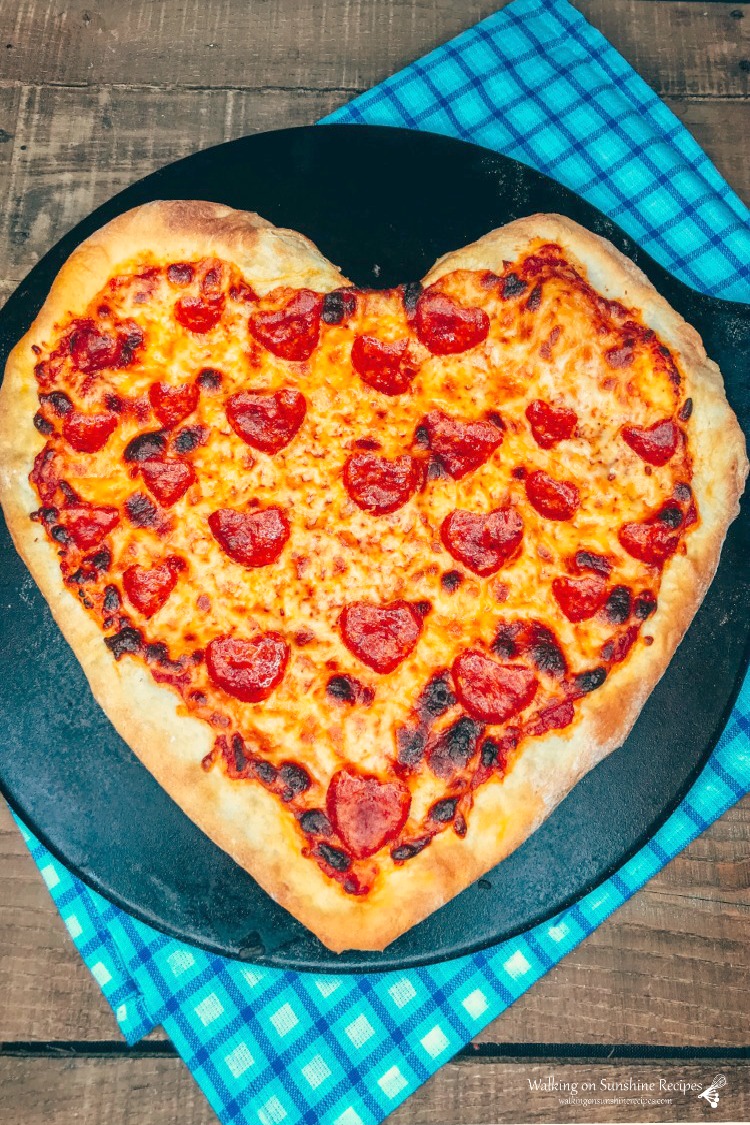 🌟Try these recipes next... 
More Information
More Information
More Information
More Information
Yield: 2 loaves of pizza dough
Homemade Heart Shaped Pizza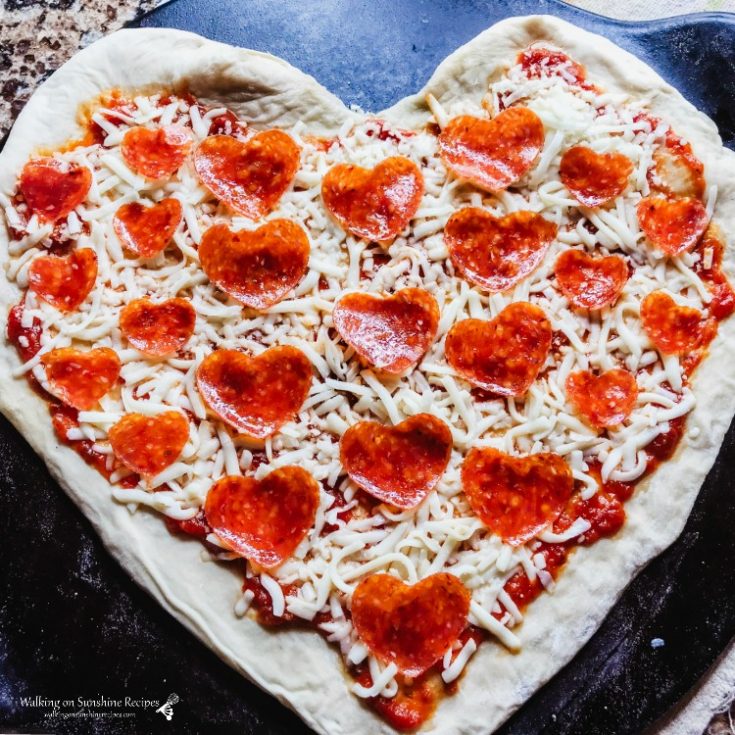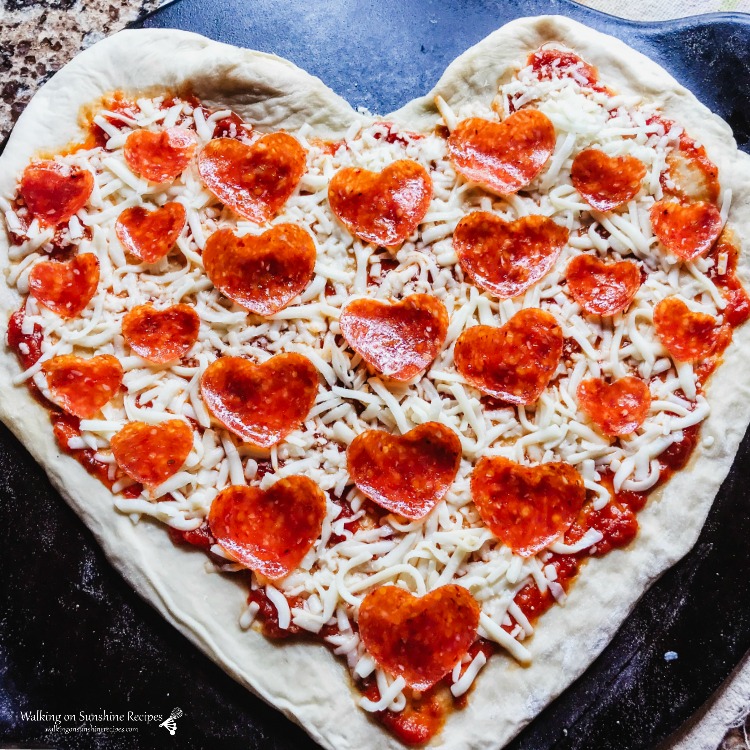 Show someone you love them with this easy to make homemade heart shaped pizza!
Total Time
1 hour
35 minutes
Ingredients
For the Pizza Crust
¼ cup warm water; 105 - 115 degrees
1 teaspoon sugar
2 ¼ teaspoon active dry yeast
1 tablespoon olive oil
3 - 4 cups bread flour
½ teaspoon salt
1 ¼ cups warm beer
For the Pizza Toppings
½ cup pizza or marinara sauce
¾ cup sliced pepperoni
1 cup mozzarella cheese
Instructions
To Make the Pizza Dough
Combine the ¼ cup water, sugar and yeast in a small bowl.
Let sit until foamy for about 4 to 5 minutes.
In the bowl of an electric mixer fitted with a dough hook, add the olive oil, salt and 2 cups of the flour.
Turn the mixer on low and begin combining the ingredients.
Add the yeast mixture.
Slowly add in the warm beer.
Gradually add more flour; a ½ cup at a time. You may not need to use all 4 cups of flour.
When the dough starts to come together and pull away from the sides of the bowl, set a timer for 5 minutes and allow the machine to knead the dough for you.
Check the dough while the machine is kneading. If it starts to stick to the sides of the bowl, you can add more flour, about 1 tablespoon at a time.
After the 5 minutes of kneading in the machine, turn the dough out onto a lightly floured surface and fold it over itself a few times.
Form the dough into a round and place in a lightly oiled bowl, turn it over to coat. Cover with plastic wrap or a damp towel and let it rise in a warm spot ; about one hour.
To Make the Pizza
While the dough is rising, using a small heart shaped cookie cutter, cut out heart shapes from the pepperoni slices.
Once the dough has doubled in size, punch it down and turn it out onto a floured surface.
Divide the dough into two equal parts.
Roll out one pizza dough into a large 12 inch circle and then form the dough into the shape of a heart.
Gently place the dough on top of a preheated pizza stone.
Quickly prepare the pizza with the marinara sauce and then arrange the heart shaped pepperoni on top.
Brush the pizza crust with extra olive oil if desired. It's not necessary, but we like to do this extra step.
Place the pizza stone into a preheated 435 degree oven for about 15 minutes or until the crust is brown and the cheese is bubbly.

Notes
Preheat the Pizza Stone:
Pizza stones need to be preheated and HOT when you place the pizza dough on top.
If you place the raw pizza dough on top of a cold pizza stone, you will not have a crisp crust.
Measuring the Beer:
Pour the beer into a measuring cup and let it sit for a few minutes for the foam to disappear to make sure you have the full 1 ¼ cups of beer.
Freezing Tips:
After you have divided the dough into the 2 equal parts, you can place the dough rounds on a parchment lined baking sheet.
Place the baking sheet into the freezer and flash freeze the dough for about 30 minutes.
Remove the dough rounds from the baking sheet and wrap individually in either plastic wrap or parchment paper.
Place each dough round into a large freezer safe plastic bag and freeze for up to two months.
When you are ready to use, take the frozen dough round out of the freezer and let it come to room temperature.
Once defrosted, prepare the pizza as instructed above.
Recommended Products
As an Amazon Associate and member of other affiliate programs, I earn from qualifying purchases.
Nutrition Information:
Yield:
16
Serving Size:
1
Amount Per Serving:
Calories:

389
Total Fat:

3g
Saturated Fat:

0g
Trans Fat:

0g
Unsaturated Fat:

2g
Cholesterol:

0mg
Sodium:

76mg
Carbohydrates:

76g
Fiber:

3g
Sugar:

1g
Protein:

13g
The nutrition information is calculated automatically. I cannot guarantee its accuracy. If this data is important to you, please verify with your trusted nutrition calculator.