Get ready to impress your mom and show her how much you appreciate her by treating her to an unforgettable meal. Included in this collection of Mother's Day Brunch recipes are breakfast parfaits, cinnamon rollswaffles and even a sweet peach tea recipe!
Make Mother's Day nothing short of extraordinary this year by planning a delicious brunch in honor of all the wonderful things she does for you!
Check out all the other breakfast ideas for even more delicious ways to help you prepare a delicious celebration!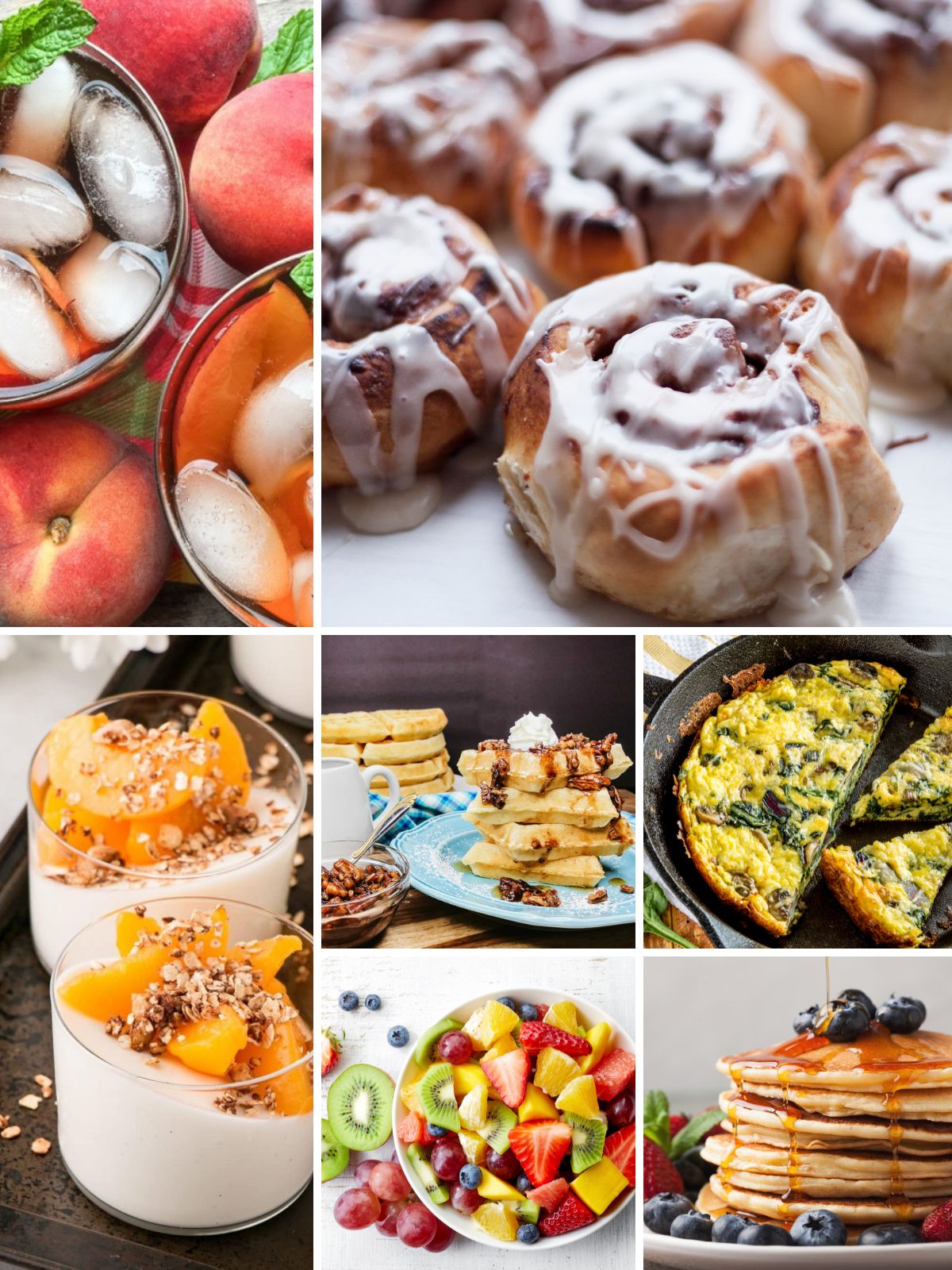 Mother's Day is almost here and what better way to show the moms in your life how much they mean to you than by treating them to a delicious brunch.
Whether you're celebrating with just your mom or you've invited the whole family over for a gathering, serving a delicious meal is a wonderful way to celebrate MOM!
I love to enjoy brunch with my family after going to church on Mother's Day. Everyone loves breakfast food and having a celebration around noon still gives everyone time to get out and enjoy the beautiful weather later in the day.
There are plenty of exciting options for making a special Mother's Day brunch that everyone will enjoy.
Looking for more Brunch Ideas? Try my Breakfast Casserole with Eggs & Sausage, Texas Toast French Toast Casserole or my Easy Cinnamon Roll Breakfast Casserole. Yum!
Table of Contents
What should a brunch menu include?
When putting together a menu for a brunch celebration, you should take into consideration a few things. The first is to think about your guests and prepare foods you know they will and can eat.
Brunch menus are different than just breakfast in that you can serve sweet recipes as well as savory recipes. Consider adding a selection of different egg dishes like a frittata or even quiche.
You can serve a variety of fruit or garden salads, cucumber sandwiches and even roasted vegetables alongside scrambled egg muffins.
Don't forget the sweets! Try my Chocolate Puff Pastry Twists or Blueberry Crumb Muffins...yum!
Set up a beverage station to serve coffee, tea, juice and a few non-alcoholic beverages.
Refrigerator Cinnamon Rolls eBookClick HERE for More Information
🛒Helpful Kitchen Tools
Dash Express Electric Egg CookerClick HERE to Print
Non-Stick Omelet & Frittata MakerClick HERE to Print
3 Pack Egg Pancake Maker MoldClick HERE to Print
Dash Mini Waffle MakerClick HERE to Print
Dual Breakfast Sandwich MakerClick HERE to Print
📋Featured Recipe Collection
16 Brunch Recipes
Celebrate Mother's Day by making one of these delicious brunch recipes!
This recipe has been updated since it first appeared in 2019 with new photos, and information. I hope you enjoy the updates as much as I enjoyed working on them!