When you need to put together a last minute appetizer or snack, reaching for a can of refrigerator dough is the perfect solution. Recipes with crescent rolls are some of my favorite to use when entertaining.
They're versatile, easy to work with and taste delicious. From breakfast pizza, cinnamon rolls and even ham and cheese rolls, you're going to find that these crescent roll recipes will come in handy over and over again!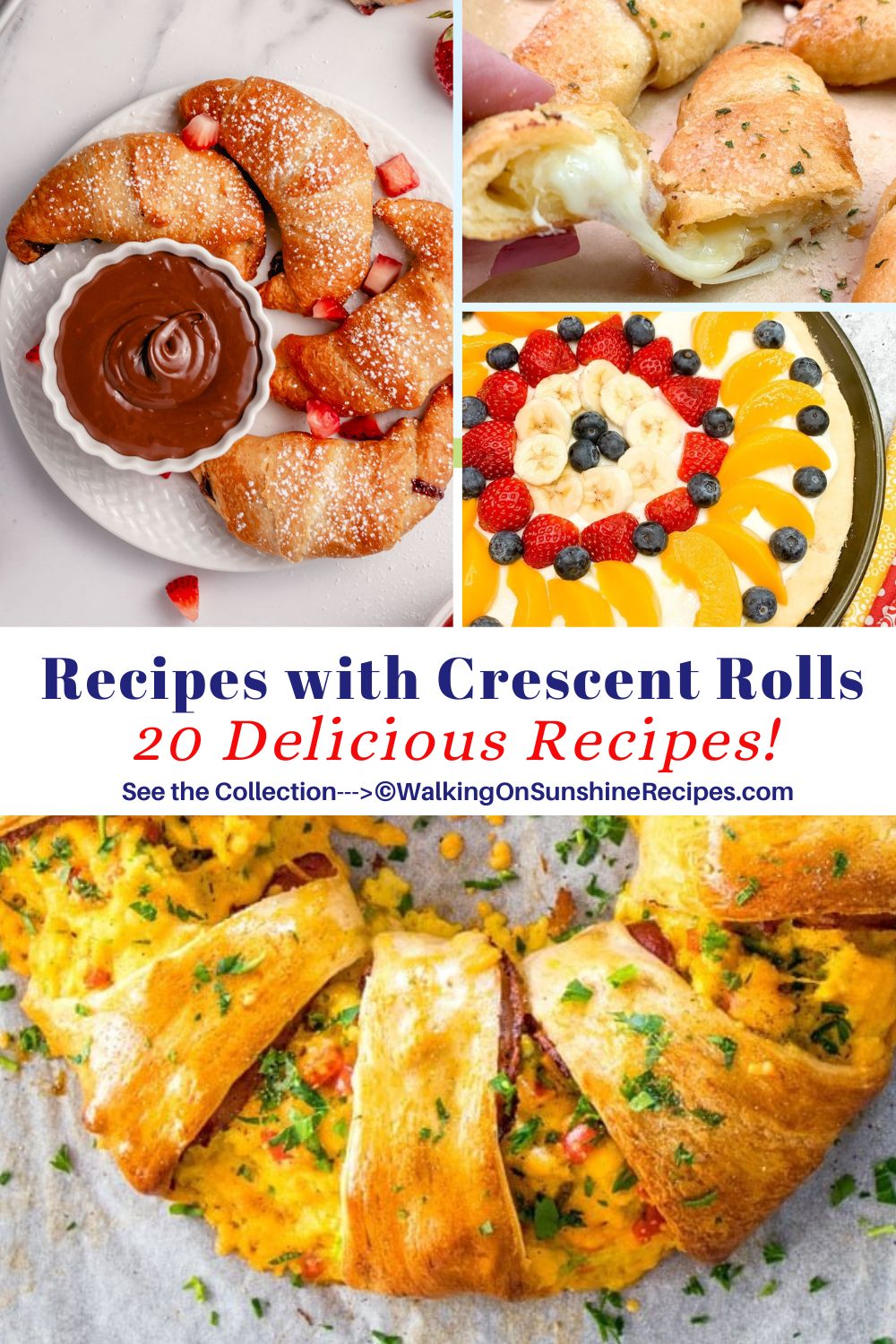 Crescent rolls are a type of pastry that is made from dough that is rolled into a crescent shape. They can be made from scratch or bought pre-made at the store. Crescent rolls can be used in a variety of different recipes.
Most of the time we bake them to serve as a dinner roll with plenty of butter. But lately, many different types of recipes are being created and loved by many.
It's easy to turn crescent rolls into an appetizer, breakfast recipe, dessert or even a satisfying main meal for your family! All you need is a little imagination and a roll of crescent roll dough found in the refrigerator section at your local grocery store.
Looking for more Easy Crescent Roll Recipes? Try my Peach Dumplings, Crescent Roll Fruit Tart or my Breakfast Pizza made with Crescent Rolls.
Table of Contents
How to roll up Crescent Rolls?
Once you open up the can of crescent roll dough, separate the triangles into eight individual pieces. Then proceed to roll them up starting with the wide end and shape into a crescent shape.
What temp to bake Crescent Rolls?
Once you have the crescent rolls rolled up and shaped, place them parchment lined baking sheets and bake in a preheated 375°F oven for 11 to 13 minutes or until golden brown.
If you'd like to have a shine to your rolls, brush them with a beaten egg right before baking.
Desserts you can make with Crescent Rolls?
Besides appetizers, snacks and main dishes, you can also make easy delicious desserts using a can of refrigerator crescent rolls. Some popular desserts that can be made with crescent rolls include:
Cinnamon Rolls: Crescent rolls are rolled up with cinnamon and sugar, then baked until golden brown. They are often served with cream cheese frosting. Try my new favorite recipe for Crescent Cream Cheese Cinnamon Rolls.
Apple Dumplings: Crescent roll dough is wrapped around chunks of apple, then baked until tender. They can be served with vanilla ice cream or caramel sauce. Try my recipe for Crescent Roll Apple Dumplings.
Blueberry Danish: Crescent rolls are filled with blueberry pie filling, then rolled up and baked. These are great for a quick and easy dessert. Try my Blueberry Crescent Rolls.
So next time you're in the mood for something sweet, try one of these crescent roll desserts!
Helpful Kitchen Tools
This post contains affiliate links. That means that if you make a purchase after clicking on a link I may earn a small commission at no extra cost to you. For more information, click here.
More Information
More Information
More Information
More Information
Tried any of my recipes? Let me know in the comments!
20 Recipes with Crescent Rolls
More Information
More Information
More Information
More Information