Rolled Chicken Cutlets Recipe - thin sliced chicken breasts stuffed with ham and cheese then rolled in a mixture of Parmesan cheese and seasoned breadcrumbs to make them crispy.This is another one of my chicken cutlet recipes that's not only delicious but perfect to make for dinner on busy nights. They're even fancy enough to serve when family and friends come for a special celebration. Grab a fork and let's start cooking because dinner is going to be amazing tonight!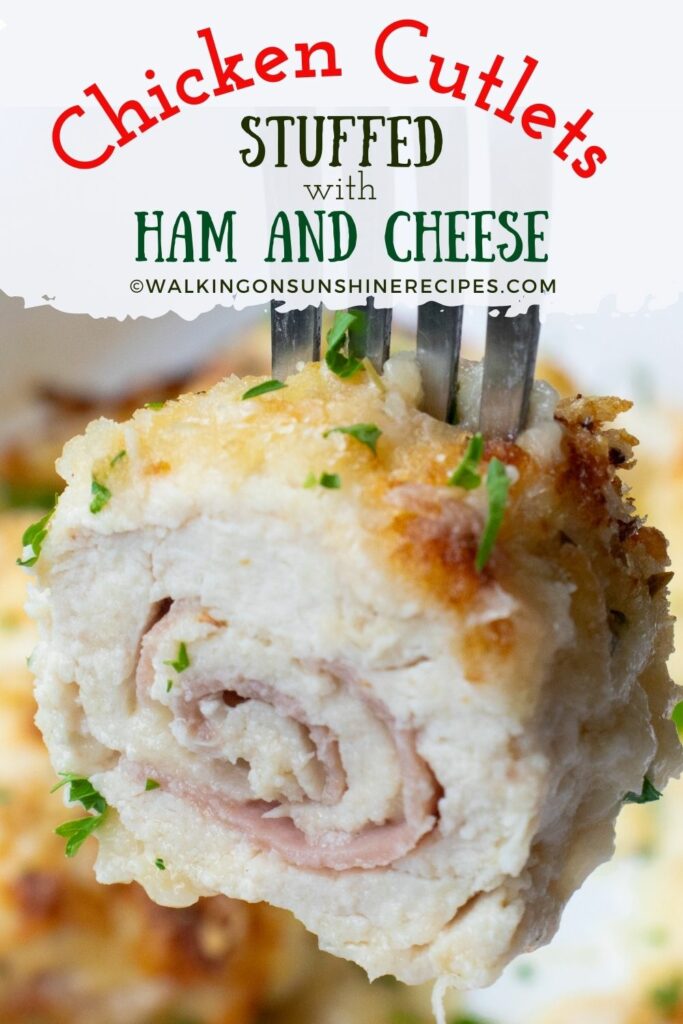 The ingredients I used for Rolled Chicken Cutlets Recipe are basic and you probably already have them in your refrigerator. Combining Parmesan cheese with the seasoned breadcrumbs helps the crust of the chicken get really crispy while it bakes in the oven.
Make sure you check out my Side Dishes for Chicken Recipes to help you choose the perfect side dish to go along with this new Family Favorite Chicken Recipe.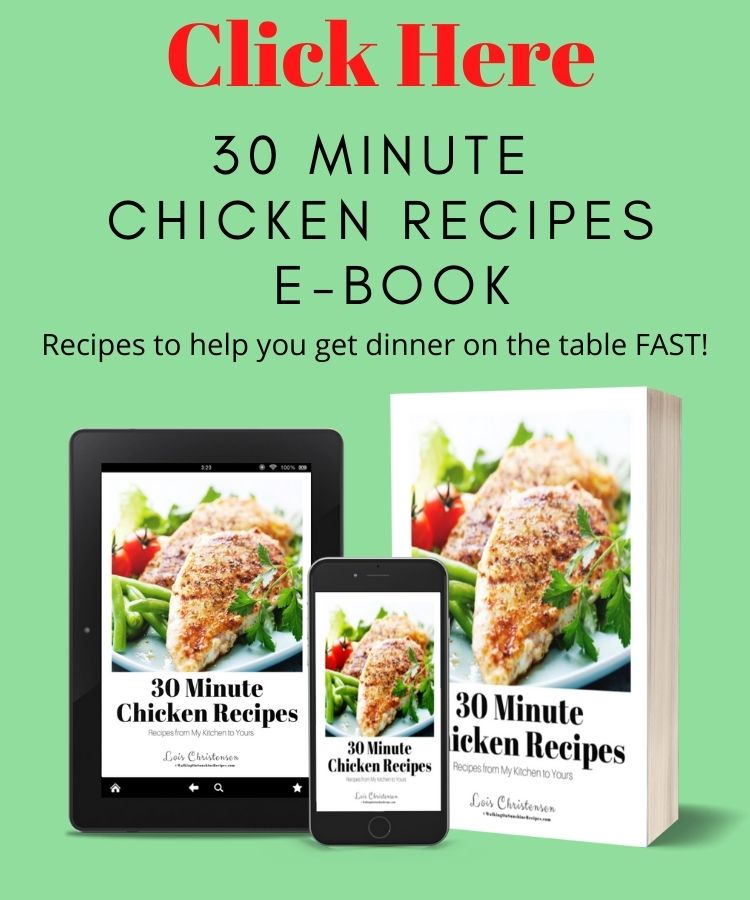 Helpful Kitchen Tools
Digital Meat Thermometer - use this to make sure the chicken is fully cooked.
Meat mallet - before I broke down and purchased one I used the back of a heavy measuring cup. A meat mallet works so much better.
Parchment Baking Sheets - I love using these sheets for not only baking but to help me prep chicken. Keeps my cutting boards clean from germs.
4 Pieces Breading Trays SetMore Information
Stainless-Steel Breading TraysMore Information
The Pioneer Woman Baking DishMore Information
Digital Instant Read Meat Thermometer KitchenMore Information
Meat Tenderizer, Heavy Duty Hammer MalletMore Information
Main Ingredients Needed
Exact measurements are listed below in the recipe card. Make sure you scroll down to print and save the recipe for later!
Chicken Cutlets
Ham
Swiss cheese
Italian Seasoned Breadcrumbs
Parmesan cheese
Milk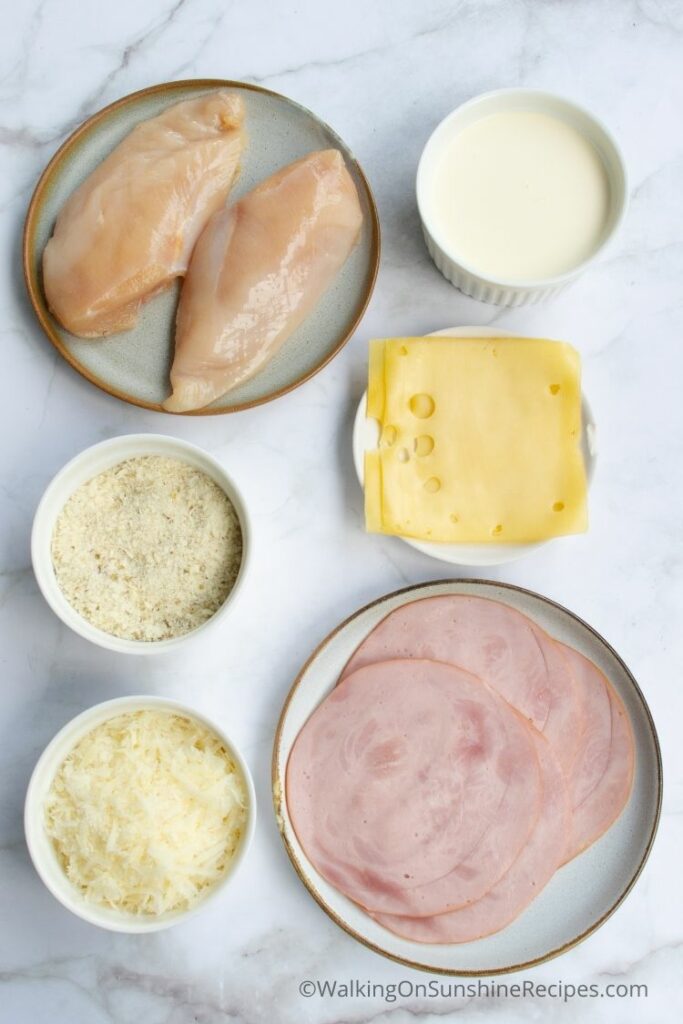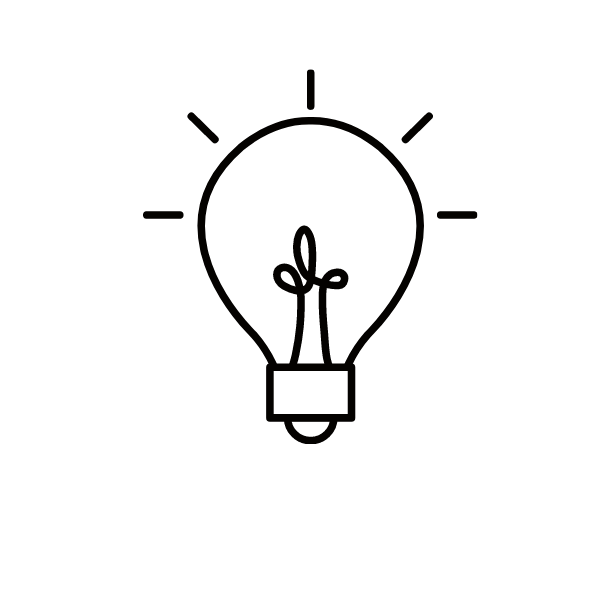 Cooking Tip: Check out my post for Chicken Cutlets Mayonnaise for more detailed instructions and photos for how to slice thin chicken cutlets.
Step-by-Step Directions
Step 1: How to make Thin Chicken Cutlets:
Lay the boneless skinless chicken breasts on a cutting board that's been lined with waxed paper or parchment paper.
Using a sharp knife, slice the chicken breast down the side lengthwise cutting all the way through until you have thin chicken cutlets.
Cover the chicken breasts with another sheet of parchment paper and using the smooth side of a mallet, gently pound the chicken until it is thin. Then place a piece of ham on top of the chicken followed by a piece of Swiss cheese.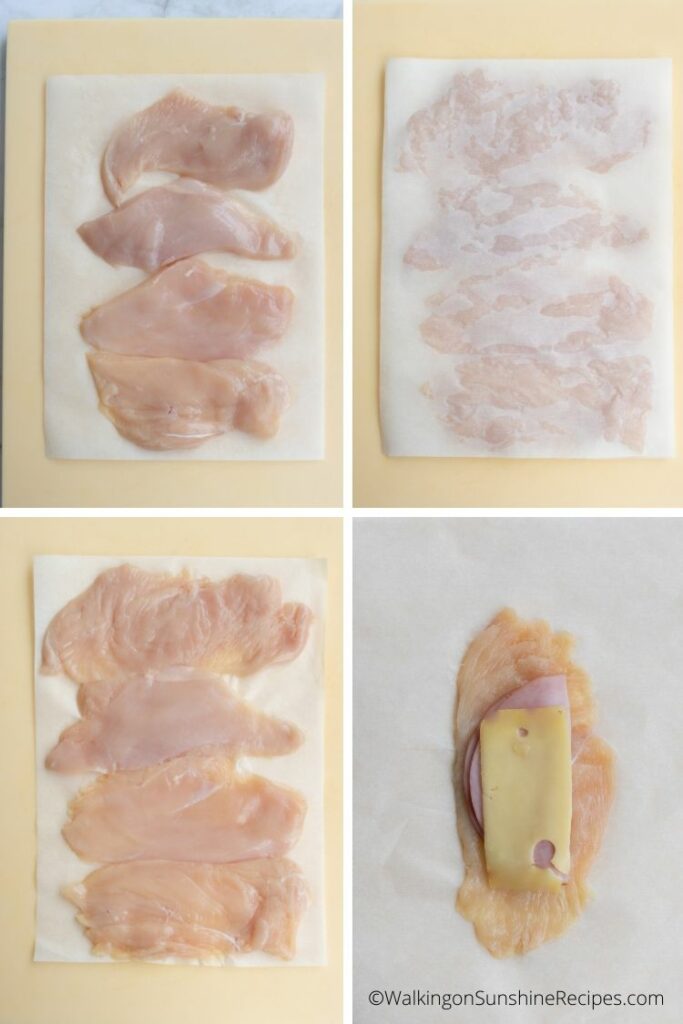 Step 2: Add the Ham and Cheese
Place a slice of ham on top of the flatten chicken cutlet. Then add half a slice of Swiss cheese on top. Roll up from the short side, tuck the ends in and secure with a toothpick.
Then in a shallow dish, combine the breadcrumbs and Parmesan cheese. Pour the milk into another shallow dish.
Dip the chicken rolls first in the milk and then roll in the breadcrumb mixture.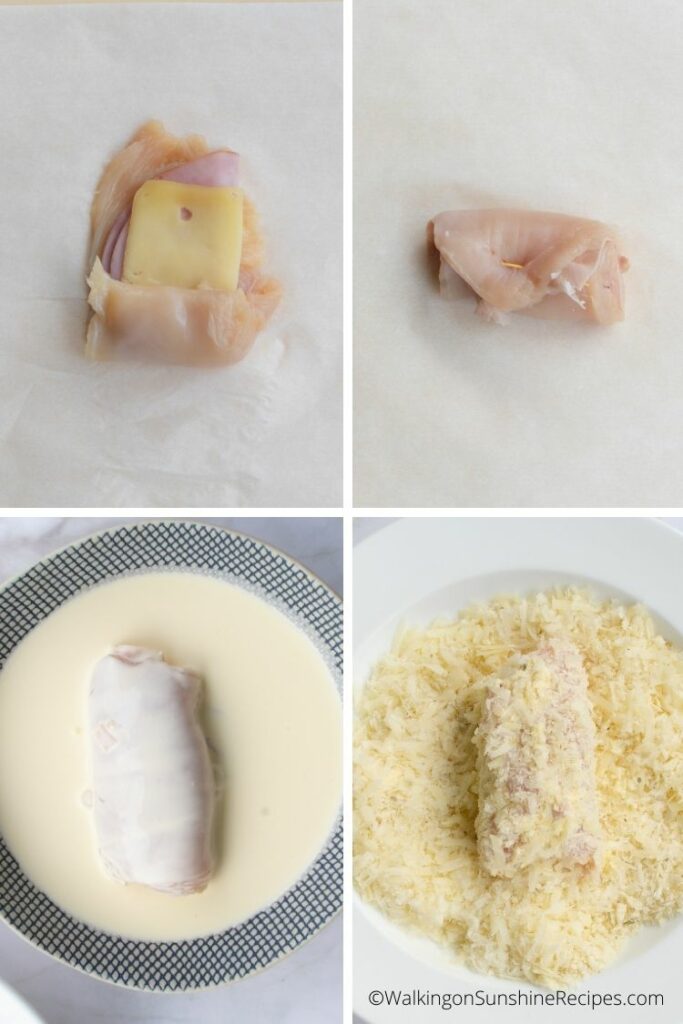 Place the chicken rollups seam-side down in a casserole dish that's been sprayed with non-stick cooking spray. Spritz the chicken with cooking spray.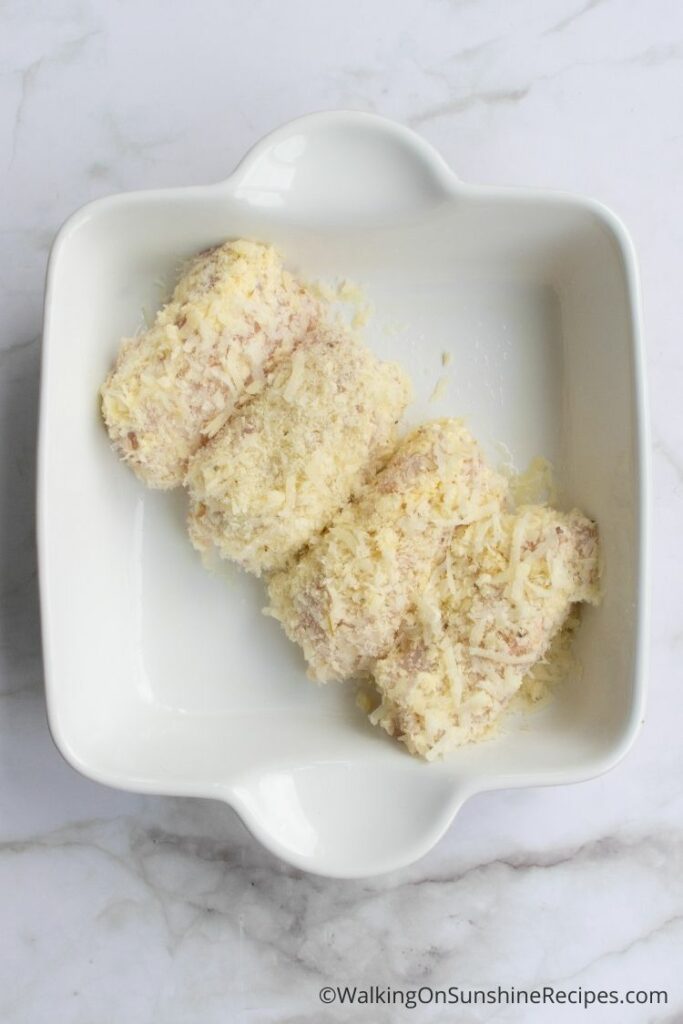 Step 3: Baking Instructions
Bake uncovered in a preheated 400° F oven for 20 minutes or until the meat is no longer pink and reaches an internal temperature of 165 degrees. Don't forget to remove the toothpicks before serving!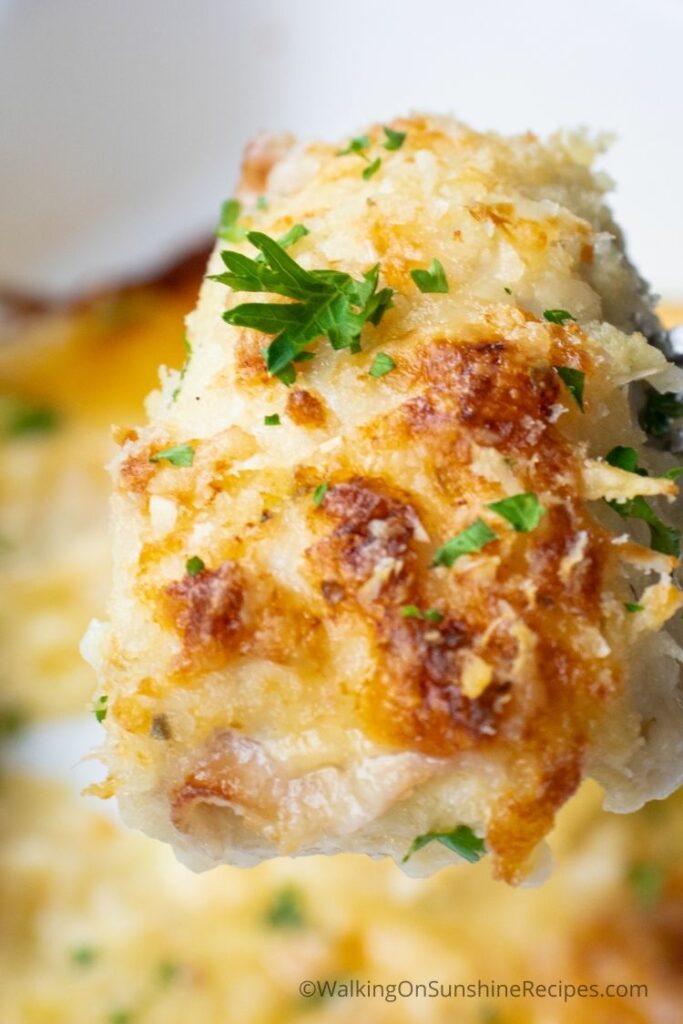 How do you keep cheese from melting out of stuffed chicken?
You could chill the chicken rollups before baking in the freezer for 10 minutes. This chilling will firm up the cheese making it less likely to leak during the baking.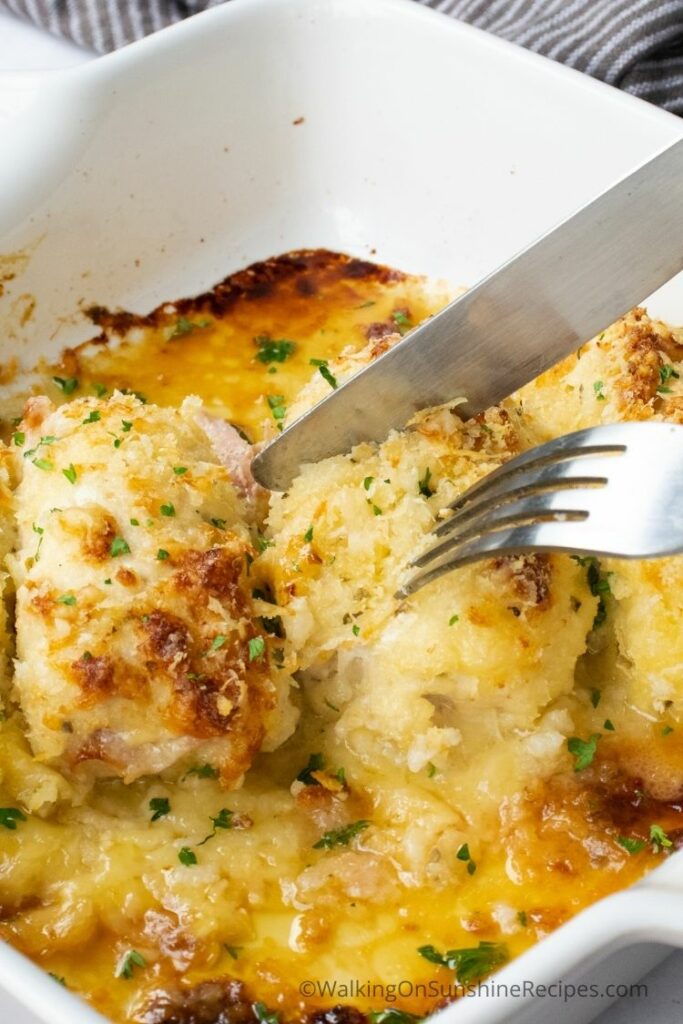 What goes with stuffed chicken?
You can serve this rolled chicken cutlets recipe with just about anything! Twice Baked Potatoes are full of cheese and bacon and would be delicious. My family loves this version of Panera Bread Copycat Mac and Cheese.
Even plain white rice or buttered noodles make a great side dish.
Tried this recipe? Let me know in the comments and don't forget to rate it!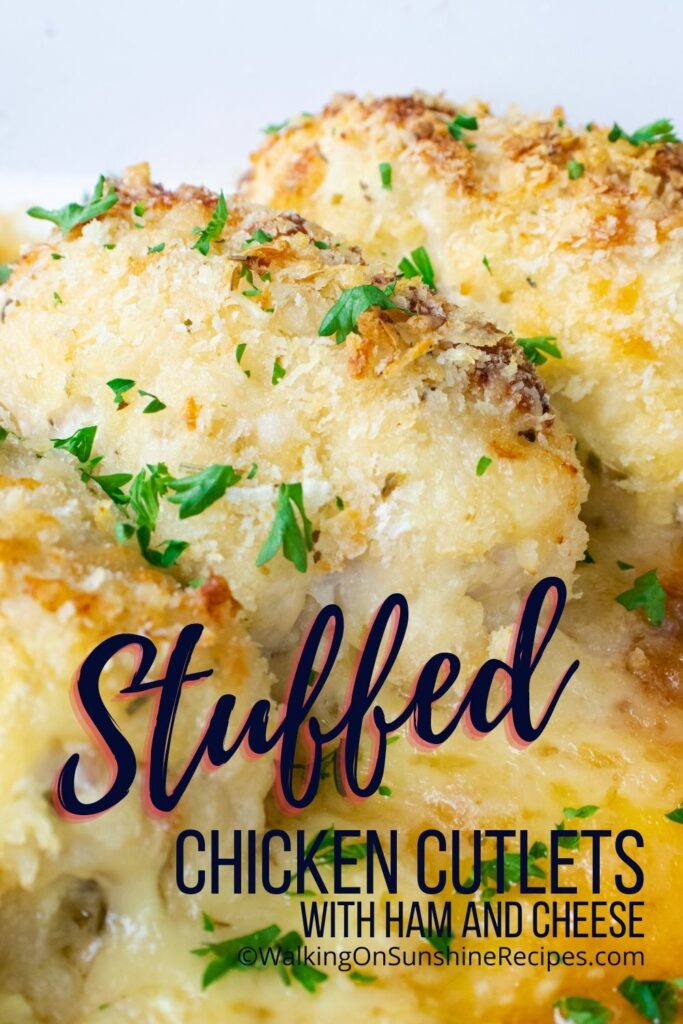 Ready for more great recipes?
Fried Chicken Cutlets – crispy, tender thin-sliced chicken breasts coated in flour then fried till golden brown.
Baked Chicken Cutlet Recipes – a great collection of recipes that are perfect for dinner any night of the week!
Chicken Parmesan – my easy recipe for Breaded Chicken Cutlets that are smothered in homemade marinara sauce topped with mozzarella cheese.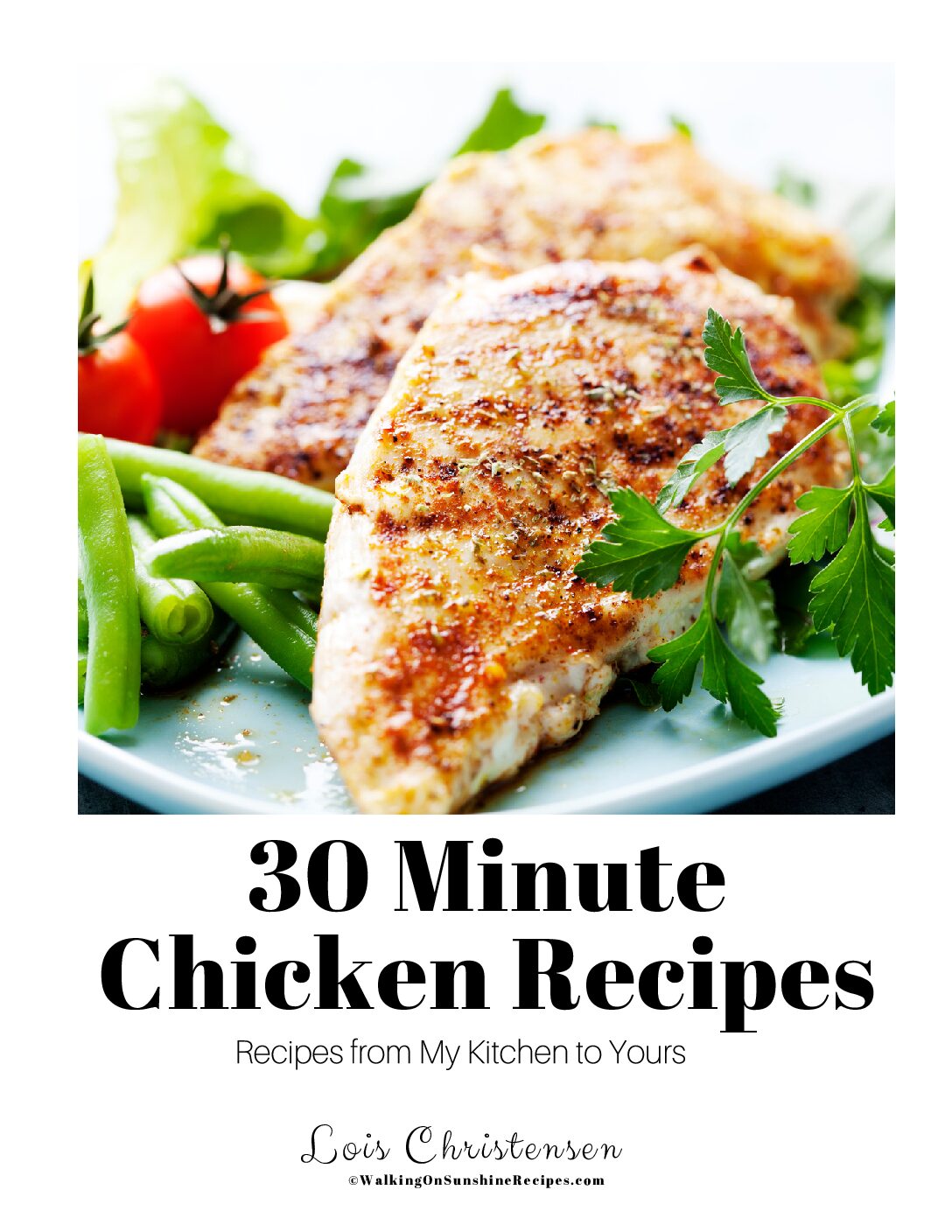 More Information
More Information
More Information
More Information
More Information