Get ready to embark on a fun adventure as I share with you a collection of Spooky Recipes for Halloween Dinner.
From spine-tingling Halloween Pasta Ideas to chilling "eyeball meatballs" this collection will fill you with "hauntingly" ideas!
Prepare to indulge in a meal fit for ghouls and goblins that will leave your family with unforgettable memories!
Check out all the other Halloween Themed Recipes for even more fun ideas.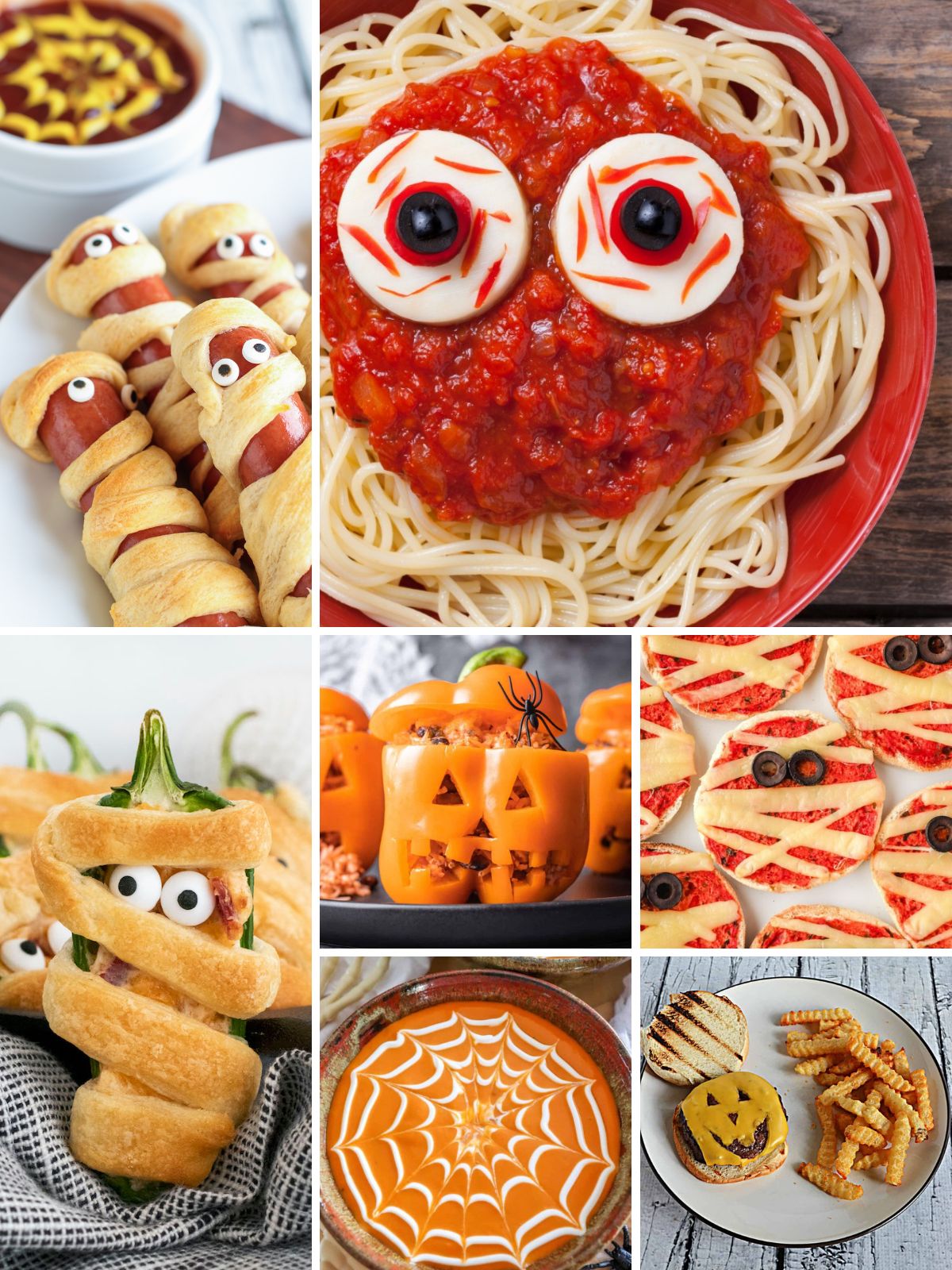 This collection of spooky recipes for Halloween night are perfect to serve for dinner. Make sure you check out my recipe for Nutter Butter Mummy Ghosts that the kids will love helping you create for dessert.
It might be hard to get the kids to sit still with all the excitement happening, but I'm sure if you serve them a few of these recipes, they'll be willing to eat dinner before heading out for the candy.
Looking for a few Easy Dessert Recipes after dinner on Halloween night? Try my Monster Eye Cookies, Homemade Halloween Cookies with Sprinkles or my easy no-bake recipe for Halloween Pretzel Rods.
Table of Contents
Spooky Halloween Dinner
To make your Halloween dinner truly spooky, you can try serving a delicious homemade tomato soup accompanied by grilled cheese sandwiches shaped like bats using a fun bat cookie cutter!
Another creative option is to prepare a cheeseboard with a graveyard theme by using fun Halloween cookie cutters to cut out different shapes from cheese and veggies.
My favorite "spooky recipe" to make for Halloween are the tried and true mummy hot dogs. They're easy to make and my kids always had fun helping wrapping the crescent roll dough around the hot dogs.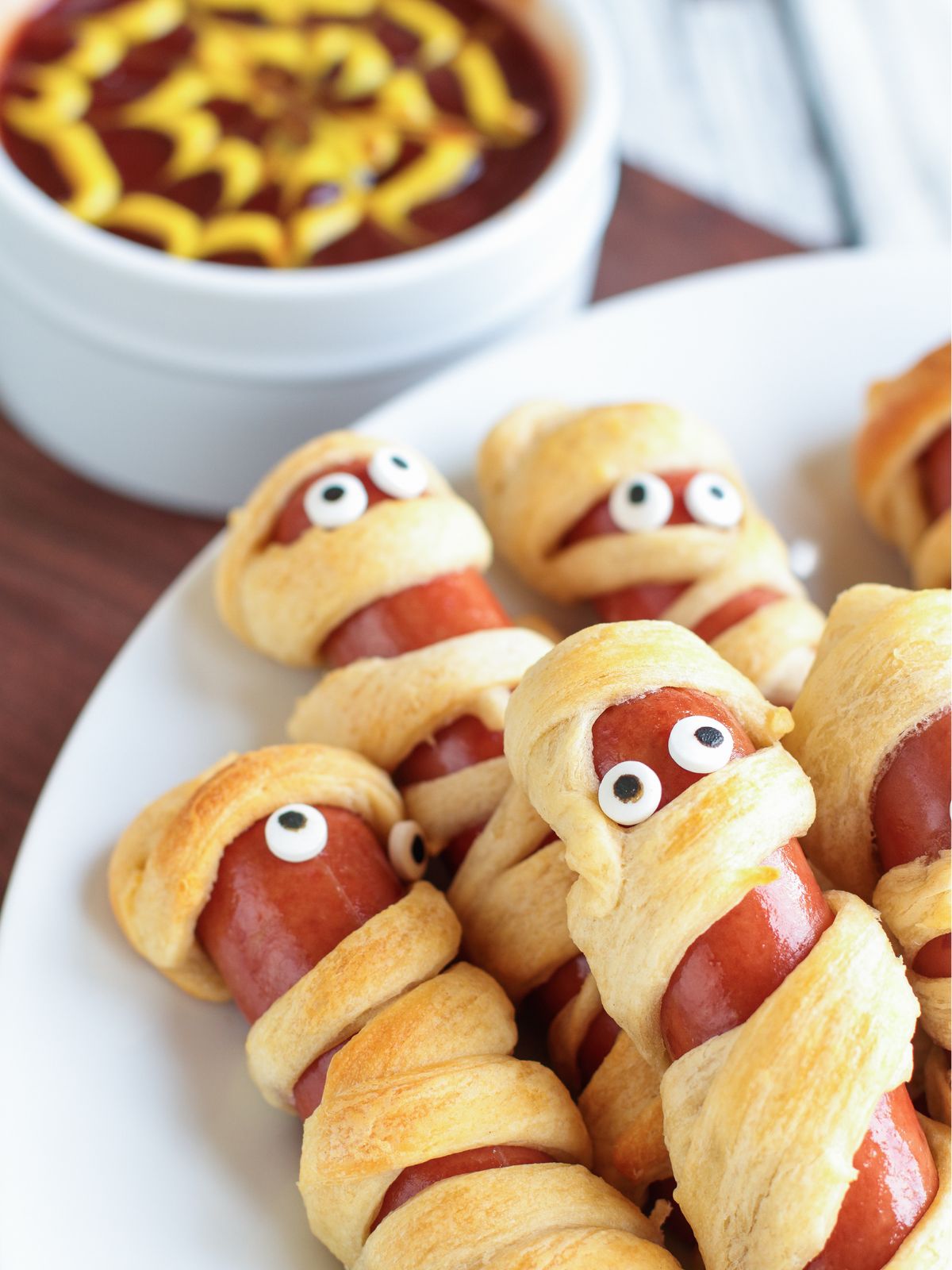 Ghost Cheese Sticks
Creating Ghost Cheese Sticks using packaged cheese sticks is a frightfully fun and easy way to add a spooky twist to your Halloween menu.
Using a permanent marker, draw a small face on the outside of the cheese stick plastic wrapping. You have an instant "ghost" using a cheese stick!
Halloween Pasta Ideas
Spaghetti and meatballs is another one of my spooky recipes for Halloween night.
Use my homemade slow cooker tomato sauce and meatballs recipe by adding a delicious twist. After placing the meatballs on top of your plated spaghetti with sauce, elevate each meatball by adding a small round of mozzarella cheese and a slice of black olive.
This delightful addition will take your dish to the next level of flavor especially if you serve my Garlic Monkey Bread recipe on the side!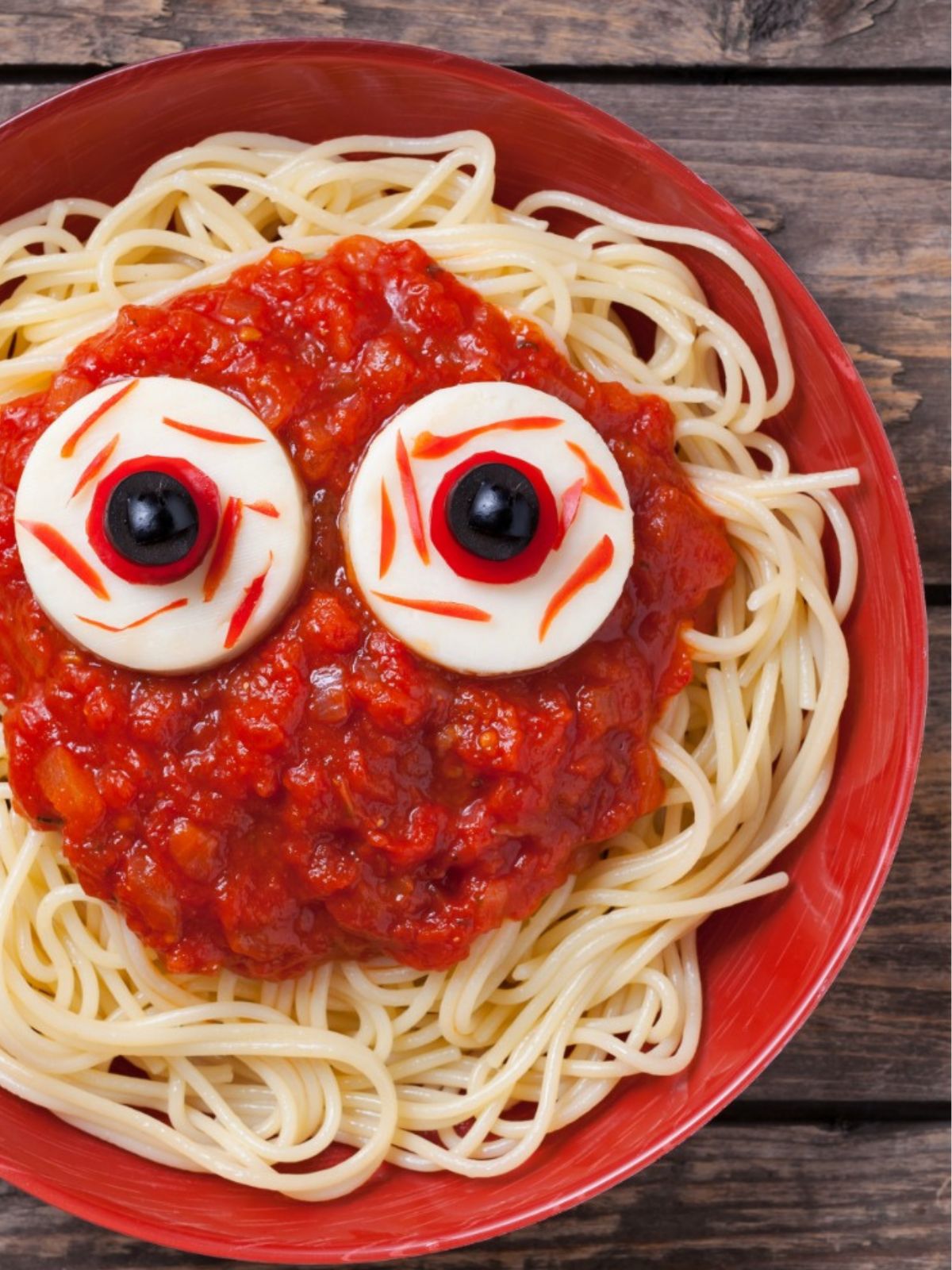 🌟Tips for making recipes for Halloween
Enhance the spookiness factor by incorporating eerie elements such as dark colors, gory garnishes, and creepy shapes into your dishes. Elevate the darkness of sauces, pasta, or desserts by using black food coloring.
Try adding different garnishes like gummy worms, eyeball-shaped candies, or edible spiders to add an extra touch of spookiness to your dinner recipe.
Don't forget that presentation is everything! Try using themed serving platters, spooky table decorations, and even flickering candles to create a memorable ambiance.
💡Recipe FAQ
Simply click the plus sign to read more about the questions you see below.
If YOU have a question regarding this recipe, please let me know in the comment section!
What to cook on Halloween night?
A few ideas would be to make pasta with "eyeballs" using meatballs or even mozzarella balls. Pumpkin Mac and Cheese is another fun idea or even Monster Hamburgers!
Which food is a traditional dish on Halloween night?
During Halloween night, one of the classic recipes to enjoy is pumpkin pie. Additionally, people like to enjoy apple recipes, especially when bobbing for apples! Candy corn and caramel corn are also traditional treats and dishes to serve.
🛒Helpful Kitchen Tools
The Bridge Collection Black Cat and Ghost in Pumpkins Salt and Pepper Shaker Set - 2 Piece Set - Halloween Kitchen Items - Fun Salt and Pepper Shakers for Halloween Decor
Halloween Ghost and Pumpkin Tabletop Salt and Pepper Shaker Set
Tanlade 3 Pcs Halloween Candy Bowl Mini Ceramic Bowl for Tiered Tray Decor Corn Trick or Treat Halloween Candy DIsh Halloween Ghost Party Supplies Candy Holder for Farmhouse Home Housewarming Gift
Certified International Halloween Gnomes 9
Halloween Activity BundleClick HERE for More Information
Get Meal Plans Delivered to You Every Week!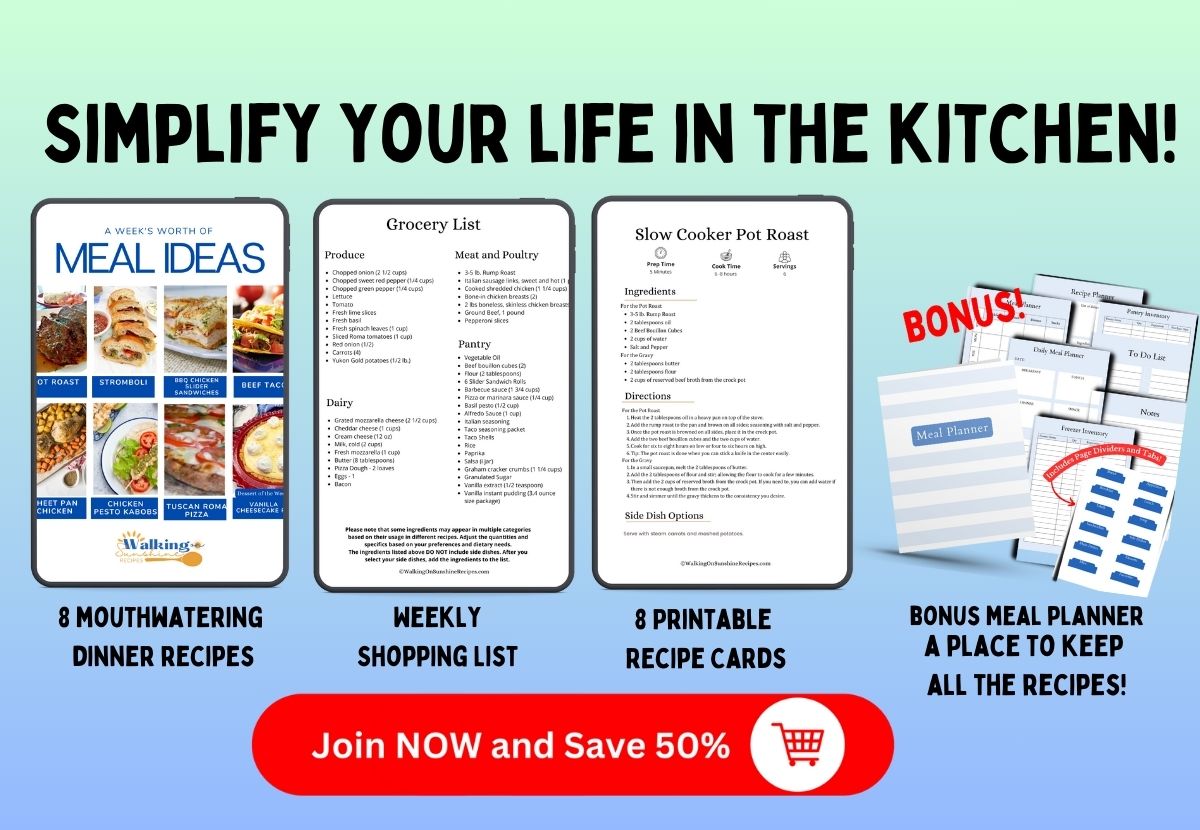 📇Recipe Collection
⭐Before You Begin! If you make any of these recipes, please leave a review and star rating. This helps my business thrive and continue providing FREE recipes.
Spooky Recipes for Halloween Night
More Information
More Information
More Information
More Information
More Information
spooky-recipes-for-halloween-night/