Crispy bites without the guilt! Discover these delicious air fryer snack recipes that will take your snacking game up a notch!
Using an air fryer can help you transform simple ingredients into delicious snacks that will become your family's favorite!
These snack recipes are sure to satisfy all those late-night cravings.
Check out all the other Air Fryer Appetizers for even more delicious recipes. Don't forget to grab the FREE Air Fryer Cooking Times printable available for you too!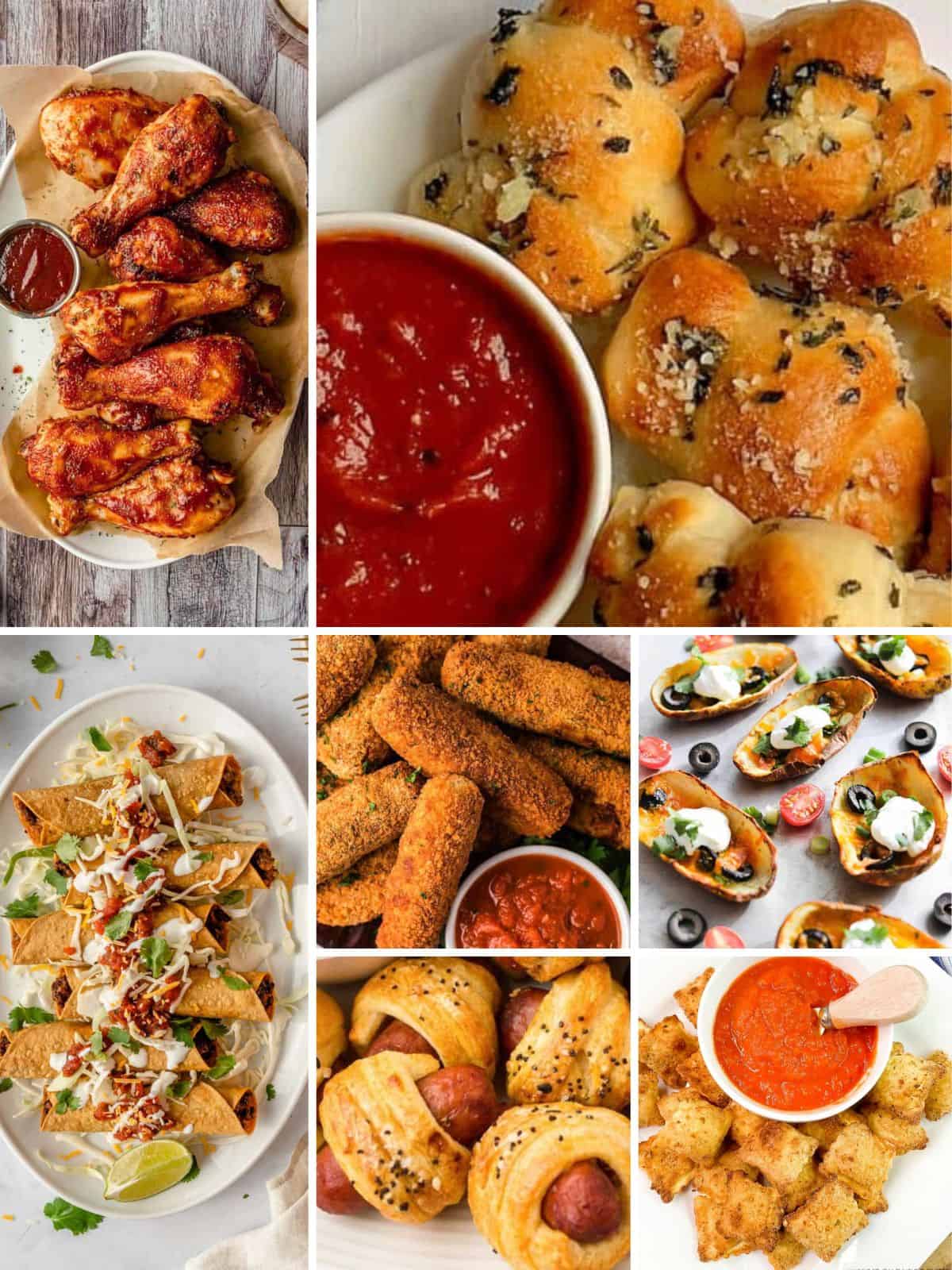 Are you searching for delicious air fryer snack recipes? Look no further!
In this blog post, you'll find 21 easy, yet tasty snacks that you can recreate right at home using an air fryer. Your perfect (air fried) snack is only minutes away!
If you're looking for tips on using the air fryer, check out my post on Air Fryer Recipes for Beginners.
Looking for more Air Fryer Recipes? Try my twice baked potatoes recipe or my collection of New Year's Party Appetizers which has a great selection of snacks!
Table of Contents
📌Quick Tip: Do not overcrowd the air fryer basket or tray! Make sure to give your food enough space to cook evenly and in small batches if necessary.
👩‍🍳Recipe Notes
Air fryers are a great tool for creating healthier versions of our favorite snacks. Here are some tips to make the most of your air fryer:
You won't need to use cooking oil for most of these recipes! Just a light spritz of oil or even none at all! Try using an Oil Spray Bottle created just for air fryers.
Experiment with different seasonings when air frying.
One of the benefits of using an air fryer is that snacks will be ready FAST. Keep an eye on them to make sure they don't burn.
You should also shake or flip the food halfway through the baking time to ensure even cooking.
Don't overcrowd the basket which can lead to uneven cooking. Make sure you give the recipe enough room to cook properly.
Air Fryer Recipes for BeginnersClick HERE for More Information
How do I clean my air fryer?
To keep your air fryer running perfectly, it's important to clean it regularly. Over time and with each use buildup of grease and food residue will accumulate in the basket or tray which will eventually affect the taste of the food.
Unplug the air fryer and allow it to cool down completely.
Remove the basket or tray from the unit.
Wash in warm soapy water. If either the tray or basket are dishwasher-safe, you can use the dishwasher.
Avoid using any abrasive sponges or cleaners as they will scratch the surface.
If there is stuck on food, use a soft-bristled brush to gently clean.
Dry everything completely before using again.
💡Recipe FAQ
Simply click the plus sign to read more about the questions you see below. If YOU have a question regarding this recipe, please let me know in the comment section.
How much oil should I use?
All you need is a light spritz of oil or none at all! Always check with the recipe's instructions for the amount of oil needed.
Do I need to preheat my air fryer?
Always check with the directions of the recipe you are following, however, most recipes will require you to preheat the air fryer before using.
Can I use aluminum foil or parchment paper in my air fryer?
You can use both aluminum foil and parchment paper in the air fryer. Wait to add either while you preheat the air fryer! You also want to make sure you cut the aluminum foil or parchment paper to fit on the bottom of the basket so the food gets the proper air circulation.
Easy Family Meal PlannerClick HERE for More Information
🛒Helpful Kitchen Tools
Air Fryer Oven Digital Display 6 Quart Large Air Fryer
[125 Count] 7.9 Inch Disposable Round Air Fryer Liners, Non-Stick Parchment Paper Liners, Waterproof, Oil Resistance
2 Pack Air Fryer Silicone Liners
Air Fryer Magnetic Cheat Sheet
Oil Sprayer for Cooking for Air Fryer
⭐Before You Begin! If you make any of these recipes, please leave a review and star rating. This helps my business thrive and continue providing FREE recipes.
📇Recipe Collection
Air Fryer Snack Recipes
Crispy bites without the guilt! Discover these delicious air fryer snack recipes that will take your snacking game up a notch!