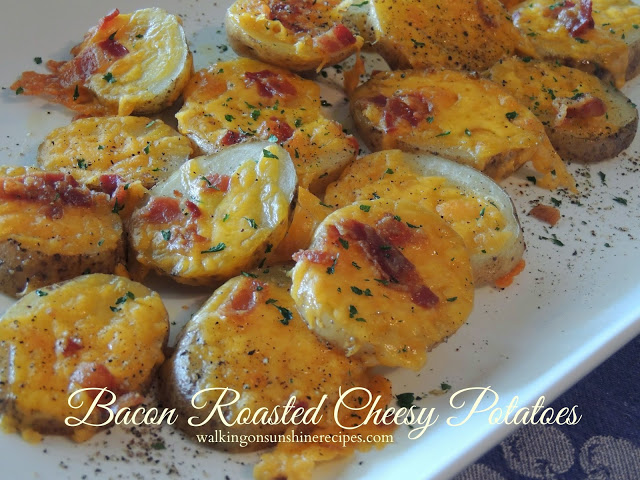 These Bacon Roasted Cheesy Potatoes are easy and delicious. They're the perfect side dish to serve with any grilled meat.
I've been making them for awhile and everyone loves them. I made them for dinner one night when our house was full with bridesmaids and groomsmen and they went fast. I'm sure your family will love these Bacon Roasted Cheesy Potatoes as much as we do.
Bacon Roasted Cheesy Potatoes
Ingredients:
6 baking potatoes; washed and sliced into rounds
2 cups cheddar cheese
4 slices bacon; cooked until crisp and then crumbled (save the bacon grease!)
Salt and Pepper
Directions:
Place the potato rounds into a pot filled with water. Bring the potatoes to a boil and cook for a few minutes until just fork tender.
They do not need to be completely cooked through as they will continue to cook in the oven.
Drain the potatoes and pat dry.
Arrange the potatoes on a baking tray that has been sprayed with non-stick cooking spray.
Brush the potatoes with some of the bacon grease or you can use cooking oil.
Sprinkle the potatoes with salt and pepper and then add the cheese and the crumbled bacon.
Cook in a preheated 425 degree oven for about 10 to 15 minutes or until the cheese is melted.
Be careful not to crowd the pan as the potatoes won't roast, they'll just steam.
I like to turn the oven to broil for the last few minutes of cooking.
Potatoes looking good...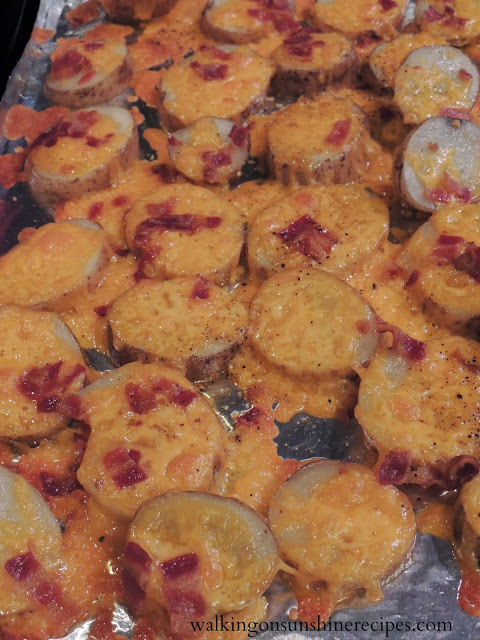 An easy and delicious side dish!