Everything you need to know on how to decorate a pie so you can make your homemade pies look beautiful. With a little practice, you might just surprise yourself with how pretty they can look.
The next time you're in the mood for homemade pie, don't be afraid to try your hand at making one with either of these two decorative looks I'm sharing with you today. It's all part of the fun of baking homemade pie.
Check out all the other easy desserts to help you create delicious recipes to serve to family and friends.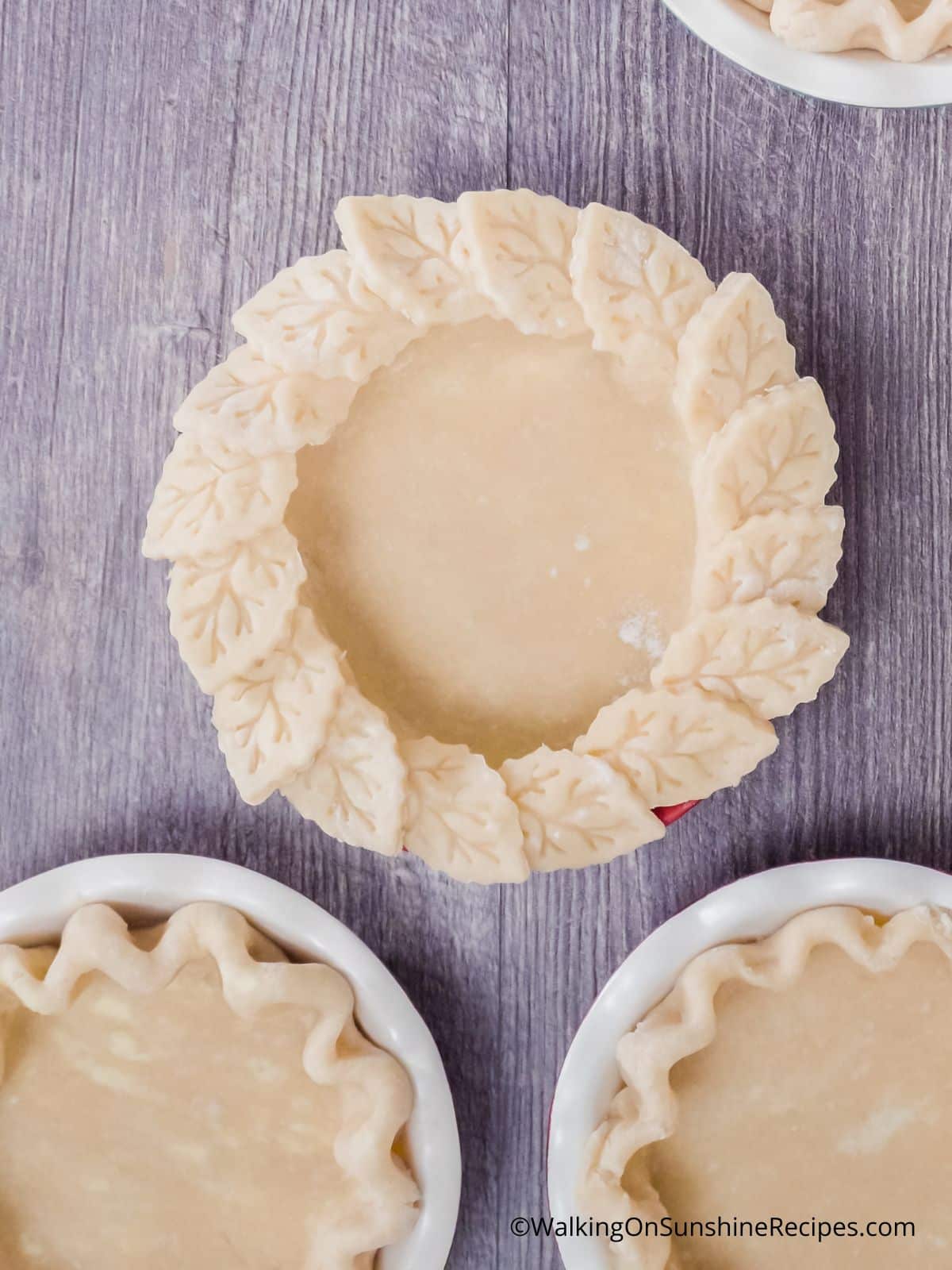 Homemade pie dough is one of the most gratifying things to bake. The smell of it baking, the homemade taste, and the pretty decorative edges make it worth the extra effort.
Even if your pies don't always turn out looking like they came from a professional bakery, they'll still taste amazing. You can use these tips on either savory recipes like my chicken pot pie recipe.
Or a sweet pie recipe like my apple pie, pecan pie, or my peach pie recipe.
Table of Contents
Looking for a few more pie recipes? Try my Summer Pie Collection or my collection of Thanksgiving Pies and my Apple Pie Recipes for Thanksgiving.
💭How to make Pretty Pie Crust
When you bring a homemade pie to the table to slice and serve to your guests, you want it to look not only delicious, but pretty.
If you're using store-bought pie dough, be sure to roll it out evenly so it doesn't shrink when you bake it.
If you're making your own dough, don't overwork it or it will be tough.
Once your dough is rolled out, gently transfer it to your pie plate and flute the edges.
🛒Helpful Kitchen Tools
Pastry Cutter, Dough Blender, Flour Sifter and Biscuit CutterMore Information
Pie Dough Stamps SetMore Information
Deep Glass Pie Pans Set of 4More Information
Mini Pie Pans Set of 6More Information
Silicone Pastry Mat Non Slip with MeasurementMore Information
💭How to Decorate a Pie
There's nothing quite like a homemade pie. But if you're not careful, a homemade pie can quickly turn into a disaster. Here are some tips for decorating a homemade pie so it looks as good as it tastes:
A lattice crust is classic and elegant, while a crumb topping adds rustic charm.
You can also get creative with decorations made from leftover dough scraps or fruit slices.
Whatever you choose, be sure to use plenty of flour or sugar so your toppings don't stick.
And most importantly, don't be afraid to have fun with it!
💭How to Crimp Pie Crust
Crimping the edges of a pie crust makes your pie look pretty; plain and simple. But there is another reason why we crimp our pie crusts. It helps hold the edges of a single pie crust in place, so the dough doesn't slump down during baking.
You want to make sure the overhang is even all around, so trim if necessary. Then follow these easy steps:
Take the overhang and roll it under so you have a "cylinder" that rests along the edge of your pie crust.
An easy way to crimp the edges of a pie crust are to press your thumb into dough edge at an angle, then pinch dough between thumb and knuckle of index finger.
Place thumb in groove left by index finger; pinch as before.
Repeat, rotating pie plate as you go. This is how my mother crimps her pie crust by using your index finger and your thumb, "squeeze" the dough to create a crimp.
💭Pie Crust Decorations
Decorating a homemade pie is a fun and easy way to show off your baking skills. The key to a beautiful pie is in the dough:
Start with a basic homemade pie dough recipe, and roll it out onto a floured surface. Then, use a knife or pastry cutter to create decorative shapes.
For example, you can cut out leaves or flowers. Once you have cut out your shapes, gently press them into the dough around the edge of the pie.
Finally, brush the pie with an egg wash and bake according to recipe instructions. You can also bake the pie cut outs separately on a baking tray and then place them directly on top of a baked pie.
Place the pie cut outs on the edge of the pie crust. Make sure you first brush a little water on the edge of the pie crust to help the pie cut outs stick.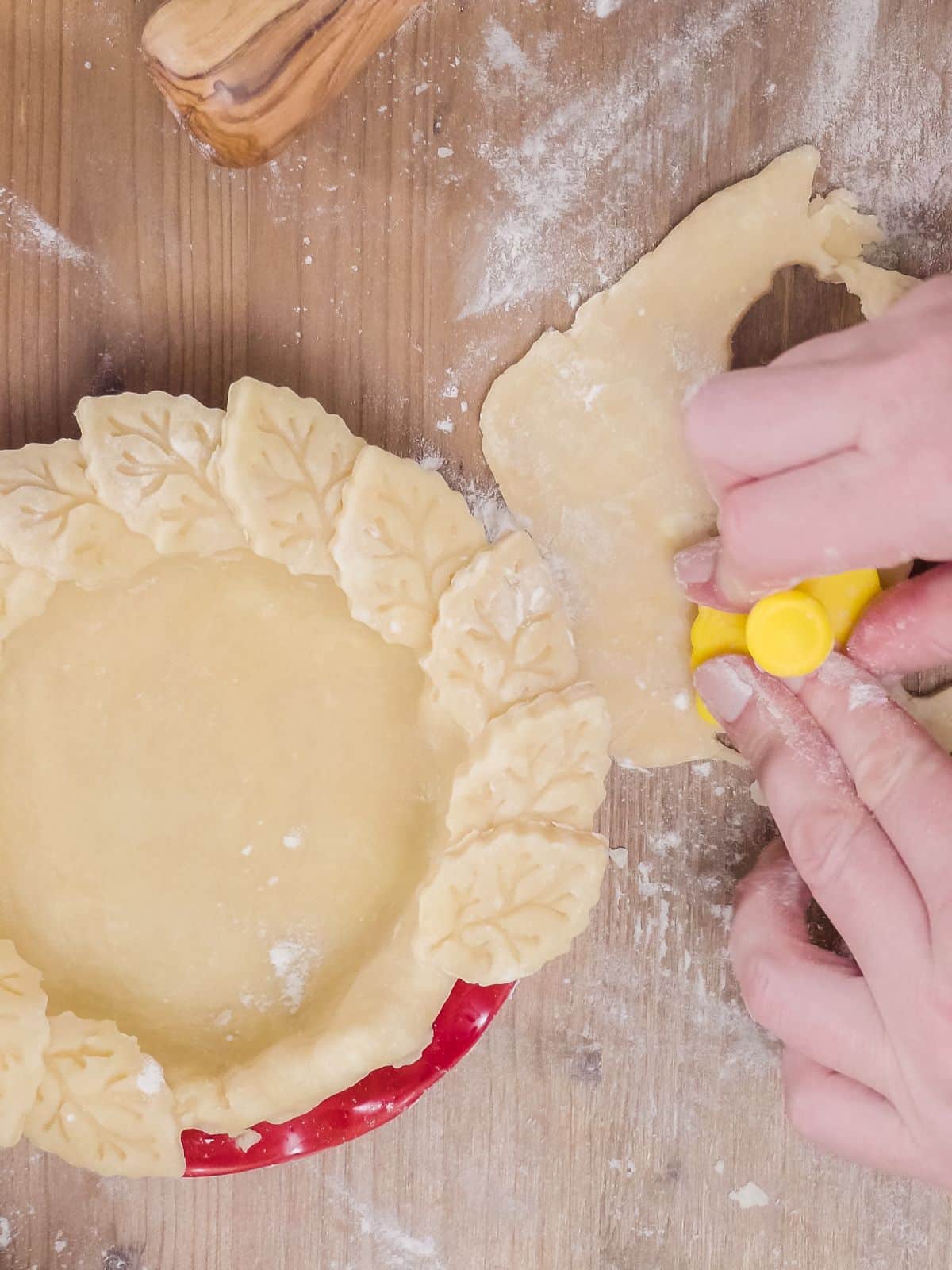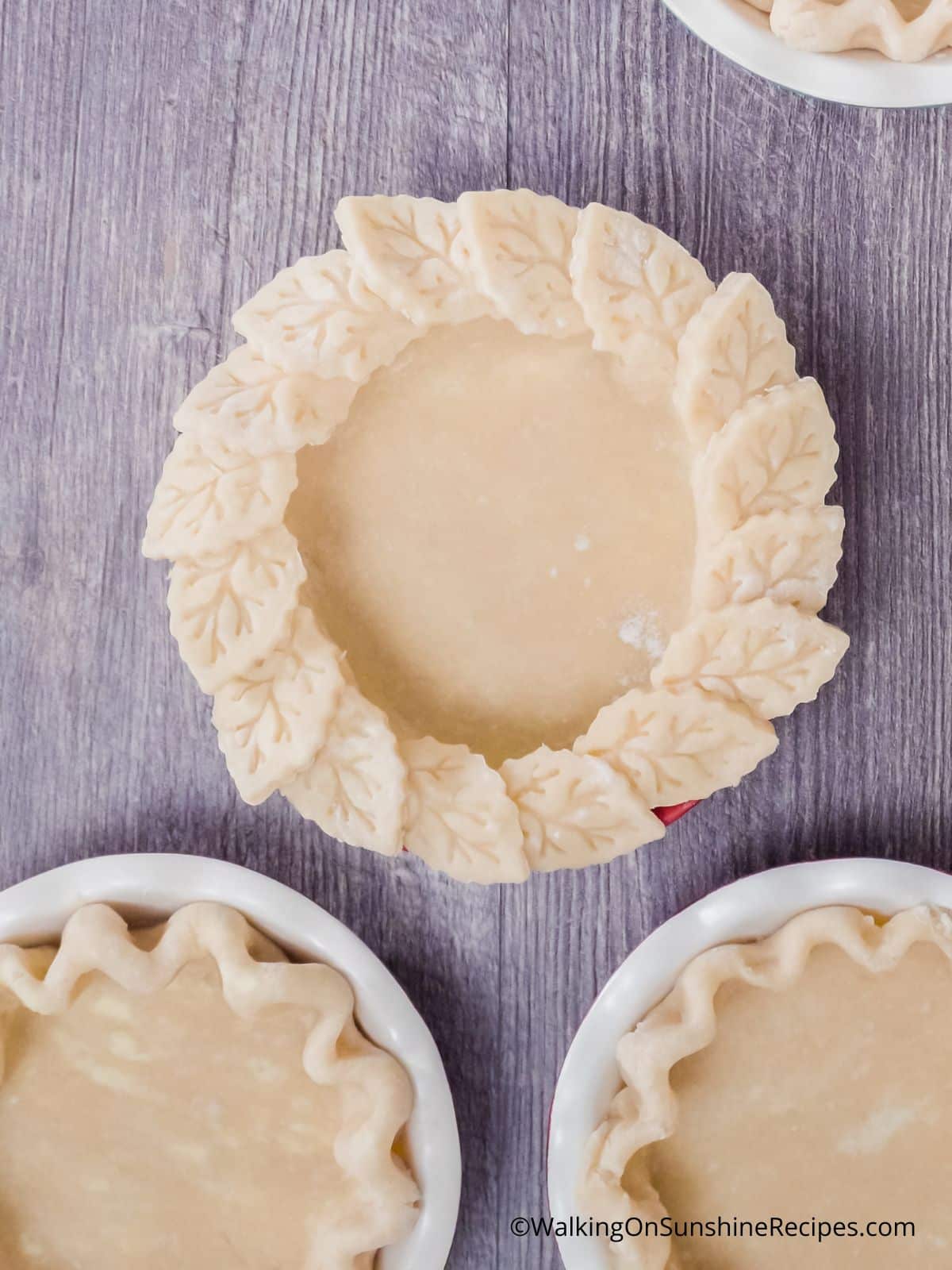 After the pie cut outs have been added to the edge of the pie crust, fill the pumpkin pie with the pumpkin pie filling and bake according to the recipe directions.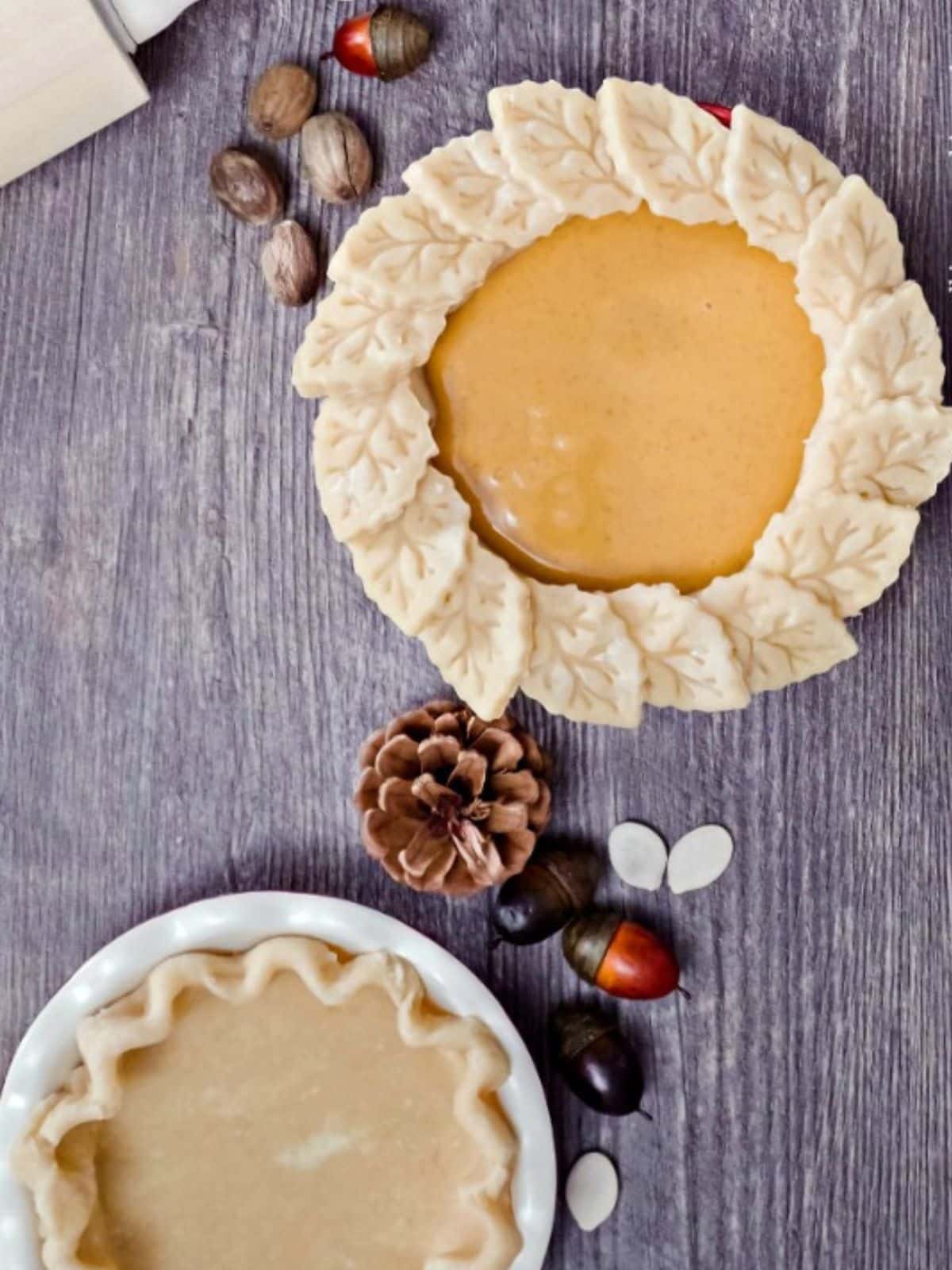 💭Decorative pie crust
You can also bake the pie cut outs separately on a baking tray and then place them directly on top of a baked pie. I do this with my Mini Pumpkin Pie Recipe.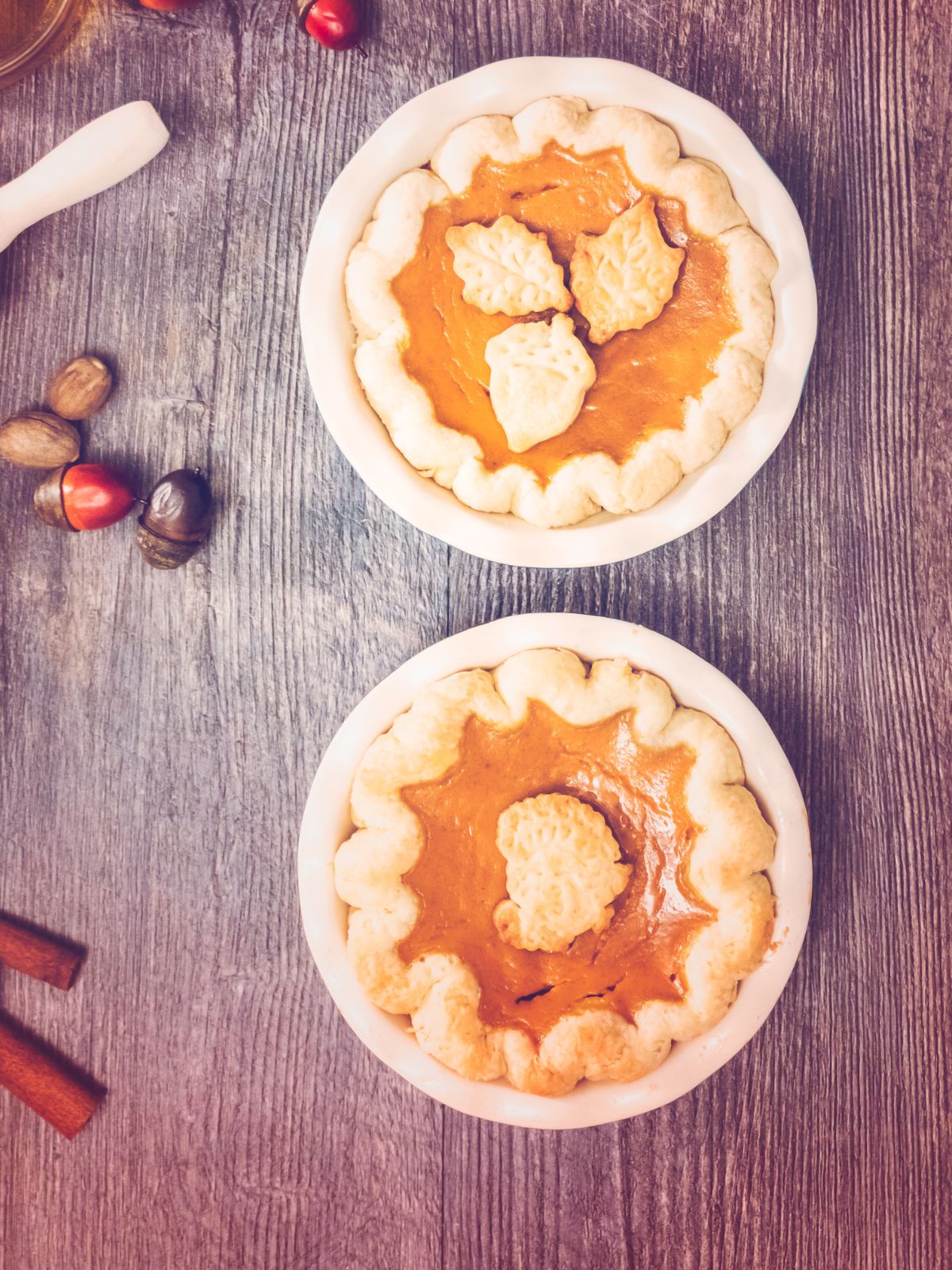 ⭐Before You Begin! If you make this recipe, please leave a review and star rating. This helps my business thrive and continue providing FREE recipes.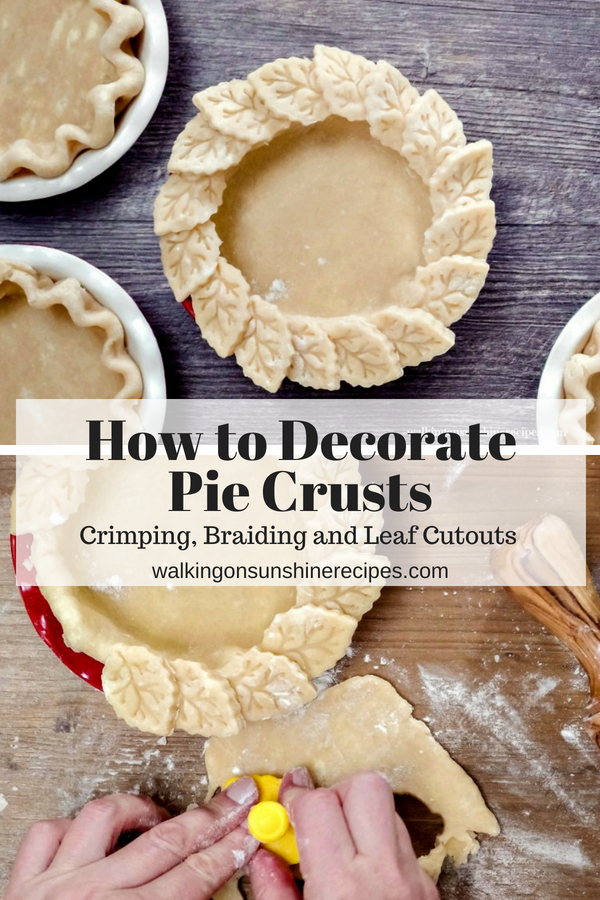 This recipe has been updated since it first appeared in 2013 with new photos, and information. I hope you enjoy the updates as much as I enjoyed working on them!