If you're looking for ideas for what to serve with chicken cutlets, you've come to the right place! This featured collection is filled with recipes that are all quick and simple to prepare, so you can focus on making the perfect main course.
From classics like roasted vegetables and mashed potatoes, to more creative dishes like quinoa and roasted hasselback potatoes, there's something here for everyone. And best of all, these recipes are all healthy and flavorful, so you can feel good about what you're serving your family.
Check out all the other chicken cutlet recipes for more delicious ideas for dinner tonight!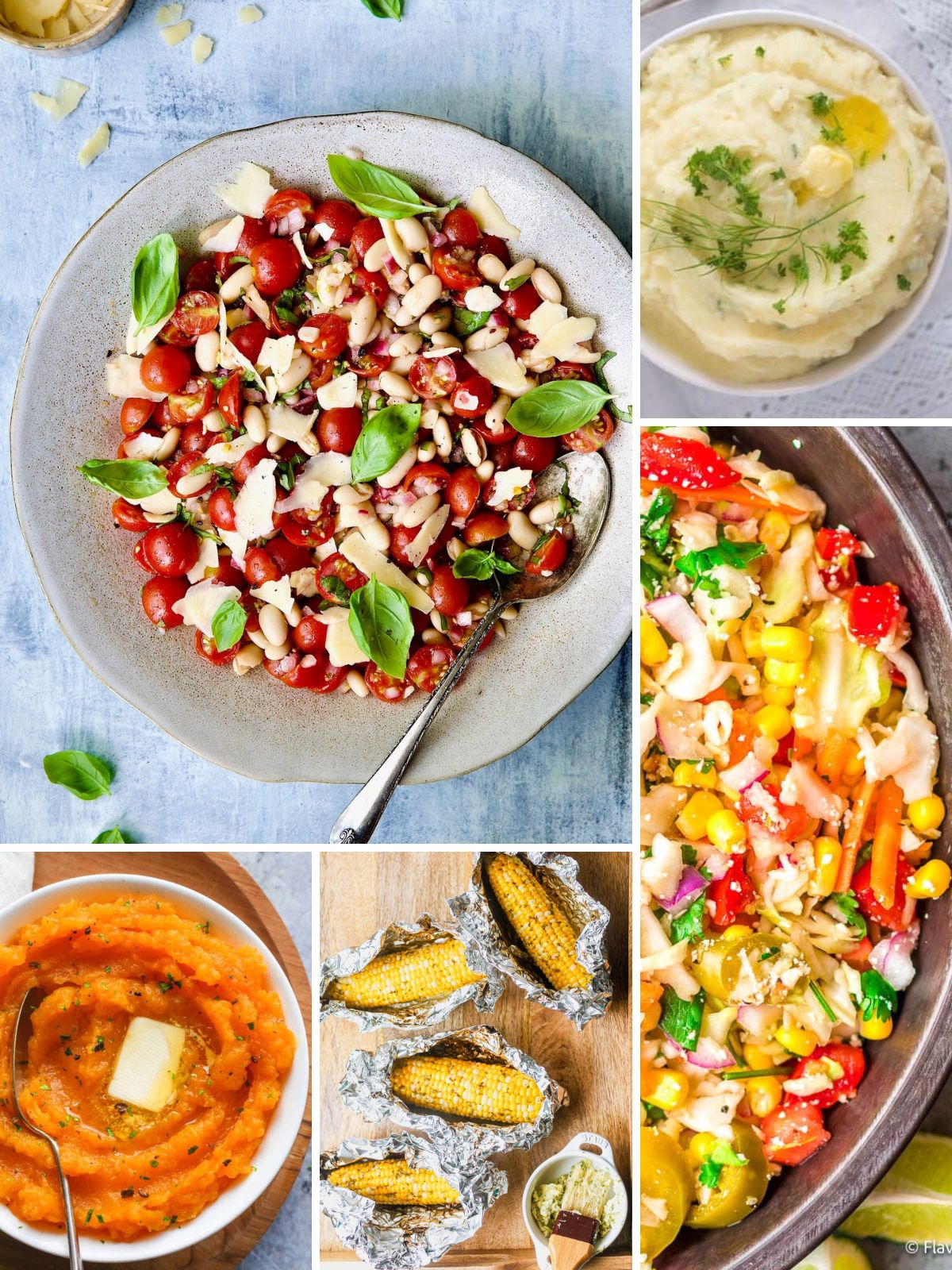 Looking for an easy way to spruce up your dinner routine? Serve chicken cutlets with one of these delicious side dishes featured below!
These recipes are simple to follow and ensure that your meal will be both tasty and impressive. So whether you're looking for a new take on an old favorite or something completely different, we've got you covered.
This collection was inspired by my Side Dishes for Chicken Cutlets.
Looking for family favorite chicken recipes to go along with these side dishes and add to your Weekly Meal Plan? Try my easy Baked Chicken Cutlet Recipes or my Chicken Cutlets with Gravy.
Table of Contents
💭What vegetables go good with chicken?
Chicken is a versatile protein that can be cooked in a variety of ways. It pairs well with many different vegetables, making it a perfect option for a healthy and delicious meal.
Some of the best vegetables to pair with chicken include corn, green beans, carrots, and potatoes. These vegetables all have different flavors and textures, but they all complement chicken nicely.
Corn is sweet and crunchy, while green beans are slightly bitter and have a firm texture. Carrots are soft and sweet, while potatoes are rich and creamy.
💭What are typical side dishes?
While chicken is often served as the main course, it is often accompanied by a variety of side dishes. Popular side dishes for chicken include mashed potatoes, macaroni and cheese, green beans, corn, and carrots.
In addition to these classics, there are endless other possibilities for side dishes, limited only by the imagination of the cook. For example, roasted vegetables, quinoa salads, and fruit compotes can all make excellent accompaniments to chicken.
The key is to choose sides that complement the flavors of the chicken recipe and that provide a balance of textures and colors on the plate. For example, if you're serving Chicken Cutlet Parmesan, you might want to serve a pasta salad or garlic monkey bread.
However, a recipe like my Sauteed Chicken Cutlets, you might want to serve a homemade recipe of mac and cheese or a simple green tossed salad. So go ahead and explore - your perfect dish is just a few clicks away!
🍽Helpful Kitchen Tools
This post contains affiliate links. That means that if you make a purchase after clicking on a link I may earn a small commission at no extra cost to you. For more information, click here.
More Information
More Information
More Information
More Information
⭐Before You Begin! If you make this recipe, please leave a review and star rating. This helps my business thrive and continue providing FREE recipes.
📋Featured Recipe Collection
What to Serve with Chicken Cutlets
Included in this recipe collection of what to serve with chicken cutlets include smashed potatoes, roasted squash and garlic mashed potatoes!