The 4th of July is right around the corner and that means one thing: fireworks, barbecues, and most importantly, 4th of July Desserts! If you're looking for some recipes to celebrate Independence Day with your family, you've come to the right place.
We've got a selection of mouth-watering options that are perfect for any occasion. So grab a cookbook and get ready to wow your guests with these sweet treats!
Check out the full list of 4th of July Foods for more desserts, appetizers and meal ideas.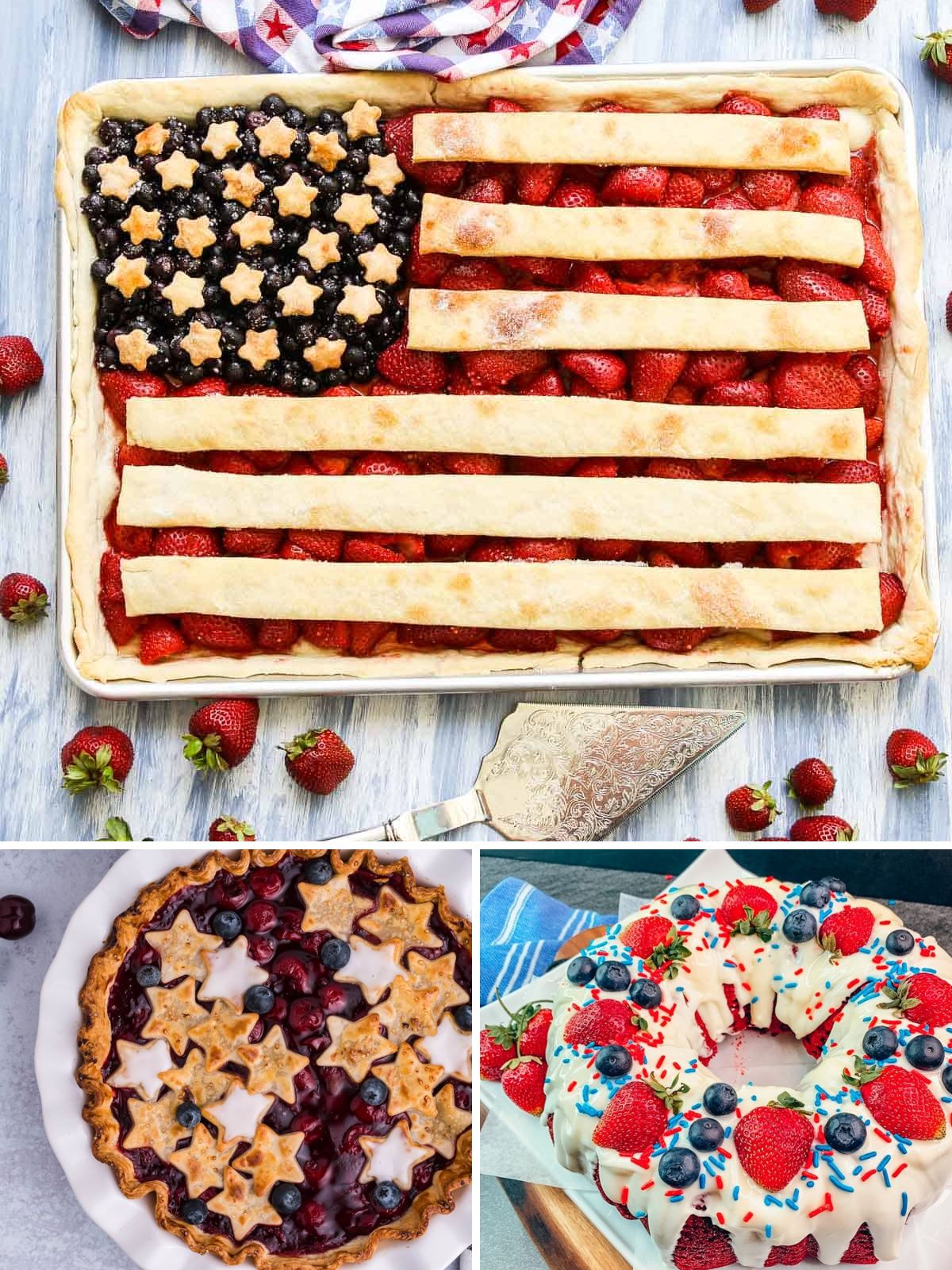 Summertime is the perfect time to enjoy classic American desserts. There's nothing like digging into a piece of peach pie or an cone made with good old-fashioned vanilla ice cream on a hot day.
I've put together a list of 4th of July desserts that include fresh fruit tarts, apple blueberry and cherry pie. Recipes that say Happy Birthday America!
Here are some of our favorite recipes for traditional summer desserts. Go ahead and impress everyone with your baking skills! These desserts are sure to please!
Looking for more Patriotic Recipes? Try my 4th of July Appetizers, July 4th Side Dishes or my Red Velvet 4th of July Cake.!
Table of Contents
4th of July Desserts that won't Melt
The summer months can be tough on desserts. With the heat and humidity, it's often hard to keep things from melting, especially if you're outdoors at a picnic or BBQ. However, there are some 4th of July desserts that are summer-friendly and won't melt on you:
Fruit salad. Fruits like watermelon, cantaloupe, grapes, and berries are all good choices that will hold up in the heat.
No-bake cheesecake - one of my favorite desserts! Check out a full list of delicious no-bake cheesecake recipes here on the blog. Most are ready in minutes!
Trifles - this layered dessert can be made ahead of time and keeps well in the fridge. I have two recipes here for you. One is a traditional Patriotic Berry Trifle made in a large bowl, or you can try my Berry Trifle Recipe that's made in mason jars for individual servings.
Cookies - are always a great choice for a party and feeding dessert to a large group of people. Check out my 4th of July Cookie Recipes for fun ideas.
Portable 4th of July Desserts
If you're hosting a large crowd this summer for any type of party, why not try a portable dessert? Or individual desserts in mason jars?
Mason jar desserts are perfect for picnics, potlucks, and barbecues. They're easy to transport and can be made ahead of time. And best of all, they're so darn cute like these Mason Jar Pudding Desserts or my Cheesecake Pudding Parfait.
Weight Watchers 4th of July Desserts
If you're looking for some delicious and healthy desserts to help you stick to your weight loss goals, here are a few recipes that are all weight watchers friendly, and they're sure to satisfy your sweet tooth.:
Helpful Kitchen Tools
This post contains affiliate links. That means that if you make a purchase after clicking on a link I may earn a small commission at no extra cost to you. For more information, click here.
Picnic Mat,Picnic Blanket Waterproof Mat,More Information
Tall Pop-Up Mesh Food CoversMore Information
Picnic Plate Napkin and FlatwareMore Information
Wicker Picnic BasketMore Information
Tried any of my recipes? Let me know in the comments!