The perfect easy, delectable breakfast for Christmas morning is a batch of Christmas Tree Cinnamon Rolls! Created with a can of refrigerator cinnamon rolls shaped and decorated as Christmas trees, these easy to make creations are sure to bring some holiday cheer.
Enjoy these Christmas breakfast cinnamon rolls delight on everyone's faces as they dig in to their warm cute cinnamon rolls; it's sure to bring some warmth and joy to this special day.
Check out my list of other best cinnamon rolls that also use Pillsbury refrigerator rolls as well!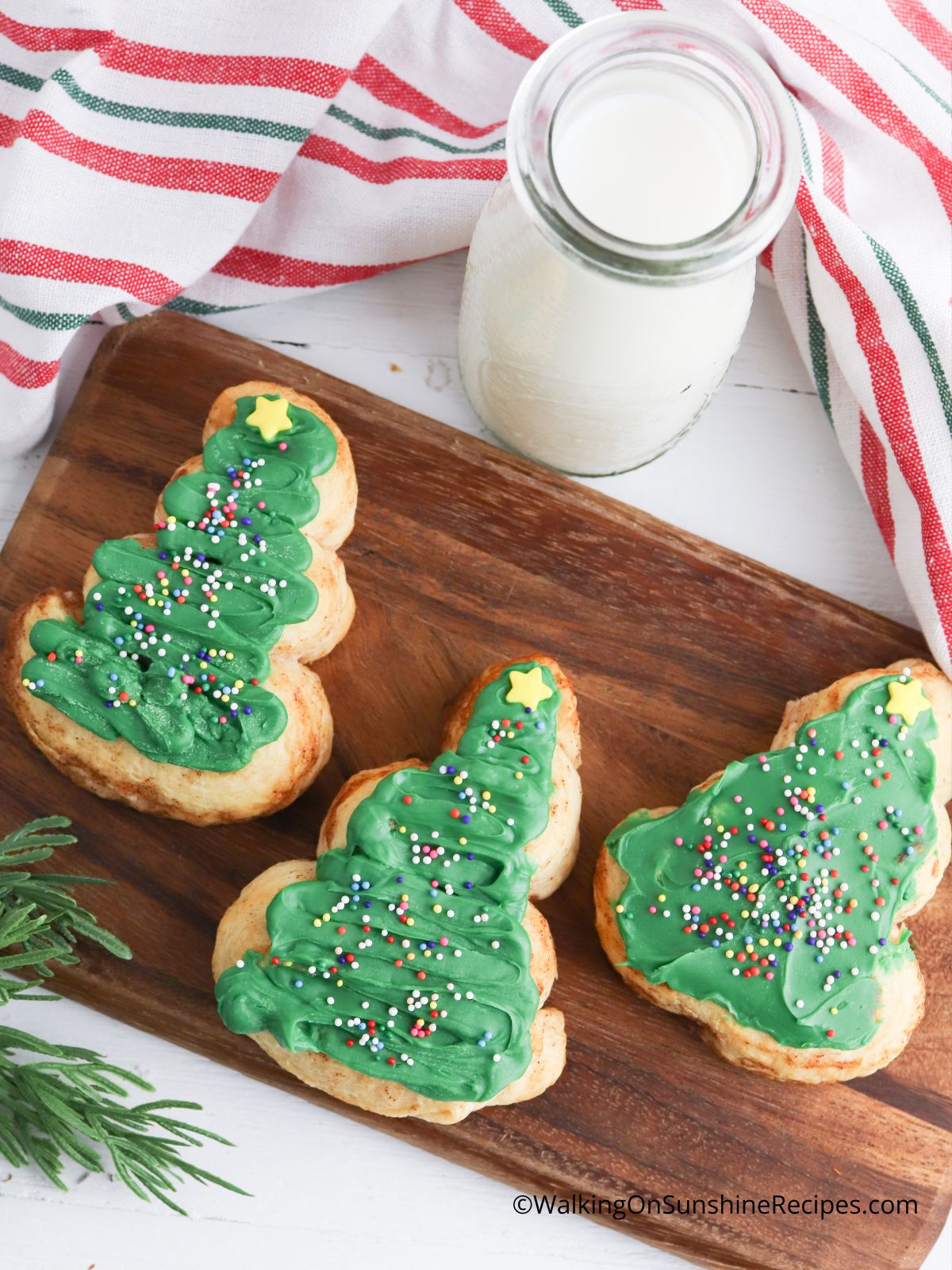 Make Christmas morning special this year with easy-to-make cinnamon rolls shaped like a Christmas tree! Not only are these Christmas cinnamon rolls easy to make, your kids will have fun shaping the pre-made cinnamon rolls into trees...not to mention decorating them after they're baked!
Like my Cinnamon Roll Breakfast Casserole, this recipe starts out with a can of refrigerator cinnamon rolls. Then decorate the baked rolls with green candy melts and fun Christmas sprinkles.
You simply open the can of cinnamon rolls, unroll and shape each cinnamon roll into a tree, bake and decorate. How easy is that?
Serve the cream cheese frosting that comes with the rolls on the side for dipping. If you're looking for another 2 ingredient recipe, try my Sausage Cinnamon Rolls!
Looking for more Christmas Breakfast Recipes? Try my French Toast Cinnamon Rolls, Easy Cinnamon Roll Breakfast Casserole or my Cinnamon Roll Casserole without Eggs...yum!
Table of Contents
Quick Christmas breakfast ideas
For a special holiday treat on Christmas morning, why not whip up quick breakfast options that will make your family's mouths water and get the day off to a festive start?
If you're looking for something different, try my Christmas Pancake Mix that you can prep ahead and add Christmas-inspired toppings such as red and green sprinkles.
If you would like something savory, think about making mini quiches the night before and pop them in the oven for an easy brunch solution.
For another easy prep-ahead recipe, try my Overnight French Toast Casserole. Made with thick brioche bread, eggs, cinnamon and sugar, it's sure to please everyone!
Shortcuts to a Magical Holiday BreakfastMore Information
Easy Christmas Cinnamon Rolls
We all have visions of the perfect Christmas morning breakfast with our families. And for most of us, that dream usually involves cinnamon rolls.
In reality, making homemade cinnamon rolls with yeast can be difficult and time-consuming. If you find this statement to be true, make sure you check out my Homemade Cinnamon Rolls using Biscuits.
You might also enjoy my two-ingredient cinnamon rolls with heavy cream that are really easy and taste delicious!
🛒Helpful Kitchen Tools
This post contains affiliate links. That means that if you make a purchase after clicking on a link I may earn a small commission at no extra cost to you. For more information, click here.
Non-Stick Baking Sheets Set of 3
Christmas Coffee Mugs Set of 6
Wilton 16-inch Disposable Decorating Bags Set, 4-Pack
Gold Stars Edible Sprinkles
Wilton Holiday Mix 6 cell Sprinkles
📋Main Ingredients Needed
This is an overview of the ingredients and instructions. Be sure to see the recipe card below for exact quantities, detailed instructions and special notes.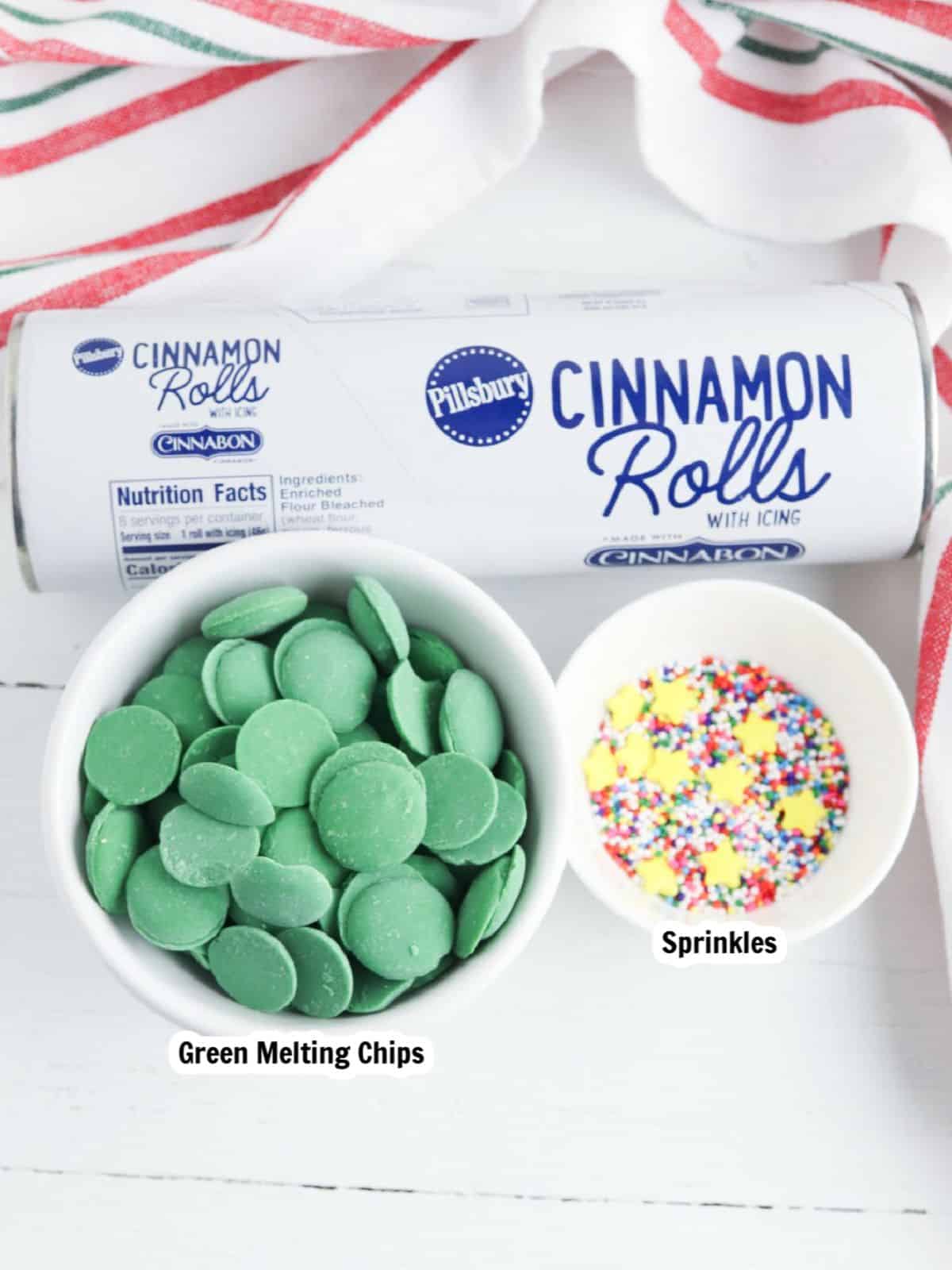 Step-by-Step Instructions
Step 1: Open the can of cinnamon rolls. Separate and unroll each roll. Then shape the roll like a Christmas tree. Place on a baking tray that's been lined with parchment paper.
Step 2: Bake in a preheated 350°F oven for 12 to 15 minutes or until the cinnamon rolls are golden brown. Remove from the oven and allow the rolls to cool completely before decorating.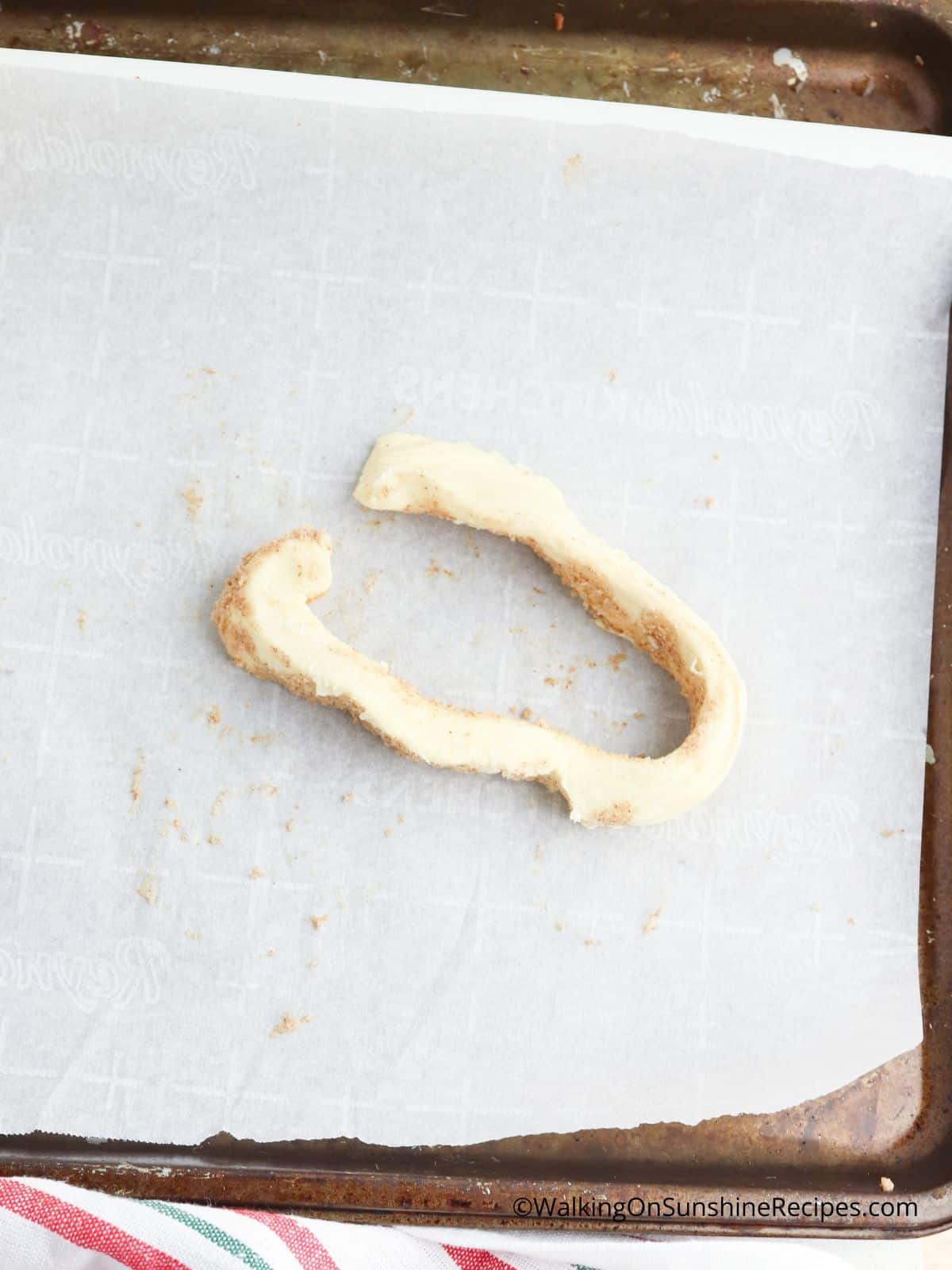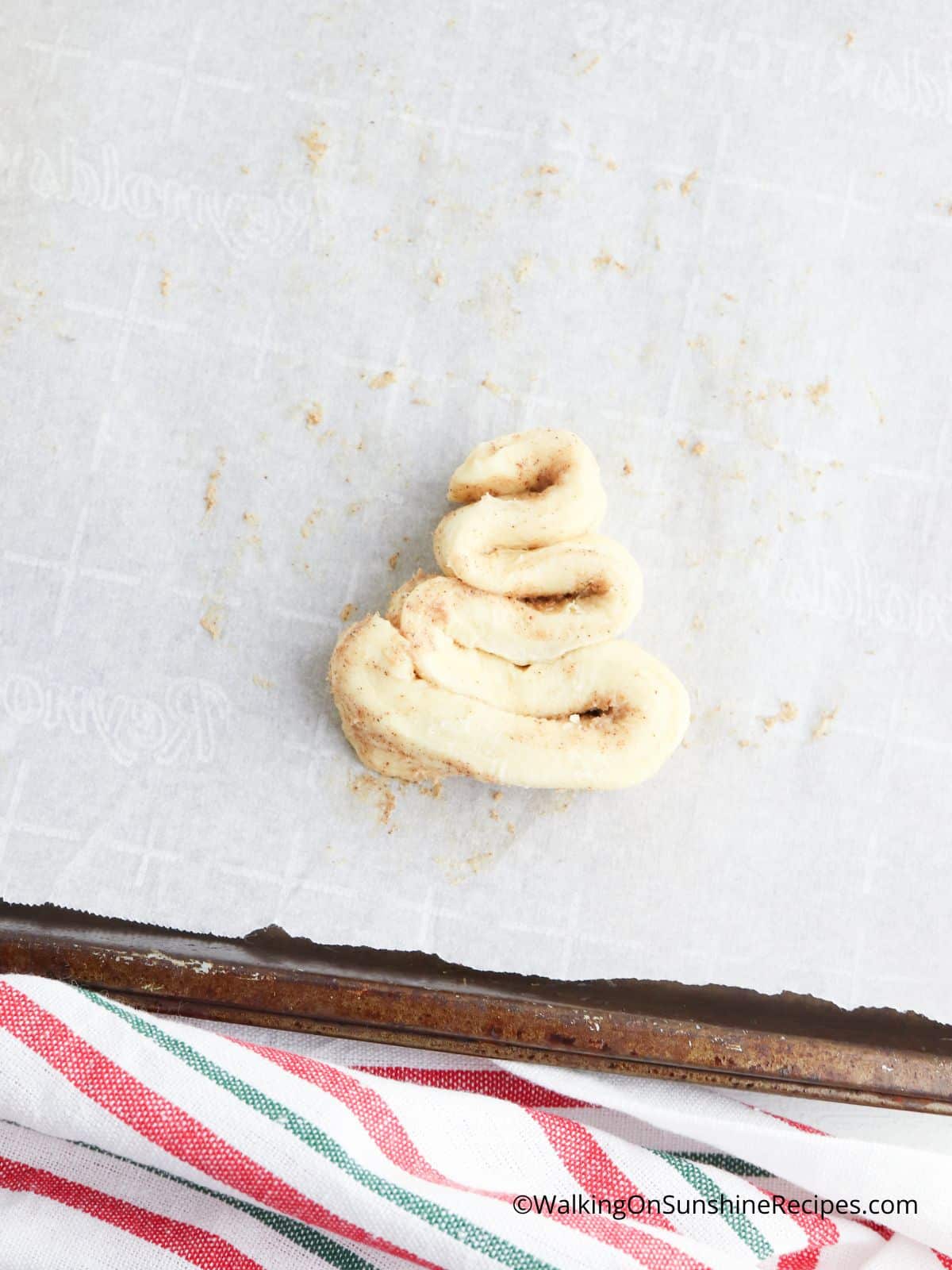 Step 3: Melt the candy melts according to their package instructions. Add the melted candy to a disposable decorating bag.
Step 4: Pipe the melted chocolate on top of each cinnamon roll. Decorate with the colored sprinkles and top each tree with a star.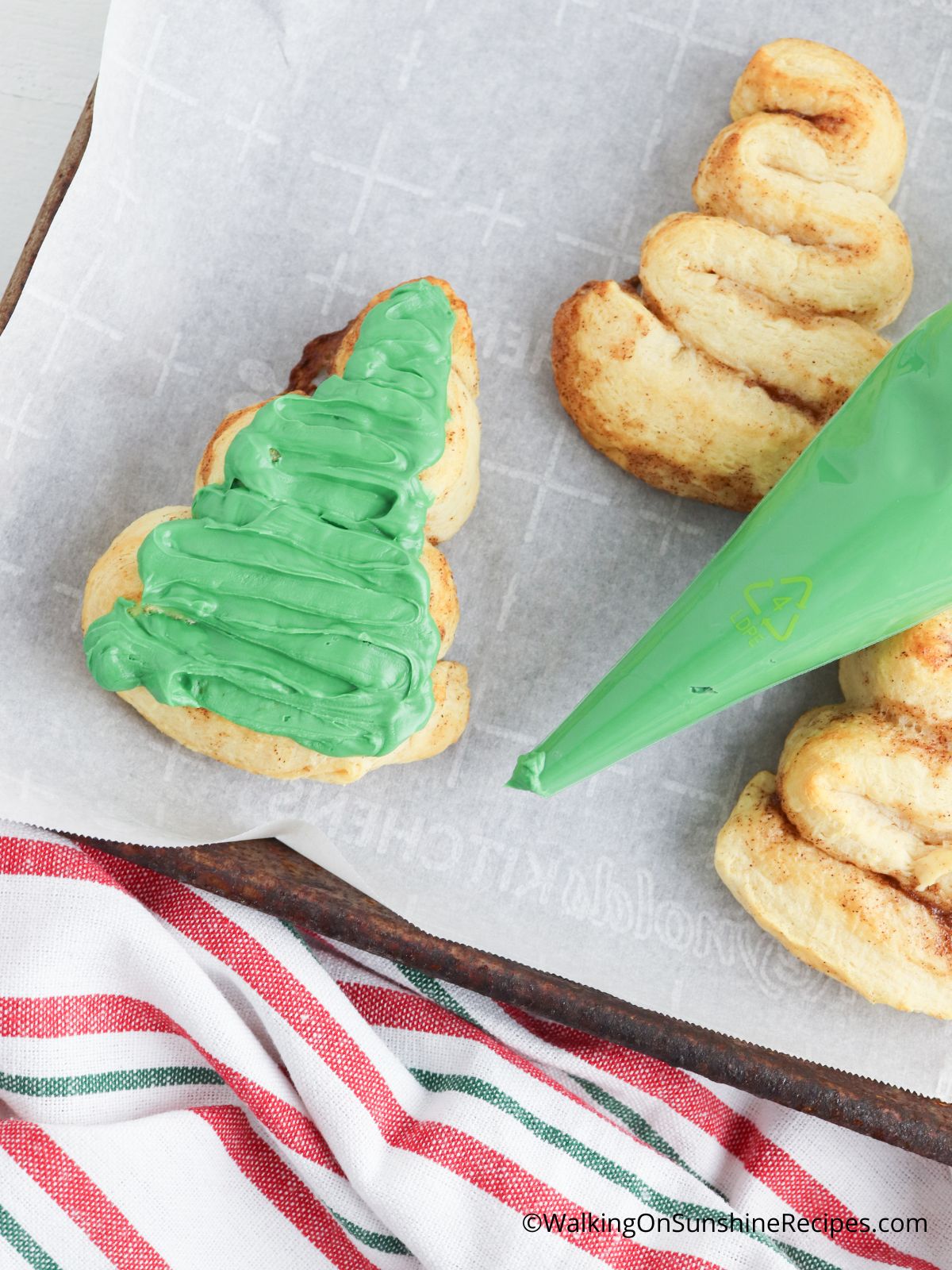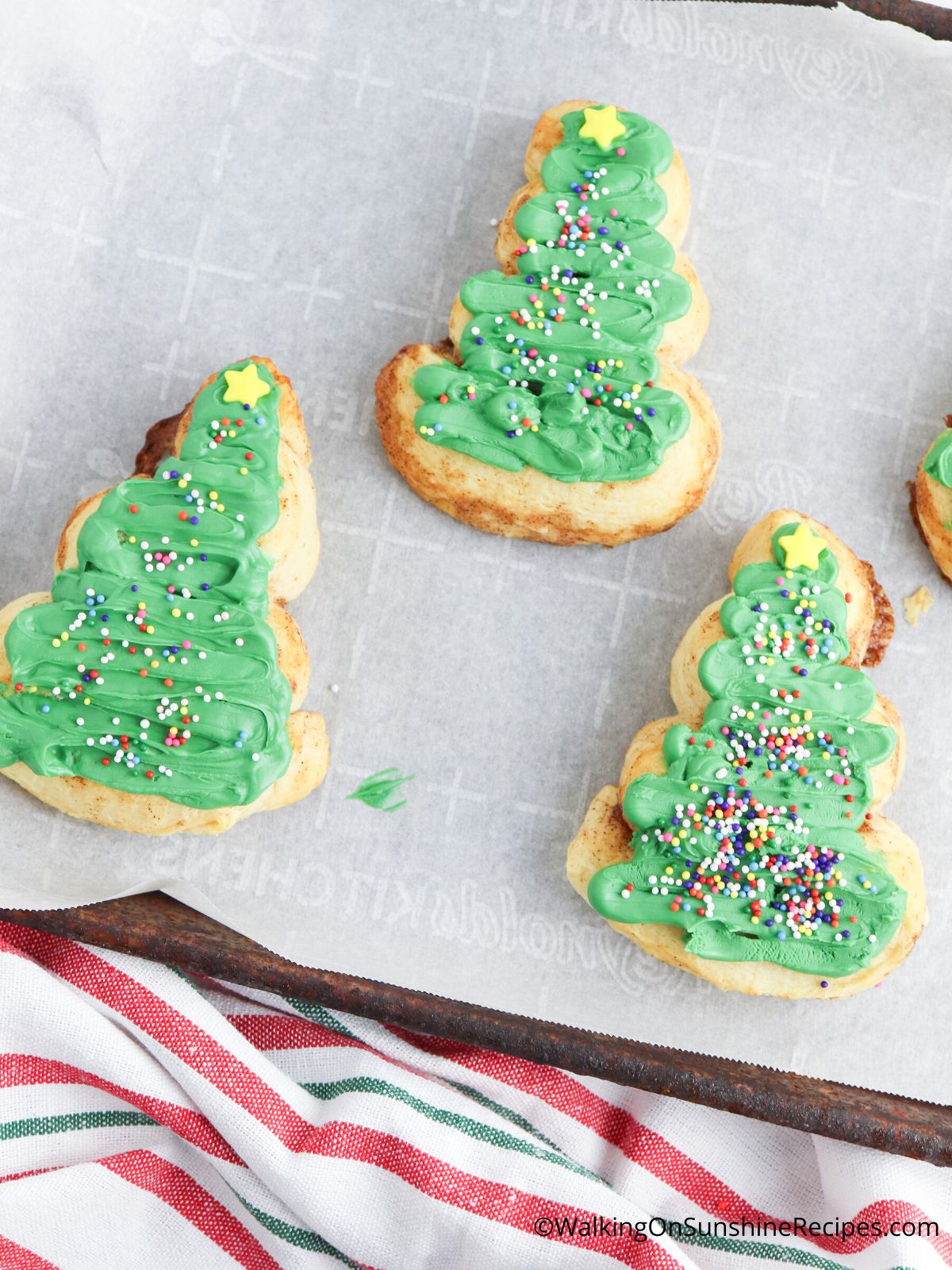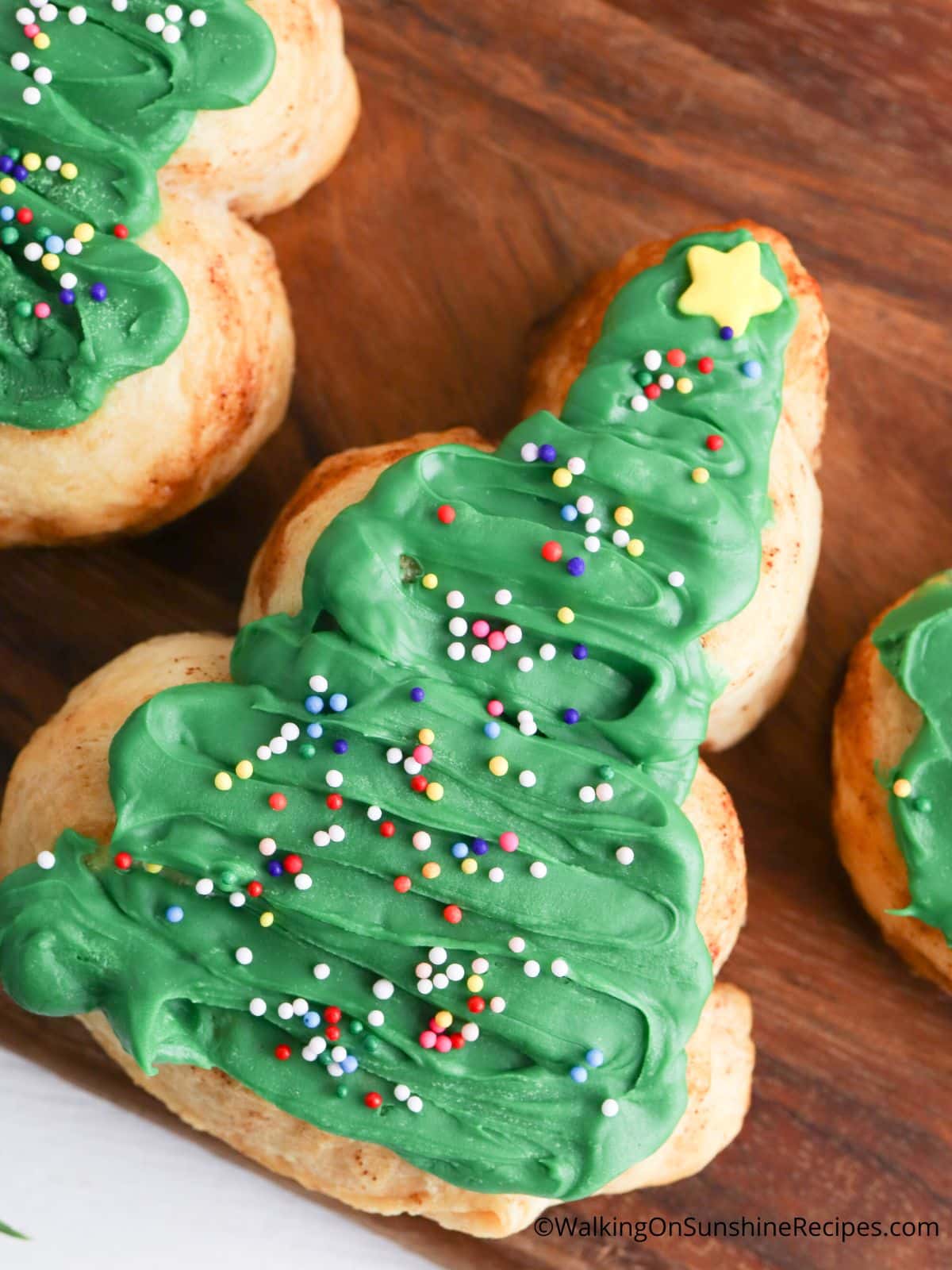 ⭐Before You Begin! If you make this recipe, please leave a review and star rating. This helps my business thrive and continue providing FREE recipes.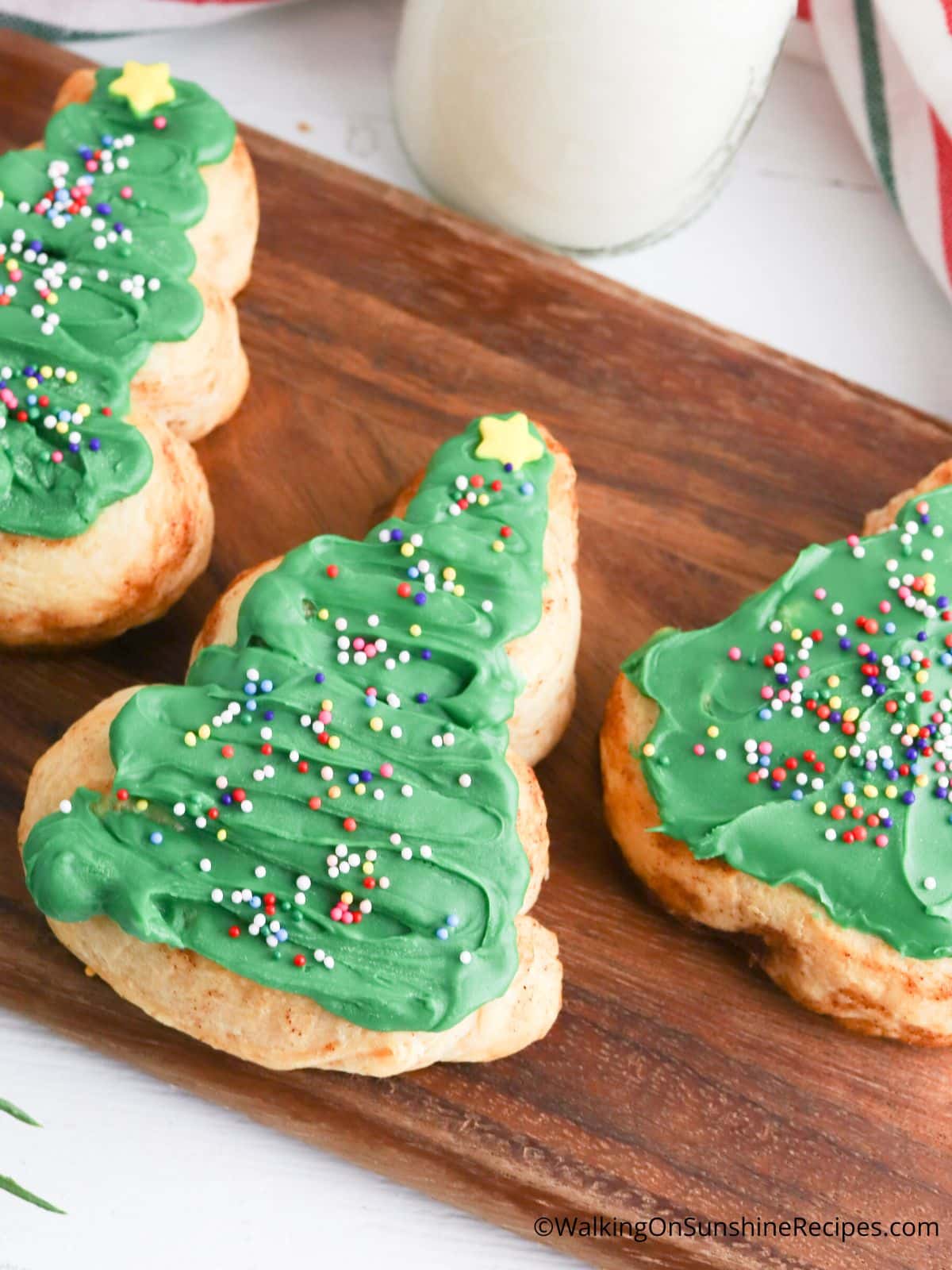 🍽 Make it a Meal
🍶 Storage Tips
When storing leftover cinnamon rolls, make sure to fully cool them down first.
Place them into an air tight storage container.
Place the wrapped buns into the fridge to store for up to two days.
For longer storage, freeze them immediately after wrapping and thaw overnight before eating. If you're feeling creative, try heating the leftovers in a 350F oven for 5-10 minutes for an amazing second-day treat!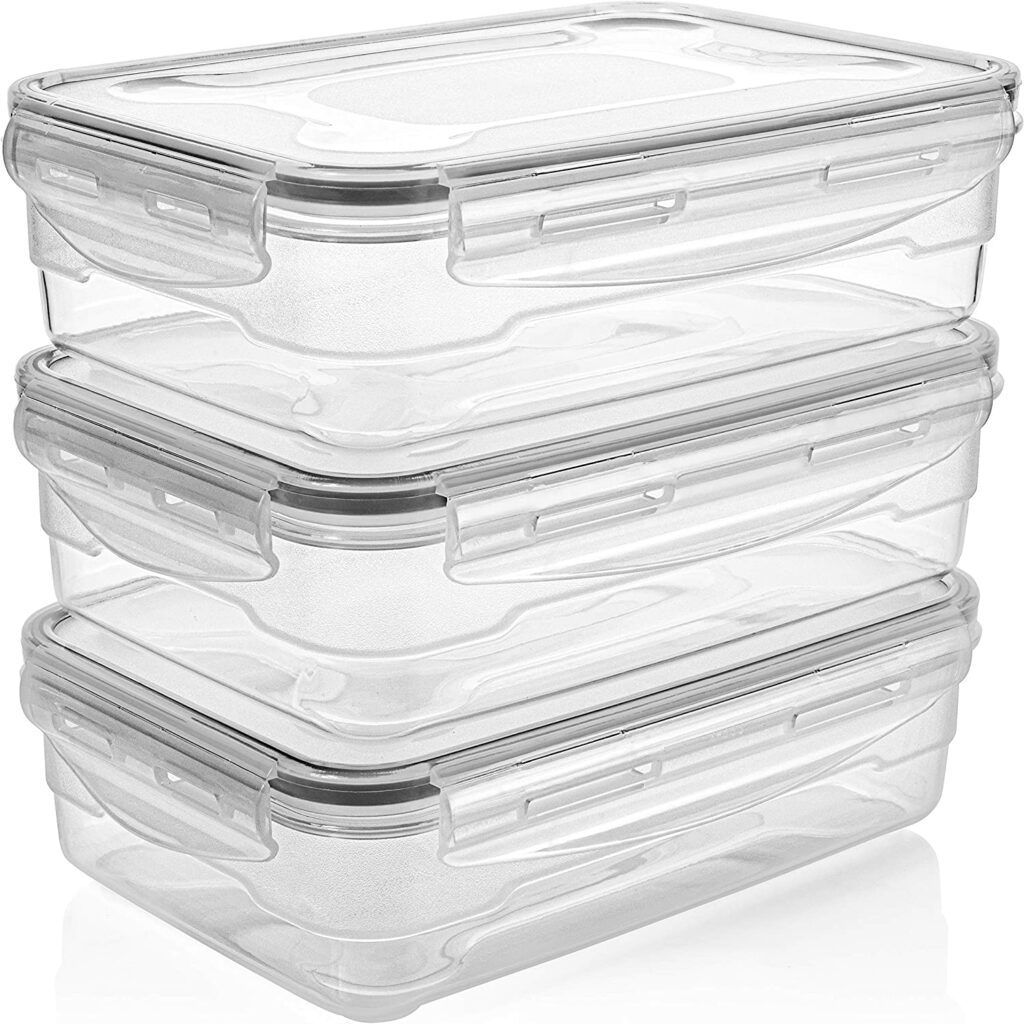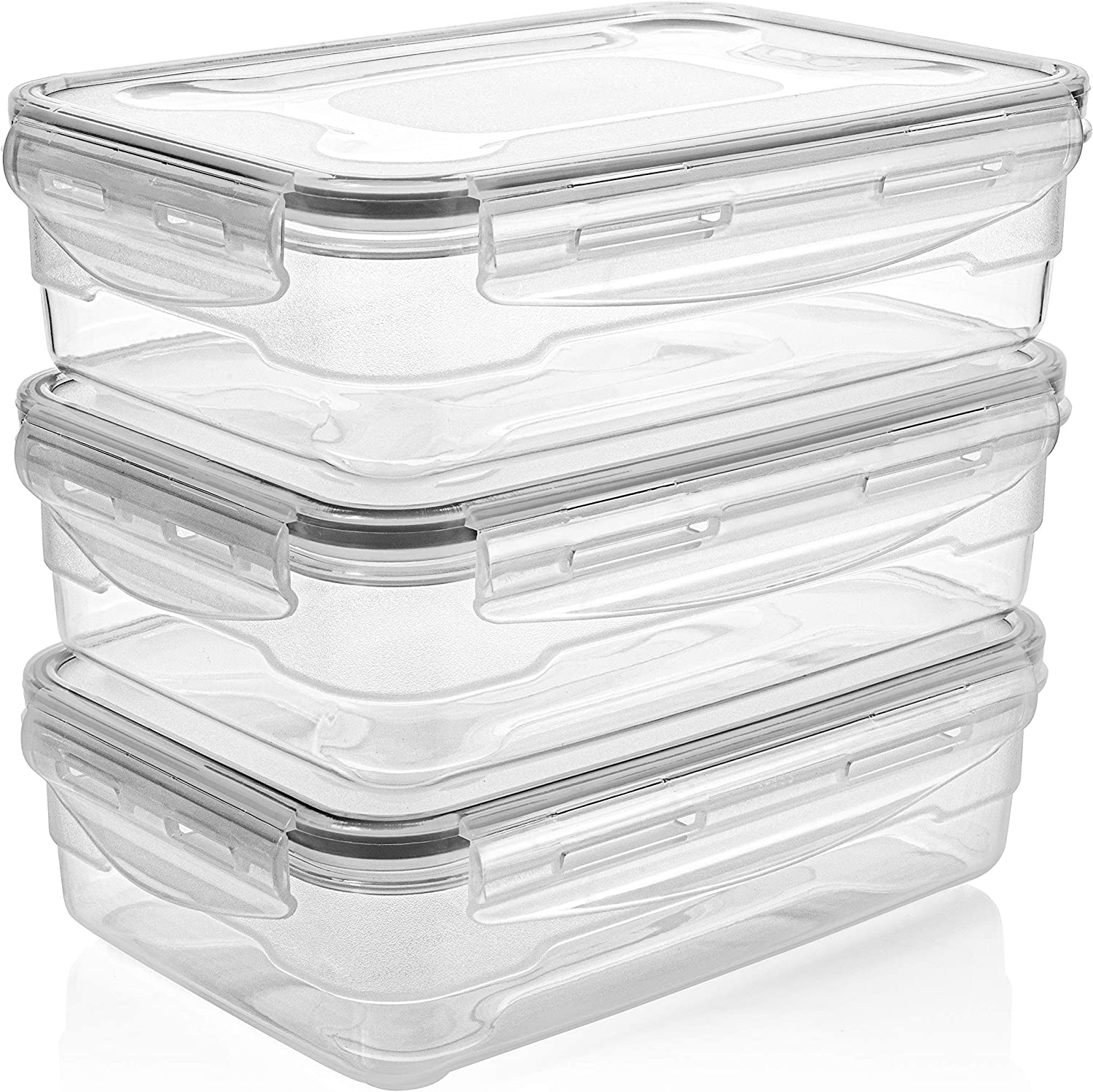 Air-Tight Storage Containers: these air-tight storage containers that help keep food fresh for longer. Use them to store fresh baked goods, cookies, fruit and vegetables, left overs, and more. The silicone lids lock to close to ensure an air tight seal. The stackable, multi-size design makes these containers easy to store. They're perfectly sized for the fridge, freezer, or cupboard.
💡Recipe FAQ
Simply click the plus sign to read more about the questions you see below. If YOU have a question regarding this recipe, please let me know in the comment section.
How long do you leave Pillsbury cinnamon rolls in the oven?
Bake Pillsbury Cinnamon Rolls in a preheated 400° F oven for 13 to 17 minutes or until the rolls are cooked through and slightly brown around the edges.
➡️ Top Recipe Tip
Serve the cream cheese frosting that comes in the package of cinnamon rolls on the side for dipping!
🌟Try these recipes next...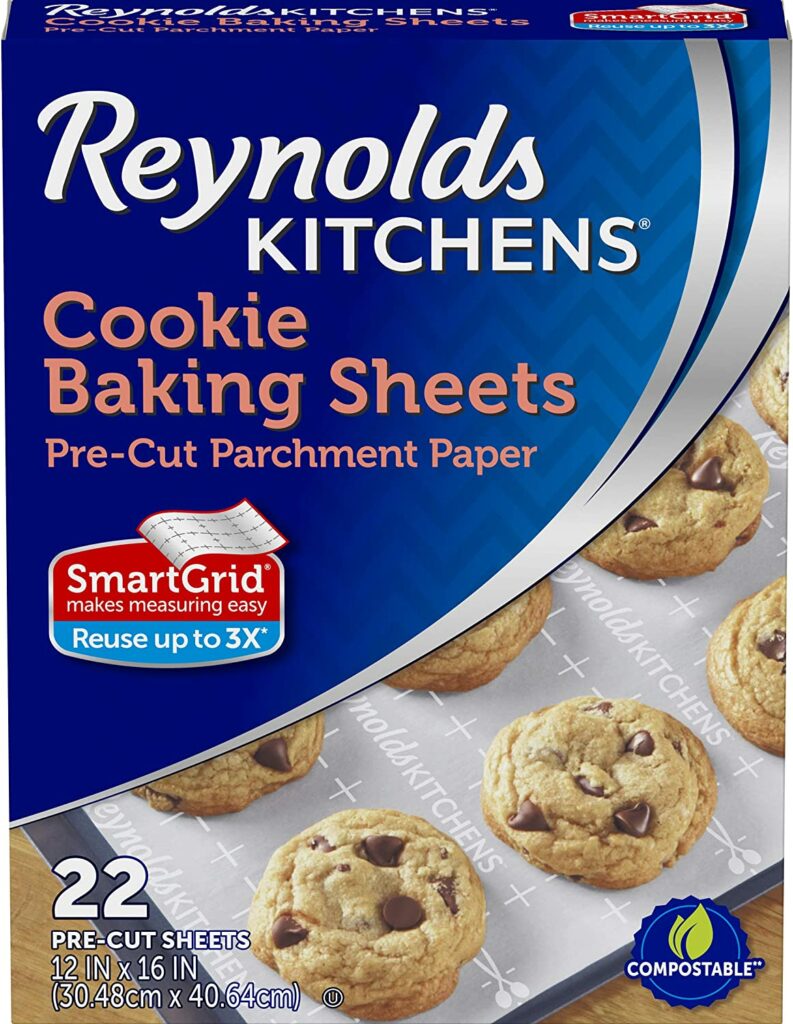 Parchment Baking Sheets: Ensure your cookies are precisely spaced and bake evenly without sticking or breaking. Pre-cut to 12" x 16" sheets, they make your prep, baking and clean-up a breeze. Use them to roll-out dough, line baking sheets, decorate cookies and even wrap your finished creations for a beautiful gift.
📇Recipe Card
Yield: 8 cinnamon rolls
Christmas Tree Cinnamon Rolls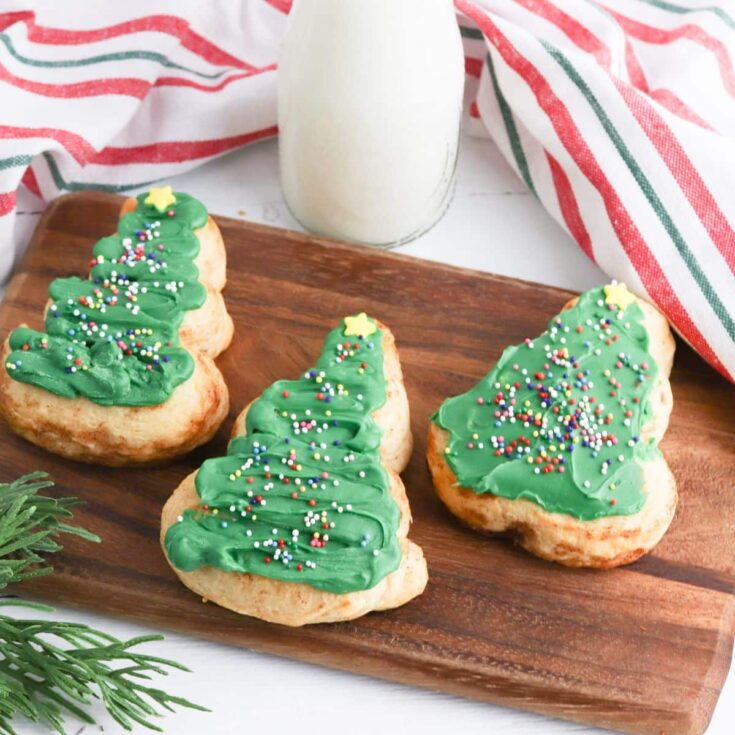 Christmas Tree Cinnamon Rolls made with refrigerator cinnamon rolls, green candy melts and sprinkles. Easy Christmas breakfast idea!
Ingredients
1 (8 count) package cinnamon rolls
⅓ cup green candy melts
rainbow and star sprinkles
Instructions
Preheat the oven to 350°F and line a baking sheet with parchment paper.
Separate all the cinnamon rolls and unroll each of the rolls.
Shape the dough strips into a triangle and place them on the lined baking sheet.
Bake the cinnamon rolls for 12 to 15 minutes, until goldent brown.
Allow the rolls to cool completely, then melt the candy melts according to the package instructions.
Pipe or spread the melted chocolate over the top of the cinnamon rolls.
Top the green chocolate with rainbow sprinkles, and place one star sprinkle on top of the triangle.
Allow the chocolate to cool and harden before serving.
Notes
Serve the cream cheese frosting that comes in the package of cinnamon rolls on the side for dipping!
Nutrition Information:
Yield:
8
Serving Size:
1
Amount Per Serving:
Calories:

76
Total Fat:

1g
Saturated Fat:

0g
Trans Fat:

0g
Unsaturated Fat:

0g
Cholesterol:

0mg
Sodium:

89mg
Carbohydrates:

15g
Fiber:

0g
Sugar:

8g
Protein:

0g
The nutrition information is calculated automatically. I cannot guarantee its accuracy. If this data is important to you, please verify with your trusted nutrition calculator.