Mini Pumpkin Pie in cute fun shape of flowers.Top them off with fresh whipped cream and a sprinkle of cinnamon and sugar for a delicious dessert!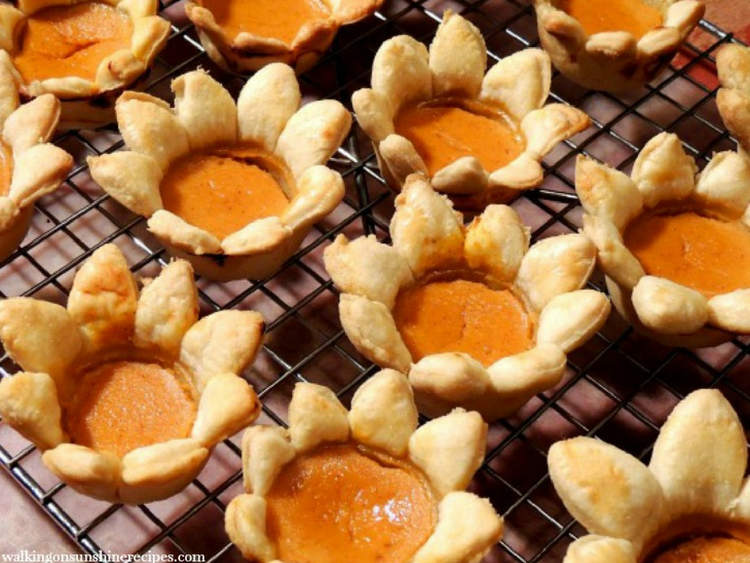 Mini Pumpkin Pie
My all time favorite pie for fall is pumpkin. A few weeks ago I made really cute Mini Pumpkin Pie in the shape of flowers for a women's meeting at church and they looked so nice on the buffet table.
Ever since I was a little girl I have loved Pumpkin Pie. The recipe I use is simple, it's on the back of the can of Libby's Pure Pumpkin.
I never buy the can of pumpkin that has the spices mixed in, I like to add my own in the way of Pumpkin Pie Spice. Make sure you check out my homemade recipe for Pumpkin Pie Spice!
We had a function at our church recently and we all were to bring a fall dessert. I decided to bake my favorite pie but with a twist. I cut the dough into flower shapes. They looked really great with all the other yummy desserts.
Helpful Kitchen Tools
This post contains affiliate links. Check out the Shop My Kitchen section below for more suggestions for you to use that work great with this recipe.
Here is what the Pastry Dough Tart Tamper looks like. You can see how easily it helps push dough into the mini muffin pan for Mini Quiche I made recently. I use this tool a lot for dough recipes.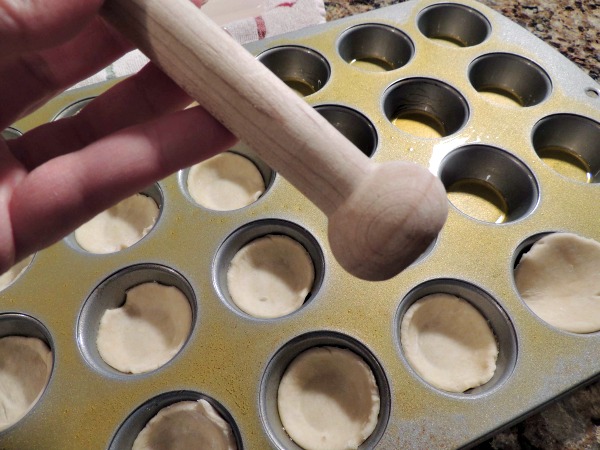 How to Make Mini Pumpkin Pie
Make sure you print out the recipe below and save it for later!
Ingredients:
One can Libby's Pure Pumpkin
Evaporated milk
Sugar
Salt
2 large eggs
1/2 tbsp to 1 tbsp pumpkin pie spice; depending on your taste. This is my favorite spice to add to most Fall-inspired pumpkin recipes.
One recipe of pie dough either homemade or store bought.
How to Make the Pie Crust Flower Shapes
Using a flower shaped cookie cutter, cut out shapes in the pie crust.
You can use a round or biscuit cutter for the shapes as well, the mini pumpkin pie just won't have the cute flower shapes.
Please don't feel as if you have to make homemade pie dough. Store purchased refrigerated pie crust works fine too!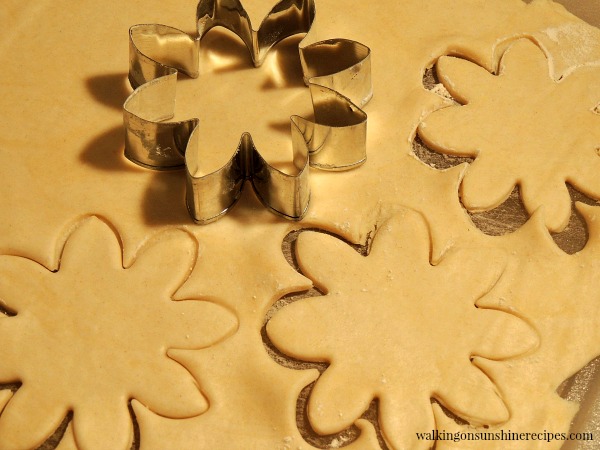 How to Form the Flower Shapes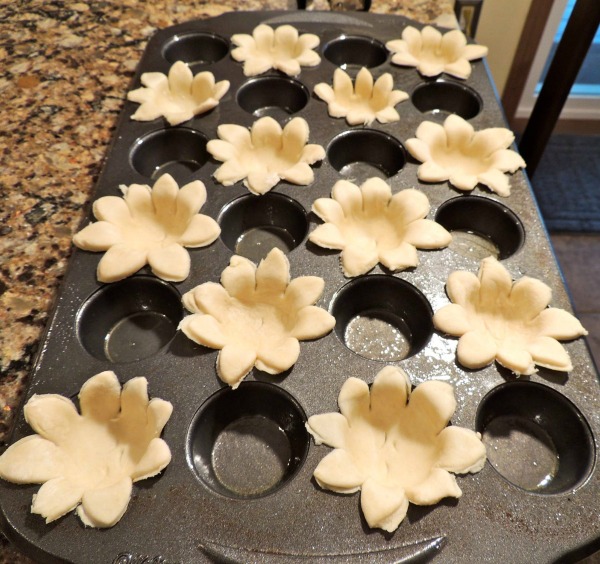 How to Add the Pumpkin Pie Mixture
Use a small cookie scoop to spoon the pumpkin pie mixture into the pie crust.
I love to use my cookie scoops for more than just making cookies!
If you don't have a cookie scoop, you can use a tablespoon size measuring spoon.
Fill the cups to about 2/3 of the way to the top being careful not to overfill. You don't want them to overflow as they bake.

How Long to Bake Mini Pumpkin Pie
Brush the pie crust with an egg wash. You can also sprinkle sugar on the edges of the pie crust if desired.
Bake in a 400 degree preheated oven for about 15 minutes; checking often until a knife inserted in the middle of the pie comes out clean.

How to Serve the Mini Pumpkin Pies
Let cool slightly before removing from the pans.
Top with fresh whipped cream and a sprinkle of cinnamon/sugar before serving.
Refrigerate any leftovers in an air-tight container.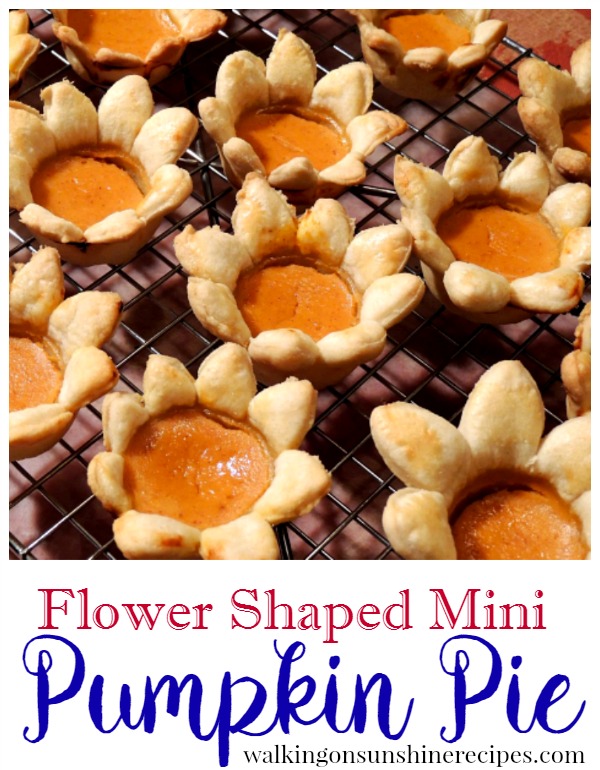 More Delicious Fall Inspired Recipes: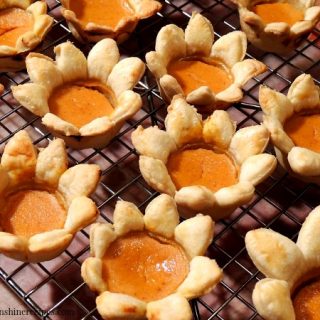 Flower Shaped Mini Pumpkin Pie
Yield: 24 mini size pumpkin pies

Prep Time: 20 minutes

Cook Time: 15 minutes

Total Time: 35 minutes

A fun new twist is to make these flower shaped mini pumpkin pies for your holiday entertaining this year. 
Ingredients
1 15 ounce can Libby's Pure Pumpkin
1 12 ounce can evaporated milk
3/4 cup sugar
1/2 tsp salt
2 large eggs
1/2 tbsp to 1 tbsp pumpkin pie spice; depending on your taste.
One recipe of pie dough either homemade or store bought.
Instructions
Beat the eggs in a large mixing bowl.

Add the pumpkin, sugar and pumpkin pie spice; combine well.

Add the evaporated milk and combine.

Set aside and prepare your dough.

On a floured surface, roll out the pie dough.

Using a "flower" shaped cookie cutter, cut out shapes and place in the well of muffin pan that has been sprayed with non-stick
cooking spray.

Make sure you spray the top of the muffin pan as well.

Using the special tamper tool helps get the pie dough into the well of the muffin pan.

Spread out the flower tips so they lay flat on top of the muffin pan.

Using a small cookie scoop, fill up each muffin well about 2/3 of the way full.

Brush the edges of the dough with an egg wash before baking.

Bake in a 400 degree oven for 15 minutes; checking after 10 minutes.

Let cool slightly in the muffin tins before removing to a baking rack to cool.

Right before serving, add freshly whipped cream and a sprinkle of cinnamon/sugar to the tops of each mini pie.




Notes
Since these are small pies, they bake much quicker than a full sized pie.
Oven temperatures vary so check them to make sure the crust isn't getting too brown.
The mini pumpkin pies are done when you can insert a knife in the center and it comes out clean
The pie crust should be golden brown.
Recommended Products
As an Amazon Associate and member of other affiliate programs, I earn from qualifying purchases.
Nutrition Information:
Yield: 24 Serving Size: 1
Amount Per Serving: Calories: 98Total Fat: 4gSaturated Fat: 2gTrans Fat: 0gUnsaturated Fat: 2gCholesterol: 20mgSodium: 110mgCarbohydrates: 14gFiber: 0gSugar: 8gProtein: 2g

The nutrition information is calculated automatically. I cannot guarantee its accuracy. If this data is important to you, please verify with your trusted nutrition calculator.