On Christmas morning, there's nothing better than sipping delicious non-alcoholic breakfast drinks as you enjoy time celebrating a big breakfast with your family.
Whether it's a hot cup of coffee or tea or a glass of freshly-squeezed juice, there are plenty of options for those looking for something festive and flavorful to serve this holiday season.
Check out all the other Christmas Breakfast Recipes for even more delicious ideas for a holiday celebration.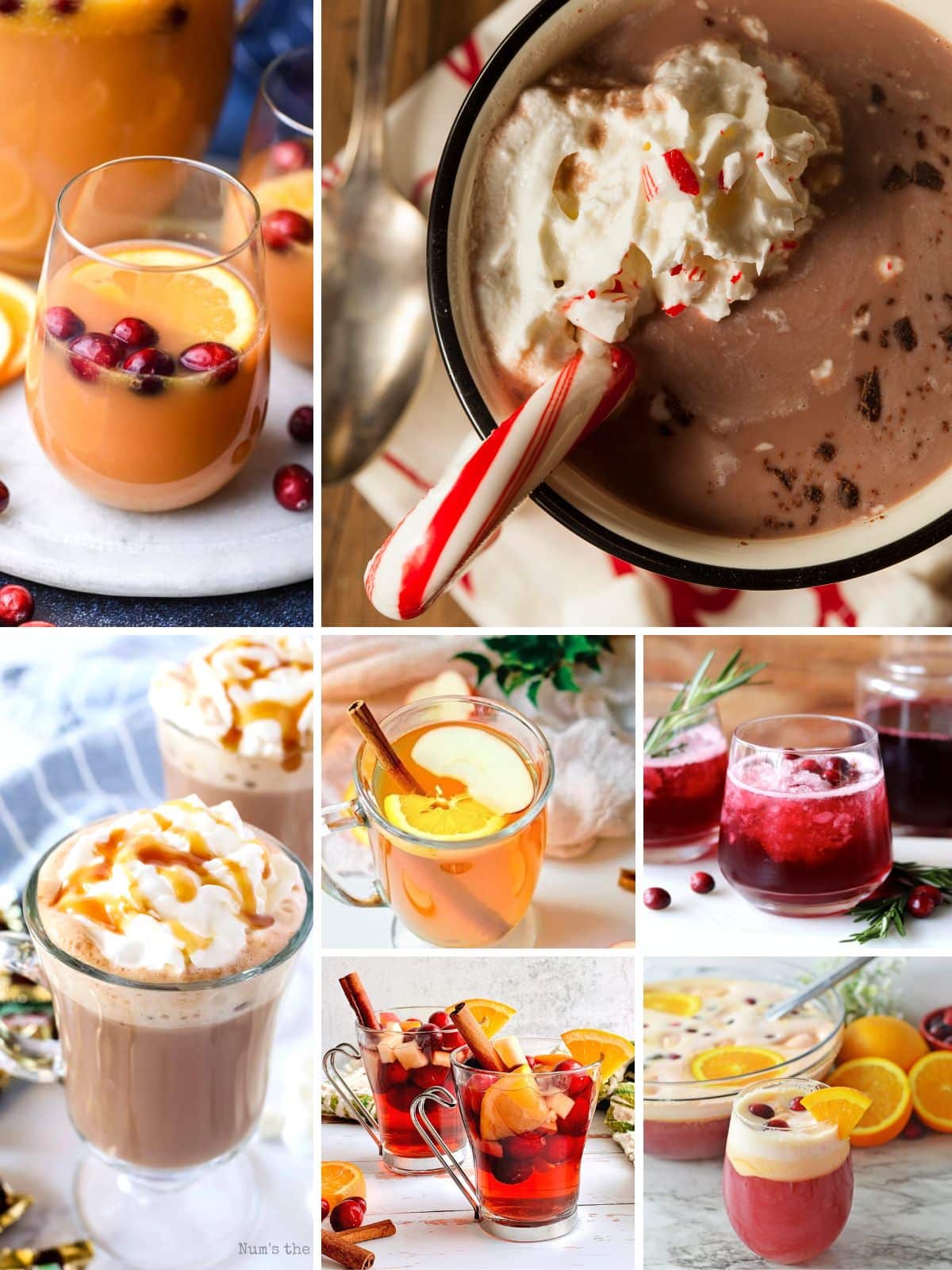 Having a Christmas brunch can be an exciting way to spend time with family and friends during the holidays. While some people prefer to have alcoholic beverages at holiday gatherings, there are many delicious non-alcoholic drinks the whole family can enjoy.
Whatever beverages you choose, make sure they reflect the overall theme of your menu. You want them to compliment each other and provide balance - too much sweetness can quickly become overwhelming!
With careful planning and attention to detail, though, you're sure to find a combination of beverages that everyone will enjoy.
Looking for more holiday breakfast ideas to serve for the holidays? Try my French Toast Cinnamon Rolls, Easy Cinnamon Roll Breakfast Casserole or my Cinnamon Roll Casserole without Eggs...yum!
Table of Contents
What non-alcoholic drinks to serve at a brunch?
Hosting a holiday brunch is a great way to bring friends and family together to enjoy some delicious food and drinks. When deciding what non-alcoholic drinks to serve, you'll want to make sure that your guests are provided with some unique options and delicious flavors.
The first thing to consider is the audience. If there will be young children present, then you may want to stick with juices, sodas and smoothies as these will more likely appeal to them:
Hot chocolate is also an easy crowd pleaser; especially for the kids! Make sure you have marshmallows, candy canes or whipped cream to make it extra special.
Consider serving cinnamon spiced apple cider for a touch of sweetness, and sparkling spritzes for those wanting something bubbly.
One of the most popular juices to serve during the holidays is cranberry juice. Not only is it full of antioxidants, but its vibrant red color gives it an extra special holiday look. Add sparkling water and a few slices of lime and you've got yourself a delicious and unique mocktail that everyone can enjoy.
What are the 3 types of non-alcoholic beverages?
Non-alcoholic beverages have become an important part of modern life as people look for alternatives to alcoholic beverages that still provide enjoyable experiences with added benefits such as improved nutrition or simply just something new to try!
Soft drinks offer the classic fizzy flavor that is loved by all ages; juices provide essential vitamins; while smoothies offer an easy way to pack in some extra nutrients without compromising taste.
Juices are another type of non-alcoholic beverage that has become increasingly popular in recent years due to the range of health benefits associated with them. Juices come from fruits or vegetables and can be made at home using a juicer or purchased pre-made at most supermarkets.
Herbal Teas are made from herbs, spices, fruits, flowers, leaves, or roots that have been steeped in hot water to create an infusion. These drinks contain no caffeine or sugar, making them a healthy option when compared to caffeinated beverages such as coffee or energy drinks.
Try my Homemade Peach Iced Tea recipe or my Basil Sparkling Water!
🛒Helpful Kitchen Tools
This post contains affiliate links. That means that if you make a purchase after clicking on a link I may earn a small commission at no extra cost to you. For more information, click here.
Heavyweight Clear Plastic 2 Gallon Punch Bowl with Plastic Serving Ladle
Rose Gold Plastic Cups
Christmas Napkins
📋Featured Recipe Collection
⭐Before You Begin! If you make any of these recipes, please leave a review and star rating. This helps my business thrive and continue providing FREE recipes.
Non Alcoholic Breakfast Drinks