If you're looking for delicious and Easy Christmas Breakfast Recipes, you've come to the right place! Whether you're making breakfast for your full extended family or just a few special people, there are plenty of holiday-inspired recipes that will make everyone's morning merry and bright.
From classic egg casseroles and French toast, these easy breakfast ideas are sure to bring some festive flavor to your holiday table.
Check out all the other Christmas Breakfast Recipes for even more delicious ideas for a holiday celebration.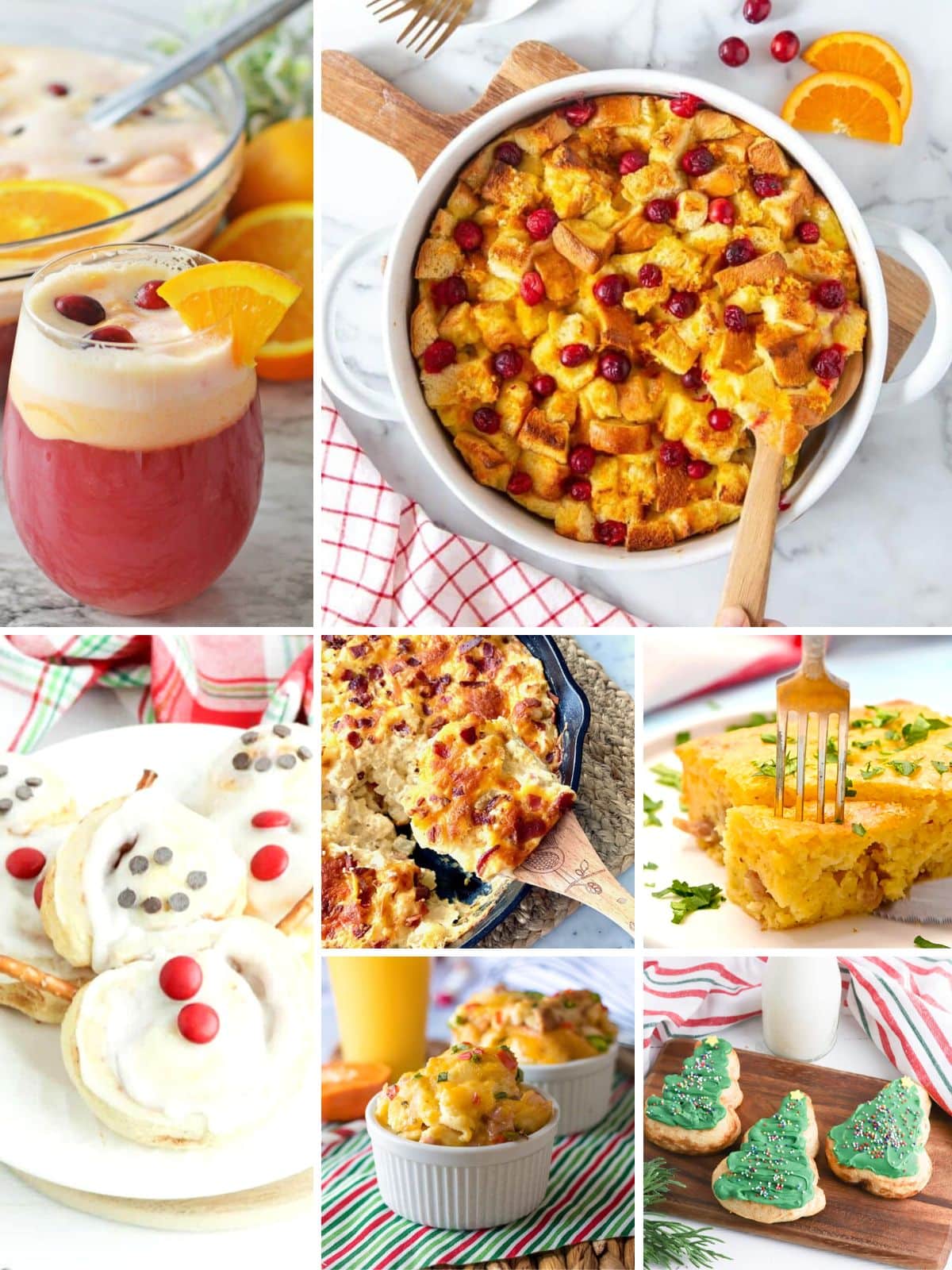 With the holiday season in full swing, it's time to start thinking about what to make for your family on Christmas morning. The last few years I keep it simple and make either Classic French Toast or homemade pancakes using my Bulk Pancake Mix.
Take advantage of all those holiday leftover ham or turkey by whipping up a tasty Spinach Bacon Cheese Frittata! Serve warm alongside Sausage Cinnamon Rolls for an amazing holiday breakfast experience.
No matter what type of easy Christmas breakfast recipe you decide on this year, one thing is certain: these dishes are sure to bring cheer to any holiday gathering!
Table of Contents
Looking for more breakfast ideas to serve for the holidays? Try my French Toast Cinnamon Rolls, Easy Cinnamon Roll Breakfast Casserole or my Cinnamon Roll Casserole without Eggs...yum!
Make ahead Christmas breakfast
Christmas morning can be a hectic time in any household, but with some smart make ahead breakfast recipes you can ensure that your family has a delicious and stress-free holiday.
Making breakfast ahead of time can help to save time on Christmas morning and allows everyone to enjoy the meal without having to worry about spending too much time in the kitchen.
Overnight French Toast Casserole is one of the simplest and most delicious recipes out there. On Christmas morning all you have to do is preheat the oven and bake for 30 minutes while you're opening gifts.
If you're looking for something a bit more unique try Scrambled Egg Breakfast Muffins. You can easily prep them ahead, freeze and defrost on Christmas morning.
What to make with cinnamon rolls for breakfast?
Cinnamon rolls are a sweet and tasty treat that can be enjoyed any time of day, but they make a particularly delicious breakfast option. However, when it comes to this classic morning favorite, the rolls themselves are only the beginning.
The key to an unforgettable Christmas breakfast is in the accompaniments: what you serve alongside your cinnamon rolls should both complement and complete the meal.
A light fruit salad is always a wonderful addition to any sweet breakfast treat. Depending on the season, you could use fresh strawberries, blueberries, blackberries and kiwi for a colorful mix of flavors and textures.
You should also consider making scrambled eggs. Scrambled eggs provide an easy-to-make protein source. Don't forget to make bacon or sausage as well!
And finally, another popular choice is Breakfast Parfait of yogurt topped with granola or fresh berries.
🛒Helpful Kitchen Tools
This post contains affiliate links. That means that if you make a purchase after clicking on a link I may earn a small commission at no extra cost to you. For more information, click here.
Double Decker Insulated Casserole Carrier for Hot or Cold Food
Ceramic Baking Dish Set, 3pc
SYRUP Dispenser Jar
Farmhouse Butter Dish with Lid
Shortcuts to a Magical Holiday BreakfastMore Information
📋Featured Recipe Collection
⭐Before You Begin! If you make any of these recipes, please leave a review and star rating. This helps my business thrive and continue providing FREE recipes.
Easy Christmas Breakfast Recipes
Included in this collection of 16 Easy Christmas Breakfast Recipes are casseroles, muffins, cinnamon rolls and a non-alcoholic punch recipe!
Shortcuts to a Magical Holiday BreakfastMore Information