Summer is the perfect time to fire up the grill and enjoy a good old-fashioned barbeuce with your family and friends. But what should you serve? Here are a few traditional 4th of July Foods and menu ideas to get you started.
Check out the full list of 4th of July Foods for more desserts, appetizers and meal ideas and grab your FREE printable menu as well.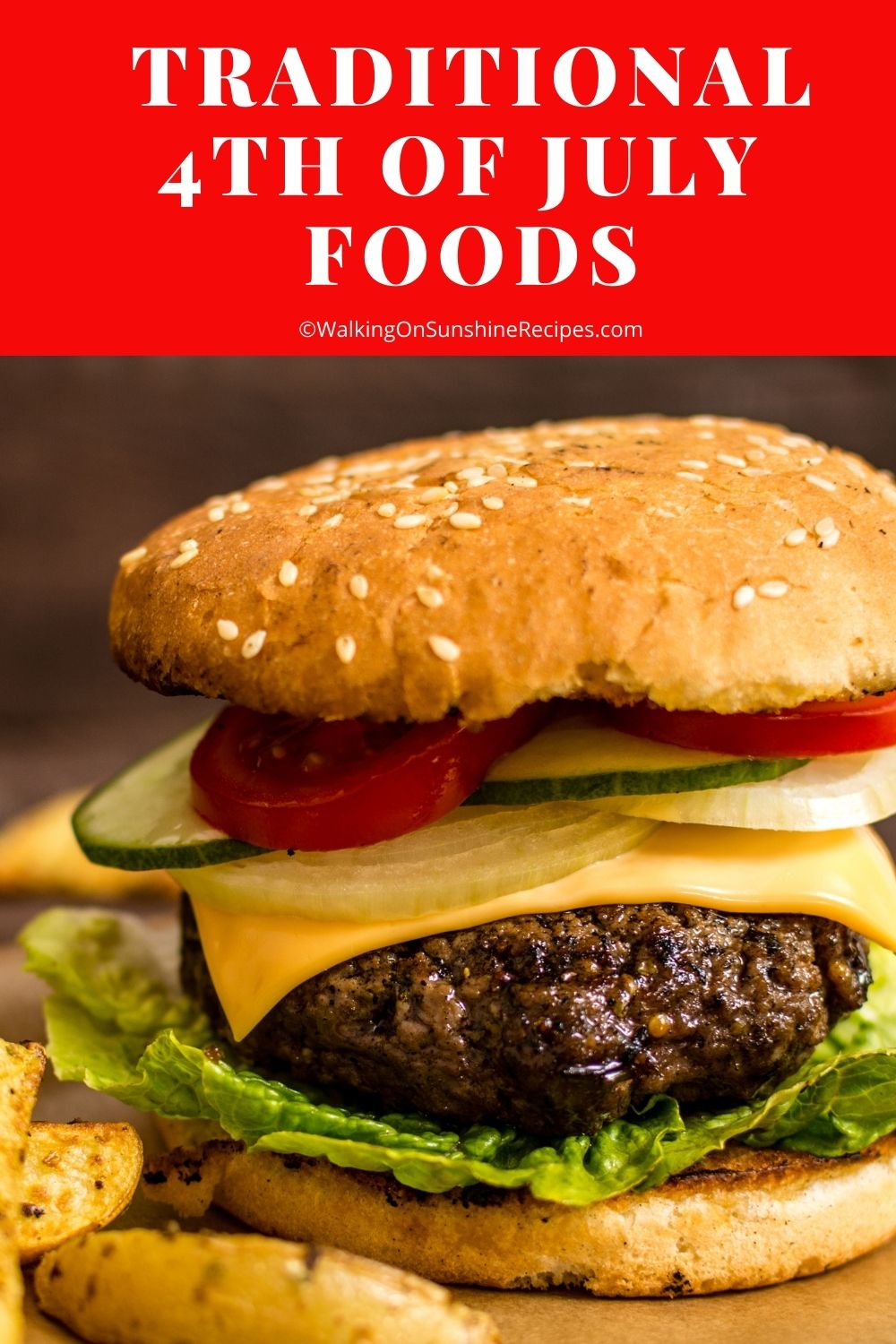 When planning a menu for the 4th of July, it's important to choose dishes that will please a crowd. American classics like burgers and hot dogs are always popular, but if you're looking for something a little different, try grilling up some chicken or steak.
For sides, potato salad and coleslaw are always welcome, but don't forget the watermelon! Whatever you decide to serve, just remember to keep your guests' appetites in mind when planning your menu.
Make sure you enlist the help of family and friends as well. They can bring a few of the sides, chips or even bottles of water.
Keep in mind your guests and family's dietary needs and restrictions. Don't forget to include family favorites, too! If you'll be celebrating outside, choose foods that will work well in the heat or plan for ice and refrigeration needs, if possible.
Looking for more Patriotic Recipes? Try my 4th of July Appetizers, July 4th Side Dishes or my Red Velvet 4th of July Cake.
Now, let's get to the fun part of planning an Independence Day Menu...and that's choosing Traditional 4th of July Foods. Here are a few delicious choices that will help make your party a huge success.
Appetizers
4th of July is a time to get together with family and friends, enjoy the warm weather, and celebrate our country's independence. If you're hosting a 4th of July party, you'll want to serve some festive appetizers that will get your guests in the patriotic spirit.
A classic 4th of July dish is deviled eggs. You can make them even more festive by adding some blueberries or raspberries to the mixture. Another option is to make some patriotic parfaits by layering red berries, white yogurt, and blueberries in clear plastic cups.
Whatever appetizers you choose to serve, your guests are sure to enjoy celebrating with delicious food!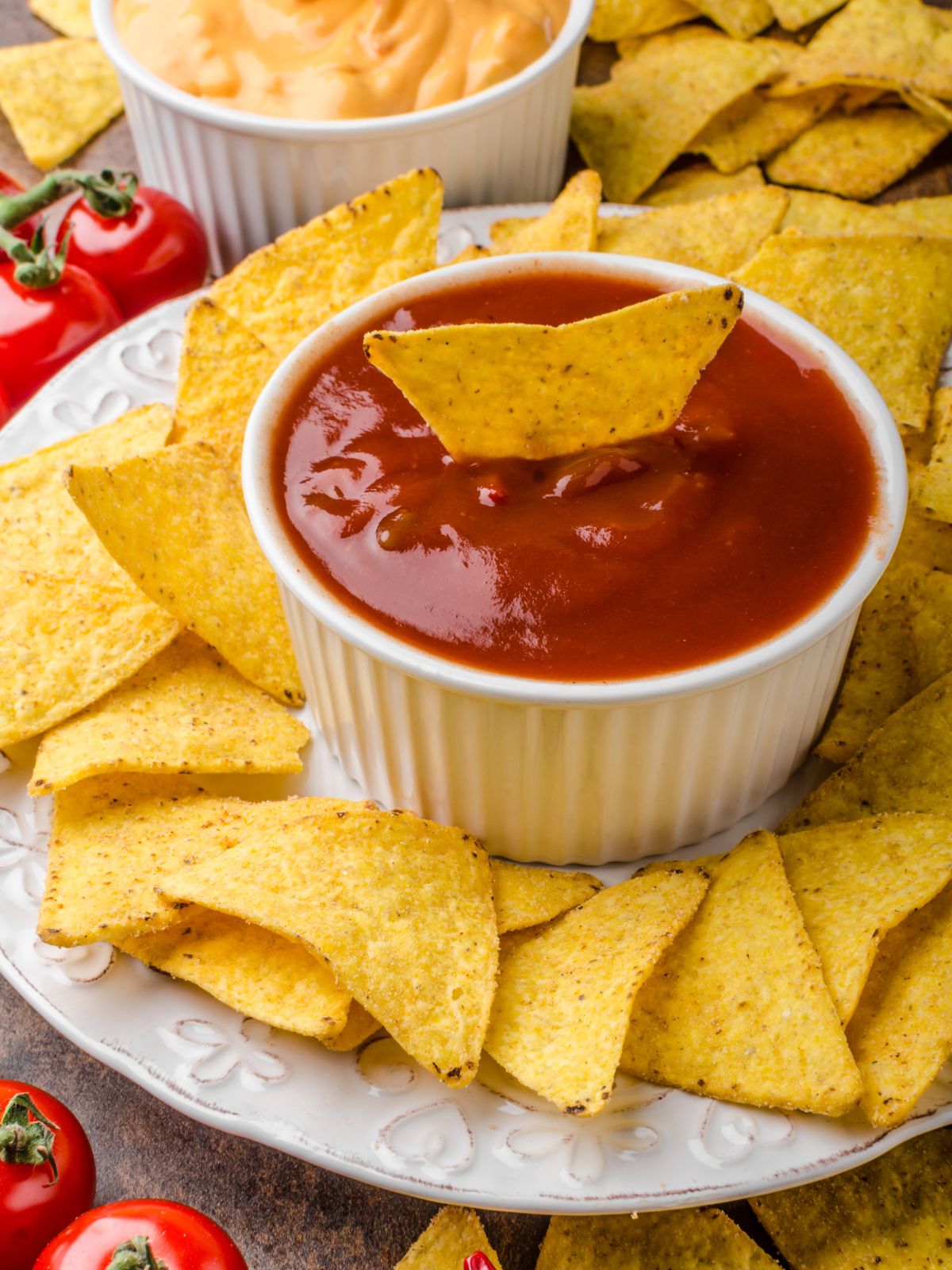 Beverages
When planning your menu, be sure to include a variety of non-alcoholic beverages to keep your guests refreshed and hydrated. A refreshing pitcher of Homemade Peach Iced Tea and Strawberry Lemonade Punch is always a welcome sight on a hot summer day.
For something a little bit different, try making a fruit punch with fresh berries and oranges. It's always a great idea to have cold bottled water or sparkling water on hand, too.
Unfortunately, the hot summer weather can present some hazards when it comes to eating and drinking. One of the biggest risks is dehydration. When it's hot outside, your body loses water more quickly and it can be difficult to replace fluids.
So if you're planning on celebrating with a cold beer or cocktail, it might be better to drink plenty of water and take frequent breaks in the shade to stay safe and healthy.
Side Dishes
There are many delicious side dishes that can add to the holiday spirit. One option is a patriotic pasta salad, which can be made with red, white, and blue noodles.
Another 4th of July favorite is a classic barbecue, which can be served with a variety of side dishes such as baked beans, corn on the cob, and potato salad. For those who prefer something sweet, watermelon is always a popular choice.
For a traditional 4th of July feast, consider serving potato salad, coleslaw, and corn on the cob are all great choices.
Main Course
Although having steak for a family summer gathering might be a little pricey, you can't really beat throwing a few steaks on the grill to serve to your friends. Make sure you check out his homemade seasoning salt that I use to help grill the best steak. 
4th of July is the perfect time to fire up the grill and enjoy some delicious barbecue. If you're looking for some 4th of July food ideas, look no further than these mouth-watering main dishes. For a classic 4th of July barbecue, try grilling up some hamburgers or hot dogs. For something a little more unique, try BBQ chicken or ribs. And for the vegetarians in your group, grilled vegetables are always a hit. No matter what you choose to grill, your 4th of July barbecue is sure to be a hit with these delicious main dish ideas.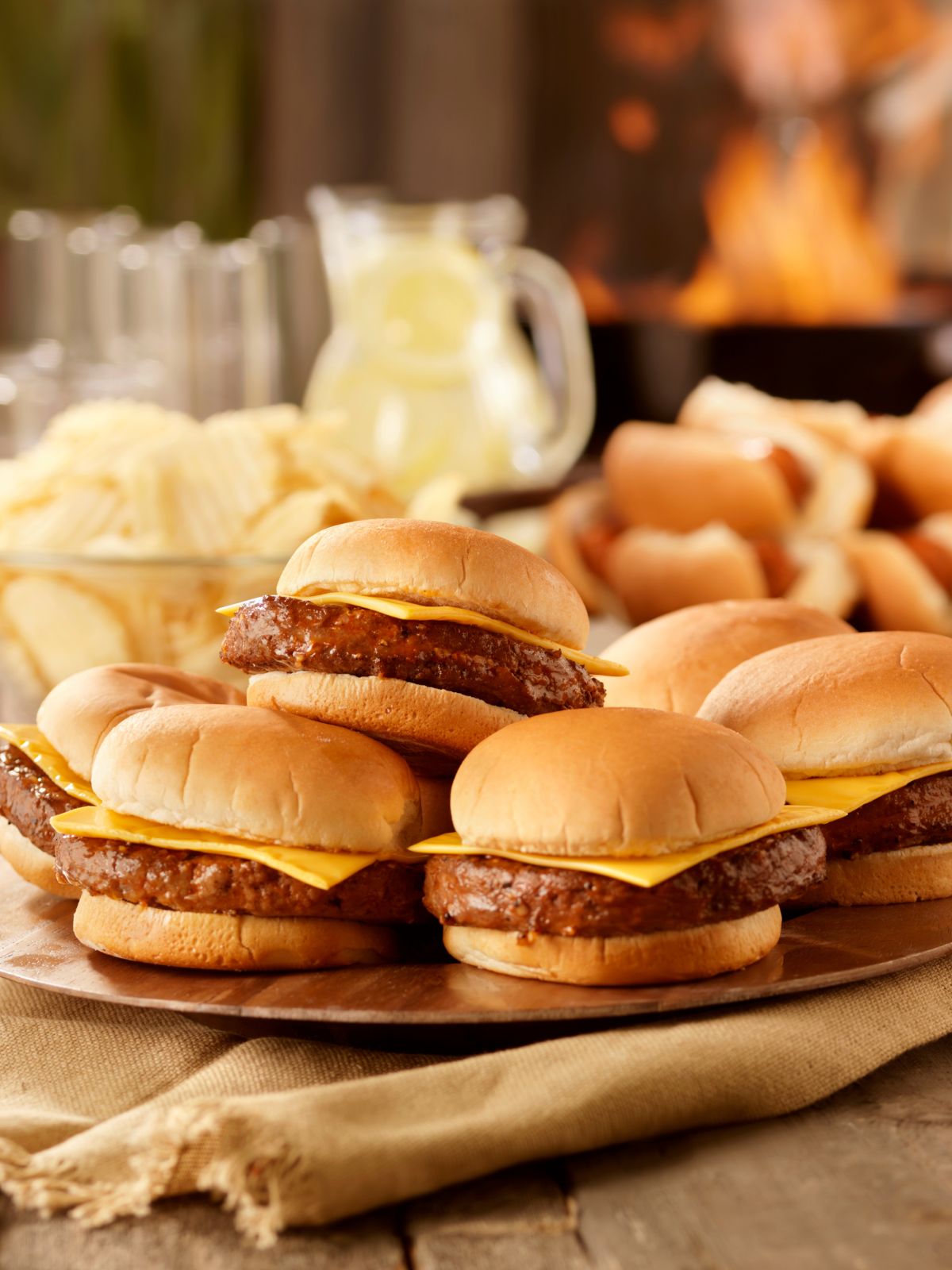 Red, White and Blue Desserts
And of course, no 4th of July celebration would be complete without some patriotic desserts. Red, white, and blueberry pies are always a hit, or you could try making some star-shaped cookies or cupcakes.
My family loves these No Bake Cheesecake Pudding Parfaits. I like layering strawberries and blueberries for the added red, white and blue colors. If you prefer a parfait that has cake in it, try my recipe for Berry Trifle.
You can't really go wrong with preparing a Flag Fruit Pizza to celebrated the Fourth of July. This recipe is one I made a few years ago that uses a simple refrigerator sugar cookie dough as the crust topped with flavored cream cheese and berries.
Patriotic Table Setting
Have fun planning your menu and getting creative with the Independence Day theme! You can take it further by showing off all your delicious food with red and blue plates, cups and napkins.
Decorate your tables with patriotic tablecloths and centerpieces like this inexpensive Patriotic Mason Jar Centerpiece I put together a few years ago.
Don't forget the sparklers to end the day on a festive note and to celebrate the occasion!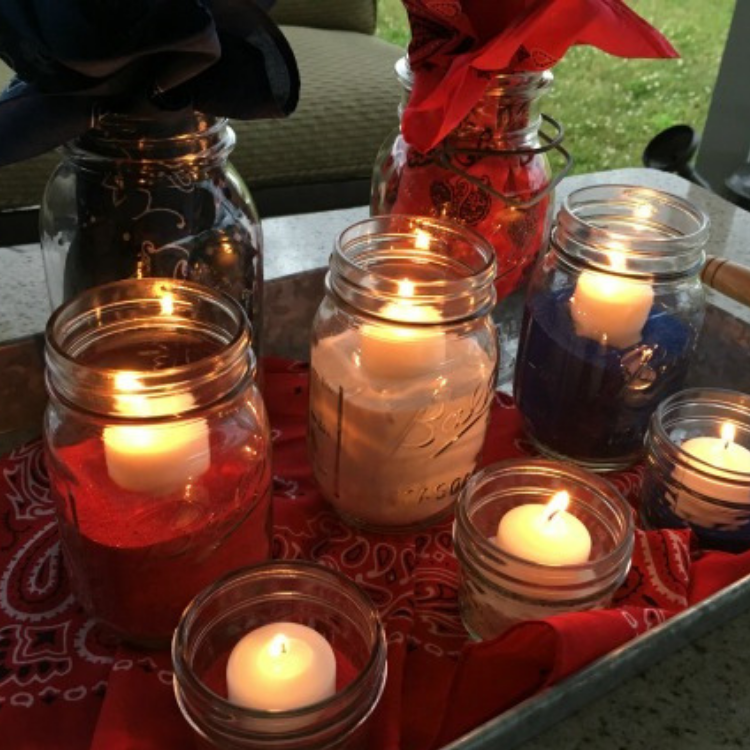 Traditional 4th of July Foods
Traditional 4th of July Foods -Plan your menu with these delicious, colorful patriotic foods featured today! FREE Printable Menu included.
This recipe has been updated since it first appeared in 2019 with new photos, information and a new printable recipe card that includes nutritional information. I hope you enjoy the updates as much as I enjoyed working on them!