Planning an Independence Day Menu doesn't have to be difficult! If you're hosting a summer party, wow your guests and family with a spectacular menu of delicious and colorful Traditional 4th of July Foods.
Here are a few ideas along with tips to help you plan out your menu. Make sure you grab your FREE printable menu as well.
Start with the major groups of menu items: appetizers, main course, sides, desserts and beverages. Start planning in advance so that if you need to cater or outsource some items or enlist the help of family and friends, you'll have the details planned and written down.
Here are some general ideas for each category. Keep in mind your guests and family's dietary needs and restrictions. Don't forget to include family favorites, too! If you'll be celebrating outside, choose foods that will work well in the heat or plan for ice and refrigeration needs, if possible.
Maybe you want to include a few diet-friendly recipes for your summer menus? Check out my 4th of July Healthy Food Ideas and recipes. And for dessert, why not try July 4th Cupcakes using these free cupcake toppers and wrappers?
Now, let's get to the fun part of planning an Independence Day Menu...and that's choosing Traditional 4th of July Foods. Here are a few delicious choices that will help make your party a huge success.
Appetizers
4th of July Appetizers are fun because you can get creative with the red, white and blue theme. You might prefer these fun Caprese Antipasto Skewers. Yes, I know they're not quite red, white and blue, but they're always delicious to serve for parties! 
Side Dishes
July 4th Side Dishes should always include a few different options. Consider cold pasta salads (without mayo, just to be on the safe side) like my recipe for creamy pasta salad that you can make ahead and refrigerate overnight. It's always easy to prepare a simple traditional garden salad, too.
However, if your family is like mine, you can't have a summer celebration without a plate of classic deviled eggs. My cousin, Marianne, makes the best deviled eggs. This recipe is very, very close to hers.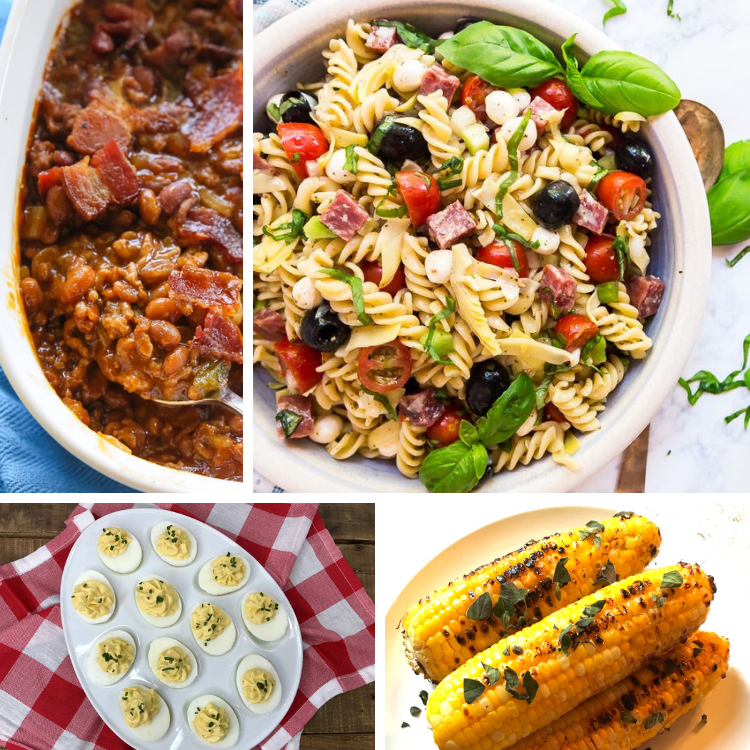 Main Course
Although having steak for a family summer gathering might be a little pricey, you can't really beat throwing a few steaks on the grill to serve to your friends. Make sure you check out his homemade seasoning salt that I use to help grill the best steak.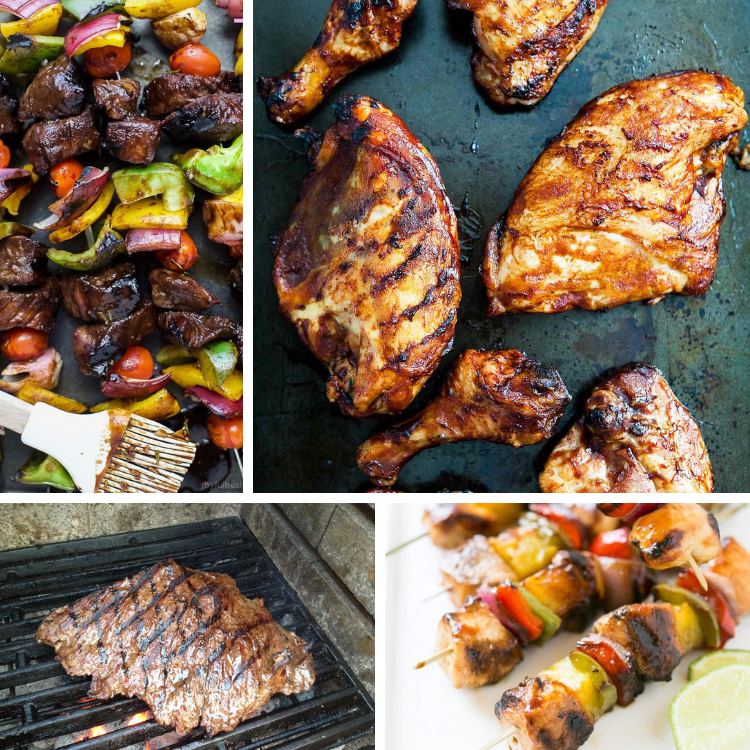 Red, White and Blue Desserts
My family loves these No Bake Cheesecake Pudding Parfaits. I like layering strawberries and blueberries especially around the July 4th holiday for the added red, white and blue colors. If you prefer a parfait that has cake in it, try my latest recipe for Berry Trifle. It's so yummy!
You can't really go wrong with preparing a Flag Fruit Pizza to celebrated the Fourth of July. This recipe is one I made a few years ago that uses a simple refrigerator sugar cookie dough as the crust topped with flavored cream cheese and berries.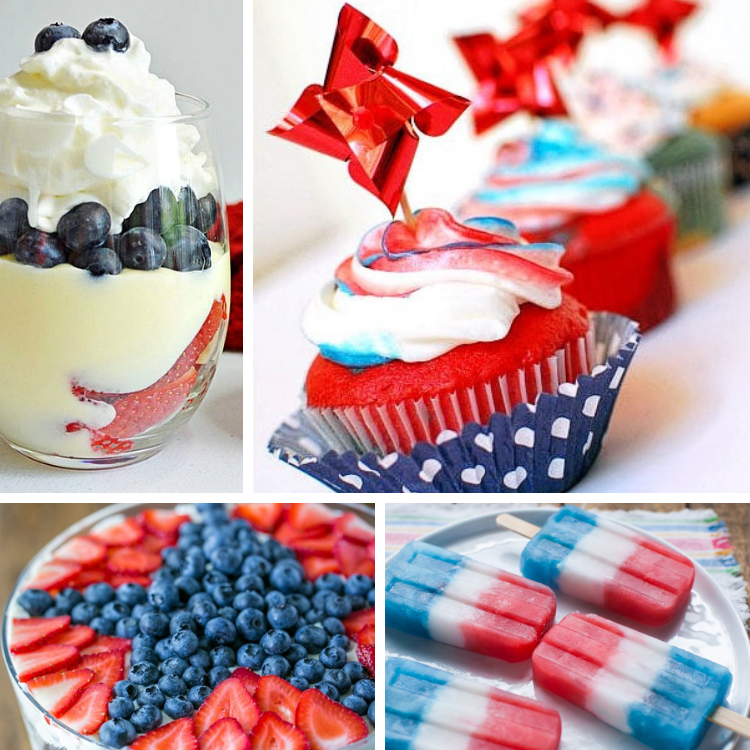 Beverages
Lemon Basil Mint Spritzer, Homemade Peach Iced Tea and Strawberry Lemonade Punch are all delicious beverage recipes to make for any celebration. It's always a great idea to have some cold bottled water or sparkling water on hand, too.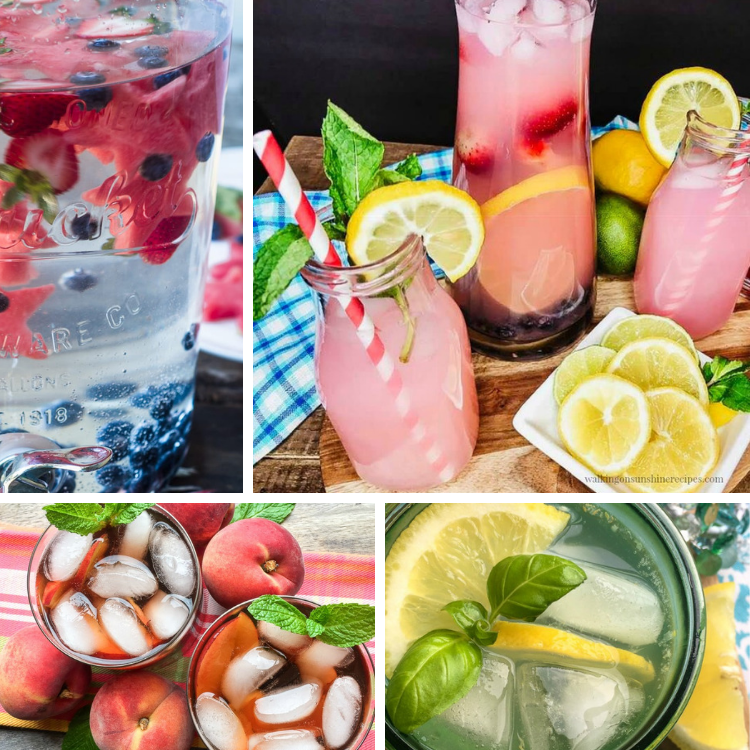 Patriotic Table Setting
Have fun planning your menu and getting creative with the Independence Day theme! You can take it further by showing off all your delicious food with red and blue plates, cups and napkins.
Decorate your tables with patriotic tablecloths and centerpieces like this inexpensive Patriotic Mason Jar Centerpiece I put together a few years ago.
Don't forget the sparklers to end the day on a festive note and to celebrate the occasion!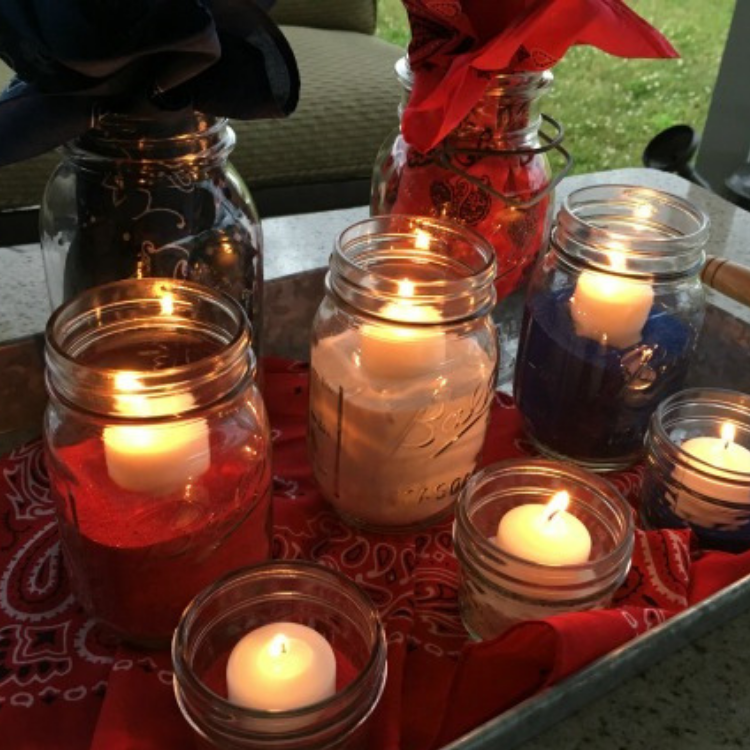 Traditional 4th of July Foods
Traditional 4th of July Foods -Plan your menu with these delicious, colorful patriotic foods featured today! FREE Printable Menu included.