I know I sure missed you!
Life has been interesting these past 2 weeks.
Christmas was wonderful.
BUSY,
but wonderful.
And of course the Colonel left the day after Christmas.
Here's a picture of him at the airport after 
I dropped him off at 5:00 in the morning!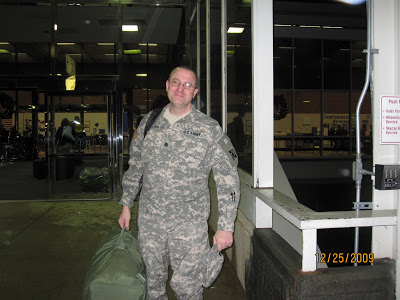 I  needed a little break after saying good bye.
I know you all understand.
He arrived in Afghanistan last weekend 
and we've been able to connect on the computer a few times. 
He's adjusting to his surroundings.
We're adjusting to living without him.
It's going to be a LONG year. 
Enjoy your weekend!