I hope everyone had a FABULOUS Mother's Day!
Here at Walking on Sunshine it was quite interesting.
I spent 3 hours yesterday morning sitting in this chair…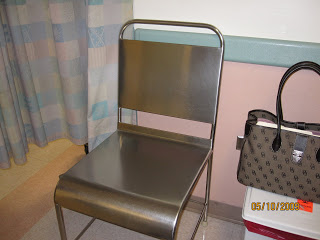 Last year I spent the day in the hospital with my father. This year it was with the Colonel. Yes, the Colonel came home Saturday evening from Texas with a lovely infection in his knee. He did manage to keep it hidden from me until 30 minutes before we were to leave for church. He even made his fabulous crepes for breakfast for all of us. Then I noticed…
The LIMP…
He then showed me his knee and said, "It'll be better in a day or two." I immediately said, "NO, something is wrong." So instead of sitting in church, we sat in the Emergency Room
for 3 hours waiting for a doctor to come and look at his knee.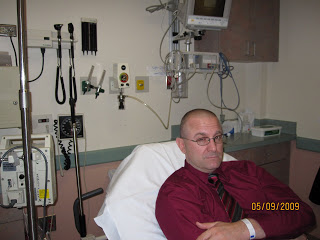 Don't worry, I won't show you a picture of his knee! Let's just say it was twice the size of his other knee and quite red. These are the instruments they used to make sure there were no abscesses inside. They "kindly" numbed his knee before using a scalpel! It was quite painful he said and now in addition of having to deal with the pain from an infection in his knee, he is dealing with the pain of being stabbed in his knee.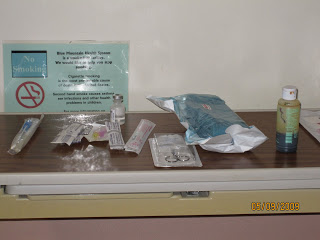 After we returned home from the hospital, the Colonel rested awhile and the kids gave me their presents. A beautiful charm for my charm bracelet from Olivia and a set of soap and lotion from Bath and Body Works from Michael. We then went to dinner, which was very nice. The Colonel even gave me a gift, but I'm still trying to learn how to use it before I tell you what it is! I hope you all had a wonderful day! I have a few new followers, so I'm off to check out their blogs and spend some time with the rest of you! Enjoy your day!