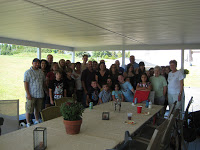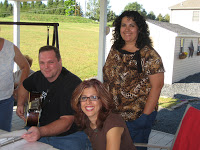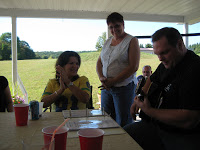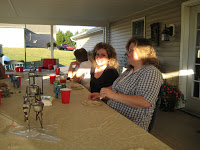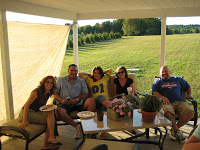 Did you all have a nice holiday weekend? We did here at the Christensen home! We had 35 people over on Monday for a barbecue which turned out very nice. The weather was perfect, a little sunny towards late afternoon as the sun came around, but the Colonel came to the rescue and made a make-shift curtain to block out most of the sun.
On the menu was…ribs, flank steak, hot dogs, hamburgers, scalloped potatoes, baked beans, Chinese salad, tossed salad and even scallops. Now I don't eat fish, don't cook, don't like the smell of it, etc. But my hubby wanted some so we researched how best to cook them and they came out pretty good…so I'm told! We also had tons of snacks…the favorite was fried green beans!
Our friend Jonathan brought his guitar and we spent some time singing on the back porch. Phil brought home with him 3 pieces of plywood and set them up on top of our regular table we keep on the porch and a folding table and even two saw horses…doesn't sound too good?? Well, of course, I had to get some nice tablecloths out and we were able to sit all adults down this very long table that went from end of the porch to the other. I told Phil it would be perfect for Thanksgiving!
We really had a wonderful time and I hope you all were able to spend some time together with friends and family enjoying the last summer holiday of the year. I finally got around to taking some pictures of my mom's house…come back in a few days! Enjoy the pictures!