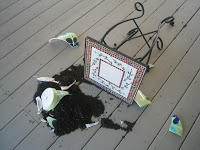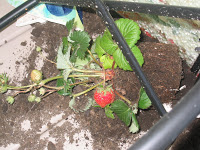 Yes, sometimes I think I live in Kansas rather than good old Pennsylvania. The wind here is something you don't want to mess with! When we were looking for furniture for our deck last year we searched high and low to find a set that was heavy. Why, you may ask? Because of the wind that comes across our back yard and over our deck!
Around two weeks ago we had a terrible storm: rain, thunder, lightening, and, of course, WIND. The wind blew one of our heavy lounge chairs completely off the deck into the garden. It even blew our new gas grill to the other side of the deck! Thank God it did not go off the deck. I need to mention that we needed to buy a new grill because the old one was blown so many times off the deck it no longer could stand up properly. I have this cute mosaic tile table that was next to the lounge chair, yes, that also went flying off the deck.
On top of that cute mosaic tile table was my strawberry plant. Two weeks ago, it also went flying off the deck into the garden below. The heavy clay pot that it was planted in broke into pieces. So, I repotted it again into another really pretty heavy pot and put it back on top of the that cute mosaic tile table. The plant actually had quite a few strawberries coming in nicely. One was even turning red! I was so excited! Fresh strawberries!
Well, last night I was up late. I had this file due first thing in the morning and usually I get up pretty early and start working, but, for some reason last night I wanted to finish up before bed. Around 11:30, I heard this noise that sounded like a freight train was running across our property. And then I heard a loud bang. I ran to the deck door and put on the outside lights only to see three of our chairs completely blown off the deck. But, that wasn't the worse. My cute little mosaic table was turned over and that strawberry plant was again all over the deck. The pot had broken as well. I don't think my family was meant to have fresh strawberries this season.
Above are pictures of what I just finished cleaning up…Later!