Here's a beautiful promise:
Psalms 32:7
"You are my hiding place;
you will protect me from trouble
and surround me with songs of deliverance."
       Selah
When I was a little girl growing up hearing my father preach, he once devoted every Wednesday Night Bible Study to the book of Psalms.
One Psalm, every Wednesday.
Of course, he split Psalms 119 into sections.
I don't know how long this took for him to
"Preach his way through the Psalms"
But I do remember enjoying these sermons.
In fact I enjoyed them so much when my dad was packing up his library to move I asked for his sermon books on Psalms.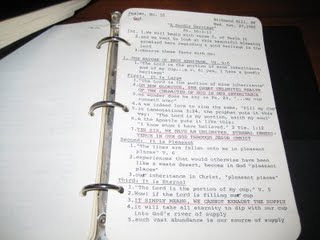 They now sit in my library and I love to open them up and read them and picture my dad studying for hours over the sermons he wrote.
Selah.
I remember my father explaining the meaning of this word found so frequently in the book of Psalms.
He simply said, "Think on that."
So I will do as my father instructed me many years ago,
I will think on the above verse
and not be so fearful of the coming year.
Thank you Daddy!
Enjoy your day!