You'd never guess that these easy dessert recipes that I'm sharing with you today all start out with a cake mix. There's no shame in using a cake mix as the base of a great dessert. In fact, I've done it many times! Let's take a few minutes today and talk about cake mix recipe hacks.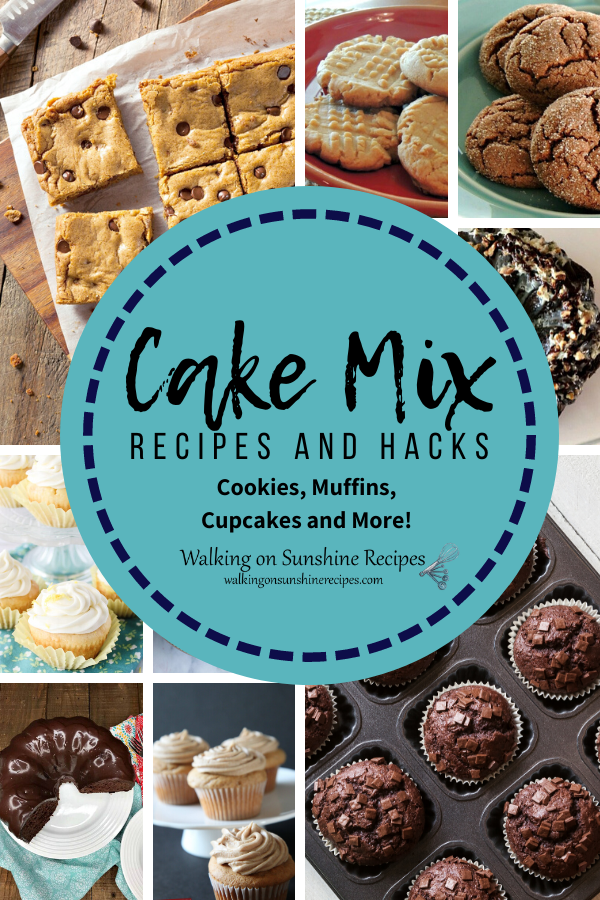 Did you know that the word "hack" means to find a creative solution? Which is just what these recipes do! By using a cake mix to doctor up a recipe, we're creating a solution to baking something delicious without all the work of baking from scratch.
Make sure you grab the FREE Printable available for my Cake Mix Baking Secrets.
Box Cake Mix Hacks
One of the most used box cake mix hacks is to use the cake mix as an ingredient. These recipes add a few extra things to the batter to create a whole new dessert, or muffin, or quick bread or...I think you get where I'm going with this, right?
Cake Mix Hacks
When you're working with cake mix recipe hacks, what you're really doing is adding a few extra ingredients to a boxed cake mix to create a different kind of cake than what's featured on the front of the box.
Helpful Kitchen Tools
This post contains affiliate links. Your cost is the same, but I earn a commission when you shop through them. For more information, click here.
10-Inch Fluted Tube PanMore Information
Mini Fluted Tube Cake Pan,More Information
Muffin and Cupcake Pan,More Information
Ceramic Mixing BowlMore Information
Paper Baking CupsMore Information
More Information
More Information
More Information
More Information
More Information
Are Cake Mixes Smaller than they used to be?
Have you noticed lately that boxed cake mixes have changed sizes? They used to be 18 ounces and then they dropped down to 16 ounces. The boxes I currently have sitting in my pantry are sized 15.25 ounces.
If preparing a cake from the cake mix, you may notice that a cake doesn't rise as high as it used to.
When making cupcakes from a cake mix, you may end up with one less cupcake.
How do you Adjust a Recipe with a Smaller Box Cake Mix?
I did some research online and found that if the new sizes of boxed cake mix is affecting your recipes, you can easily add 3 to 6 tablespoons of yellow cake mix to the recipe.
Keep an extra box of yellow cake mix stored in a plastic container or one of my favorite mason jars.
Add 3 to 6 tablespoons of the yellow cake mix to ANY flavor boxed cake mix. It doesn't matter if it's a chocolate cake mix or a strawberry cake mix.
Once everything is combined completely, it will be fine and you won't be able to tell you added yellow cake mix to a chocolate cake mix.
Cake Mix Recipes
Let's take what we've learned about cake mix hacks and turn a box of cake mix into a delicious cake recipe:
Cake Mix Cookies
Cake Mix Cupcakes
Dump Cake Recipes
Breakfast Recipes