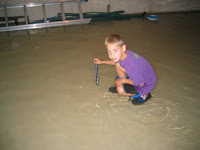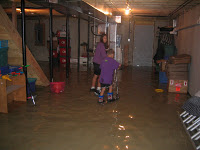 I was reading another blog today and she was in the middle of cleaning up after the water line to her refrigerator flooded her kitchen and her basement. It reminded me of when we had a water issue also in our house. I've posted pictures of our flood back in the spring of 2004. We had only been in our new house for a few months when this horrible hurricane came north and dropped buckets of rain across Pennsylvania.
Of course, the Colonel was nowhere to be found. He was in Atlanta taking care of the same hurricane that just dropped buckets of rain all over the southeast. No, I'm not talking about Katrina, that was the following year. Anyway, I woke up one Saturday morning to the above. Michael found it quite fun to wade around in the basement in the almost 5 inches of water, after putting on his snow boots! Olivia also joined in on the fun and they both rode their scooters through the water for most of the morning.
Of course, there was no fun for me who had to carry most of the boxes up into the garage. Our basement was unfinished at the time, thank God! I had to call a plumber to come and pump out the basement. All I can say is, what a mess that was to clean up!
A few months later we had more water in the basement! Only this time I was able to clean it up with the shop vac. My father, who knew EVERYTHING, told my husband to extend the gutters that ran off the side of our house. Phil spent a weekend doing just that and thankfully we have not had any more episodes of water in our basement. Which is good considering the money we put into it refinishing it a year later!