I hope everyone had a great weekend. It was wonderful here, busy as usual, but wonderful. The Colonel was home and we worked in the garden, AGAIN, on Saturday morning.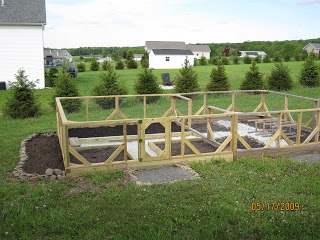 The long bed is where I plan on planting the pumpkin plants and the two front beds are going to have my different lettuce plants, green beans and sugar snap peas. In the "old" section, you can see our tomato stakes laying down. The wind was so fierce I was afraid the wind would blow them all over and break them up.
The garden is ready and waiting for plants!
But the weather must start to cooperate a little! It was overcast and misty on Saturday, but we still worked outside. And as everyone who deals with curly hair knows, that kind of weather is really not the best to be doing anything outside! Sunday was a very cold and windy day. I had placed some of the lettuce plants, still in their pots, out in the garden on Saturday, but we had to take them in on Sunday…it was just too windy and cold for them to be outside. I had another tray of lettuce up on the back porch, but the wind took care of them! They blew all over the back porch… …and we were not able to save them.
I loved the raised beds in our new garden. The Colonel plans on making raised beds in the "old" section of the garden next year. He even surprised me with a little bench in the garden, to sit on and contemplate…very funny! I love the bench.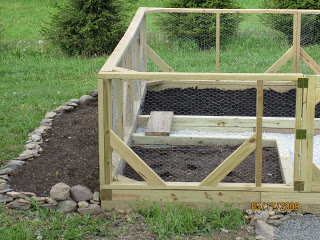 We had a funeral at church to attend Saturday afternoon and I helped with the luncheon that we served to the family and close friends. I really enjoyed helping, but more importantly serving. Last night was our Karate Service. It was a wonderful service. I played the piano and quite a few of the kids involved in karate either played an instrument or sang, Michael played his guitar and did quite well. And then we had cake and coffee afterwards to celebrate our one year anniversary. What's an anniversary without cake???Well I'm off to visit with all of my friends…YOU!! My favorite part of the day is spending some time with each of you and learning about your days…Enjoy!