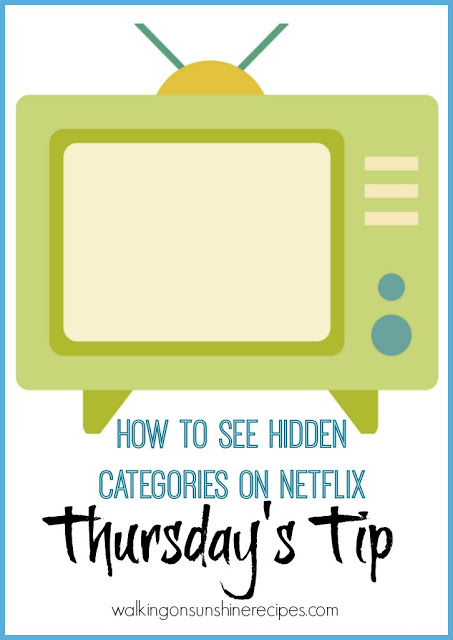 What is your favorite show to watch on Netflix?
I have quite a few and I'm always searching for more to watch on Netflix.
However, there always seems to be the same shows in the directory over and over again,
which is why I'm excited to share this week's Thursday's Tip
on how to see hidden categories on Netflix.
Yes, there are hidden categories on Netflix!
My husband and I are big fans of House of Cards and we can't wait
for the next season to begin soon.
We also loved watching Red Road and Rectify.
Sometimes it feels as if we are spending more time searching for
a new show to watch than actually watching a show.
Did you know Netflix has a master list of categories that go far beyond the usual
Action, Drama, Sci-Fi and Comedy?
That's right.
There's another way for all of us to find new shows
listed on Netflix by searching for hidden categories.
Anyone can access them by simply typing specific URLs into a browser.
Each URL has the format: http://www.netflix.com/browse/genre/###
All you do is add the four digit code at the end of the URL from the directory
that relates to the category you're searching.
AND you can find this directory HERE.
Now, what are you going to watch today on Netflix?