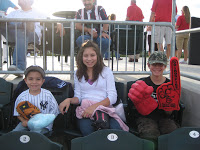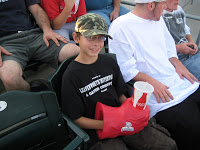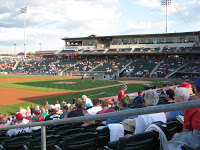 This past Saturday the two men in my life went to see a baseball game at the local minor league stadium in Allentown. They went as part of the men's group at our church for a father/son outing. Although, they had extra tickets and were calling around to see if wives and daughters wanted to come as well.
They saw the minor league Scranton Yankees play the Allentown Iron Pigs. Michael wasn't too thrilled at first to go, he's more into wrestling. But ended up having a great time. Phil said he loved it and that both of them want to go back and see another game. The best part of the game was the price of the tickets. I heard that Mets' tickets are going to sell for $495 a seat in the new stadium…these tickets were only $9.00 each! And parking was only $3.00.
For Michael he enjoyed the concession stand…the prices were actually reasonable and he was able to get a huge red "Hulk fist" to hold sodas from here to eternity.
Enjoy the pictures.