I've been neglecting this blog AGAIN.
Seems life is so busy and there is so much to do. 
In case you're wondering…
I FIXED THE TOILET!
So I can now add "How to fix a broken handle on the toilet" to my list of things 
I've learned this year while my Colonel has been gone. 
I took a long look at the toilet 
and thought to myself, "I can do this." 
I took it apart, but not until I did something really important…
Take a picture of how it's suppose to look like.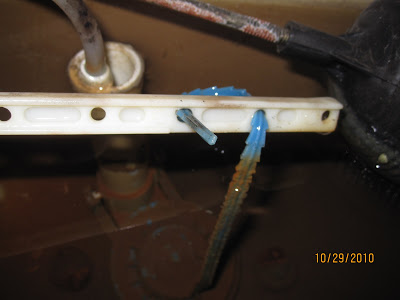 I knew I would never remember how to put it together without a picture.
Then I went to the local hardware store and showed the man behind 
the counter my broken toilet handle and he gave me exactly what I needed.
I came home, consulted with my photo, put the new handle together, 
hooked it up to the inner parts of the toilet and yes, 
I can now flush my toilet the way God intended!
Well…
You have to hold the handle down for awhile 
otherwise it won't completely flush, 
but hey, it works!
Life is good!